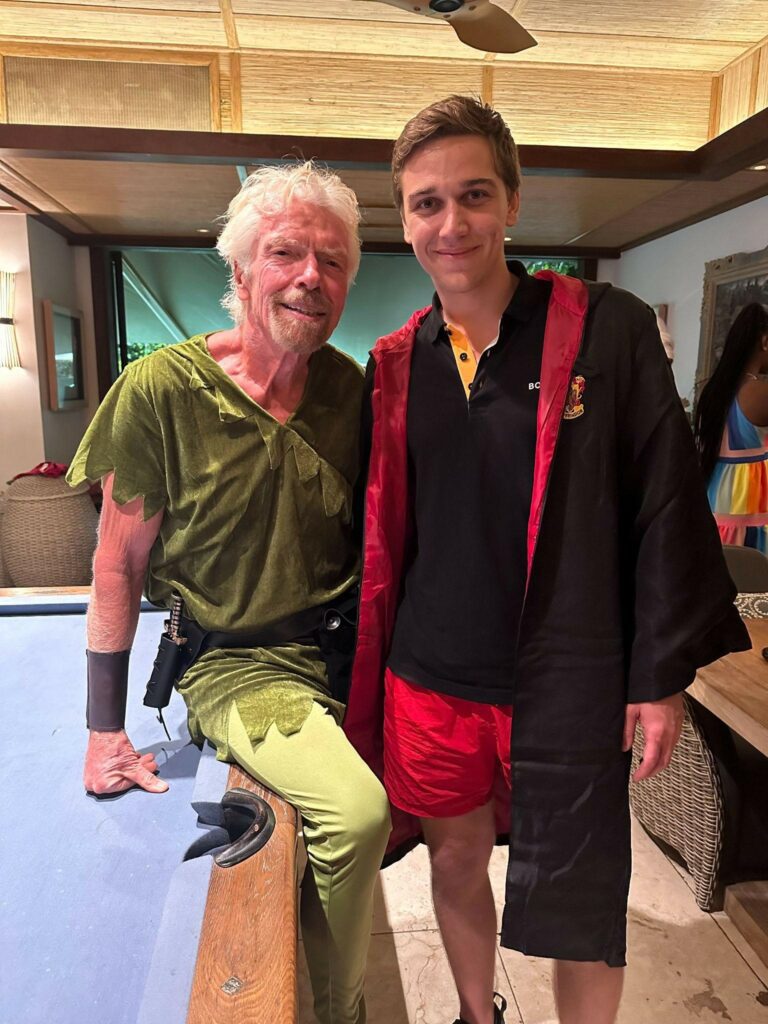 Marko Lamza, a 26-year-old entrepreneur was recently invited to Sir Richard Branson's private island Necker, after being selected for a prestigious "Maverick Next Impact Award."
The award was given to the world's most promising young impact-driven entrepreneurs who got to spend time with Sir Richard Branson along with over 30 industry leaders, tech billionaires, and influential business figures part of exclusive business network "Maverick1000". Past contributors include Virgin founder Sir Richard Branson, Spanx founder Sara Blakely, Tim Ferris and others.
Lamza has an impressive background, from winning multiple international awards and graduating from a prestigious Ivy League school to publishing a book at 18, working in a London-based hedge fund and creating an online education and consulting company that has impacted over 10 million people by the age of 26.
When asked about how he achieved so much in a relatively short period of time, Marko said that he's motivated by seeing the impact his companies have on millions of people and said "I can wait… but time will not. I know that in order to have the impact on society I'd love to have, time is of the essence. Sometimes, we don't feel ready for the next step in life or business. But having a big vision driving us forward, and making a firm decision to make something happen within a specific period of time forces us to think outside of the box to make it happen anyway".
On his recent experience, Marko said, "I'm incredibly grateful for having been invited to spend time with Sir Richard Branson and other incredible entrepreneurs at Necker." Reflecting on the lessons he learned from Branson, he added, "You'd be surprised how many incredibly successful people are very friendly and would love to help young entrepreneurs succeed. Most entrepreneurs just never ask for help or seek mentors!"
Other industry leading entrepreneurs joined Marko on Necker Island event: Dane Baker (USA) of Ecocart; Vilde Regine Tellnes (Norway) of Healthy Eats; Jester Schilder (Netherlands) of Benjamin Auctus; Milimo Banji (UK) of TapIn, Timothy Highnam (UK) of Fission Advertising.
After speaking with Sir Richard Branson and other billionaire entrepreneurs, here are the 3 business lessons Marko shared that might help any aspiring entrepreneur
Marko shared with us the 3 key lessons he learned from Sir Richard Branson and other tech billionaires during his time at Necker.
Lesson #1: Embrace risk and failure.
Marko said, "From my conversations at Necker, it's very clear that most people who achieve incredible success in their careers do not follow the "common path". In order to achieve huge success, they thought outside of the box and did the things other people didn't. The payoff of taking big but calculated risks early on in one's career will far exceed playing it safe. Each of the successful entrepreneurs here has failed many times, but they didn't get discouraged by the failures. In fact, multiple entrepreneurs mentioned that they loved failures and challenges because that's when the character of an entrepreneur is built".
Lesson #2: Understand the importance of language we use when managing a team and creating a corporate culture.
Marko said: "The Virgin brand was built by challenging the status quo and doing things differently than other companies. One thing I noticed at Necker is that we were never told "no". Instead of saying "no", the employees would say "Well…. you're not supposed to" with a smile, implying that while there are certain rules, we are allowed to challenge them and no one is going to stop us. Hearing that multiple times was quite interesting, as instead of just taking something as is, it would challenge me to think about the actions and risks myself. And, while this may not work to manage huge corporations, I believe changing the tone and the language we use to manage a team has a much higher effect on innovation and team culture than most people are aware of. A CEO telling his managers "You're not supposed to" instead of "No" encourages the managers to think and possibly challenge the status quo which fosters innovation.
Lesson #3: Take more "emotional risks".
Marko said: "After speaking with entrepreneurs at Necker, I noticed a few people made a clear distinction between a "financial risk" (investing money, time etc.) and "emotional risk" (pushing yourself outside of comfort zone, changing habits, changing environment). I realized that most young entrepreneurs are willing to take financial risk, but what is holding many aspiring entrepreneurs back is staying within their comfort zone and not taking enough "emotional risks". It is often the case that limiting beliefs, internal resistance, and other emotional barriers are the primary obstacles holding aspiring entrepreneurs back, rather than a lack of resources or hard work. While hard work, financial risk and great business strategy are undeniably important, intentionally putting oneself outside of their comfort zone is crucial for entrepreneurial success.