Therapy is essential whether you struggle with anxiety or need assistance controlling stress. You might be amazed by how much one person can do to ease your symptoms and alter the behavioral patterns contributing to them.
Because they provide flexibility, cost-effectiveness, and convenience that traditional therapy techniques frequently lack, online therapy platforms like BetterHelp and Cerebral have grown extremely popular.
According to the Journal of Anxiety Disorders, online therapy platforms are as effective as in-person treatment services, especially for generalized anxiety disorder, social anxiety disorder, panic disorder, and major depression.
But how do you know which one is right for you? In this BetterHelp vs Cerebral guide, you'll learn the features of both platforms, along with their pros and cons. It'll help you make the most informed decision and choose the platform that offers the support you need.
What is BetterHelp?
Established in 2013, BetterHelp has become one of the largest online mental health services platforms. It offers chat, phone, and video calls for virtual therapy with certified and accredited therapists.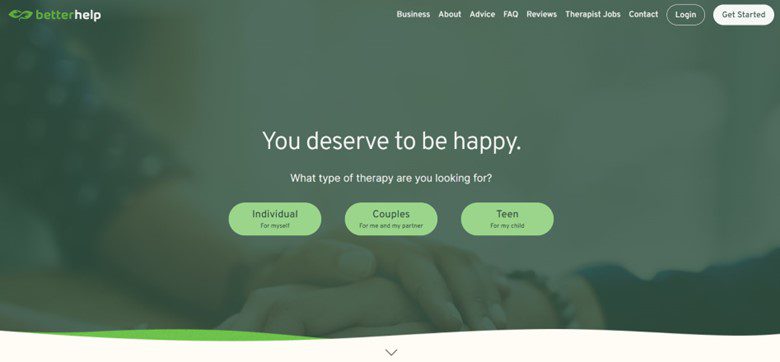 It also provides services, including group therapy sessions and journal writing. BetterHelp operates on a monthly membership fee schedule that you can cancel anytime.
What is Cerebral?
Customers who subscribe to Cerebral online mental health services have continuous, all-encompassing access to online care and medication management for anxiety, depression, and insomnia.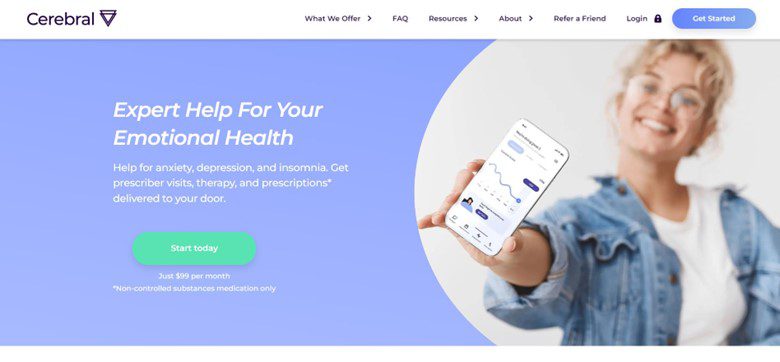 Cerebral offers access to mental health professionals, licensed therapists, and counselors for a monthly subscription fee.
Signing Up Process
Both mental health support platforms are easy to use and here's how their signing-up process works.
BetterHelp
The first thing to note here is that BetterHelp doesn't offer a free trial. However, if you'd like to save money before trailing their services, you can use a discount code to save 15% off the first month.
Cerebral
Cerebral also doesn't offer a free trial, but you get a significant discount for the first month. For almost 50% less than a full-price fee, you'll have access to all of the platform's services.
This allows you to understand better the services offered and how they might support you in improving your mental health.
If you, for some reason, aren't satisfied with the services, you can cancel your subscription at any time. However, you should complete the first month before deciding as Cerebral courses run monthly.
Cost
As mentioned above, each platform offers a form of monthly payment. When deciding which platform to choose, the cost is a significant factor.
BetterHelp
BetterHelp offers several therapy plans to choose from. The cost of this online service can range from $240 to $360, depending on the plan you choose. The cost breaks from $60 to $90 per week.
You won't be charged until the platform has connected you with a professional psychologist, therapist, social worker, or counselor.
Cerebral
Cerebral works a little differently from BetterHelp, in terms of cost. Rather than focusing on weekly, monthly, or yearly payments, it focuses on the therapy services they provide to charge the clients.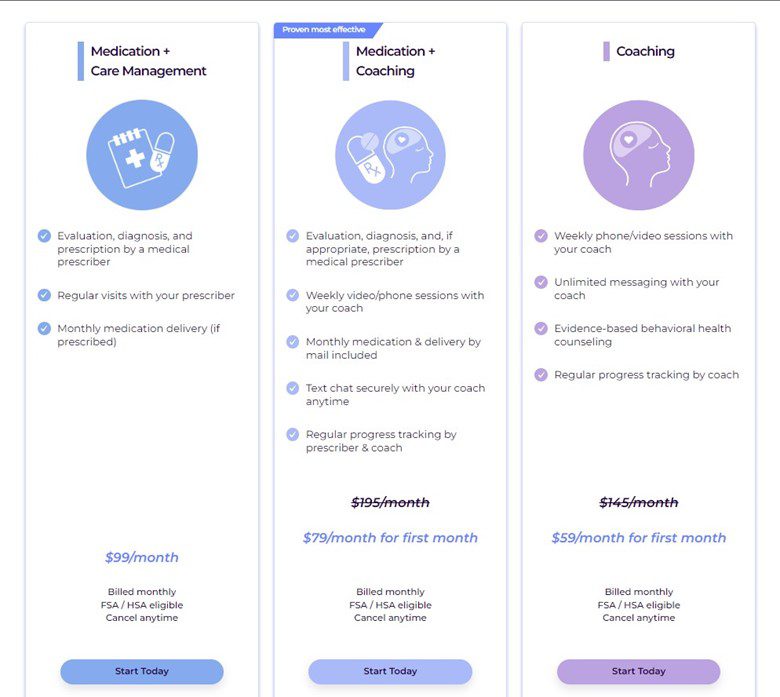 Medication & Care Management Plan: This plan starts at $99 per month, and offers the support of a licensed Medical Professional. You'll have ongoing telephone and video calls with your therapist to track your progress. You'll also have regular check-ins with a care provider to help you determine which services would be best for you.
Therapy Plan: Starting from $259 a month, this plan includes weekly sessions with a licensed therapist rather than a medical practitioner to really focus on your mental well-being.
Medication & Therapy Plan: This is a more expensive plan, starting at $325 per month, but it has everything Cerebral has to offer in one package. In addition to appointments with the psychiatrist, it also involves weekly sessions with a licensed and fully qualified therapist in place of the care provider.
Qualified Therapist & Treatments Available
The essential element to consider when selecting a therapy platform is the treatment it offers. To provide an excellent service beneficial to patients, therapists and healthcare providers must be qualified. We compare each platform on these subjects.
BetterHelp
BetterHelp offers some of the best and the world's top therapists. It includes LPCs (Licensed Professional Counselors), LCSWs (Licensed Clinical Social Workers), LMSWs (Licensed Master Social Workers), and LMFTs (Licensed Marriage and Family Therapists), among others.
BetterHelp works closely with the therapists under their employment to ensure they have the highest level of education, training and licensing. Before applying for BetterHelp, therapists must have completed 1000 hours of clinical practice and 3 years of counseling experience.
As people with all forms of mental health illnesses seek treatment from BetterHelp, therapists must be ready to deal with everything, including but not limited to the following.
Depression
Chronic Stress
Sleep Disorder
Eating Disorders
OCD (Obsessive Compulsive Disorder)
PTSD (Post Traumatic Stress Disorder)
Generalized Anxiety Disorder
Psychosomatic Disorder
Family Therapy
Teen Therapy
Cerebral
In this dimension, Cerebral and BetterHelp differ slightly. At Cerebral, therapists are not as qualified as BetterHelp. That's because this platform emphasizes the employment of the proper ratio of medical professionals, such as psychiatrists, along with therapists to merge the two types of therapies.
Those looking for support to cope with anxiety, depression, and various sleep disorders will find the most help at Cerebral. Other mental health illnesses may not have the help and treatment they require.
Treatment Methods
Both platforms are online, meaning commuting to a therapist's office for in-person counseling is not a service that either BetterHelp or Cerebral provides. We'll take a deeper look into each platform.
BetterHelp
BetterHelp provides a range of methods for their patients to interact with therapists. As most people with mental health illnesses find face-to-face interaction/in-person therapy sessions exhausting and draining, BetterHelp allows their patients to be treated through text messaging and live messaging within a secure chatbox.
Better yet, people who prefer to see and hear the person they are talking to are provided with live video and audio calls. This makes developing a relationship with the therapist easier and improves treatment immensely.
Cerebral
Cerebral offers similar treatment methods for their patients with a few additions. The main difference between BetterHelp and Cerebral treatment methods is:
Cerebral offers their patient to interact with two professionals. This will conclude with both a psychiatrist and a general health care provider, or a psychiatrist and a licensed therapist. This allows the patient to gain support in all areas of their mental well-being.
Client Support
Whether you are new to either platform or have suddenly found an issue that needs to be solved, the support you receive impacts your experience greatly.
BetterHelp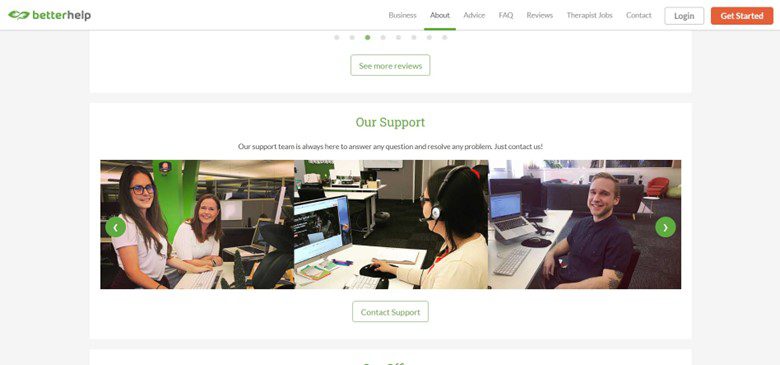 BetterHelp has all of its customers complete an online form and provides a FAQ page on its website. You can find the most common questions and the answers to them to allow you to relax.
There's also an email address provided on their contact page to allow you to contact them directly.
Cerebral
Cerebral is renowned for providing general assistance to clients with a quicker turnaround time than other companies.
It's all a result of their quick customer service team, which guides customers through all procedures such as subscribing, exploring the website, and canceling their monthly subscription.
Cerebral vs Betterhelp: Pros and Cons
Both BetterHelp and Cerebral have their own pros and cons that you need to keep in mind before choosing any of these online therapy platforms.
BetterHelp
Here are BetterHelp's pros and cons that will help you decide whether it's the right platform for you or not.
Pros
Offers easy signing up and onboarding process.
All BetterHelp therapists comply with HIPAA (Health Insurance Portability and Accountability Act) 1996 to protect the patient's sensitive health information.
Chooses the right therapists for patients based on their personality and needs.
Patients can switch counselors anytime.
Offers skilled and experienced therapists.
The pricing structure is straightforward.
24/7 messaging access to therapists, along with weekly video and audio calls.
Offers financial aid.
Cons
Doesn't accept insurance.
Therapists can't diagnose mental health conditions and illnesses.
Doesn't provide access to prescription medications.
Cerebral
You need to know the following pros and cons of Cerebral.
Pros
Major providers of health insurance cover online therapy services by Cerebral.
Offer weight loss medication and nutrition, along with opioid use treatment plans.
Patients can add medication management to their therapy service.
Easy to access therapists.
Great customer support.
Prescription and medication management shipping to patients' homes.
Cons
Costs for medication services are billed separately.
Only offer services against insomnia, depression, and anxiety.
Not the best option for people with severe medical conditions.
Not suitable for people who are nursing or pregnant.
Doesn't offer financial aid.
Final Thoughts
As you can see, both platforms offer similar yet very different services. Which mental health platform you decide to work with will depend on your unique needs.
We hope this comparison guide will help you understand the key features of each platform, along with their pros and cons, so that you can make the right decision for you.
Both allow you to cancel your subscription anytime, making your decision much less stressful. You can try both platforms, if possible, and choose the one that suits you better.
Save 15% off your first month by clicking here
FAQs
What is Cerebral?
Cerebral is an online therapy platform that connects you with licensed mental health professionals. It offers a range of features to help you manage your mental health, including therapist selection, scheduling, and payments.
What is BetterHelp?
BetterHelp is an online therapy platform that connects you with licensed mental health professionals. It offers similar features to Cerebral, including therapist selection, scheduling, and payments.
How do I choose between Cerebral and BetterHelp?
The best way to choose between Cerebral and BetterHelp is to consider your specific needs and goals for therapy. Both platforms offer a range of features and services, so choosing the one that best meets your needs is essential. You may also want to consider the cost of each platform and whether you have insurance coverage.
What other services should I consider?
Other online therapy platforms you may want to consider include Talkspace, ReGain, and Breakthrough.
Affiliate Disclosure: we may receive compensation from BetterHelp if you purchase products or services through the links provided on this page.
Related
Online Couples Therapy: Complete Review of Everything ReGain Offers
Does Betterhelp Take Insurance?
How Much Does Betterhelp Cost?
BetterHelp Financial Aid: Can Online Therapy Be More Affordable?
Faithful Counseling Online Therapy Review: Is It the Right Option for You?
BetterHelp Online Therapy Review with Customer Comments and before and after Results