Whether you suffer from a diagnosed mental illness or not, taking care of your mental health can be challenging.
Many people suffer from the overwhelming pressures of everyday life and have no one to talk to about their concerns and fears. This can be isolating and lead to the development of more severe issues.
The rise of online therapy platforms makes taking care of your mental well-being easy. With services such as direct messaging and video and audio calls, there is someone to talk to through every struggle. All from the comfort of your own home.
If you're a devoted Christian looking for such an online therapy platform, you have come to the right place. We have created this Faithful Counseling review to help you determine if this platform is right for you.
We will look at the different elements of this platform, including the services they offer to help make your decision easier.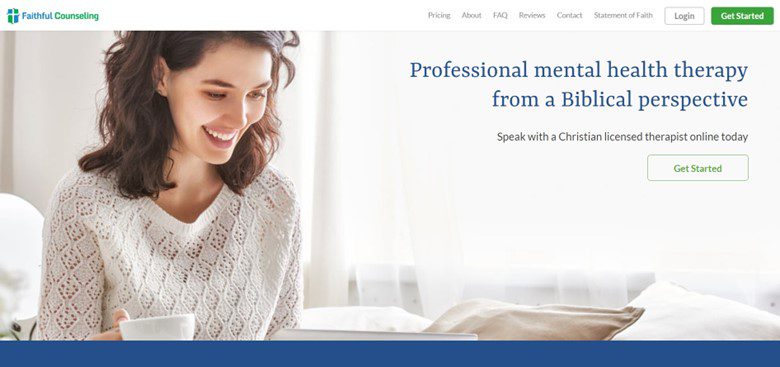 What Is Faithful Counseling?
Faithful Counseling is the creation of BetterHelp, designed to help connect Christians with spiritually sensitive, Biblically-informed therapy.
All of the independent therapists at Faithful Counseling identify as practicing Christians who have attested that their convictions align with the company's Statement of Faith, and they provide therapy with the Christian perspective.
Faithful Counseling is an online platform that is simple to use and provides multiple practical methods to have Christian counseling sessions, such as through an app or patient portal.
It's designed for practicing Christians who need professional mental health counseling to improve their mental well-being. The platform allows people to work closely with therapists who are also practicing Christians and understand their way of life.
Sign Up Process
Faithful Counseling works in similar ways to its parent company, BetterHelp. You must subscribe to the service and generally will pay monthly.
As you register with Faithful Counseling, you'll be asked questions about your personal information, including name, age, and gender. Other than that, there's also a registration form that focuses on your mental state.
This provides your Christian therapist with information, such as if you have participated in therapy previously and how your overall mental health is currently.
The next question requests your affiliation with a particular Christian denomination, even though Faithful Counseling's questionnaire states that clients from all backgrounds are welcome to use their services.
Once you have completed the questionnaires, you'll be greeted with a welcome page showing you are now a patient of Faithful Counseling. You'll be prompted to select your payment method to begin your monthly subscription to Faithful Counseling.
The sign-up process for Faithful Counseling is simple and easy to navigate compared to other online therapy platforms. Plus, you can join this platform for online therapy, whether or not you're a practicing Christian.
Payment Plans
While many other online therapy platforms offer different tiers of pricing and forms of payment plans, that's not the case with Faithful Counseling. It provides a flat fee which is paid monthly.
According to the official Faithful Counseling website, the subscription costs range from $60 to $90 (billed monthly).
This flat fee allows unlimited text messaging with your therapist, and the number of weekly sessions depends on your chosen plan.
If you are eligible for financial aid then it will be accepted by Faithful Counseling, which may be helpful to those struggling to finance their mental health support.
With over 60% of people in the US living paycheck to paycheck, Faith Counseling offering financial aid is highly beneficial to the more significant part of the nation. Although, there are no terms and conditions found to provide further information on determining eligibility.
It's important to note that Faithful Counseling doesn't offer a free trial, and there is no option to purchase a single session.
So, you must commit to a month of sessions without determining if the faithful counseling services are right for you, which may not be financially viable for many people.
Ease Of Use
If you are looking for a user-friendly online therapy platform, Faith Counseling can be the best platform that you can consider. Once you have registered and been accepted, you can begin scheduling sessions and communicating with your therapist immediately.
Faithful Counseling is available on both desktop and mobile devices for easy access. You can access the app from anywhere in the world at any time and it works similarly to other chatroom applications.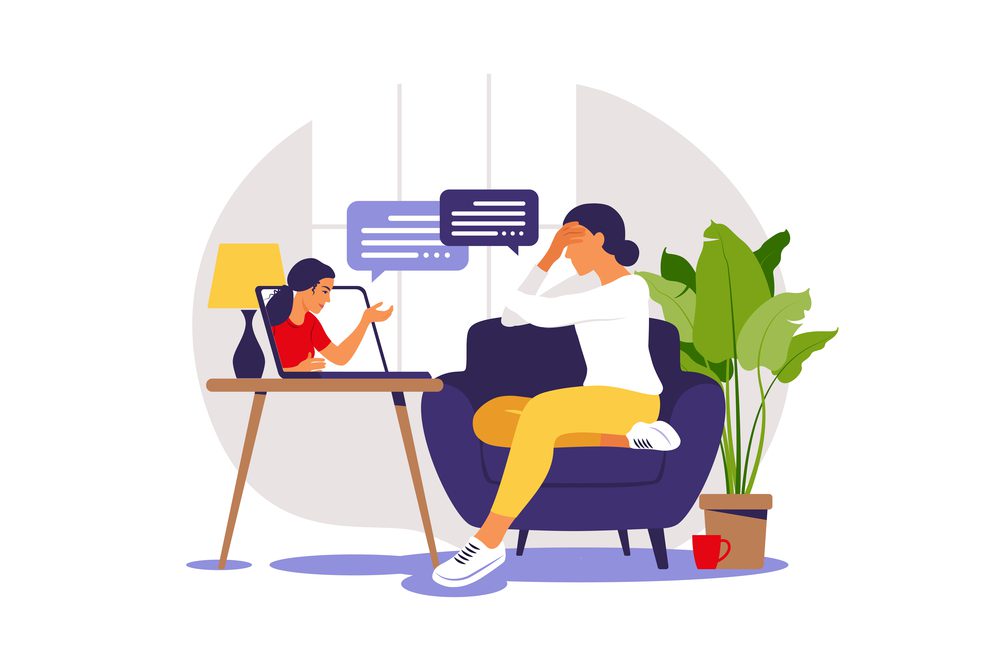 You can also use your desktop portal to set your weekly appointments. Each live session lasts between 30 and 45 minutes, depending on your therapist's availability.
You can also directly message your therapist through the text messaging feature whenever you need to. However, you may not always gain a response from your therapist quickly.
If you need to change your therapist, you click your profile icon and select "Change Counselor".
Once you have completed a short questionnaire to allow the matching algorithm to find another therapist, you'll be able to communicate with your new counselor within 24-48 hours.
However, once you have changed your therapist, you'll no longer be able to view text messages between yourself and your previous therapist.
Quality Of Care
When determining which online therapy platform will work best for you and your needs, the quality of care is crucial.
Before a potential counselor can apply to work for Faithful Counseling, they must obtain a Master's degree. Some counselors happen to have a Doctorate in their field of expertise which is highly beneficial for a patient's treatment. The following are some Faithful Counseling counselors that are available to serve you.
Professional psychologists (Ph.D. or PsyD)
LPCs (Licensed Professional Counselors)
LMFTs (Licensed Marriage and Family Therapists)
LCSWs (Licensed Clinical Social Workers)
All therapists at Faithful Counseling are licensed by the state where they choose to operate and must have at least 3 years and 1,000 hours of hands-on experience in providing therapy for mental illnesses.
Keep in mind that you might need to change therapists once or twice. This is due to the matching algorithm not being 100% accurate and you cannot select your own therapist.
If you have worked with three therapists and couldn't find someone who works for your needs, Faithful Counseling offers a money-back guarantee.
Whether it is due to incompatibility or the mental health care provider terminates their contract with Faithful Counseling, you'll be offered a money-back guarantee once you have worked with three therapists.
What serves as the foundation for Faithful Counseling's Christian viewpoint on therapy is:
"Paul's exhortation to the Corinthians to band together in the name of the Lord Jesus Christ, despite differences."
The following are the four core tenets that all therapists of the platform must agree to:
The Bible is the word of God.
God is the Father, the Son, and the Holy Spirit.
True Christian fellowship must be built on agape.
Salvation can only come through Jesus Christ, who died for our sins and rose again.
Privacy Policy
Faithful Counseling, a subsidiary of Betterhelp, does collect, uses, and stores information about website visitors and customers through its privacy statement.
However, to safeguard your privacy, you are given a client ID generated randomly when you create an account. This information doesn't contain the content of messages that you and your therapist have exchanged.
The company states that your information such as age, sex, race, sexual orientation, disabilities, and mental illnesses may be distributed to a third party for marketing purposes. However, any information shared between you, and your therapist is kept confidential.
The platform allows you to "shred" any message you've sent. However, it's unclear from the privacy statement if this removes the communication from their servers or simply the records you and your therapist can access.
Types Of Treatments
While Faithful Counseling cannot provide treatment for acute mental illnesses, it can offer a range of treatments for more generalized mental illnesses, including the following.
Depression
Anxiety
Addiction
Trauma
Self-Esteem
Eating Disorders
Grief
Chronic Impulsivity
The three main methods used by Faithful Counseling are text messaging, and audio and video calls. You can schedule audio or video calls with your therapist weekly and have 24/7 access to a direct, private messaging system.
All of your text messages are kept as confidential documents that you and your therapist can only access.
Pros and Cons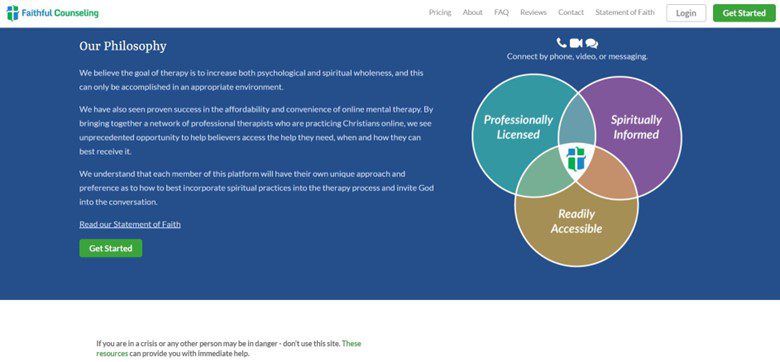 Click here for 15% off your first month
Here's a list of the pros and cons of Faithful Counseling that you need to know before purchasing your therapy subscription.
Pros
Specially designed for Christians
Easy-to-use platform
Offers qualified and licensed Christian therapists
Quick response from counselors
Unlimited messages to communicate with therapists
Audio and video therapy sessions
Easy to change the current therapist
Cons
Doesn't accept insurance
medication management isn't offered
Not a suitable option for people in acute crisis
Nonspiritual counseling is not offered by Faithful Counseling (available via its sister site (betterhelp.com)
Final Thoughts
Taking care of your mental well-being should be a top priority, especially if you suffer from depression or anxiety. If your problem(s) is related to your Christian belief, then opting for Faithful Counseling can be a good choice.
It's a specially designed platform that offers licensed, experienced, and practicing Christian therapists who can help you improve your mental health.
The platform has an impressive privacy policy that keeps all the information you share with your therapist confidential.
However, there are a few drawbacks to choosing this online Christian therapy platform.
It doesn't offer clear information regarding its cost, and it can vary depending on your location, preferences, and many other factors.
Faithful Counseling also doesn't accept any insurance, which means your insurance plan won't be able to cover the platform's fee.
Despite these drawbacks, the therapy services that Faithful Counseling offers can help you improve your mental health and strengthen your Christian belief.
All you need is to sign up for this platform and test its services yourself.
What is Faithful Counseling?
Faithful Counseling is an online therapy platform that provides counseling services to Christians worldwide. The platform was created by two Christian counselors who saw the need for such a service.
How does it work?
Faithful Counseling works similarly to other online therapy platforms. You create an account and are then matched with a counselor who you can communicate with through direct messaging, audio calls, or video calls.
What services does it offer?
Faithful Counseling offers a wide range of counseling services to its clients. These include individual, couples, family, and group counseling.
What are the benefits of using Faithful Counseling?
There are many benefits of using Faithful Counseling. Some of these include the convenience of accessing the platform from anywhere in the world, the anonymity of being able to communicate with your counselor without revealing your identity, and the affordability of the services.
How much does it cost?
Faithful Counseling offers a variety of pricing options depending on the type of counseling service you choose. Individual counseling starts at $35 per session, couples counseling starts at $50 per session, and family counseling starts at $60 per session. Group counseling rates vary depending on the number of people in the group.
Is Faithful Counseling right for me?
If you are a Christian looking for counseling services, then Faithful Counseling may be right for you. The platform offers a wide range of services and is affordable. You should consider all of your options before making a decision.
What are the negatives of using Faithful Counseling?
There are a few negatives to using Faithful Counseling. These include that you can only communicate with your counselor through the platform, so if you have an emergency, you may not be able to reach them. Additionally, the platform is only available in English, so it may not be an option for you if you do not speak English.
Should I use Faithful Counseling?
Only you can decide if Faithful Counseling is right for you. Consider all of your options and make the decision that is best for you.
Affiliate Disclosure: we may receive compensation if you purchase products or services through the links provided on this page.
Related
Does Betterhelp Take Insurance?
How Much Does Betterhelp Cost?
BetterHelp Financial Aid: Can Online Therapy Be More Affordable?
BetterHelp Online Therapy Review with Customer Comments and before and after Results