When you are in a relationship, things can get bumpy sometimes, and one of the best ways to resolve this is to sign up for couples counseling. However, finding the right service can be tricky because there are many different marriage and family therapists.
That's why we have compiled this detailed review of ReGain, one of the most popular online counseling platforms for couples. It'll help you see exactly what's on offer through an impartial third party to determine if it's the right counseling service for you and your partner.
So, check out our ReGain counseling review below to make an informed decision!
What Is ReGain?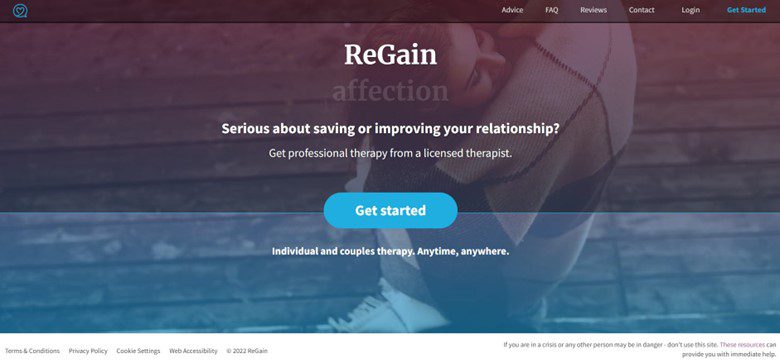 ReGain is an online counseling service based in the United States which caters completely to couples. It offers couples therapy services to help you and your partner rebuild your relationship and overcome issues or complex events. The service can also help both parties come to terms with the end of their relationship.
Launched in 2016, ReGain is a part of the BetterHelp company and is a smaller branch focusing on couples. It means that ReGain has the backing (in terms of funding and professional policies) of BetterHelp and benefits from its fantastic reputation.
It's important to note that BetterHelp holds its services to a very high standard and only hires well-trained, experienced, and licensed therapists and counselors. This level of professionalism also bleeds over into ReGain, and you can expect a similar quality of service.
Despite being based in the United States, ReGain's services are available worldwide. Therefore, you can still access ReGain counseling services, no matter what country you live in.
Now that you have a better understanding of ReGain, let's look at what they offer in terms of services for you and your partner.
Services That ReGain Offers
As we mentioned earlier, ReGain is an online relationship counseling platform for couples, and its services are specially tailored to help tackle issues affecting your relationship. So, there's no opportunity for people with personal mental health issues.
Instead, ReGain offers online marriage therapy sessions for you and your partner to help encourage a change in your relationship. Your counselor can work with you independently or together (both) to help tackle issues that are going on in your life.
ReGain's services focus on what is going on in your relationship and how your issues could also affect it. You can expect ReGain therapists to help you with the following concerns:
Dating issues
Resolving parenting conflicts
Improving communication skills to resolve conflicts with your partner
Dating issues
Setting relationship boundaries
Resolving intimacy problems
Recovering from a breakup or divorce
What About LGBT+ and Religious Matters?
Click here for 15% off (Coupon Code:restequation) 
Other than the topics and issues mentioned above, you also have the opportunity to delve into more complex topics such as religion and LGBT+ matters. Whatever is bothering you and affecting your relationship, you can discuss it with a ReGain counselor.
However, there is no way for you to find a counselor that specializes explicitly in these topics. If you are in an LGBT+ relationship and would prefer an LGBT+ counselor who may be more empathetic and understanding of the challenges you and your partner face, you may choose to use their affiliated site that specializes in LGBT (pridecounseling.com).
You'll have to trial and error until you find the right counselor for you and your partner.
In the future, we hope that ReGain introduces a kind of filter system to make finding the right counselor easier for its clients, but for now, this remains a recommendation they have yet to take on.
Despite this, you'll have access to a licensed counselor who is a professional expert in their field. This is due to ReGain's (and BetterHelp's) high standards that it holds over those it employs. This, in turn, improves the overall quality of ReGain's services, and many have found the counseling here to be effective.
How ReGain Works
Like with all of BetterHelp's smaller branches, ReGain works on a subscription structure in which you pay a set amount every month to receive specific therapy sessions (per month) with your counselor.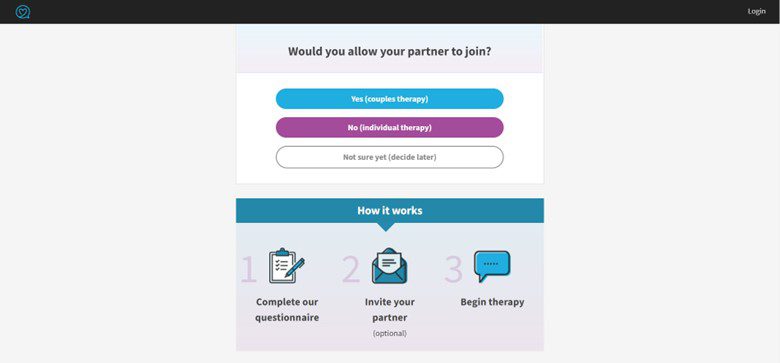 With ReGain, you can send your counselor an unlimited number of messages and also talk to them either through a video call or on the phone. It allows you to choose the communication medium that you and your partner prefer!
Remember that you and your partner must be in the same room when discussing things. This is because ReGain doesn't offer third-device services, which means you and your partner must talk together down one device.
This can be an issue if your schedules are very different or you have already physically separated. Hopefully, this is something ReGain can improve in the future.
However, you can talk to your licensed therapist privately because ReGain does offer individual relationship counseling. These sessions are confidential unless you are communicating through texts. As you and your partner share a device, these messages will be visible to both parties. Again, this can be solved if ReGain were to introduce third-device services.
It's also worth noting that it's effortless to sign up to ReGain. You must create an account using your personal information, fill in a questionnaire, and send an invite to your partner. If you chose to sign up for individual therapy, you have the option not to send an invite at all. Then, your therapy can begin!
ReGain's Online Blog
ReGain's services mainly work through online sessions with its clients, but there is also another feature that is worth mentioning, which is its online blog.
The blog features many articles, from deep psychology to light-hearted informative pieces. They can provide help and guidance even when your counselor is unavailable. Plus, the blog can inspire you to approach topics with your partner and counselor during your next session.
It's a great feature that you can access whenever you want, and it can help you understand the terminology used in your counseling sessions. We liked ReGain's informative blog and thought it would be a nice feature to highlight due to its additional benefits.
Privacy Policies
Privacy is a number one concern for those signing up for an online relationship therapy service, and it's safe to say that no company understands this better than BetterHelp. That's because it's one of the company's core values to provide each of their clients with complete confidentiality, and this is reflected in their services.
For ReGain, everything that is told to your counselor is entirely confidential. When it comes to written communication, there is the ability to permanently delete individual messages so no one else can see them. However, you'll be sharing your device with your partner.
ReGain also doesn't work with insurance companies, so whatever is said through ReGain won't reach or affect your health insurance. But this does spell problems when it comes to payments.
However, it also means that you can say everything to your counselor in the confidence that it won't be leaked to other companies. You can even choose to use nicknames or remain anonymous so even your counselor won't be able to identify you.
Overall, it's evident that privacy is essential to ReGain, and you can take additional steps to protect your identity easily.
Pricing
Now, let's take a look at how much ReGain costs.
As mentioned already, ReGain is run on a subscription structure that charges you a single cost every month for access to your counselor..
The average monthly cost for ReGain is between $240 and $360,  depending on the service level you request, which is roughly average compared to its biggest competitors. While ReGain is not precisely super affordable, it's not incredibly expensive either.
Pros and Cons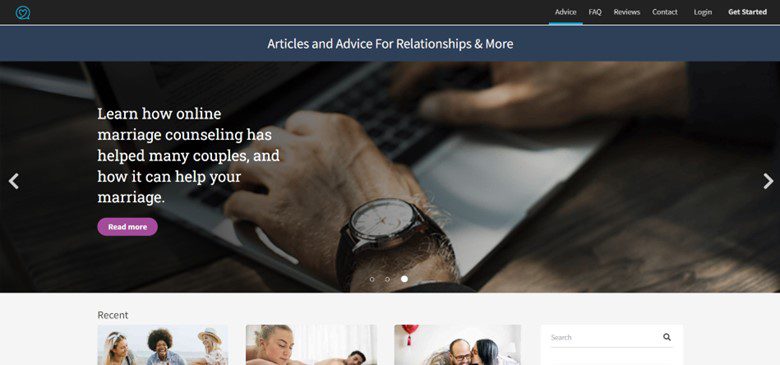 Just like any other online therapy service, ReGain also comes with its pros and cons that you need to know.
Pros
Offers licensed and experienced therapists and counselors
Easy-to-use platform
Offers messaging and audio/video calls to communicate with therapists
Specifically designed for couples
Counseling for individuals is available
Offers online blog that can be accessed easily at any time
Counselors can share resources and worksheets easily
Couples can change their therapist whenever they want
Great privacy policy
Cons
Doesn't offer a free trial
Users can't see the bios of therapists without signing up
No third-device services are available for couples to join therapy sessions without being in the same room
Doesn't bill your insurance directly
Counselors can't prescribe medication or make a diagnosis, and people who require these services will need to opt for in-person therapy
Subscription free isn't disclosed
So, Should You Sign Up to ReGain?
There are many factors that you should consider before signing up to ReGain. You can count on the quality and expertise of the platform's counselors. There are also benefits to consider regarding online therapy, including the flexibility to fit around your schedule and location.
ReGain's services also extend to individual therapy and couples counseling, so you can work on yourself while working on your relationship through one service.
However, there are also drawbacks to consider too. For example, you won't know how much your subscription will be until you sign up. No third-device services allow couples already living separately to attend counseling together without being in the same room.
So, look at the information above to determine whether ReGain is right for you and your partner's needs.
FAQ
What is ReGain?
ReGain is an online therapy service that offers to counsel specifically for couples. It's a great way for couples to get the help and support they need to work through their issues without attending therapy sessions in person.
How much does ReGain cost?
The monthly cost for ReGain is between $240 and $360, which is roughly average compared to its biggest competitors.
What are the pros and cons of using ReGain?
Some of the pros of using ReGain include `that it offers licensed and experienced therapists and counselors, is easy to use and is specifically designed for couples. However, some cons include that it doesn't accept insurance and users can't see therapists' bios without a subscription.
Is ReGain right for me?
This is a decision that you'll need to make based on a variety of factors, including your budget, whether you feel comfortable with online therapy, and what your specific needs are. If you're unsure, it is a good idea to consult with a mental health professional to get their opinion.
Affiliate Disclosure: we may receive compensation from BetterHelp if you purchase products or services through the links provided on this page.
2. Love-Life
3. Marriage 365
5. Talkspace
7. Lasting
8. ReGain
1. Couple's Choice is a great ReGain alternative because it offers affordable counseling services for couples who are dealing with relationship issues.
2. Love-Life is another great alternative to ReGain because it offers online counseling services specifically designed for couples going through tough times in their relationship.
3. Marriage 365 is a great alternative for couples who want access to resources and support in addition to counseling services.
4. Online-Therapy is a great alternative for couples who want to receive counseling services online without having to sign up for a ReGain subscription.
5. Talkspace is a great alternative for couples who want to receive counseling services via text, audio, and video chat without having to meet in person.
6. The Gottman Institute is a great alternative for couples who want to receive counseling services from an institute that specializes in helping couples strengthen their relationships.
7. Lasting is a great alternative for couples who want to receive counseling services and access resources via an app designed specifically for couples therapy.
8. ReGain is a great alternative for couples who want to receive counseling services from a platform that offers a wide range of services for couples dealing with relationship issues.
Related Articles
BetterHelp Online Therapy Review with Customer Comments and before and after Results
How Much Does Betterhelp Cost?
Does Betterhelp Take Insurance?
Faithful Counseling Online Therapy Review: Is It the Right Option for You?
How To Find A Psychiatrist: Online Treatment