The obvious rise of social networks and the entire digital environment allows not only that hundreds of entrepreneurs can have a space for their projects. But also, that millions of people can tell their story and achieve an impact on society through it. In the case of the young Sarah Nicole, these two aspects go closely together.
Sarah is a noble and beautiful young woman who, two years ago, lived one of the strongest and most transforming experiences of her life. During her studies, this teenager was a victim of bullying, popularly known as school bullying. This terrible episode was not something transitory and what could have been stopped or avoided became a torment.
Over time, Sarah's attitude and behavior changed and she became a depressed girl who suffered from the continuous bullying of other young people in silence. Not daring to communicate with her parents, peers, or teachers what was happening to her made it more difficult for her to cope with this environment. In the end, seeing no other way out, she decided to kill herself.
A failed attempt allowed Sarah and her mother another chance to deal with this traumatic episode. While overcoming something of this magnitude is not an easy process, they have worked tirelessly to do it. After all this, they decided to tell their story to raise awareness.
From Crisis to Action
Sarah and her mother have not only dedicated the last two years to overcome the difficult situation they went through. They have also used this experience to strengthen their lives and to undertake a new project in which, in addition to making their history known, they seek to raise awareness in society to fight against bullying and suicide.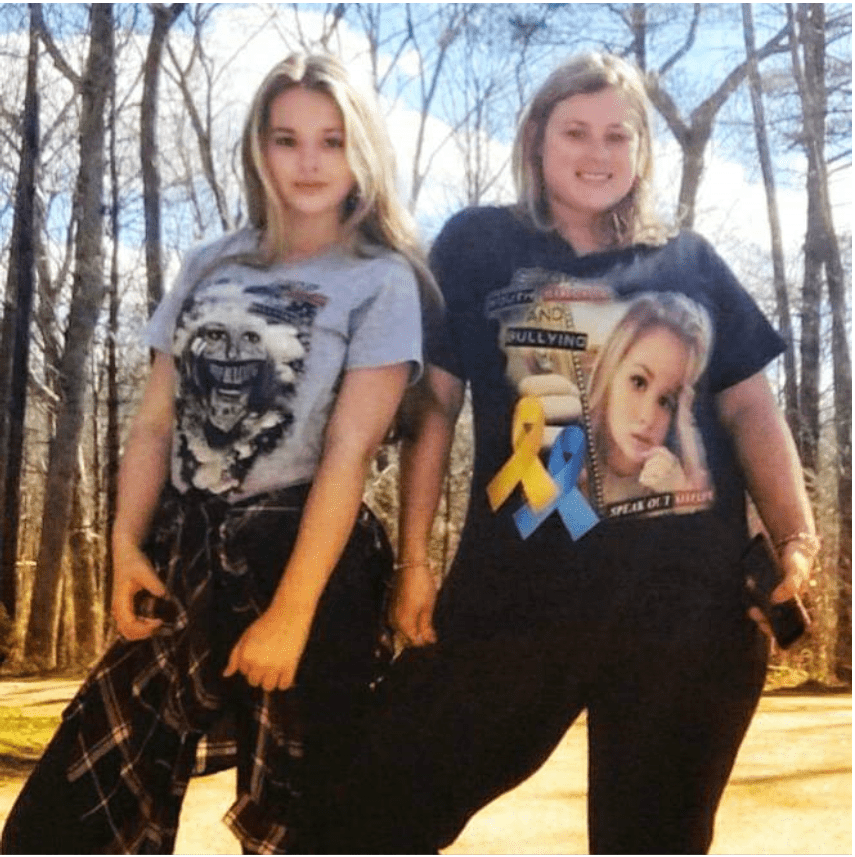 Through the design and marketing of clothing with their image, Sarah and her mother started this beautiful project, which not only represents them but can be the story of hundreds of young people and adolescents who silently live every day the bitter experience of being harassed or abused.
Beyond the circumstance, Sarah and her mother decided to move from crisis to action. Using e-commerce, they now have a presence at Amazon, from where they market their designs while working on expanding their brand and anti-bullying campaign.
The mentality of these two women is the best reference to a person's ability to take, even from the worst situation, an opportunity to strengthen themselves personally and contribute to the lives of others by making a difference or generating an impact.
Telling a Story
Bullying is a phenomenon that is becoming more relevant and evolving every day. That is why experiences like the one young Sarah has lived, is a motivating and admirable act, because it tries, telling his story to encourage other young people to do the same and stop the internal struggle for the moment they are going through.
Sarah and her mother have started their journey in e-commerce from scratch, with the clear objective of, through their clothes, give a reason to young people harassed to continue. And to the rest of society, a lesson in struggle and resilience to stop this kind of repugnant action.
Being heard, understood, and accompanying others is the goal that Sarah and her mother have set for themselves with this new path. And, although they still struggle with many aspects related to the episode that the young woman lived, they are dedicated to overcoming each stage of that bad experience.
The Good Use of The Networks
Through the networks, Sarah and her mother also work continuously to have greater reach and spread the message with their image. Thanks to the communication possibilities offered by hundreds of digital platforms, these women plan to expand and have a greater impact on the people who care about the issue of harassment.
It is more than creating content, generating an impact, raising awareness, and motivating to stop any act of violence, abuse, harassment that may lead victims to attempt against themselves. They ensure that their brand has been designed to encourage others and that no one will remain silent in the face of this type of situation.