As e-bikes have surged in popularity, they've ignited heated conversations, particularly within the traditional cycling community. With this, some assume that electric bikes remove the physical challenge inherent in cycling. Thus, they consider e-bikers who sail up steep climbs or maintain high speeds without breaking a sweat as having an unfair advantage. Yet, the truth is that this perspective oversimplifies the role of these bikes.
In reality, e-bikes like Fiido X revolutionize the concept of cycling, making it more accessible and versatile. Their convenience is not just about effortless riding; rather, they provide opportunities for people of varying health conditions and fitness levels to enjoy cycling. And the reason for this is simple – traditional cycling can be intimidating or unattainable for some, especially for long rides. However, with e-bikes, everyone can join the adventure.
But what if this transformative experience could be shared? What if you could double the joy, the thrill, and the memories created?
Recognizing the potential of shared experiences, Fiido is launching a campaign aimed at inviting riders to bring a friend or partner along on the e-bike adventure. The campaign is about spreading the unique joy and thrill of the Fiido X and simultaneously fostering connections and shared memories. What's more, is that the company is enhancing this experience with a special offer, but you have to keep reading to learn more. 
Why Cycle with Friends?
Picture yourself going on a sunset bike ride with your closest friends, taking in breath-taking views, capturing unforgettable moments, and creating lasting memories together.
However, the reality is that cycling with friends is more than just companionship; it is an extraordinary experience filled with adventure, unwavering support, and true camaraderie. And it's not just about having someone to accompany you or cheer you on; it's about the collective strength to face challenges, the unspoken trust that binds you all, and the priceless moments that create an unbreakable bond of friendship.
Choosing Your E-Bike
As with anything else, there are many electric bikes on the market. So, how do you know which e-bike is right for you? While this can be difficult, choosing the right e-bike to share a ride with friends requires carefully considering a number of factors. These include: 
Budget:

Don't equate a high price tag with the best quality. Opt for an e-bike that offers exceptional value within your budget.
Frame Design:

The aesthetics of your e-bike matter. A modern, stylish frame can enhance your riding experience, and unique features such as hidden batteries can add to the appeal.
Convenience:

Consider whether a foldable or non-foldable bike would better suit your lifestyle. Foldable bikes offer the robustness of non-foldable ones while providing ease of storage and transportability.
Components and Riding Experience:

Look for bikes that come equipped with features like multiple gear options for various terrains and fast-responding torque sensors for a smooth, tailored ride.
In short, the ideal electric bike should fit your budget, have a design that you like, be convenient for your lifestyle, and provide an unparalleled riding experience. To ensure that you choose the best one for your needs, be sure to conduct thorough research and examine the technical details before making a decision.
Living the Fiido X Way
But if you're hunting for the simplest option, look no further than the Fiido X! It's more than just an e-bike; it's a lifestyle commitment that aligns with environmental consciousness. In fact, when you pick an electric bike, you're choosing more than a mode of transportation; you're making a commitment to sustainability.
Moreover, sharing a Fiido X ride with friends doesn't just let you venture into unexplored terrains but also frees you from the tribulations of traffic and parking. All while offering the benefit of light exercise and contributing to reduced carbon emissions and fossil fuel consumption.
But the real charm of this bike lies in its excellent value proposition. Its combination of quality craftsmanship, innovative features, and affordability makes it a standout choice among e-bikes in the market.
Yet, it doesn't stop there. Here's a look at everything this electric bike has to offer:
Find Your X Factor:

The Fiido X e-bike, equipped with pedal-assist technology, allows you to speed up to 19.2MPH (32KPH). The robust, silent brushless motor ensures a smooth, luxurious ride.
Stand Out with an Award-winning Design:

With a minimalist, eye-catching design, Fiido X offers a quiet and powerful ride, making it the ideal companion for your daily commutes and light adventures.
Anti-theft Battery Security System:

Forget battery security concerns with Fiido X's exclusive security system. You can control the startup, shutdown, and battery removal via an app, making unauthorized access nearly impossible.
Backup Digital Keyboard:

In case your phone battery dies, you can unlock the bike or battery using a unique code on the digital keyboard, further securing your e-bike.
Torque Sensor for Healthy Exercise:

Equipped with a modern torque sensor that measures pedaling effort, Fiido X provides a highly intuitive riding experience. It takes away the jerky moves associated with a cadence sensor and the learning curve of throttle use, allowing for hassle-free exercise.
Ready to Ride, Easy Setup:

The Fiido X requires minimal assembly, allowing you to be ready for a ride within minutes of unboxing it.
Removable Long-Range Battery:

The patented battery has an impressive 130 km (80.7 miles) range per charge. Its sleek design and easy removal eliminate any battery-related worries.
Stronger Folding Frame:

The bike's clean-looking frame comes with a strengthened folding mechanism. It underwent testing twice the strength set by the EN15194 standard, making it robust yet flexible for commuting.
Puncture-proof Tires:

All Fiido X models are fitted with puncture-proof tires, significantly reducing the risk of unexpected tire blowouts.
Ready to Discover Togetherness with Fiido's Latest Offer?
For a limited time, Fiido is inviting you to amplify your cycling adventures. With the purchase of two or more e-bikes, you'll get over ten free accessories to enrich your riding experience. But it's not just about having a mode of transportation; it's a conscious choice to lead a more environmentally friendly lifestyle and create unforgettable shared memories.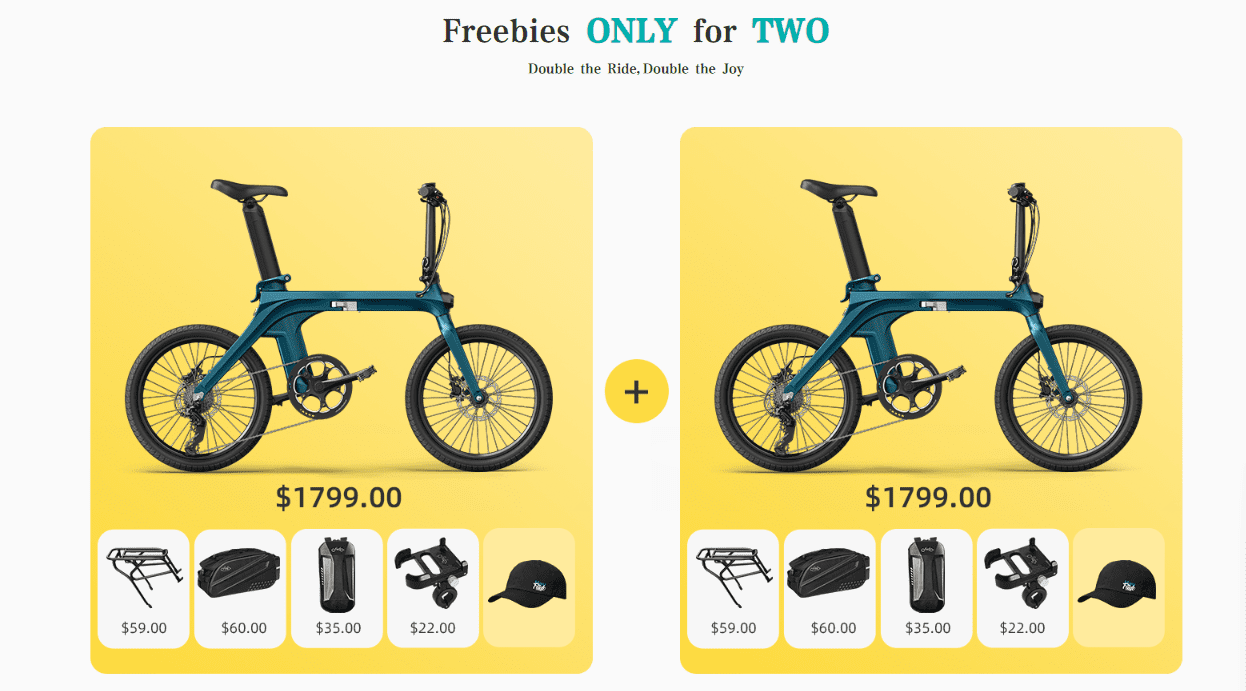 So, don't let this golden opportunity slip away. Discover the wonders of this amazing e-bike today and set off on a journey towards a healthier and more connected life. For further details, please visit the official Fiido website.