For many years, or you can say especially since COVID'19 hit us, eCommerce has brought a larger part of society under its influence, making them wholly dependent.
Now tell me, what's better than ordering clothes, groceries, electronics, or any other random thing from the comfort of your home through your phone—getting a lot of variety to choose from and then receiving your order at your doorstep in no time!
After you see such comfort, would you like to step out of the house, utilize much more time and hustle to get the same things you could through an eCommerce website or store? 
Just like that, eCommerce came up with a boom, and today 63% of the worldwide population is happily dependent on them. 
And with this came an opportunity for thousands of people to open their stores online because equalizing demand to supply and getting into such a profitable business is the best chance!
Now, suppose you are still thinking of getting into the eCommerce business or switching your hosting provider. 
In that case, we are here with a fantastic list of the Best 7 VPS Hosting providers that will help you build the best and most successful eCommerce startup website of all time!
What Is VPS Hosting?
VPS (Virtual Private Server) Hosting uses virtual technologies to make working easier. It is a  powerful server built to manage different private sectors. 
Each of these virtual servers functions as a fully autonomous server, which is why a VPS is such an essential service. The term PRIVATE indicates that it is about resources set aside for you. 
So, unlike traditional shared web hosting, where several customers share the same server, you will not have to share a memory, processing power, or data with other users but have your personal space to work on!
Best VPS Hosting for Ecommerce
You need good resources and a great hosting provider to host an eCommerce website. But do not forget that Every server won't work for an eCommerce website because it mainly welcomes vast traffic. 
And in order to handle that much traffic and ensure a smooth running of your website, choosing a VPS server would be the best option amongst all, and the reasons will be listed later in the article. 
Until now, let's look into the 7 Best cheap vps hosting india for eCommerce as compared with best vps hosting providers:
InterServer
Serving for 22 years and still striving to provide better quality, support and services to its users, InterServer helps domestic and well as international clients in hosting their websites as per they require with their utmost best.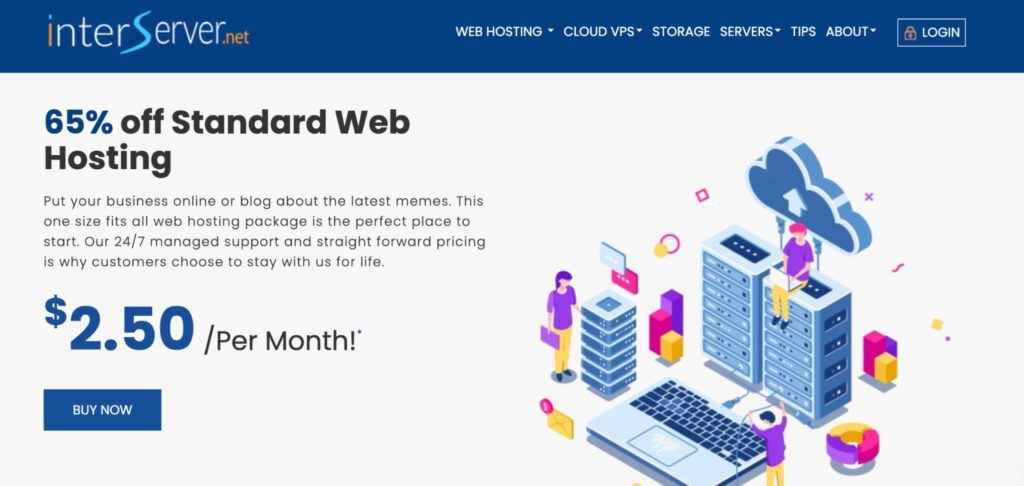 InterServer provides better collaboration that is efficient for the team members located at different places to access the data and make necessary changes and updates. 
All of this helps build an efficient and elaborative eCommerce website without any glitches at any point in time. 
Features
Let's know the features which will actually help you build an eCommerce startup website:
A Reliable and Affordable Hosting Option

Access Your Data from any place and at any time

Full Control over the website

Lighting Fast Loading Speed

Dedicated Resources

Self-Healing Hardware

Top-notch Security

99.9% Uptime Guarantee

Remote Backup

Development

Multiple Choice of Database
Support & Security
Talking about the support by InterServer, it claims to offer 24/7 customer support to its customers. As we tried and tested, the executives of InterServer take a little bit more time than they should send a response to solve its clients' problems. 
They use virtualization systems KVM, Openvz, Hyper-v, and Virtuozzo for security. Best security practices are acknowledged and established in InterServer. The virtual machine containers are secured and kept in utmost safety. 
Other virtual servers on the same node would not be able to access the workload.
Pricing
InterServer offers a customizable scale to build your own VPS plan according to your needs. Each slice costs $6.00, and it increases as you increase a single slice. 
For 4 slices or more, InterServer offers managed support. 

Kamatera
Kamatera, an establishment in 1995, has expertise in providing high-performance servers, quality support and a wide range of flexible and scalable cloud infrastructure products. 
They have 13 data centers available globally, to provide the best and fastest services to each and every consumer in any part of the world with its nearest data center. 
They work on the method of 'mass production, which leads to wholesale prices and its services as readily available as they are pioneers of IaaS.
Features
The benefits of Kamatera's VPS Hosting for eCommerce websites:
Server set-up in minutes

99.95% uptime guaranteed

Instant scaling up or down as required

No hardware maintenance

Simple backup and monitoring

The low total cost of ownership 
Support & Security
Kamatera offers call support to its customers, their executives being on the line 24/7. They do not have a chat option available which makes it lack behind. 
Choose any server, and get a high level of privacy and security while hosting with Kamatera. 
Pricing 
Starting at $4.00 per month, you can customize your own plan and make the best out of it without wasting a single penny!
YouStable
With over 7+ years of experience, YouStable has already gained the trust and has been the best choice of more than 70,000 customers globally. 
The Linux VPS server of YouStable specializes in handling heavy traffic and loads, with the server available at affordable costs!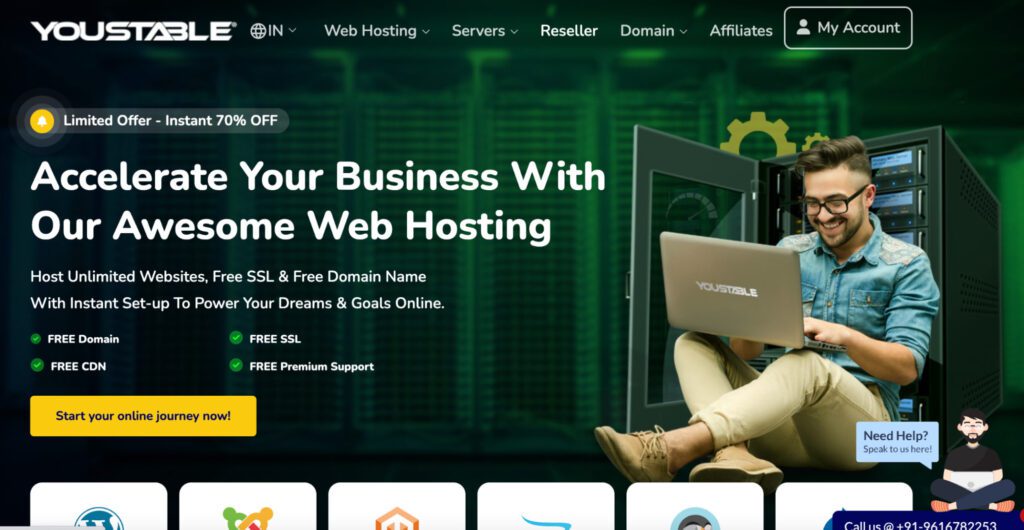 With the fastest, superior and cheapest services VPS provides better efficiency, easily scalable and dedicated resources+IP for an improved performance of Linux Best VPS Hosting for eCommerce startup websites. 
Features
Let the features of the VPS server by YouStable speak how powerful they are:
Powerful NVMe SSD Drives

100 Mb/s Network

KVM Virtualization

Dedicated IP

IPv6 Support

Advanced Support
Support & Security
The customer support of YouStable is undeniably great! Along with the chat, call, email, and ticket options are also available for you. They came out with the best results when we tried them. 
We tried reaching their executives and got a response within a minute or two. They withstand on their claim of 24/7/365 advanced customer support. 
Also, they have a knowledge base for the users to go through, and you may find almost all the answers to your queries there. 
For security, YouStable offers KVM virtualization to provide you with an isolated and private space to work on with BitNinja firewall and SSL certificates to prevent your server from getting attacked!
Pricing 
YouStable offers plans on customer demands. Look at them: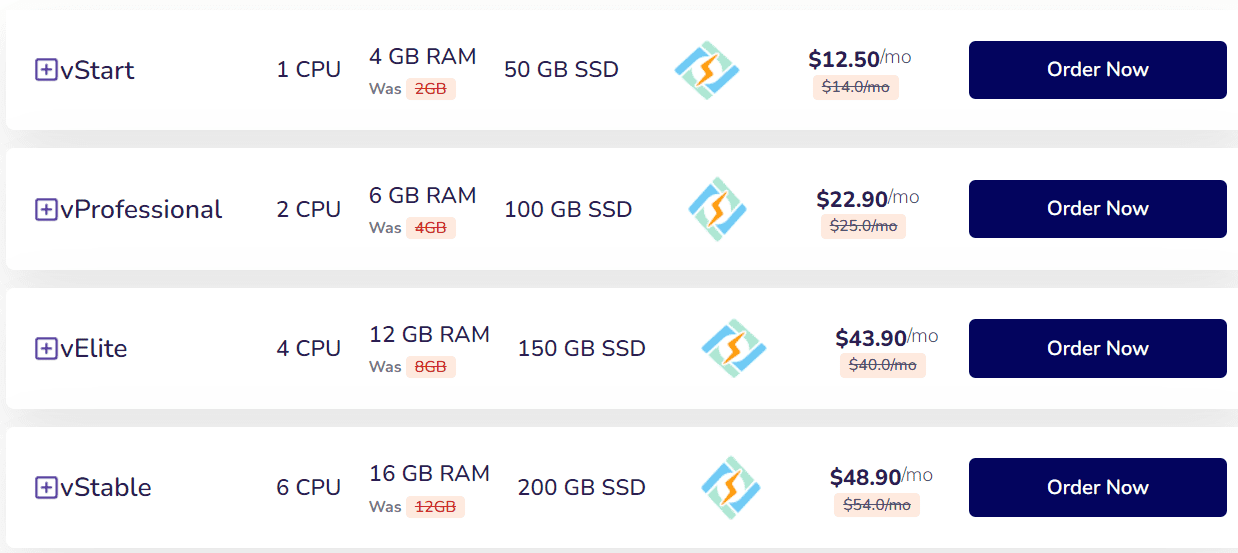 A2Hosting
Levelling up each year with better services and support, A2 Hosting started with the launch of managed VPS hosting at first. So, it becomes evident that A2 hosting must be specialised the most in providing VPS hosting to handle heavy loads on the server over the years. 

With its reach in 223 countries, 120k active services helping in the growth of customers and 110k people still using its products, A2 hosting offers managed and unmanaged VPS hosting featuring different management levels plus the remarkable VPS features.
Features
We have listed the features which may help you choose them as your eCommerce VPS hosting provider:
Up To 20X Faster Turbo

SSD

VPS Hosting

Solutions

Developer Friendly

99.9% Uptime Commitment

Free Account Migration
Support & Security
Support of A2 hosting is undeniable great. They are 24*7 available on chat, call or email. Their executives answer in no time and give the best answers and solutions to all your problems and queries.
A2 Hosting offers perpetual security with kernel care and hacks scan in the VPS plan. 
Also, they do provide SSL certificates to protect in transport layer plus Config Server Security and Firewall for protection against the virus. 
Pricing 
Here are the plans of managed VPS Hosting which would be the most suitable for your startup eCommerce website: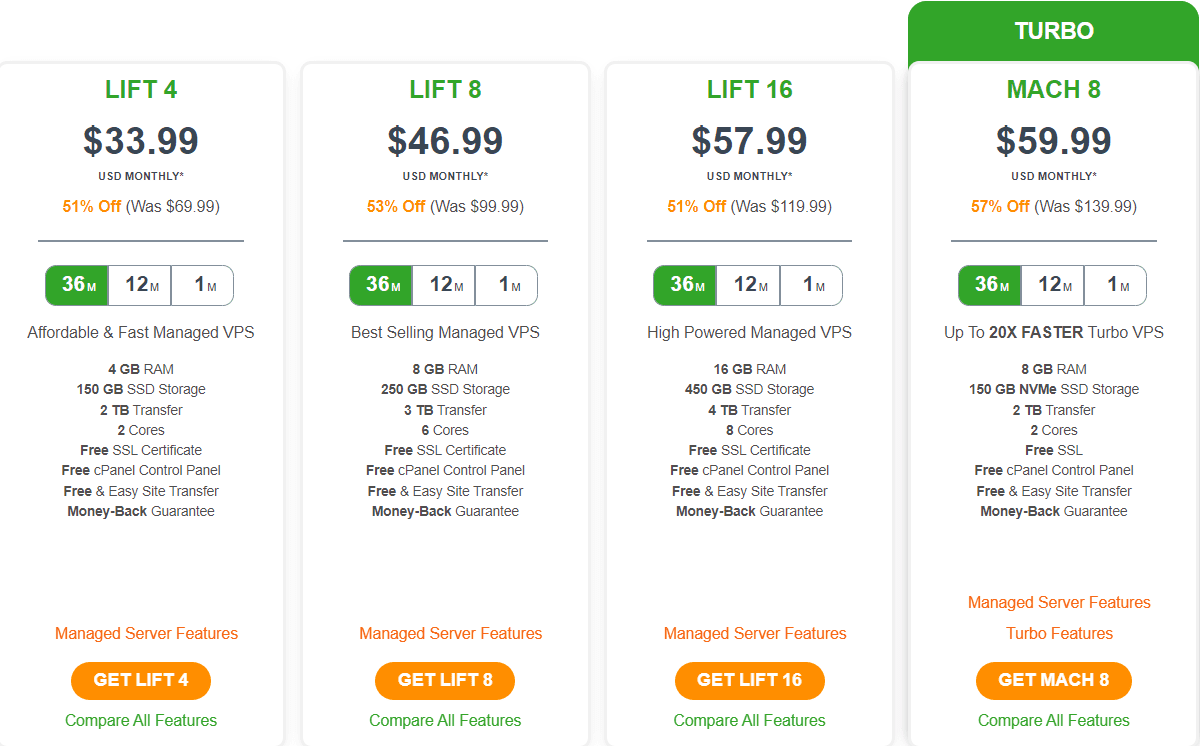 AccuWeb Hosting
AccuWeb Hosting was established in 2003 and is on a mission to empower developers and businesses by simplifying the deployment of infrastructure via its advanced Linux, Windows, and cloud platforms. AccuWeb Hosting is a leading industry web hosting provider with 19+ years of experience.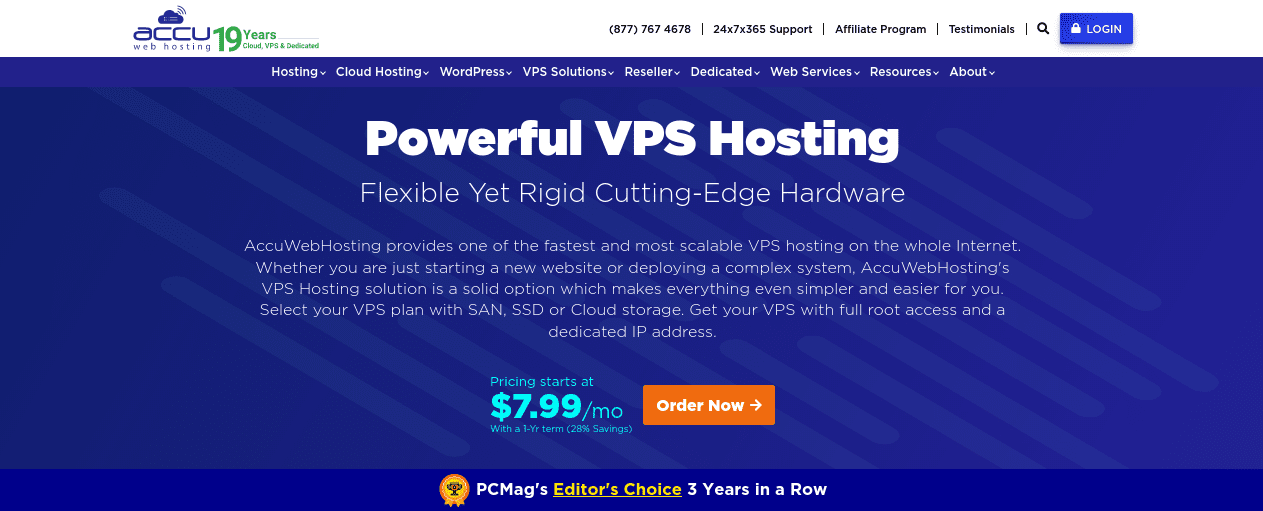 AccuWeb has been offering its most secured and Lightning Fast hosting services at a very reasonable price to its global clients, with over 101,030 global clients and still counting. In addition, they provide 15+ server locations and 24/7/365 support.
Features:
Let's have a glance into the Features of AccuWeb, which are valuable for your eCommerce website:
Ultra-Fast Managed & Secure

Full Root Access with a dedicated IP address

99.9% Uptime

24/7 Live Chat support and TIcket support

7 Days Money Back Guarantee

Hassle-Free Cancellation

Weekly Backups

Raid Architecture

One-click application installation

24/7 security monitoring and DDoS protection

Choice of database and control panel

24/7 Server and Service Monitoring

1Gbps port connectivity

Multiple Addons
Support & Security:
Their highly trained technicians are available 24/7/365 via the live chat option. Certainly, you will be surely delighted with the after-sale support.
If you are busy and can't go for a live chat? No worries. Submit your issue via the ticket system. their team replies to all tickets in a maximum of 30 minutes.
You can also reach them via call for quick guidance or sales inquiries. Their senior technicians will tackle your inquiry via calls.
AccuWebHosting offers a variety of security features in order to protect your website. For example, all their VPS node servers have 24/7 security monitoring and DDoS protection. 
In addition, with each VPS with cPanel, they install and configure CSF to harden the security. But, of course, if you have any custom requirements, you can always contact their experts.
Performance is everything for any business. Therefore, they perform regular audits of all their servers to eliminate any hardware or performance-related errors.
Pricing:
Their VPS Hosting Plan starts at $7.99/mo with a 7-Days of Money back guarantee.
BlueHost
Since 2003, BlueHost has gained much experience and expertise in web hosting working in this field. BlueHost has been the leading web hosting provider globally for open source implementation and development with its huge contribution to open source. 
With various add ons, a free domain for a year, an enhanced control panel for easy use and guaranteed resources, BlueHost can withstand heavy traffic and data handling at its best! 
Features
The features that make BlueHost's VPS hosting for eCommerce startup websites the best:
Free Domain for 1 Year

24/7 Support

Free SSL Certificate

Complete Root Access

Instant Provisioning

Enhanced Control Panel

Managed Services

Domain Privacy

SiteLock
Support & Security
With support in all aspects, whether technical or starting up or even growing online, BlueHost's specialized team of experts is 24/7 available to serve its customers with the best information and solution. It also has blogs written for better knowledge of the user.
The security offered by BlueHost provides a free SSL certificate and domain privacy to prevent identity theft, phishing attacks, and spam by the anonymity of the personal information that must be associated with the domain name.
Also, SiteLock defends the websites against attacks and malware by mere detection and fixation of vulnerabilities and threats before they start creating any problem.
Pricing 
It may be a little pricy, but their services are pretty compensative!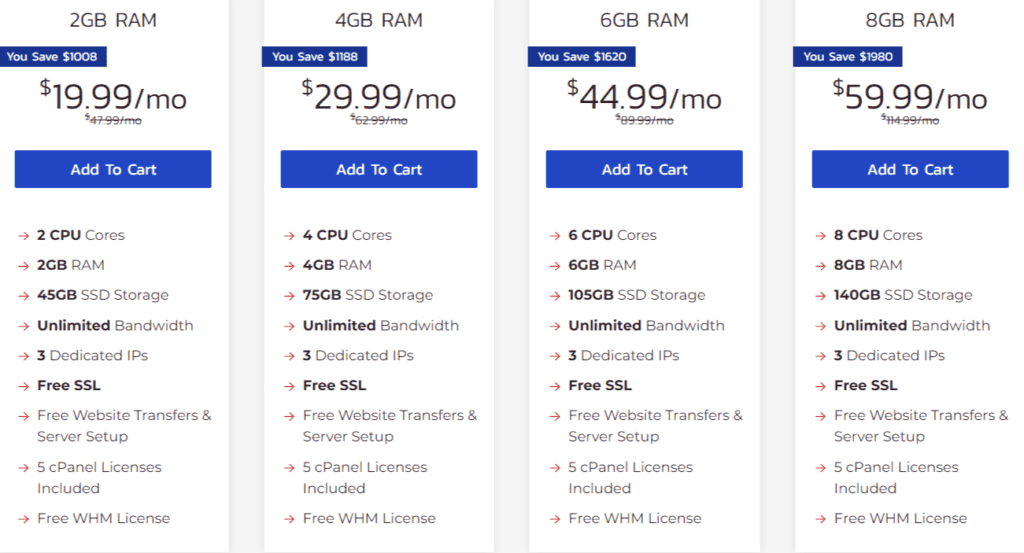 Cloudzy is the best VPS hosting provider on the market. At the price of less than two Big Macs, you get access to servers built on top-tier infrastructure. NVMe storage, DDR4 RAMs, and 1Gbps bandwidth are all in your hands. Moreover, with 99.95% uptime, you make sure that your VPS does not give up on you.
High speed, 24/7 customer support, and a refund policy all weigh in favor of the Cloudzy VPS hosting provider. You can basically buy a VPS and test it for seven days. If by any chance it did not suit your needs, your money is back in your pocket. This enables you to get your VPS with peace of mind.
Cloudways
Cloudways has marked its position at the top of the charts as a Cloud VPS Hosting provider! They are your partners in success, and they are partners with some successful platforms like Google Cloud, Cloudflare, Digital Ocean, Aws and more. 
They make hosting much easier, flexible, fast, convenient and gives you a wide variety to choose from. What else does one need now, right?
Features
Features that prove their worthy claims correct:
24/7/365 Support

Free SSL Certificates

Free MigrationTeam Management

EnvironmentDedicated Firewalls

24/7 Real-time Monitoring

Automated Backups

Staging 

Auto HealingRegular Security Patching

HTTP/2 Enabled Servers

SSH and SFTP Access

Optimized With Advanced Caches

Cloudflare Add-on
Support & Security
For the standard support, Cloudways offers chat options to its customers, satisfying all the problems they face. 
With advanced and premium support accompanied by those plans, they provide:
Priority Support: 24/7/365 priority ticketing support and Live Chat 

Plugin/Theme Troubleshooting

Performance/DB Optimization to ensure smooth performance

Server Error Investigation

Proactive Monitoring, no downtimes!

Dedicated Account Manager
Comes for Premium Support with senior executives and instant solving of problems:
Private Slack Channel

Phone Support
With a free SSL certificate and Cloudflare, Cloudways ensure the security and privacy of its users at the utmost level.
Pricing
Cloudways offer standard as well as premium plans, with both having their own benefits. They have a pay-as-you-go option! For now, let's have a look at their standard plans:
InmotionHosting
Inmotion Hosting is an ultra-reliable, high-performing VPS hosting provider with over 20 years of experience. They have been addressed as the #1 SSD Hosting provider of 2021 by Hostingadvice.com. 
It is eCommerce optimized and will help you build the best and most smooth eCommerce website for yourself.
They have an extensive plan of VPS hosting depending on the number of years plan you are planning to purchase with a decrease as they increase in years! But they promise an even better quality of services and proper upgrades every year! 
Features
Features offered by Inmotion for VPS Hosting:
Website Transfers

Resource Monitoring Dashboard

High-Availability Servers

eCommerce Optimized

SSH & DDoS Protection

Server Snapshots
Support & Security
With an option of sales chat and a toll-free number to call on, Inmotion provides proper 24*7 assistance to its customer with the best solutions to their queries. 
SSH and DDoS protection ensure the customer's website is always safe from all kinds of attacks and threats! 
Pricing 
This is the tri-annual package deal offered by Inmotion for VPS Hosting for the eCommerce startup website: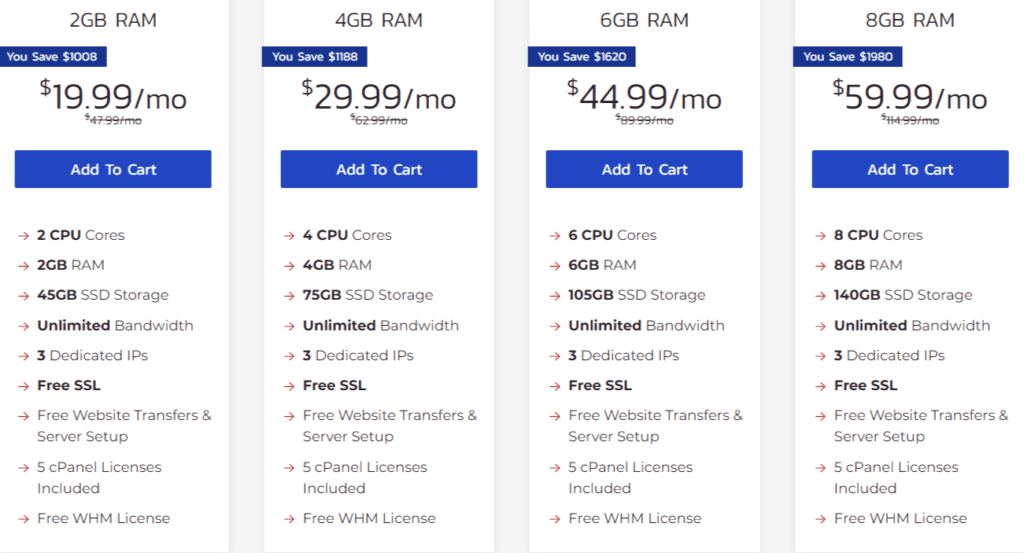 Why Should I Use VPS Hosting for My eCommerce Site?
Choosing a VPS Hosting for your eCommerce website will be the best decision you will ever make. Why?
VPS server will best handle your website's heavy traffic, which shared hosting cannot. 

VPS and Dedicated both can handle traffic loads dedicated a little more efficiently. But do you think paying much more for almost the same thing serving your purpose will be fruitful? Choose VPS for affordable prices!
Other reasons for choosing VPS, the one with a private space on the web:
Quantity and quality of resources

Includes CPU time

Great storage area

Much more bandwidth
 FAQ's- Best VPS Hosting for eCommerce  Startups 
Which host is best for VPS hosting an eCommerce startup website?
– We could derive InterServer review and YouStable review to test the best for eCommerce VPS Hosting. When compared with all, its features, pricing, support, and security came out with remarkable results! 
Is cloud hosting good for eCommerce?
– Yes, cloud hosting is good for eCommerce. As in cloud hosting, it serves the customer with various servers to store data and handle loads of traffic and other activities of an eCommerce website.
Is shared hosting good for eCommerce?
– We will not recommend shared hosting for eCommerce. Because through an e-commerce website, the business processes orders, manages shipping and logistics, accepts payments, and provides customer service. 
So, all this cannot be handled by a shared server all at once, or if it can handle so, it'll be facing various problems and downtimes in between, which will not be beneficial for your website. 
Final Words 
As you can see, the best VPS hosting for eCommerce differs depending on the requirements of each consumer. 
Take a close look at your online store's requirements as well as its customer base. Match those requirements to a VPS hosting plan that best suits your present requirements and budget.
Your hosting service can eventually be upgraded as per your company's growth. Ecommerce expanded by 44% in 2020, as we talked about after COVID'19 especially. Accounting for more than 20% of all retail sales, making VPS hosting an ideal scalable solution for serving a growing audience.