Where to buy cryptocurrency?
When it comes to decentralized cryptocurrencies, where should they be bought and sold? When there are unspecified people all over the world who want to buy and sell cryptocurrency, in order to find buyers and sellers in one place, smart merchants create a platform, which is a cryptocurrency exchange.
How to trade to reduce risk?
The decentralized nature of cryptocurrency has caused headaches for financial regulations and regulatory agencies in various countries. The relevant laws and regulations are not yet complete. Therefore, trading on cryptocurrency exchanges still has to bear certain transaction risks, such as hacking on the exchange. Events such as the failure of exchanges and exchanges have been heard from time to time, and the ability to protect user assets and transaction security depends on the reputation and technical strength of the trading platform.
Who is BitYard?
Established in 2019 and headquartered in Singapore, BitYard supports the spot trading of more than 100 coins that include but are not limited to Bitcoin ("BTC"), Ethereum "(ETH"), Litecoin ("LTC"), and Dogecoin ("DOGE").
Via the CFD trading platform, BitYard supports the trading of cryptos, indices, commodities, and forex.
FOREX pairings supported include AUDUSD, EURUSD, GBPUSD, USDCAD, USDJPY, USDCHF, and NZDUSD.
Headquartered in Singapore, BitYard falls under the purview of the following regulatory authorities:
The American Money Services Business ("MSB").
Estonian Financial Regulatory Authority ("MTR").
Australian Transaction Reporting and Analysis Center (AUSTRAC).
Business Administration of Singapore ("ACRA").


While offering multiple products, BitYard is a simple to use platform catering for novice investors via spot trading. For more seasoned traders, its contract and soon to launch perpetual contract trading services and grid trading system are ideal for trading crypto.
Register NOW
BitYard Platform Attributes
Key attributes of the BitYard platform include:
Fast and easy registration process.
Simple to use multi-product platform catering to both novice and experienced traders.
Low trading fees.
CFD trading for multiple asset types including cryptos, indices, commodities, and forex.
Users can buy and sell the crypto market's largest and most popular cryptos via the spot trading platform.
Sizeable leverage, with a minimum investment of just $2.
Advanced copy trading system with top-listed traders around the world.
Users may deposit both fiat and cryptocurrencies, subject to jurisdiction.
Traditional trading features. These include charts, with the required tools to carry out technical analysis.
Responsive customer support via Live Chat.
Global presence, servicing more than 500,000 users across more than 150 countries.
High emphasis on security. See the Privacy and Security section for full details.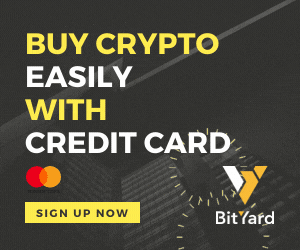 The Pros and Cons
Pros
Regulated: BitYard holds numerous licenses across multiple jurisdictions.
Customer Support: Users can contact customer support via live chat, by message, and by email.
Fiat Purchases: Investors may purchase USDT with fiat currencies.
Fast Registration: Registration takes as little as a minute.
Verification: Traders may use certain features of the platform without completing the KYC/verification process.
Low Fees: Competitively low fees.
Multiple Product Platform: BitYard supports spot and CFD crypto trading. Additionally, users may trade indices, commodities, and forex CFDs.
Leverage: Traders may enhance yields, with BitYard offering high leverage for CFDs.
Copy Trading: BitYard's advanced copy trading system all users to copy strategies of amongst the world's top-listed traders.
Demo Account: Available to allow users to become familiar with the platform before trading live.
Other positives include
High Emphasis on Security: Dual authentication, cold storage wallets, and engine & system security protocols deliver high level protection for users.
Affiliate Program: Influential crypto trading professionals can apply to become a member of the BitYard affiliate program.
The multi-level Commission structure enables members of the program to earn commission from indirect referrals.
Affiliate members can earn up to a 40% commission rate, while also receiving the support of BitYard to strengthen brand image in the industry.
Cons
At present, users may only withdraw USD Tether.
Conclusion
BitYard is currently a platform suitable for both beginners and professional traders. And they have a passionate and professional team.
If you are a beginner, starting with BitYard is the best choice.
If you are a professional trader, let bityard take you to open a new world of trading.
If you regret that you missed BNB and FTT, you can't miss BitYard then.