Cryptocurrency, or digital currency, continues to entice investors to see its huge potential even in this turbulent year. This was especially evident when a known digital assets merchant bank, Galaxy Digital, recently acquired two cryptocurrency trading firms. The acquisition offers traditional investors a chance to own digital assets such as Bitcoin (BTC). Despite the pandemic, Ethereum and Ripple are also gaining traction that pushed Bitcoin's worth over $18,000.  
The BTC powerhouse has joined the ranks of fiat currency, stocks, and other conventional assets. Cryptocurrency trading became in-demand and more investors are willing to jump into the real game. Trading BTC, Ethereum, and Ripple has transformed into an actual game that lets users practice trading skills with virtual currency.  
In-Depth Trading Game for Beginners 
The cryptocurrency virtual trading game seems like the answer for those who wish to try trading digital currency without risking real money. These platforms offer an experience much like when you're trading in real-time. The developers of these games will give traders as much as $100,000 in virtual US dollars to trade. Like in real-trading, they also hold competitions with attractive rewards. It's such an effective learning tool that trading powerhouse eToro offers the same gaming approach. 
A cryptocurrency trading game has the following advantages: 
Realistic hands-on experience in cryptocurrency trading 

Beginners have the chance to apply the basics of online trading 

A practical approach to observe, analyze, and learn 

Have fun while learning 

Some platforms offer real money in exchange 
Trading Game Features 
In general, the trading game features depend on the tech companies offering the experience. Those who are new to trading are free to register. They can either create an account or login using social network accounts. Other platforms don't need an account so that you can play outright. The trading platform features real-time cryptocurrency prices to give the experience to know what to expect amid buying and selling.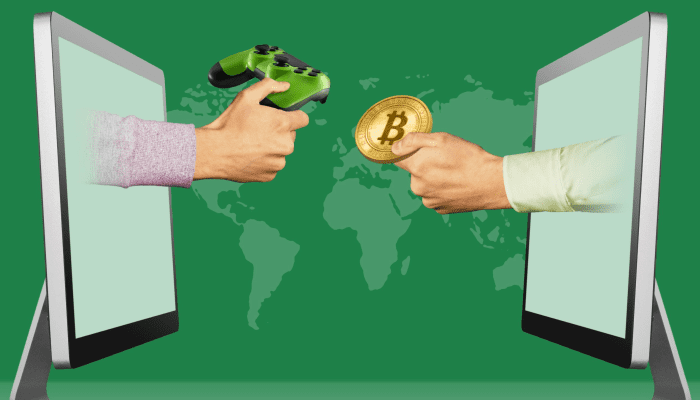 Platforms like the Coin Market Game include portfolios and leaderboards to identify traders with the potential to excel in real-life trading. The market section displays 23 different cryptocurrencies as well as their market cap.   
Users can access the PC version as well as the apps compatible with iOS and Android for mobility. They can practice whenever and wherever they want to.  
How the Cryptocurrency Trading Game Works 
While many platforms offer interesting add-on features to the actual trading practice, it works the same way as real-trading. Traders may first "purchase" coins to trade. Then, they make decisions to buy and sell while keeping track of the indicators. As the traders keep practicing, they get accustomed to the feel of trading and eventually learn how to form their strategies.  
Like a real trading platform, they can experiment and determine personal risk-levels without having to lose their money. However, if green investors are open to a reality check, they may want to try Spark Profit's market price guessing game to earn points. There are other platforms, like Niffler, that teach various trading aspects and rewards badges to record your progress. 
Why Beginners Should Try Simulation Trading 
Cryptocurrency trading games give newbies a dose of reality before allowing themselves to invest real cash. In truth, while cryptocurrency is becoming popular, it's still a volatile market that experiences the high and lows compared to older established trading assets. When traders don't have enough knowledge, they crash and burn due to wrong timing alone. With these platforms, they can even try more than one—all with different useful features—since they are free to use. Tech firms are also getting creative that traders may also experience virtual reality trading. Another thing that beginners must learn is to analyze real-time market prices and trends that can affect cryptocurrency prices. It's a skill that any trader must gain, and the free platform makes it less overwhelming.  
In Conclusion   
Diving into real cryptocurrency trading without the proper skills and strategies is a disaster waiting to happen. If you're not in the right mindset, you can lose a lot of money. It's why the creation of practice trading platforms is very helpful. Reading information penned by gurus is not enough. Sad to say, not everybody is enthusiastic about reading long tutorials without experiencing the actual activity. If you're to keep reading for hours in the classroom as a student, there's no point in grading systems without performance-based activities. Newbie traders can educate themselves at their own pace and use their free time wisely by practicing. There can be no more excuse for these platforms why one can't learn trading and eventually use it to gain money.