Have you met these problems before; download videos with low quality and at a very slow speed; fail to play videos on media players or mobile devices due to incompatible format/codec; unable to send a video to others due to the exceeded file size; computer crashes when editing large/long videos on the computer? These problems have nearly happened in most people's daily life, but there is one-stop video processing software to meet most daily needs, such as VideoProc.
VideoProc was released in 2018 by Digiarty – a software company with over 10 years of history. Unlike other products in the market, it provides an all-in-one video solution. Download the setup file from its homepage, install and you'll see the interface as below. Let's talk about some high-lighted features that make it stand out from the crowd.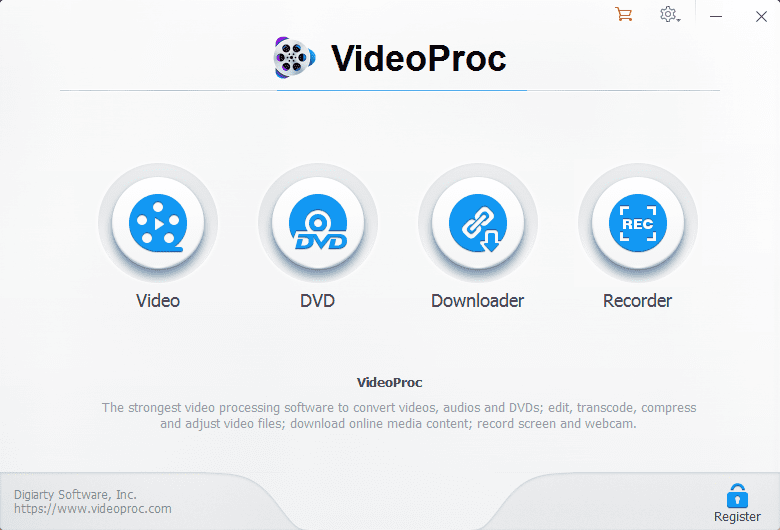 Fueled by GPU Hardware Acceleration 
Whether a software supports GPU hardware acceleration has been an important criteria to evaluate a software. Why? With the popularity of 4K, the videos we need to shoot, download, convert, and edit are becoming larger and larger. Hence, the larger the videos, the slower the processing speed will be. And if your computer is bought a few years ago, processing large videos would be like a patience training. With VideoProc, things are different. This intelligent software will auto-detect and make full use of your hardware resources to boost the speed while consumes a low CPU usage. According to VideoProc's test, it is 47X faster than those software without using hardware acceleration.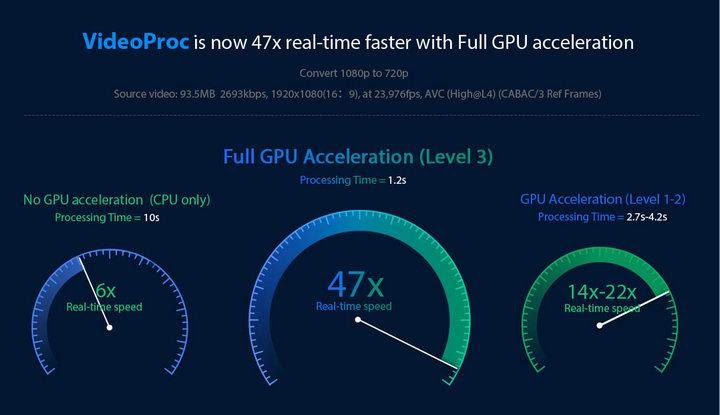 Powerful Media Converter 
There are so many formats and codecs recognized by different devices, platforms. Imagine you have shot a video with DJI drones and you want to edit with Final Cut Pro X, or Davinci Resolve. You may fail to open your drone videos because the format is not recognized by those video editors. Or you have downloaded a movie from online sites, but you can't play it on your media players or smartphones. This might be the format or codec issue. Hence, in most cases, we really need a video/audio converter at hand. 
VideoProc is a good choice because it is fast and easy to use. If you want to change the format of a video/audio file, all you have to do is to drag the file to VideoProc, then select the output format/codec you need, then click "Run" to convert the file instantly.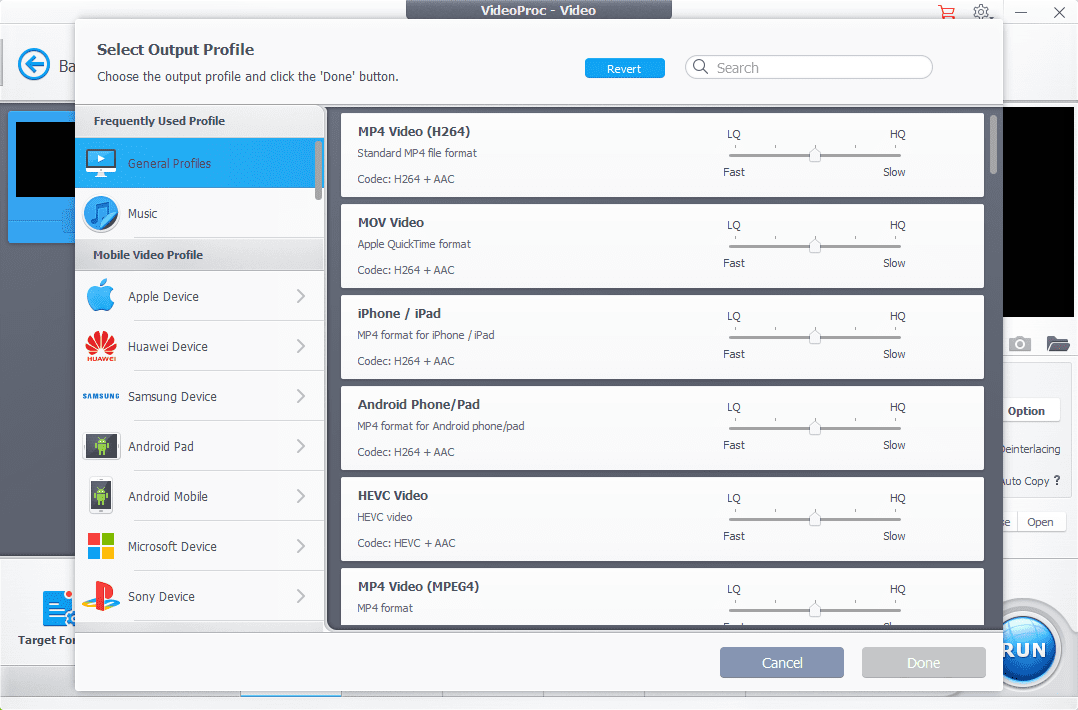 VideoProc supports a wide range of formats like MP4, AVI, MOV, FLV, WMV, MKV, SWF, DV, WebM, TS, MP3, AAC, FLAC, WAV and more. And it also supports the latest and less-used codecs like H.265/HEVC, H.264, Xvid, MPEG4, etc. If you are a DVD disc collector, you can also use VideoProc to digitize and backup your DVDs for playing on modern devices.
Feature-rich Editing Toolbox
If you want to simply quickly edit your videos, such as cut out unwanted parts, crop black area, reduce video shakiness, rotate and flip, slow down/speed up video, add watermark to make your video personalized, etc. There is no need to use Adobe Premiere Pro, Final Cut Pro, Davinci Resolve and other professional video editors. On one hand, they are very expensive, on the other hand, it is complicated and needs days of learning. How about the online video editing sites? Well, most of the online video editing sites have set limitations to the file size that you can upload, this means you can't upload your long video or large 4K/1080p videos for free. And most free online sites have very limited editing features and usually output the edited video with a large watermark.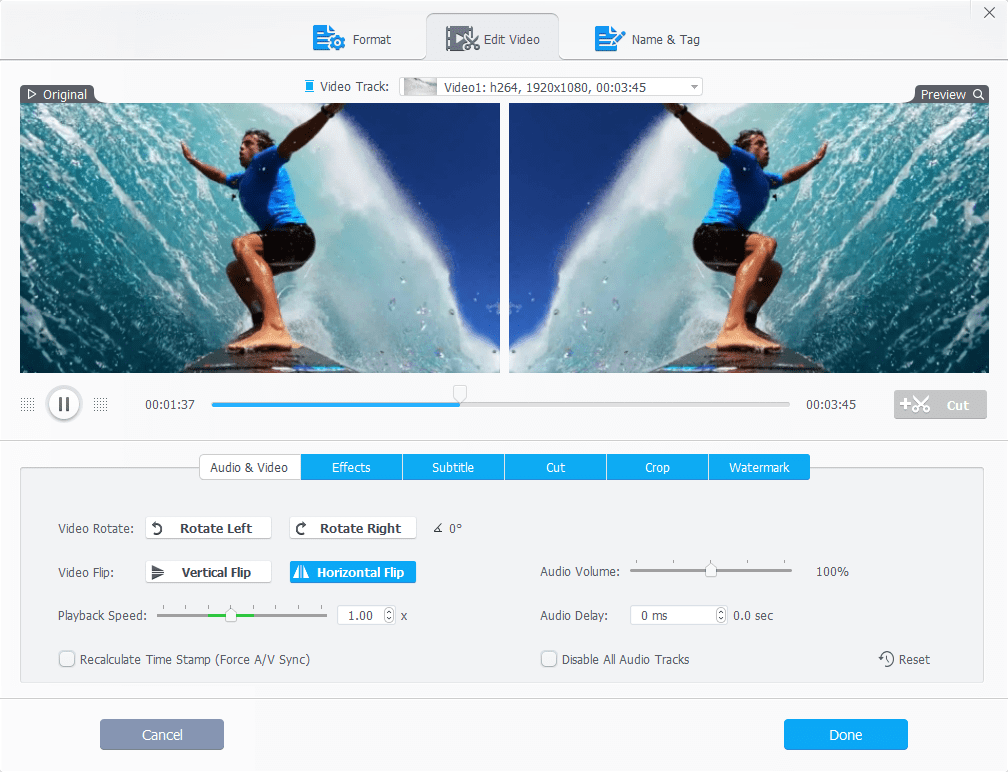 VideoProc's editing toolbox is convenient, after you download or convert video, you can directly select the quick editing toolbox to polish your videos. 
Free Downloading and Recording Option
Even if VideoProc is a shareware, it still opens some features for totally free. Downloading VideoProc free trial version on its homepage, you can save videos, audios, playlists from 1000+ sites with original quality, record your PC/Mac screen or record with both screen and webcam (Picture-in-picture mode). The two features are totally free but you can do a lot of things like watch movies offline whenever you want; record tutorials, reviews, presentations, gameplays, etc. 
Summary
With the features considered, VideoProc is a competitive 4K video processing software among all the products, and it is also a useful toolkit for all levels of users to process videos for various needs.