In its 2015 report on global financial inclusion, the World Bank found that only 34% of Sub-Saharan Africans have a financial account.  With the youngest population in the world, and a penetration rate of 41% in unique mobile subscriptions, it is not surprising that Africa's unbanked are driving Fintech innovation.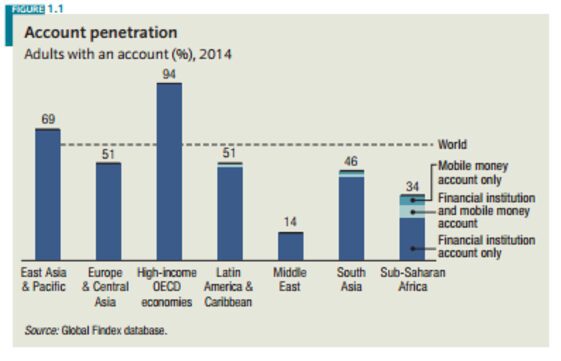 In fact, Africa is widely regarded as a hotbed for Fintech innovation.  According to Forbes, the global Fintech industry includes approximately 1,000 companies and startups.  Fintech Africa lists approximately 170 African Fintech companies, representing a significant share of the worldwide activity.  African Fintech startups are successfully garnering funding with close to 30% of all capital raised by African startups, totaling $55 million, invested in Fintech in 2015, according to Disrupt Africa.
Answering the Market Need
As "necessity is the mother of invention", it is not surprising to see that many of these enterprises are providing much needed financial services to Africa's unbanked population. They are focusing their efforts on the development of alternative financial platforms, from mobile payments to digital currencies, and authentication technologies, ensuring the security of these platforms.
Below is a brief description of the Fintech innovations pioneered by Africans:
1) Mobile Money
African Fintech innovation has its roots in mobile money, the first non-bank based payment and transfer platform. Traditional bank infrastructure is weak in Africa, particularly in rural areas.  Urban banks focus on loan services, and offer their banking services at comparably high rates.  These factors have greatly contributed to the low percentage of African's with traditional bank accounts.  Mobile money enables Africans to move from a solely cash-based society to an affordable and obtainable electronic alternative.  

Introduced in March 2007 by Safaricom, M-Pesa was embraced by Africans, boasting 1.2 million accounts by the end of the year, and 25 million active users by 2016.  Its innovative approach allowed Africans to upload cash balances to their mobile account (phone credit) via a network of agents found in local stores. They could use this balance to complete payments to third parties. It also enabled people to send funds via a peer-to-peer transfer, including cross border transfers, by using simple SMS technology.  The same network of agents are used to exchange the mobile money balance for cash.
2) Mobile Payments
Building off of mobile money success, additional advanced mobile payment options have been introduced in Africa in the last decade.  From ewallets to QR codes, the Fintech community offers a variety of financial tools to Africa's unbanked.

Mobile payment apps that can accept payments via QR code, such as DumaPay, allow simple and quick payment. Merchants simply need to generate a QR code, and then all customers have to do is scan it to pay. No exchange of cash required. No time wasted on inserting payment details.  This method improves upon previous SMS payment methods, as customers no longer have to input account numbers or take multiple steps to pay.

eWallets are another digital payment method that offer a single point of access to consumers.  With ewallets, customers upload their preferred payment methods to their mobile phone and use it at the point of sale, or for online purchases.  At stores, the customer simply waves or taps his NFC-enabled phone at the register, which is a hassle-free way to pay.

3) Digital Currencies
Digital currencies, or cryptocurrencies, are virtual currencies which are practically impossible to counterfeit. They are protected on the highly secure blockchain public ledger.  Independent of government interference, digital currencies offer a secure method for peer-to-peer transactions.  Undeniably the leading cryptocurrency, Bitcoin was introduced in 2009.  Bitcoin and other digital currencies hold much promise for Africa, as they are less given to volatile exchange rates.  Gaining popularity, Bitcoin is already accepted by over 1,000 merchants in South Africa, alone.
Numerous African technological startups offer tools for Bitcoin or alternative cryptocurrency utilization. One such company is Bankymonn, which provides Bitcoin payment gateways to vendors enabling them to accept cryptocurrency payments.

4) Payment Security Authentication

Many of Africa's unbanked are still wary of using digital payment methods, as they are skeptical of their security. Thus, as digital payment options continue to develop, African startups are building advanced technologies to protect these Fintech applications.  OneVault, BehavioSec, and SayPay Technologies for instance, offer biometric authentication technologies, based on the voice or on smart sensors found in the phone, which can be integrated into financial payment applications as a third-factor authentication method.   

Entersekt is an African company that offers a two-way, real time communication channel between financial institutions and customers.  The technology uses digital certificates on the user's mobile device to authenticate both the service providers and the device, independent of the user's phone number or SIM card.  Users respond to authentication prompts by accepting or rejecting real-time requests for communication via Entersekt's app.  Communications are safeguarded by encryption, preventing man-in-the-middle or other fraud attacks, ensuring secured transactions between both parties.
Africans have experienced a lack of financial inclusion for generations. Now, the need for alternative payment methods and security to cater to the unbanked population is finally driving the rapid development of Fintech technologies on the continent, opening the door for a bright future of African financial inclusion.