What Is TrendSpider?
Launched in 2016, TrendSpider is an advanced charting and technical analysis platform designed by traders for traders. TrendSpider offers detailed information on more than 55,000 US-based securities, with dozens of data sources, real-time alerts, and analyst rating data. Some supported assets include stocks & ETFs, futures, FX pairs, and crypto.
TrendSpider doesn't just offer data; it has one of the most thorough backtesting environments with historical data from the last decades, so you test how your strategies would perform in the real world. You can set up trading bots to do all the trading for you, with no programming experience required.
In this quick TrendSpider summary, I will go over all the best features of this platform. If you want to read a more in-depth analysis, check out our full TrendSpider review.
What Is A TrendSpider Coupon?
TrendSpider Coupons are special discount codes you can use when signing up for a TrendSpider subscription. Coupon codes don't expire, and you can check here for the best TrendSpider Coupon code; just make sure you apply it before you purchase a subscription – you won't be able to use it afterward.
Is The TrendSpider Subscription Worth It?
TrendSpider is one of the most advanced stock research platforms if you're looking to invest in US-based securities. It supports over 55,000 assets and dozens of live data feed sourced directly from the NYSE, NASDAQ, CBOE, and more. The eight categories of the supported asset are:
Stocks
ETFs
Futures & Commodities
Currency FX Pairs
Cryptos
Crypto Perps
OTCs
TrendSpider also sources trading data directly from the SEC and analyst rating data from Benzinga and other highly rated investing newsletters. For the right trader, TrendSpider is worth it when compared to other stock research platforms.
Access Advanced Research Tools And Alerts
TrendSpider has three premium plans; Premium, Elite, and Advanced. With the premium subscription, you will have access to:
Real-time data
Basic charting tools
Automated analysis
Alerts & Dynamic Alerts
Market scans (25)
Raindrop Charts
Unusual options trading data
The Elite and Advanced subscriptions offer all of the above plus access to:
Backtesting environment
Strategy Tester
Automated trading bots
Intraday scanning
Analyst Rating data & Insider Trading
Dynamic Watchlists
The Strategy Tester is ideal for experienced investors looking to test new strategies in a safe, completely safe environment; you can also use historical data to see how your strategy would perform over a long period. Best of all, you don't need any programming experience to use it.
After you've perfected your strategy, you can use Trading Bots to complete orders for you in real time when certain conditions are met, with dynamic triggers. You can then get a clear idea of how your investments are performing with any of TrendSpider's charting tools, including their proprietary Raindrop Charts; these are the evolution of traditional candlestick charts and include more information about trading volume, so you can get all the information you need at a glance.
With the Elite and Advanced subscriptions, you will have access to substantially more simultaneous alerts (100-250), longer expiration dates for your alerts (from 14 days to 30-90 days), and lower minimum scanner timeframes so you can run scans and get results immediately. We go deeper into each subscription in this TrendSpider subscriptions comparison.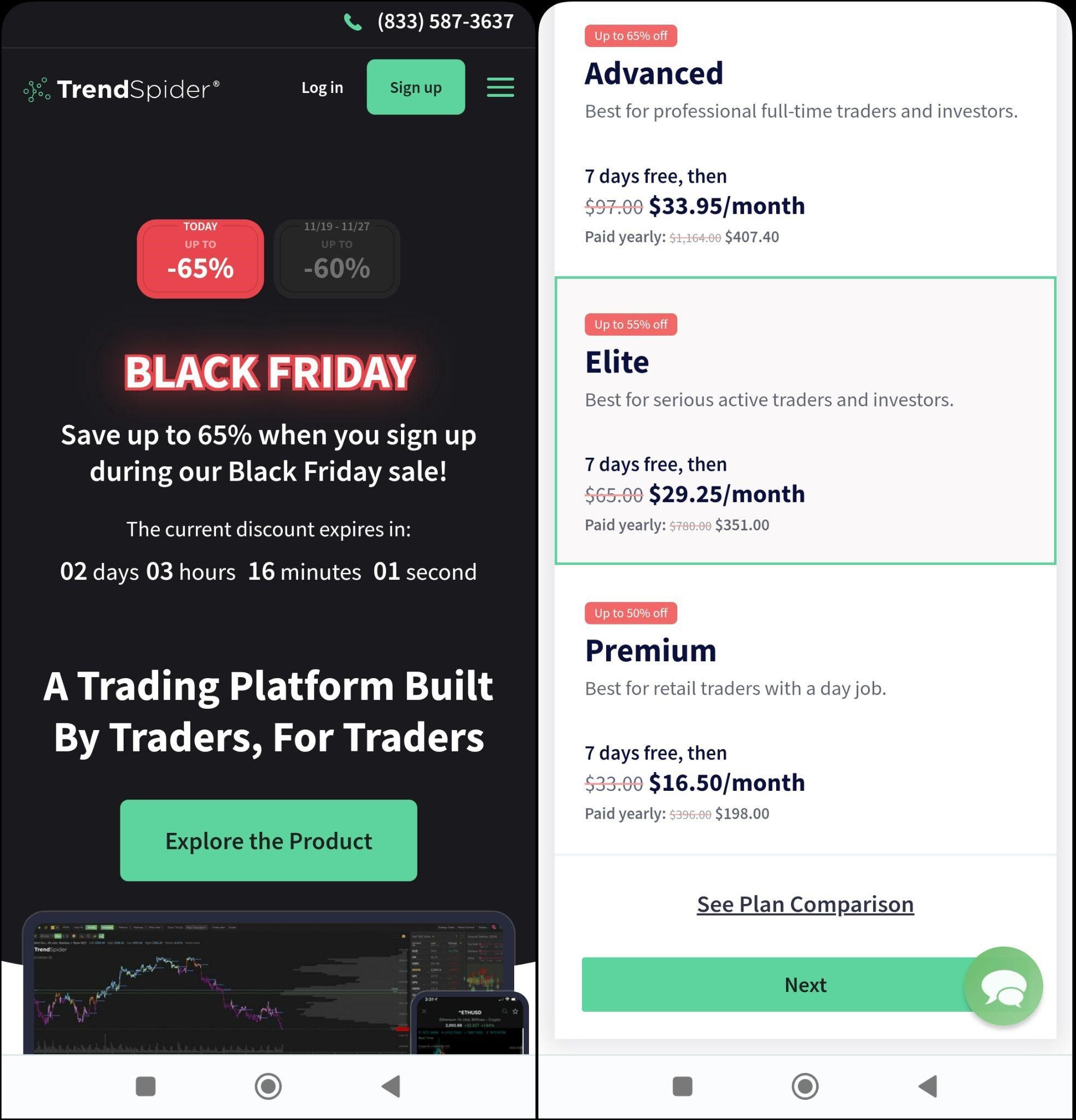 How Much Does It Cost To Join TrendSpider?
Premium Plan: $21.45/month (or $257/year)
Elite Plan: $39.00/month (or $468/year)
Advanced Plan: $53.35/month (or $640/year)
All three TrendSpider premium plans come with a 7-day free trial if you use our link to sign up, and the best discount will be applied automatically upon checkout. Currently, the coupon will get you a discount of 35%-45%, depending on the subscription you pick.
Even though anyone can sign up for TrendSpider, it mainly focuses on US markets and US-based securities. To create an account, visit TrendSpider's website and click sign up on the top right. Here's the breakdown of all TrendSpider subscriptions.
Choosing Your TrendSpider Subscription
If you're unsure which plan to pick, these are our recommendations.
If you're looking for basic tools, don't need a backtesting environment, and don't make a lot of trades, the Premium Subscription is more than enough for you
If you are a more advanced trader that needs access to real-time data from reputable sources, plus Analyst Ratings and plenty of market scans, you should pick the Elite Subscription
If you are a professional trader and you want access to all the best features, including a backtesting environment, advanced charting tools, and access to Raindrop Charts, you should consider the Advanced Subscription.
It's usually a good idea to start with the Premium Subscription and upgrade as you see fit. We highly recommend testing out the free trial before committing to a subscription. If, after the trial, you're still not sure, we recommend checking out Trade Ideas, another excellent stock research platform.
Is It Easy To Cancel Your TrendSpider Subscription?
Yes – canceling your TrendSpider subscription is very easy. Here are the steps:
Login to your TrendSpider account
Navigate to Account & Settings
Open the Plan tab
Click on Cancel Auto-Renewal
You will receive a confirmation email. Alternatively, you can call TrendSpider customer support directly, send an email, or contact the live support team directly from the website. But before that – is TrendSpider the right platform for you?
Is TrendSpider Legit?
Yes – TrendSpider is a completely legit company based in Chicago, Illinois. TrendSpider has an excellent track record since its inception in 2016 and very positive reviews on Trustpilot. In 2021, TrendSpider won the Benzinga Global Fintech award, and in 2022 it was listed among Today Inc.'s 5000 fastest-growing companies.