What Is Streitwise?
Founded by Eliot Bencuya, Jeffrey Karsh, and Joe Kesse, Streitwise is an online real estate investing platform headquartered in Los Angeles, California. It was launched in 2017 as a fully sponsored and managed branch of Tryperion Holdings, one of the largest real estate managing firms with over $5 billion in assets under management.
Streitwise provides access to an online REIT comprised of two high-income-producing buildings: the Allied Solutions Building in Indianapolis, and the Streitwise Plaza, in Missouri. with a combined 440,000 square feet of leasable space. They pay out dividends every quarter, and have reported an average annual return of 9,2% over the last 21.
In this quick Streitwise review, I will go over all the platform's best features and fees so you can decide if this is the platform for you. Keep in mind this is a quick summary – here, you can read our full Streitwise review.
Pros & Cons of Streitwise
Pros
Available for accredited and non-accredited investors
2% average returns over the last 5 years
Set up automatic Dividend Reinvesting
Professionally managed
Tax benefits
Specialized focus on Office properties
App available on iOS
Cons
$5,000 minimum investment
Low liquidity
Can't pick the properties in the portfolio
Penalty if you redeem your shares early
Features & Benefits Of Streitwise
1) Consistent Returns
Streitwise is one of the most consistent real estate investment platforms. Since its inception in 2017, it has averaged 9.2% annual returns over 21 quarters, easily outperforming public bonds (2.51%) and public REITs (3.43%) in that same period.
Streitwise generates earnings from its two holdings Allied Solutions Building and the Streitwise Plaza, both of which have secured contractual rent obligations until 2030. The occupancy rate on both holdings is 95.5%, and the total asset value is $82 million.
The pandemic has affected the real estate market as a whole. Still, despite this, Streitwise is one of the few platforms that has managed to stay afloat and meet the return targets thanks to its strong credit tenancy and conservative 50% LTV ratio.
Now that workers are returning to the office, Streitwise is set to make a strong comeback, as both of its holdings are office buildings. They're looking to add a third holding in the suburban-urban office property space within the next couple of years.
2) Specialized Holdings
Currently, Streitwise's portfolio is composed of two properties. The Allied Solutions Building is a Class A office building project located in Carmel, Indianapolis. This building has over 142,000 square feet and has already secured contractual rent obligations from all the tenants until 2030. Allied Solutions LLC, F.C. Tucker, and Fork+Ale House are some tenants.
The Streitwise Plaza is a Class A office park comprised of 3 buildings totaling 290,000 square feet. It is located in Sunset Hills, St. Louis, and it features Wells Fargo, Edward Jones, and New Balance's regional headquarters, among other large companies. They are also looking to expand and acquire more properties in the near future.
If real estate development interests you, you might want to check Groundfloor, a real estate investing platform that provides loans to real estate developers – with industry-low interest rates – so they can renovate a property and flip it for a quick profit.
3) Security
Streitwise is regulated by the Securities and Exchange Commission (SEC) under Regulation A+ of the JOBs Act. They also conduct regular audits on all their finances. Streitwise doesn't provide insurance on investments; like any other investment, there is no guarantee of a return, and there's an inherent risk of losing your assets.
Streitwise is partnered with FundAmerica and Computershare – both SEC-regulated service providers – to authenticate, validate, and keep all personal information and electronic documents secure.
If you want to invest directly in a brick-and-mortar business before it goes on the stock market, and for as little as $100, Mainvest might be for you.
Streitwise Fees
Streitwise's fees are some of the lowest in the real estate REIT market, and besides management, they don't charge any additional fee:
Management fee: 2%
Developer fee: Free
Property management fee: free
Early share redemption penalty: 90.0-97.5% of the NAV
Minimum investment: $5,055 (500 Streitwise shares)
It's worth noting that the minimum investment is variable, and it's tied to the current price of the Streitwise share. As of 2022, each Streitwise share is worth $10.15. Multiply that by 500, and that is the minimum investment. If the minimum investment is too high for you right now, check out Fundrise – It has a $500 minimum and a management fee of just 1%.
You can only redeem your Streitwise shares after 1 year of holding them, and the early redemption penalty applies if you make a redemption request before the 5-year mark. Streitwise will buy back your shares for 90.0-97.5% of the NAV based on how long you held them – after the 5-year period, they will buy them back for 100% of the NAV.
Sign-Up Process
Streitwise is marketed primarily towards US investors, but anybody can invest in Streitwise. For foreign investors, deposits may take up to 10 days to clear. You will then be prompted to create your account, and your shares will be credited automatically to your account.
The process of creating your account is very quick, and it won't take more than 5 minutes. Here are the steps:
Visit Streitwise's website
Click Invest Today
Click the Get Started button
Fill in some of your basic information
Sign up for Streitwise using this link, and you'll get a sign-up bonus.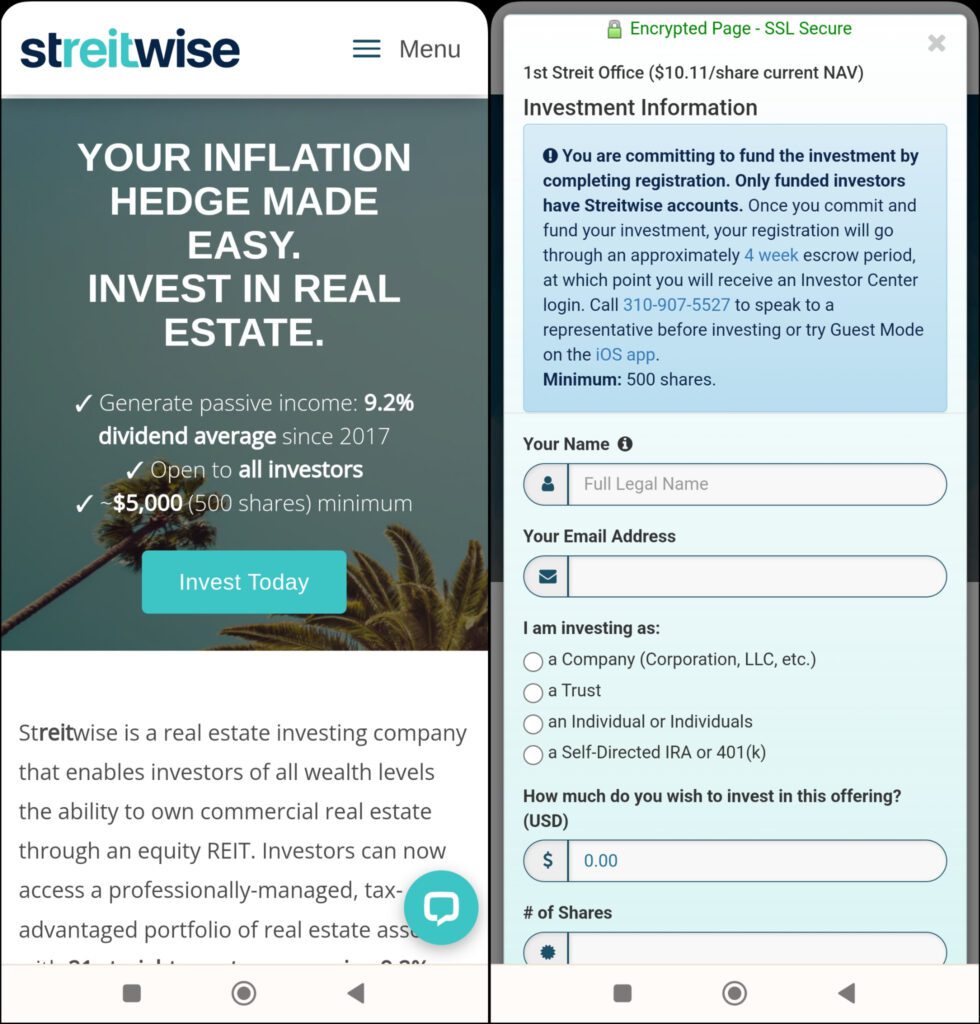 Final Thoughts
Streitwise is a highly specialized real estate platform that focuses on the office building real estate space. It is a great option if you're looking to earn a consistent income and gain exposure to this space. It has a somewhat restrictive high entry barrier of $5,000 (500 Streitwise shares), but it makes up for it by allowing non-accredited investors to participate. It charges a very low 2% fee annually, and unlike other real estate platforms, it doesn't charge any other fee. It's worth mentioning that Streitwise is a branch of Tryperion Holdings, a real estate management firm with over $5 billion in assets. We recommend this platform as a solid investment if you can afford the high entry fee.