When you're picking platforms that will help you invest, the choice you make right now will affect you for years to come. Choosing the right platform can save you headaches and help you build wealth. Real estate has been historically reserved for the very wealthy, but recently, crowdsourced platforms like Fundrise and Streetwise have made investing in real estate accessible for everybody.
Fundrise is an online investing platform that offers access to a diversified portfolio of real estate assets. Fundrise has an industry-low minimum investment of just $10 and is one of the largest crowdfunded platforms in the US, with 371,000 active investors and a portfolio value of $7 billion.
Streetwise is a real estate investing platform with a strong focus on commercial properties. Over 22 quarters, Streetwise averages 9.1% dividend returns and is one of the more stable real estate platforms in the US. Streetwise returns easily beat public bonds and REITs by more than 3%, and it's also open to foreign investors.
In this quick Fundrise vs. Streetwise review, we will go over the best features of each platform and compare them side by side. If you're looking for a more in-depth review, we recommend checking out our full Streetwise vs. Fundrise review.
Streitwise vs. Fundrise – Side By Side
Starting with the similarities, both platforms offer:
Exposure to the real estate market
Consistent dividends
Access to a market that has consistently beaten the S&P 500 index
Hedge against inflation
Long-term wealth generation
Streitwise and Fundrise are great options if you want to gain exposure to the real estate market. The real estate market has historically been more stable than the stock market, and it's an excellent hedge against inflation. Streetwise and Fundrise are both available for non-accredited investors, but they have some key differences that are worth mentioning:
| | | |
| --- | --- | --- |
| Platform | Streitwise | Fundrise |
| Minimum Investment | ~$4,835 (500 shares) | $10 |
| Available for non-accredited investors | Yes | Yes |
| Dividend Payment Schedule | Quarterly | Quarterly |
| Customizable Investments | No | Yes |
| Real Estate Focus | Commercial properties apartments | Apartments and single-family properties accessible |
| Accessible for Foreign Investors | Yes | No |
| IRA Investing | Yes | Yes |
| Annual Fees | 2% | 1-2% |
| Early redemption penalty | 2.5-10% | 1% |
| App available on mobile devices | iOS devices | iOS and Android devices |
Even though Fundrise and Streitwise are available for non-accredited investors, Streitwise minimum investment can be prohibitive for small investors. On the other hand, Fundrise's crowdfunded approach and $10 minimum investment mean anyone can invest in a highly diversified real estate portfolio that includes apartments, single-family, and to a lesser extent, commercial properties.
Streitwise focuses exclusively on commercial properties, which can hurt diversification, but it is one of the most consistent real estate property types. Streitwise, unlike Fundrise, it is available to investors outside the US and doesn't require citizenship or resident status. We go deeper into Streitwise's best features in our full Streitwise review.
In terms of fees, both platforms are very close and charge a low – compared to the industry average – 2% fee annually. If you plan to hold your investments for at least 5 years, the early redemption fees won't affect you. Still, if you're unsure and want to err on the side of liquidity, Fundrise's early redemption fees (1%) are considerably lower than Streitwise's (2.5-10%). Fundrise offers more investments and is significantly more flexible than Streitwise.
With all that being said, which one is the right platform for you?
Our Recommendation
If you're still unsure which platform to pick, here are our recommendations.
If you're not looking to spend a lot of money yet and want to test very basic features and get a feel for the real estate market, we recommend Fundrise for its very low minimum investment
If you're looking for an investing platform that has a narrow focus on one type of real estate property, we recommend Streitwise's commercial properties
If you're a foreign investor looking to diversify and invest in US markets, Streitwise makes it very easy for you to get started
If you think it's very unlikely that you can hold on to an investment for 5 years and are likely to sell your shares early, Fundrise charges a considerably lower fee for early redemption
As with most things investing, it's usually a good idea to get a feel for the market and research historical returns before jumping in. That's why Fundrise, with its $10 minimum investment, is our top recommendation for beginners.
If you have more experience, we recommend checking out Fundrise's biggest competitors.
Streitwise Fees vs. Fundrise Fees
Streitwise
Annual Servicing Fee: 2% of all your investments
Sales Commission Fee: Free
Property Management Fees: Free
Early Redemption Fee: 2.5%-10%
The early redemption fee applies if you want to sell your Streitwise shares before the 5-year mark. The earlier you try to liquidate your shares, the higher the fee, for a maximum of 10%.
Fundrise
Annual Advisory Fee: 0.15%
Annual Management Fee: 0.85-1.85% (depending on the investment you choose)
Sales Commission: Free
Early Redemption Fee: 1%
Fundrise's early redemption fee applies only to eREITs and eFunds and is a flat 1% if you sell your shares anytime before the 5-year mark.
Signing Up With Streitwise
Signing up for Streitwise is very easy if you're a US citizen with a local bank account. As a foreign investor, you will need to fund your account through bank wires, which may take up to 14 days before your funds are cleared. Here are the steps to sign up:
Visit Streitwise's website
Click Start Investing
Click Start Registration
Fill in some of your basic information
Sign up with Streetwise using this link, and you'll get the best sign-up bonus available. Additionally, you'll unlock your referral link so you can start inviting friends and family.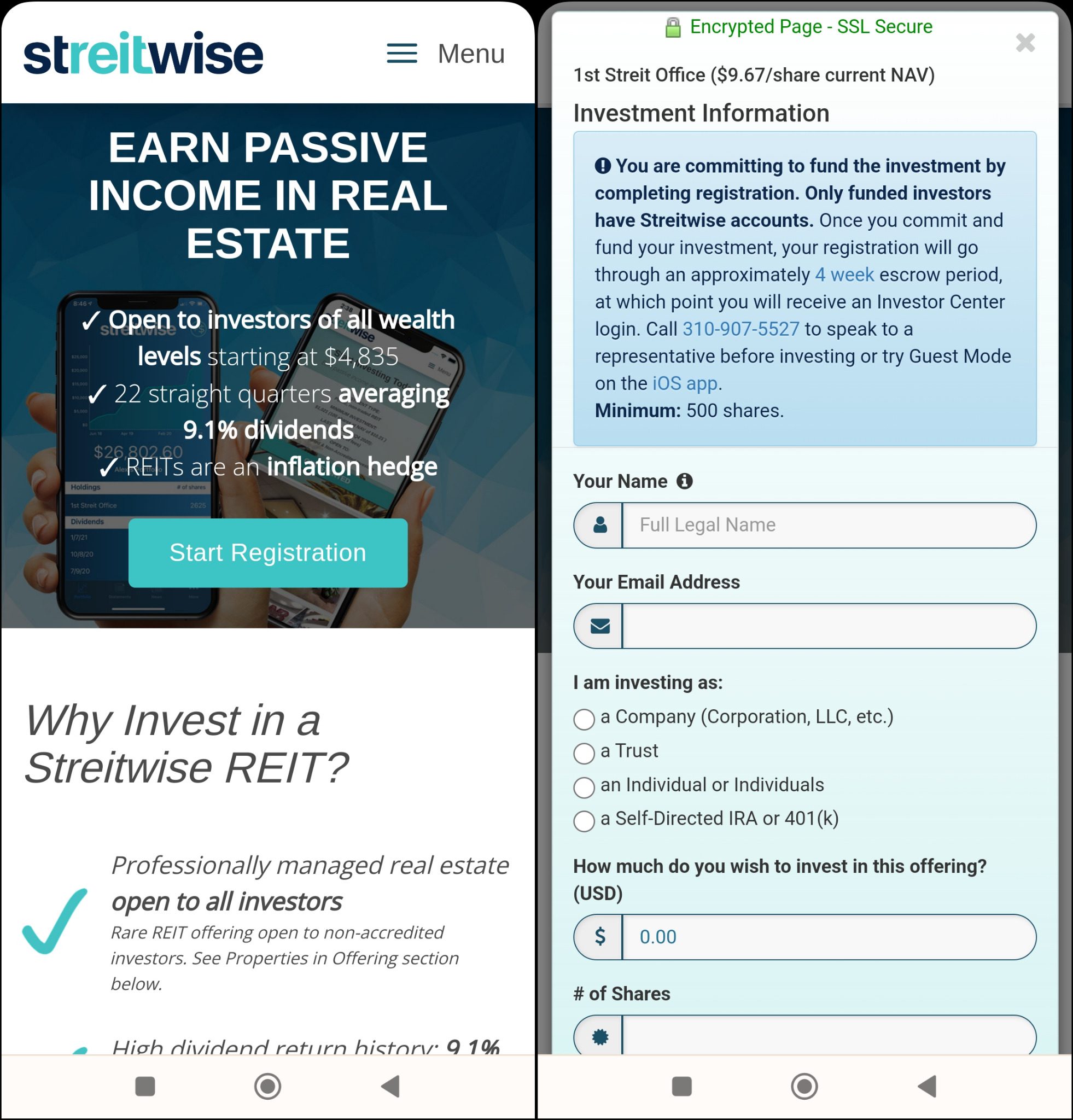 Signing Up With Fundrise
Signing up for Fundraiser is very easy, and it's open to accredited and non-accredited investors alike. However, it's restricted to US citizens or permanent residents. Here are the steps to sign up:
Visit Fundrise's website
Click the Get Started button on the top right
Enter a valid email address
Confirm your email and fill in some of your basic information
If you want a welcome bonus, use this link to sign up, and you will get anything from $25 to $100 worth of Fundrise shares as a bonus.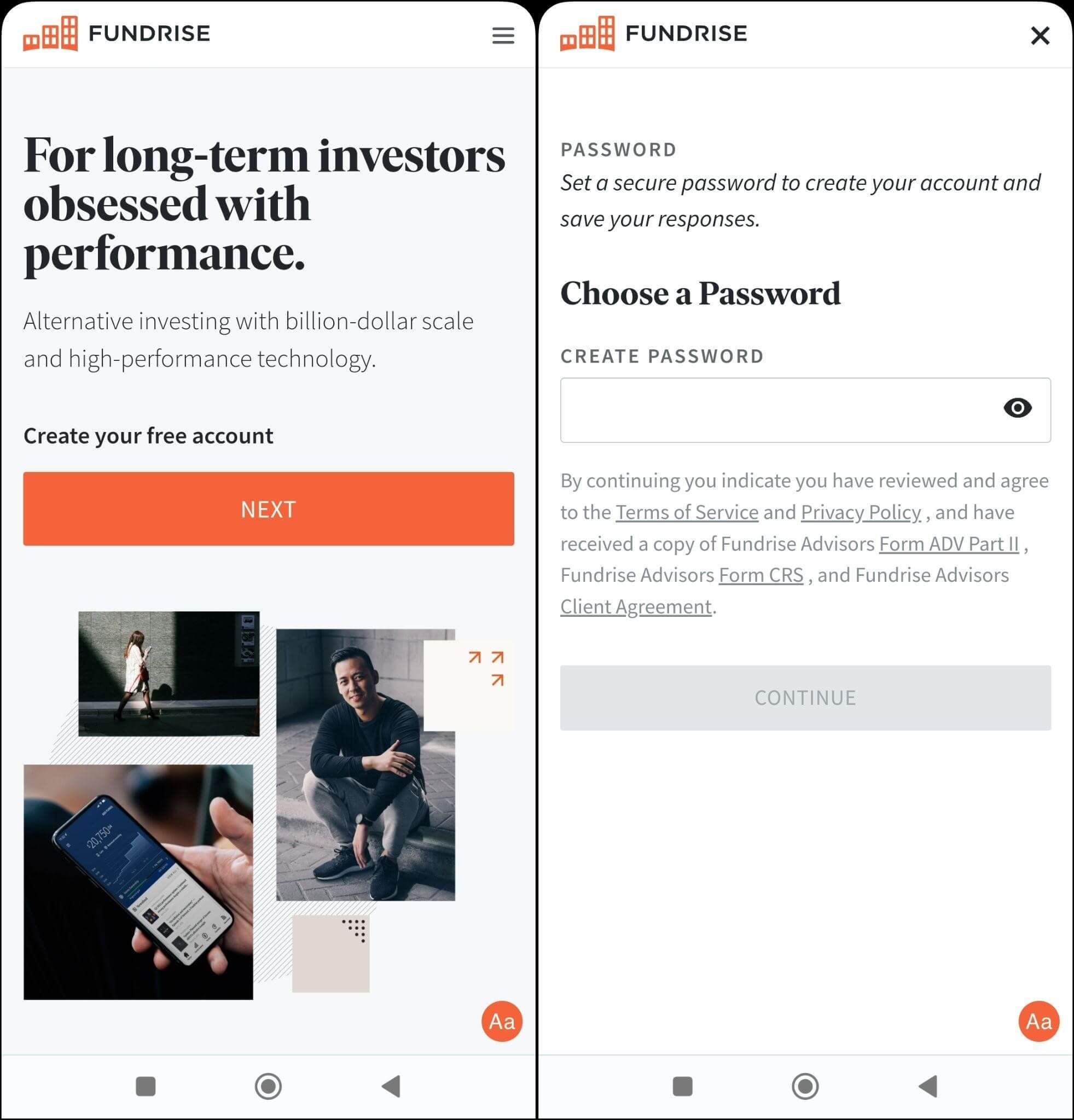 Conclusion
Investing in real estate is now easier than ever. Platforms like Fundrise and Streetwise make it so even the smallest investor can gain exposure to this growing market. If you're a beginner looking for a place to start, we recommend Fundrise as the more flexible option. It offers expertly-made diversified portfolios and the option to customize your investments. If you have a little more experience and want to invest in more select properties, Streetwise offers access to some of the best commercial real estate available.