WPS Office is a feature-packed office suite that supplies users with extensive tools for creating, editing, and managing spreadsheets, documents, and presentations. It was developed in collaboration with Kingsoft; WPS Office offers an easy-to-use interface and numerous functions that make it a popular option for businesses and individuals alike.
Part 1: Most Notable Aspects of WPS Office
One of the most notable aspects of WPS Office is its cross-platform compatibility. This allows users to access their documents seamlessly across various gadgets and operating systems. If you're using a Windows PC, Mac, Linux machine, iOS device, or Android phone, WPS Office ensures that you can work on your documents from any location, anytime.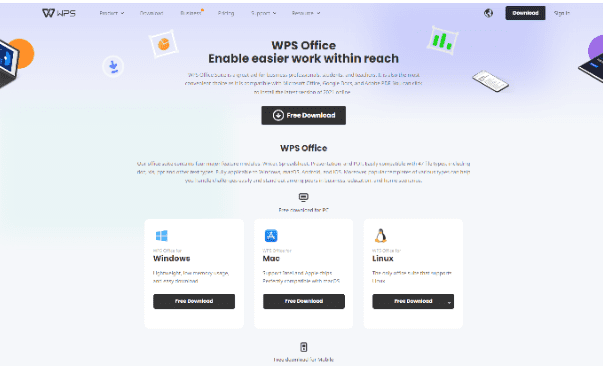 The suite includes three key components. WPS Writer, a word processing program, gives users access to various templates, formatting options, and collaboration tools, allowing them to easily produce professional documents. 
WPS Spreadsheets offer powerful data analysis tools, allowing complicated calculations, functions, and data visualization using graphs and charts. Through WPS Presentation, users can create visually appealing slideshows and impressive presentations with various transition effects along with multimedia integration and collaboration features.
In addition to its main features, WPS Office offers a variety of tools and resources to boost productivity. Users can convert documents to and from PDF, providing seamless compatibility with the most popular document formats. The suite also offers document encryption, allowing users to safeguard sensitive data by using passwords.
Lets discuss about Feature about pdf editing.
Part 2: Understanding the Top FREE PDF Editors available to use with Windows 10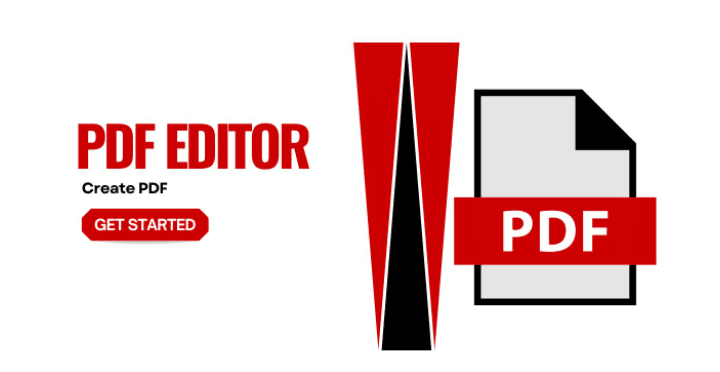 (Portable Document Format) PDF files are extensively used to share and store important documents. An influential PDF editor is vital when you have to edit, annotate, or convert PDF files. In the following article, we'll look at the top free PDF editors on Windows 10. The editors provide various tools to help you improve and modify your PDF files without spending a fortune.
Part 3: FREE PDF Editors 
Adobe Acrobat Reader DC
Adobe Acrobat Reader DC is a well-known and widely-used PDF editor with various free features.
Comment and Annotate Notes and Comment: Make comments, highlight text, or sketch shapes to give feedback or highlight important sections.
Fillable Forms and Form Editing: It is easy to fill out interactive forms or create your fillable forms.
PDFelement
PDFelement is an extensive PDF editor with a free version, with an array of options. It offers advanced editing tools, which allow you to alter text images, pages, and text within your PDF documents. With PDFelement, you can:
Advanced Editing Tools Edit images, text, and objects in your PDF files in a snap.
OCR (Optical Character Recognition) Technology converts PDFs that have been scanned into searchable, editable files.
Form creation and data extraction Forms can be filled out, and data from completed forms can be extracted for quick analysis.
Batch processing and watermarking Processing multiple PDF files simultaneously and including watermarks to create branding or for security reasons.
Sejda PDF Editor
Sejda PDF Editor is a robust online PDF editor offering an unpaid version with an extensive set of options. It has a wide range of editing options. It also allows users to:
Full Editing Options Edit text, images, links, and pages within PDF documents.
Merge, Split, and compress PDFs: Join many PDFs, remove specific pages, or shrink the size of PDF files.
Nitro PDF Reader
Nitro PDF Reader is a rich and feature-packed PDF editor. It comes with an unpaid version that includes a variety of editing options. It lets you:
Edit Text and images in PDFs: Edit images and text directly in the PDF document.
Make Fillable Forms Create interactive forms using text fields, checkboxes, and dropdown menus.
Extraction Text and Pictures: Take texts or pictures from PDFs to use in other documents.
Reviews and comment tools Comment, add annotations, comments, and markups to work effectively with others.
Convert and Create PDF into Word, Excel, and PowerPoint. Convert PDF files into editing Microsoft Office formats.
Part 4: Expert Validation: WPS Office's User Satisfaction Sets the Standard
Comment 1:

Comment 2:

Part 5:  Frequently Asked Questions
Q1: Are there limitations or watermarks included in those free PDF editors?
Although their free editions of editors provide various options, a few have limitations or watermarks on the documents they edit. It's essential to check the capabilities and limitations of each before making a decision.
Q2: How safe are these free PDF editors on Windows 10?
The security options of free PDF editors may differ. However, most have options to protect your passwords for PDF files and employ encryption to safeguard the security of your private data. Make sure you check the security options in the editor you select.
Q3: Do I have the ability to collaborate with other users by using these PDF editors for free?
Certain PDF editors have collaboration tools like annotation, commenting, and review tools. These tools allow several participants to collaborate on a PDF document and share feedback simultaneously.
Q4: Are forms fillable? Or design fillable forms with the free PDF editor?
Yes, several free PDF editors offer the ability to fill out forms and let you create the fillable form of your choice, making it easy to fill in forms electronically.
Q5: Do I have to install and download these free PDF editors on my PC?
It is dependent on the editor for PDF. Certain editors require users to download and install software onto their PC, while others offer cloud or online editing tools without installation.
Conclusion
When choosing the best PDF editor that is free to use in your Windows 10 workflow, consider these factors:
Think about Your Specific Needs to Consider your specific needs, including editing, annotating, or conversion of PDFs.
Check out the Variety of Editing and Conversion Tools: Check that the editor has the essential features needed for the job you are trying to accomplish.