Dr. Michael Dattoli, the founder of Dattoli Cancer Center & Brachytherapy Research Institute in Sarasota, FL, explains that routine prostate screening saves lives. Screening helps discover prostate cancer in the early stages when it is most likely to be cured by treatment. For many men, early screening finds prostate cancer before there are any disease symptoms.
Routine annual prostate screening is recommended for men starting at age 55 and earlier if there is a known family history of the disease. Prostate cancer is usually slow-growing cancer.  Screening can find cancer in its earliest stages when treatment for cure is most possible.
The first step in routine prostate screening is a rectal exam, where the doctor will check for abnormalities by feeling the outside of the prostate gland. This simple process makes it possible to find small tumors before they might spread beyond the prostate. 
According to the Center for Disease Control, 13 out of 100 men in the United States will be diagnosed with prostate cancer annually. The older a man is, the more likely he is to be diagnosed with prostate cancer. The next screening step is a PSA (Prostate-Specific Antigen) blood test, requiring one small tube of blood.
At the Dattoli Cancer Center, Dr. Michael Dattoli works in various stages of cancer treatment. Early screening effectively uncovered at least 33% of all cases and has significantly impacted the overall survival rate for prostate cancer. There are some genetic factors for prostate cancer.  African-American men are more than twice as likely to develop the disease and die from prostate cancer than other men. Early screening helps find more advanced diseases, especially prevalent in younger men. Screening is the key to finding the disease early and availing oneself of the latest, most effective treatment.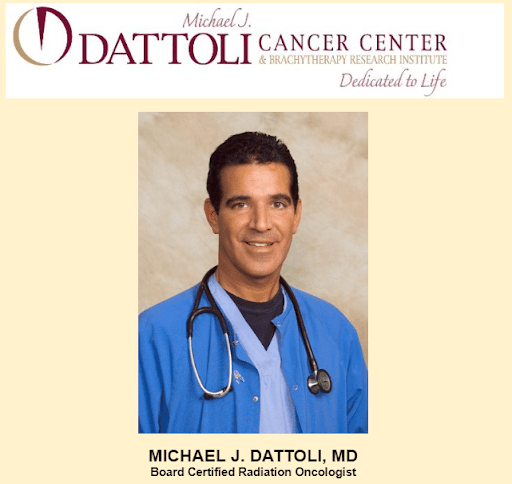 Dr. Michael Dattoli
Dr. Michael Dattoli is a board-certified radiation oncologist with well over two decades of brachytherapy experience. He has successfully treated thousands of patients with his customized combination therapy, consisting of Dynamic Adaptive radiation followed by radioactive seed implant (brachytherapy). He is considered the foremost pioneer in optimizing brachytherapy designs to maximize tumor eradication and minimize symptoms.
Dr. Dattoli has treated other forms of cancer, including breast, head and neck, GI, GYN, sarcomas, and lung malignancies. He is a noted author and speaker in this complex field of medicine. Dr. Dattoli attended the University of California at Berkeley and was the Valedictorian of his class at Vassar College; he earned his medical degree at Mount Sinai School of Medicine, Radiation Oncology at New York University Medical Center, then distinguished himself at Memorial Sloan-Kettering Cancer Center and New York Hospital-Cornell University Medical Center, as the Special Fellow in Brachytherapy. He was appointed Associate Professor in Brachytherapy and Radiation Oncology at Memorial Sloan- Kettering Cancer Center in New York and at New York Hospital-Cornell University Medical Center prior to locating to Florida.
Dr. Michael Dattoli serves on multiple journal editorial review boards. Government appointments include "The Prostate Cancer Task Force" in Florida and consultant to the "Washington Oncology Roundtable Advisory Committee." The International Association of Oncologists selected him as a Leading Physician in the World and a top Brachytherapist.