The prom night is one of the most anticipated events in a teenager's life. It's a night that marks the end of an era and heralds the beginning of a new chapter. Among all the pre-prom preparations, finding the perfect prom dress takes center stage. And rightly so! The prom dress is not just another outfit; it's an expression of your style, personality, and confidence. With countless options available, picking a prom dress can be overwhelming. But worry not! We've got you covered with some tips and trends to help you find that dreamy dress for your special night.
1. Know Your Body Shape:
The key to looking fabulous in any outfit is understanding your body shape. It helps you choose dresses that flatter your figure and highlight your best features. Whether you have an hourglass, pear-shaped, apple-shaped, or rectangle-shaped body, there's a prom dress that will make you feel like a queen on your big night.
2. Embrace Colors:
Gone are the days when prom dresses only came in classic colors like black and red. Today's trends encourage experimentation with vibrant hues such as pastels, metallic shades, or even bold neons. Choose a color that complements your skin tone and makes you glow as you walk into the room. If unsure, opt for timeless shades like navy blue or burgundy which suit almost every complexion.
3. Pick Your Style:
Prom dresses come in various styles to match different tastes and fashion preferences. Whether you prefer long flowing gowns or short flirty numbers, there's something out there for everyone:
– Ballgown: For those who want to channel their inner princess, ballgown-style prom dresses fit the bill perfectly.
– Mermaid: If you wish to showcase your curves elegantly, consider a form-fitting mermaid-style dress.
– A-Line: Flattering on all body types, A-line dresses are a safe and timeless choice.
– Sheath: Ideal for those who like simplicity with a touch of elegance, sheath dresses provide a sleek silhouette.
– Two-Piece: Set yourself apart from the crowd with a trendy two-piece dress that adds a modern twist to your prom night.
4. Keep Comfort in Mind:
While looking stunning is important, it's equally vital to feel comfortable throughout the night. Remember, you'll be dancing, socializing, and enjoying the festivities. So choose a prom dress that allows freedom of movement and doesn't restrict you from having fun. Prioritize breathable fabrics like chiffon or silk that keep you cool and comfortable even if the dance floor heats up.
5. Consider Your Budget:
Before falling head over heels for that designer dress you saw online, consider your budget. Prom dresses can range from affordable options to high-end couture creations. Set a realistic budget before starting your shopping spree to avoid any disappointment later. Luckily, there are numerous gorgeous yet reasonably priced options available so that you can slay on a budget.
6. Shop Early:
To avoid last-minute stress and ensure availability of styles and sizes, start your prom dress shopping well ahead of time. Popular dress boutiques tend to get crowded closer to prom season, increasing the chances of missing out on your dream dress or settling for something less ideal. Early shopping allows you ample time for fittings, alterations if needed, and finding matching accessories.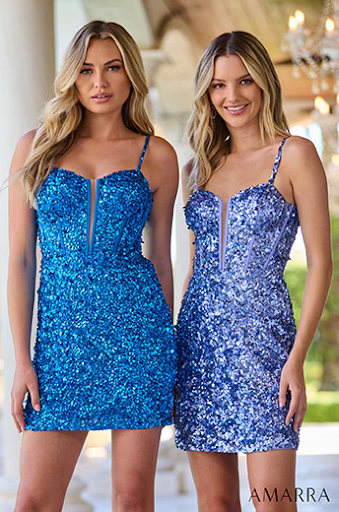 7. Accessories That Complement:
Once you've chosen your dream prom dress, it's time to enhance its beauty with accessories that complement your outfit. From statement earrings to sparkling necklaces or delicate tiaras, accessorizing completes the overall look while showcasing your personal style. But remember not to go overboard; let your dress shine as the star of the night.
8. Embrace Sustainability:
Promoting sustainability through conscious fashion choices has gained significant momentum in recent years. Instead of buying a dress that will only be worn once, consider borrowing from friends, renting from specialized websites, or exploring thrift stores for unique vintage finds. You can not only save money but also reduce the environmental impact while looking fabulous on your prom night.
In conclusion, finding the perfect prom dress requires careful consideration and planning. Understanding your body shape, embracing colors and styles that make you feel confident, keeping comfort in mind, and shopping early are all key factors to make your prom night memorable. Plus, with sustainable fashion gaining popularity, you can look glamorous without harming the planet. So go ahead and start looking for that dreamy prom dress; it's time to create memories that last a lifetime!