The attention economy has enabled tech giants to manipulate our awareness for their insane profits for far too long. The next stage is web 3.0, where you control monetizing your attention, and community is the most valuable element. Our mission is to build a web 3.0 community that can impact the global mental health crises through proactive mental health awareness, education, and initiatives. A community with aligned incentives where we can all share in a growing movements personal and economic benefits.
Mental health has been a public health crisis for generations. Current tools are reactive and make incremental impact. TOGETHER WE CAN better. For this reason, we created $HOPE, an innovative financial fuel for catalyzing transformative change in mental health care.
$HOPE is a cross-chain integrated token built on both the Ethereum, Polygon, and Solana Blockchains. By bridging the leading DeFi blockchains, $HOPE is on a self-perpetuating path towards more Users and Total Value Locked (TVL).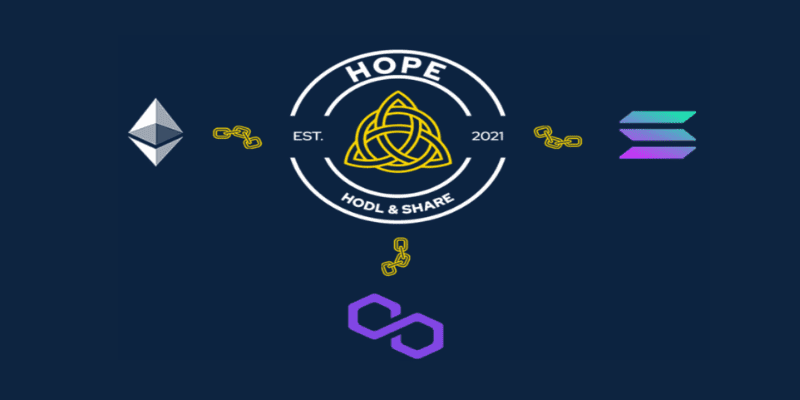 $HOPE Coin bridges the leading DeFi chains: Ethereum, Polygon, & Solana
'We believe radical transparency is the only way to create a sustainable community built on trust. This is why we developed a custom tokenonomic structure based on sustainable, legitimate, ultra-sound-money principles.
On each transaction, a 5% tax will be applied. 2% will be allocated for Buy-back and Liquidity Providing (LP), thus reducing the token supply and deepening its liquidity. Of the remaining 3%, 1% will go to the Charity Wallet for distribution to mental health impact programs and the remaining will be used to build and strengthen our community in all aspects.
IMPACT
How will $HOPE impact the mental health crises? By performing alchemy through transforming a simple 1% transaction tax into effective-altruistic impact, NOT just donations like the conventional charity coin.
$HOPE is the centerpiece of the Hope Coin Foundation DAO, LLC, a new kind of Decentralized Autonomous Organization (DAO). The Foundation, and our non-profit action arm The Hope For us Network, is dedicated to creating a global community around the cause of disrupting the highest risk factors for mental health crises through proactive prevention outreach and education. 
To sustain this mission,$HOPE  will provide the financial fuel to launch compelling, proactive, and evidence-based initiatives to help close the massive treatment gap in the mental health space and significantly improve the lives of thousands of affected individuals. Our Hope Force will be a decentralized, autonomous global cohort of individuals (Allies in Hope) and mental health partner organizations working in unison on the mental health crisis. Every $HOPE transaction will fuel the training of one more Ally or the funding of a Partner Organization's critical program. We call this perpetual cycle;
HOPE-NOMICS
How Your Action Fuels the Transformative Mental Health Ecosystem
If you find a shared purpose in our mission, please join our critical cause. Our $HOPE-ETH Pre-Sale is live September 1 on Unicrypt!
Moreover, if you are interested in becoming an Allied in Hope, Partner Organization, or work directly with the DAO to build $HOPE. Please click here to apply.  
THIS IS THE NEW FRONTIER.  IF YOU WANT TO GROW HOPE WITH US, WE ARE GLAD TO HAVE YOU ON THE JOURNEY!