Could there be a headlamp to rule all over the darkness? The Olight Perun 2 Mini
The Perun 2 Mini is a compact and high-power L-shaped headlamp from Olight. A welcome upgrade of the Perun Mini, another great L-shaped headlamp. The Perun 2 Mini features 18% more battery capacity, and a max output of 1100 lumens, as well as a complementary red LED. Available both in cool white and neutral white, the Perun 2 Mini can be purchased also in 3 different finishes: black anodized aluminum, lime green anodized aluminum, and orange anodized aluminum (neutral white is available only in black anodized aluminum).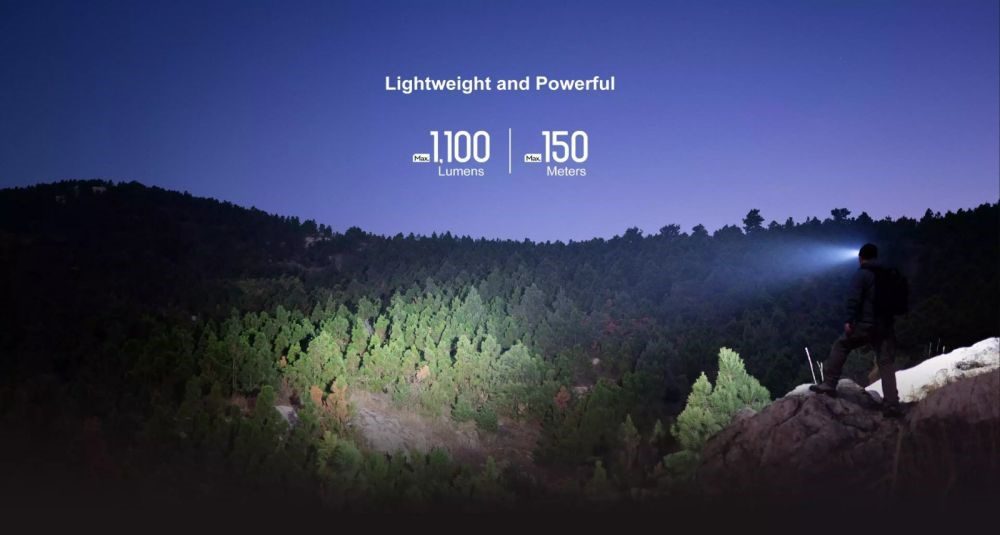 With an illuminating distance of up to 150 meters, thanks to the TIR lens, the Perun 2 Mini is suitable both for close and medium range application, a complete headlight for you to conquer the darkness!
Weighting it only at 54 grams (yes, including the battery!), this light is mini just in size and weight (64 mm long, head diameter 22 mm, body diameter 21mm), not in output or runtime, making it the perfect headlamp for jogging, camping, outdoors or DIY activities. Its super lightweight won't encumber you and its bright power will surprise you.
Thanks to the Olight secure headband mechanism, the Perun 2 Mini can easily and firmly rotate to provide you 180° of tilting options, making you always have it at the perfect position on your head, to brighten up the darkness right when you need the most.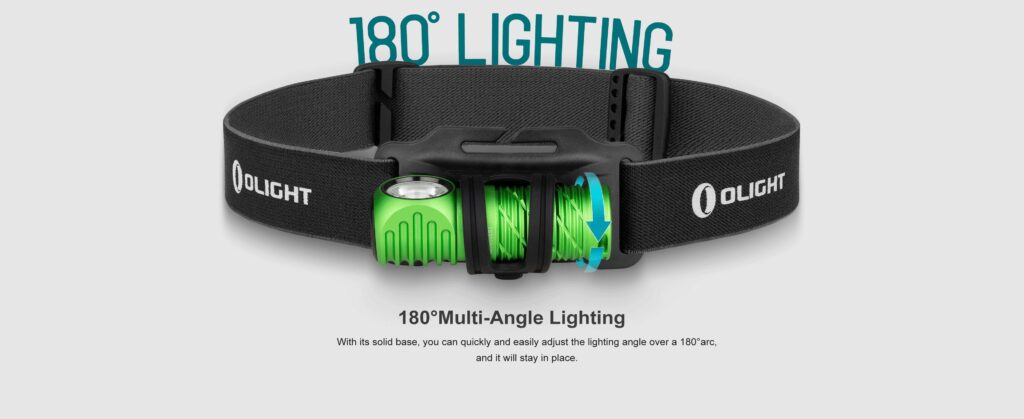 The headband is also highly elastic and adjustable, washable, and dries quickly.
The magnetic tail cap besides being a recharging point for the charging cable, also allows the Perun 2 Mini to be positioned anywhere on a magnetic material such as a shelf, parts of the car, or in your house; providing a secure and firm illumination for your activities. Whether you are doing some DIY, playing with your kids or pets during a power outage, lighting inside the hood of your car while on the run, or signaling your position on the road, the Perun 2 Mini will be there for you, exactly where you have put it and orientated it.
If you prefer to carry it with you, the Perun 2 Mini, offers you a great deep carry, two-way pocket clip. Making it ideal to attack your clothes, on your backpack, or on the visor of your hat.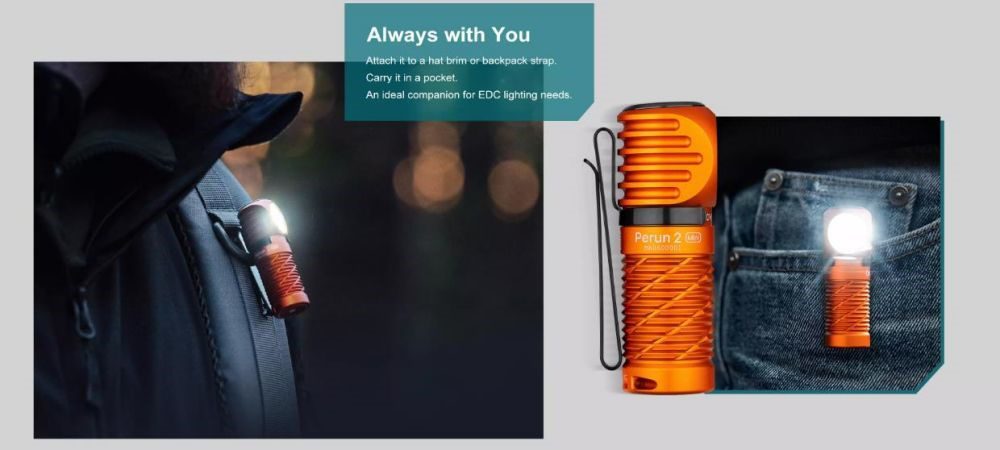 Thanks to the LED battery indicator on the switch, you'll always be on top of your Perun 2 Mini battery status. It will be solid green when the battery is above 60%, solid orange between 10% and 60%, solid red when between 5 and 10%, and flashing red when under 5%.
And with the last generation high power customized 16340 Olight battery, you have 650 mAh of runtime, allowing you a max runtime of 240 hours at moonlight mode. And yes, the Perun 2 Mini you are about to put in the cart already comes with one of these rechargeable batteries, included, for free! Thanks to the rapid charging protocol, the powerful battery can be charged in just over one hour (around 70 minutes).
Speaking of runtime, the Perun 2 Mini besides the blazing 1100 lumens of turbo mode, offers 5 additional modes: high (250 lumens, 100 minutes), mid (60 lumens, 7 hours), low (15 lumens, 26 hours), moonlight (2 lumens, 200 hours) and red light (40 lumens, 150 minutes).
With its effective electronic switch, you have quick access to turbo mode, red light, and flashing mode.
The Perun 2 mini also features a secondary red LED, useful to signal your presence in the event of an emergency, preserve your night vision, or just not bother your family when you move around the house at night. The red LED is there for you, just when you need it.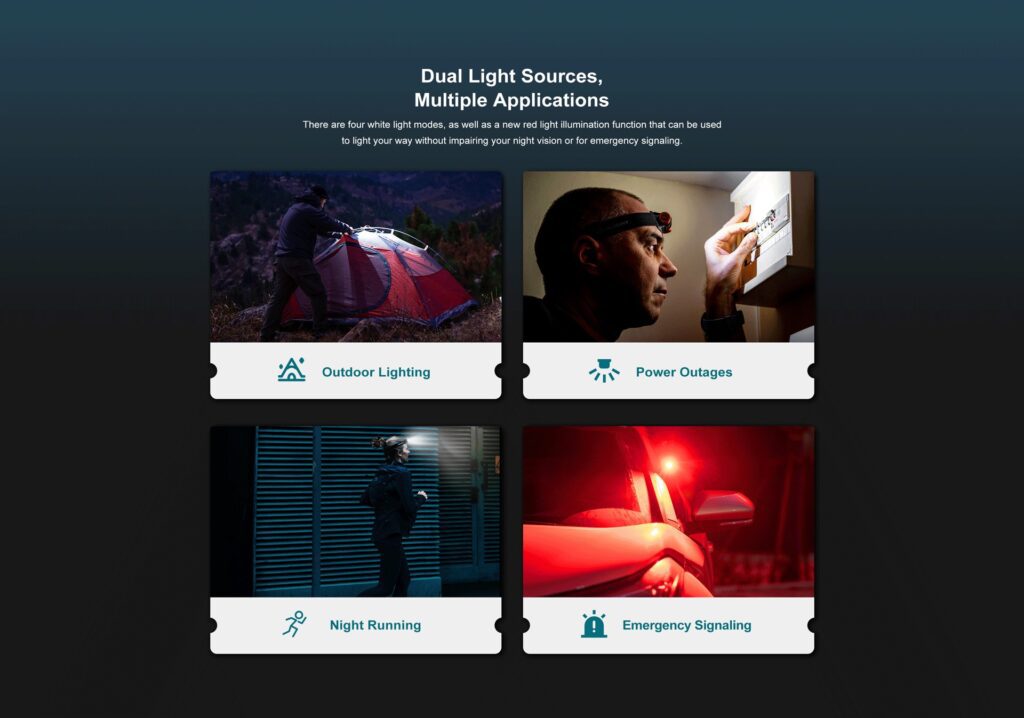 Enjoy the freedom and practicality of charging your Perun 2 Mini everywhere you go thanks to Olight MCC 1A magnetic charging cable, so smart you will just have to move it next to the tail cap to your Perun 2 Mini to have it connect and start charging, thanks to the powerful magnet.
We know you need a flashlight for a warm summer night, as well as a cold rainy evening, that's why Olight Perun 2 Mini comes with a drop resistance rating of 1.5 meters, as well as an IPX8 waterproof rating.
Your Perun 2 Mini is waiting for you, pick the tint and the color and get ready to be your next favorite headlamp!