Michael Hsu is a fully licensed private pilot who has had an extremely unique approach to finding his passion for flying. From a young age, he was extremely interested in business and knew that he could not give up, even when multiple trials, tribulations, and stresses got to him. The beauty of business was that every problem had a solution, which had made Michael extremely keen on pursuing it in school. Born in Northridge, CA on August 9, 1991, Hsu is a Californian native who attended Thousand Oaks High School and UCLA. He found that he wasn't challenged enough at that school, so he transferred to the University of Southern California to obtain his Finance designation in Business Administration.
During his post-secondary studies, Michael Hsu was able to obtain both his Private Pilot License and his Instrument rating, in 2008 and 2010 respectively. He attributes his ability to overcome challenges to his passion for flying, as it gives him an entirely new perspective when up in the skies. California has always been home to him, but the ground was always limiting. In Hsu's humble opinion, obtaining his pilot's license was the most freeing moment in his life.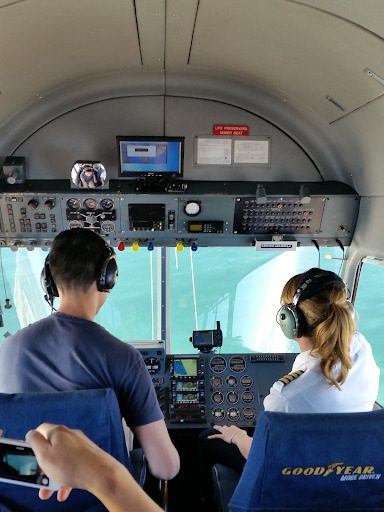 Problems Can't Weigh You Down If You're Weightless
California is one of the most populous states, with just LA being the 2nd most populated city in the United States. In such large metropolitan areas, states must limit the number of activities to not get bogged down in the system and to also create professionalism amongst their applicants. In short, becoming a pilot in California is an extremely difficult task, even for those who are looking to get licensed privately. It is also an extremely expensive hobby, which further regulates the industry between needing to be flight ready, having somewhere to dock your vehicle, and purchasing/renting a plane.
Michael Hsu attended multiple flight schools throughout his life and was able to obtain his license in as little as 3 months. Although Michael was extremely happy with this achievement, he had to undergo various training modules and be partnered with licensed professionals in order to fly most of the time. Furthermore, those who only have their PPL (Private Pilot's License) can only fly during favorable conditions. While it may seem difficult to believe, sunny California is not so sunny for extended periods throughout the year.
After 39 dual flight hours, multiple simulator hours, and continuous testing for air traffic control and direction, Michael was able to obtain his instrument rating, which furthered his ability to independently fly. An instrument rating gives the pilot the ability to fly freely in some unfavorable climate conditions. This includes flying at night, under the cover of the clouds or light rain. Instrument ratings do not allow pilots to fly in extremely dangerous or precarious situations, such as torrential downpours, natural disasters, or when sight is obfuscated.
After such an incredibly arduous journey, no problem was too big for Michael to solve, and continues to fly often.