The email has become an essential tool for many people in the work, academic or personal world. But the amount of emails we receive on a daily basis is such that many managers have emerged in the market to provide the best solutions with their functionalities and accessibility tools.
That's why it's so important to find the best email server as we can't take email for granted. In fact, today there are over 4 billion email users and are predicted to reach 4.5 billion by 2024. The use of email is only increasing, and how we use it is evolving.
Striding forward from their 4.0 beta release last year, Vivaldi Technologies has released the stable version of 1.0 including powerful built-in mail client Vivaldi Mail, integrated Vivaldi Calendar, and Vivaldi Feed Reader.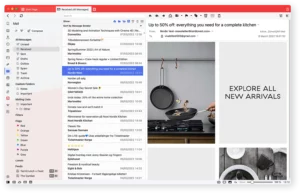 A browser for the multitaskers and privacy concerned users, Vivaldi 1.0 highlights include:
Multiple accounts under one umbrella – Use Vivaldi Mail, set up an account on vivaldi.net, or add a trusted third-party service such as Fastmail.

Database – The cornerstone of Vivaldi is the database. All your emails from your accounts are indexed, therefore, searchable offline.

A new wave of superior organization helps you index email and automatically place mails into views.

Vivaldi Feed Reader: Get the latest news and audio and video from your favorite websites, blogs, galleries, and podcasts.

Vivaldi Calendar: Calendar is essential, but the Vivaldi calendar is necessary and unique because it offers an experience that no other calendar offers — it displays all information in every possible and different view without any extra clicks. Just super organized and convenient.
Discover the first versions of Vivaldi's new Mail, Calendar, and Feed Reader in the latest Vivaldi browser, available on Windows, Mac, and Linux computers.
You can review more on the Vivaldi blog here