OSLO, Norway – June 9, 2021: A turning point has come. Vivaldi Technologies unveils its biggest release this year: Vivaldi 4.0 is coming to Windows, Mac, Linux, and Android devices.

Simply put, the era of blindly relying on great technologies is over.
Vivaldi on desktop and on Android now offers Vivaldi Translate, an integrated and privacy-friendly translation service, powered by Lingvanex and hosted by Vivaldi, keeping translations out of the reach of companies like Google or Microsoft.
The long-awaited beta versions of Vivaldi Mail with Vivaldi Feed Reader and Vivaldi Calendar are now available in their desktop beta version. While Vivaldi Mail Beta works with existing mail and calendar services, users can also choose to set up an account at vivaldi.net or by adding a trusted third-party service, such as Fastmail .
Truly, with Vivaldi 4.0, Vivaldi makes it easier to break through locked ecosystems and creepy surveillance-driven practices from large corporations.
"A growing movement of people around the world is looking for reliable and functional alternatives to the tools offered by the tech giants. Vivaldi meets that need, and more, with an expanded set of built-in features that give you greater control of your data and your workflow, " says Vivaldi CEO Jon von Tetzchner.
Download Vivaldi 4.0 on Windows, Mac and Linux computers, on mobile phones and tablets with Android 5 or higher, and on updated Chromebooks.
Vivaldi Translate powered by Lingvanex on desktop and Android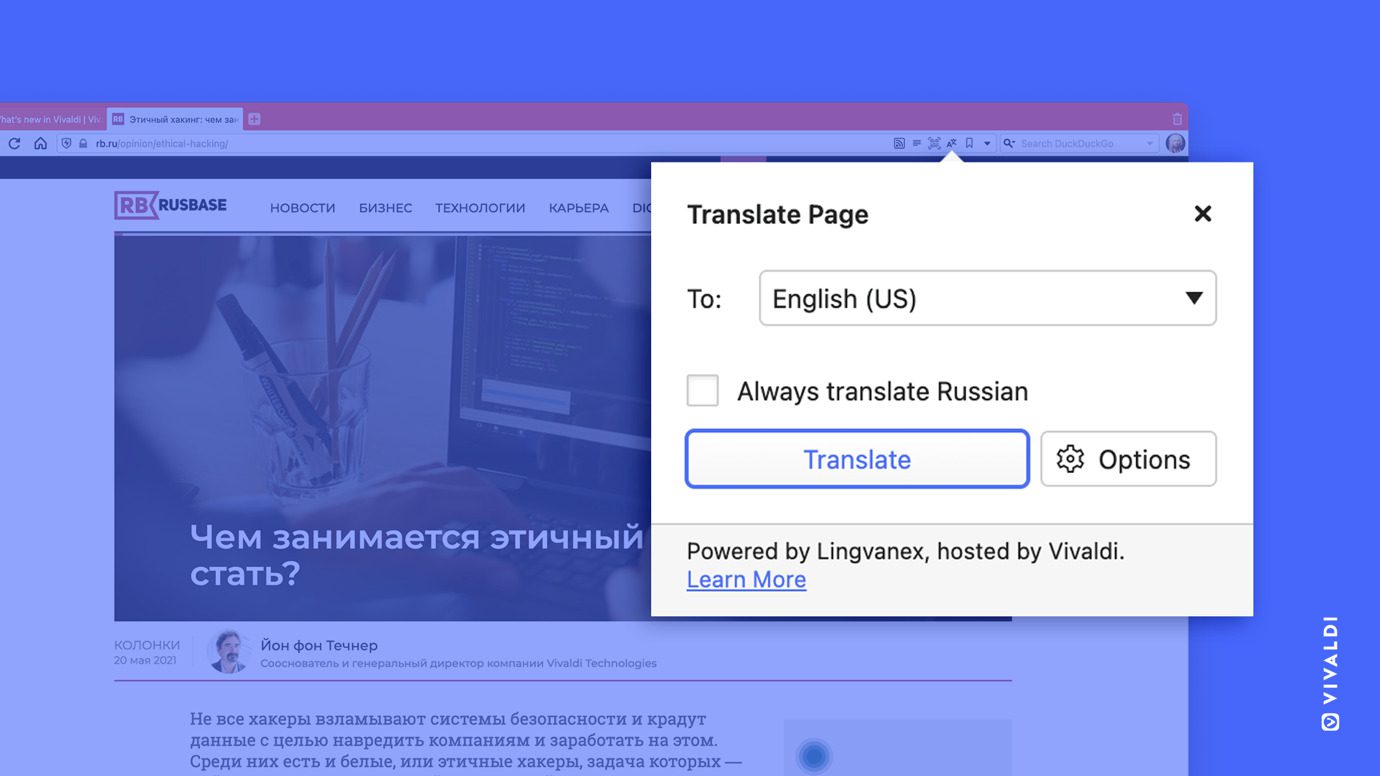 Vivaldi believes that everything a user does in the browser is nobody else's business, so Vivaldi never tracks its users, collects their data, or voluntarily compromises privacy. Vivaldi is committed to rejecting all privacy-invasive technologies, such as Google's FLoC , because collecting unnecessary personal information online is not only wrong, but dangerous. 

Vivaldi's end-to-end encrypted sync keeps users' browsing data safe, helps limit unnecessary tracking, and blocks annoying ads with its built- in ad blocker and trackers in the Android and desktop versions.
But there are still less obvious ways that data can and is collected! 
Ever wonder what happens to the texts that are translated when using a translation service like Google Translate? Are they "confidential"? No, because the translations do not disappear when you close that tab. Google has access to every piece of text that is translated. And they have been able to get away with it due to a lack of reliable options.

So far, that is. Introducing Vivaldi Translate, developed by Lingvanex.
Together with Lingvanex , Vivaldi offers a translation function built into the browser that will help millions of users around the world to read translated pages in their preferred languages, safely.
The engine Translation Lingvanex is hosted on servers Vivaldi in Iceland. Because there are no third-party servers involved, users do not have to share what they read with "prying eyes." The Translate icon appears in the right corner of the desktop browser's address field by default, almost immediately when the web page loads, which means that translation can be activated on the page.
An entire web page can be translated with one click to the language of your operating system (default) or choose between languages ​​from the drop-down menu. The translation can also be customized with these options:

Always

 translate 

– always

 translate the current language. 

Never translate –

 never translate current language

Never translate this site – you will

 never be asked about translation on that particular site again.

Offer to translate pages –

turn off automatic translation of pages and pop-ups that are displayed automatically. The button remains in the direction field to reverse the action.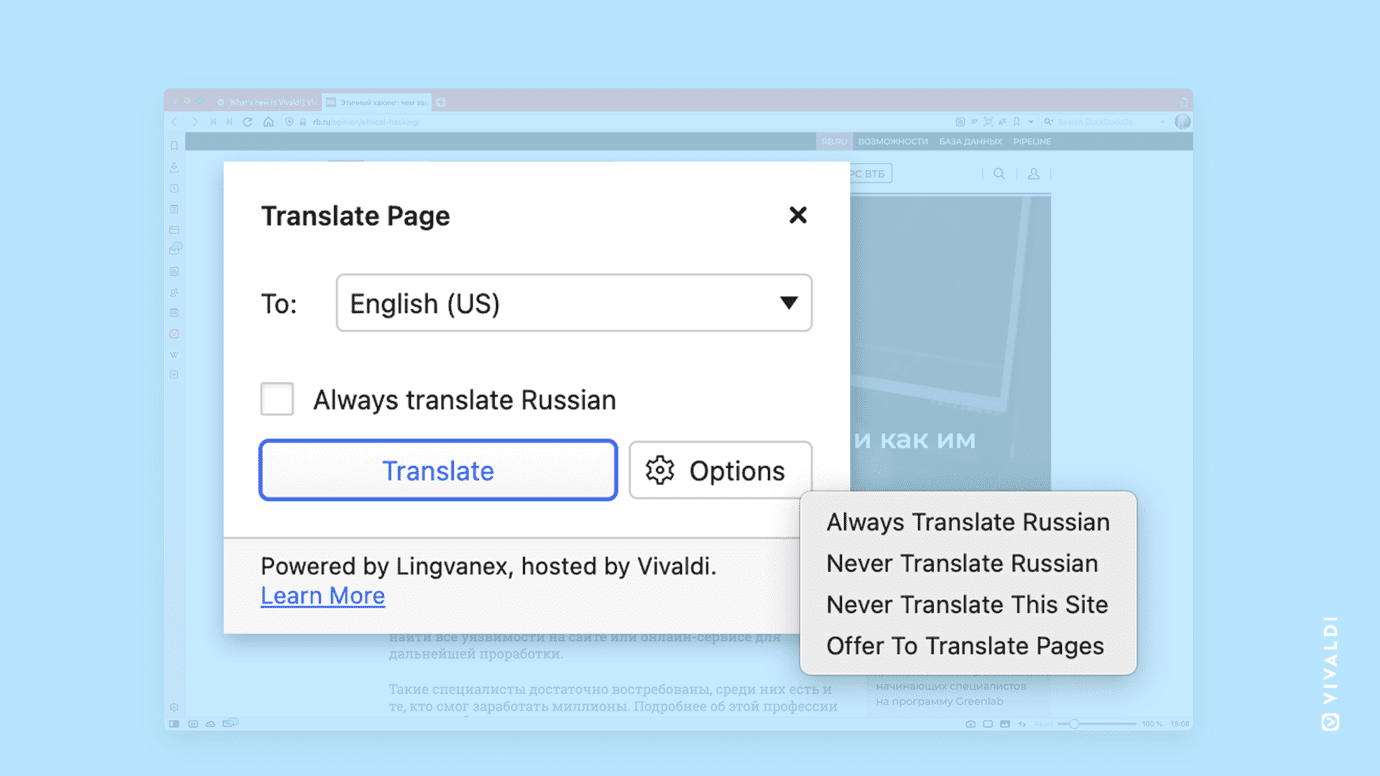 In demand for Vivaldi on Android, the translation feature offers the same functionality as on the desktop.
Vivaldi Translate is a rare feature in mobile browsers, as most do not offer a translation feature and if they do, their translation activities are not private.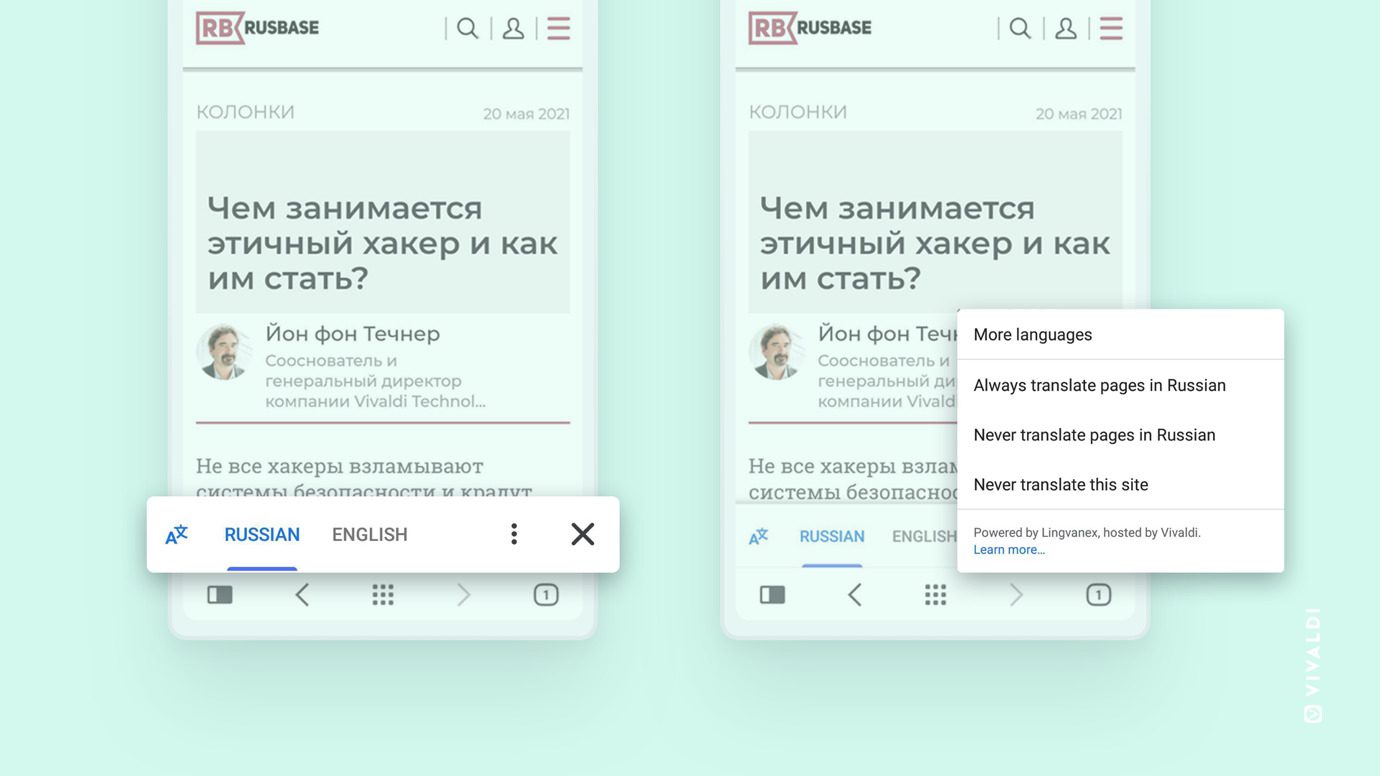 To translate a page, open the Vivaldi menu and select Translate. (Additional options appear at the bottom of the screen, just above the bottom toolbar.) Find the translation settings in the Vivaldi menu > Settings> General> Language settings .
Vivaldi Essentials, Classic or Fully Loaded? Choose your option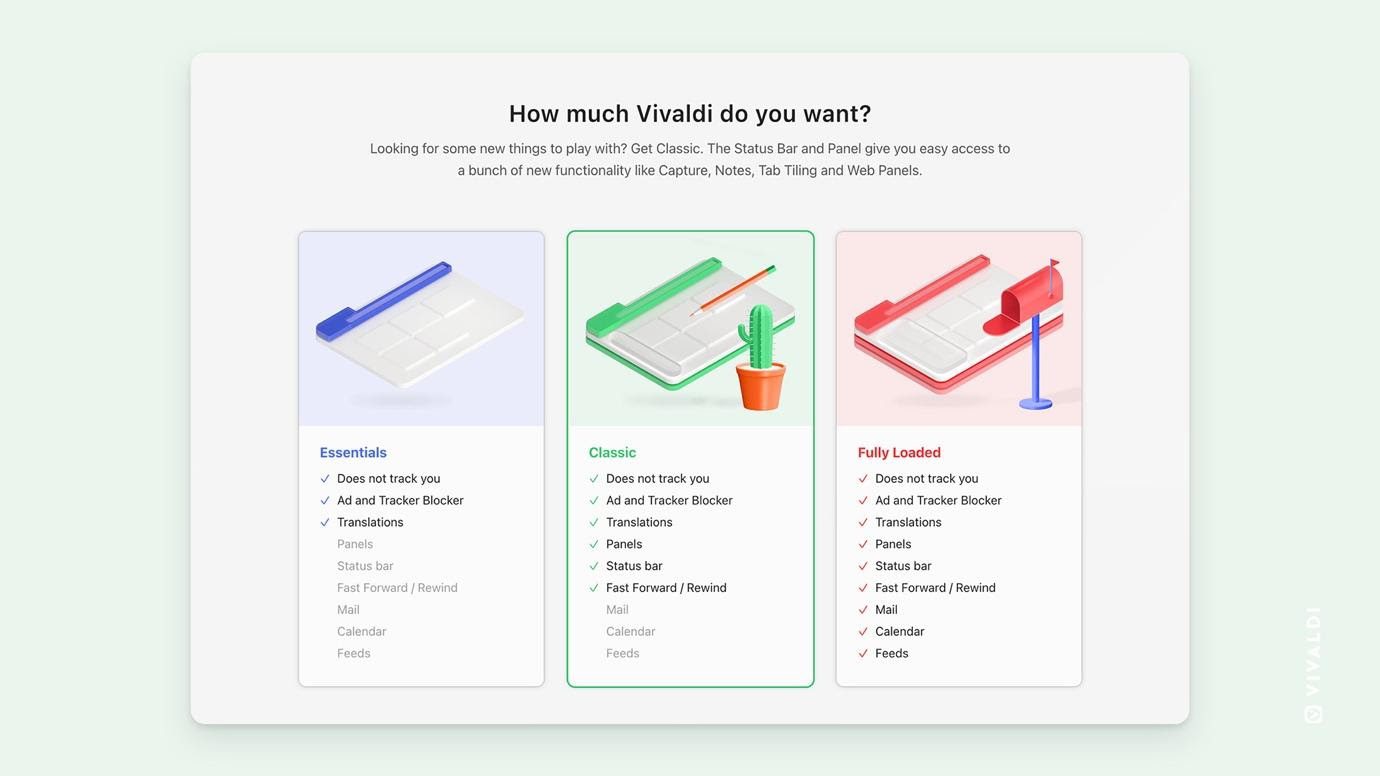 With so much functionality under one roof, the real question is: how much Vivaldi do you want? From a focused, minimalist experience to building a command center for life online – anything is possible in Vivaldi, really.
Vivaldi 4.0 offers a head start for people on the way to their perfect browser, with three default layouts. All Vivaldi functionality remains available at any time, but the designs offer different levels of access to functions directly from the interface.
Essentials – Ideal for those who prefer to "keep it simple" and want a more private browser, but aren't ready to tackle a ton of new features right away. Essentials fans also benefit from Vivaldi not tracking their browser usage, as well as Vivaldi's built-in ad blocker and trackers and Vivaldi's translator.
Classic – This design adds Panels and the Status Bar to the mix, giving new users easy and instant access to more productivity-boosting features.
Fully Loaded: Improving things, Fully Loaded includes everything from Essentials and Classic, while also enabling the new beta version of Vivaldi Mail, Vivaldi Feed Reader, and Vivaldi Calendar.
Vivaldi's mission is to provide a browser that works for anyone, putting their privacy first. Vivaldi's new layout options make it easier than ever for people to tailor their browser to their unique workflow and needs from day one.
A fully loaded alternative to Big Tech – Vivaldi Mail Beta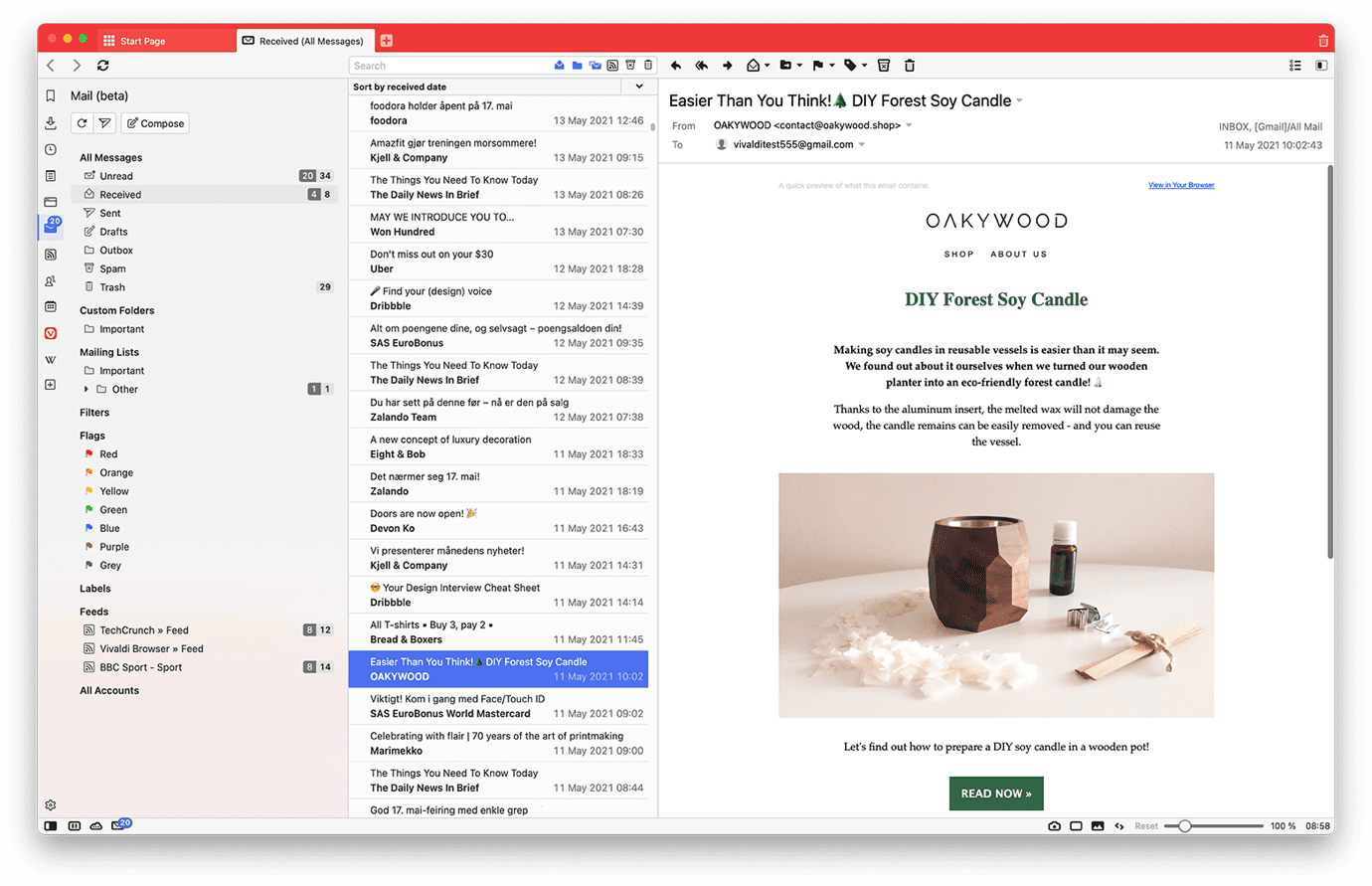 Limited options have locked many into the ecosystems of a handful of corporations. But Vivaldi Mail, now in its beta version, offers a real alternative.
Most mail clients bundle all the different types of mail together, forcing users to manually untangle email from distribution lists, conversations, and work-related email in folders. Often times, they separate each personal email account as well, so users have to keep jumping to see all their email at once.
"Unlike traditional email users, Vivaldi Mail does all the heavy lifting for you, even in beta. By automatically detecting mailing lists and threads, automatically categorizing mail for easy search, and offering a powerful search function, Vivaldi Mail takes the burden off your shoulders and lets you enjoy the experience with your mails again, " Vivaldi CEO Jon von Tetzchner says.
And the best? It does all of this on the user's computer, rather than on a remotely operated webmail server. Therefore, users are not tied to a specific service provider nor are they forced to exchange access to the contents of all their mail in exchange for search power.
Vivaldi Mail Beta allows users to switch email providers as often as they like, without losing email filters, so they can search their email as before. All while maintaining privacy and freedom online.
Launch Vivaldi Mail Beta
Existing users can enable the beta version of Mail from Settings> General. New users can enable Mail by selecting the Fully loaded layout in the settings.
Once enabled, the Mail Panel, a sidebar will appear, with All Messages, Custom Folders, Mailing Lists, Filter and (Searches), Flags (Featured) , Synced Tags , Feeds, and All Accounts.
The default three-panel layout displays accounts and folders on the left, received messages in the middle, and currently open messages on the right. But, as with everything in Vivaldi, different layout options are available in the settings menu, such as a horizontally split layout.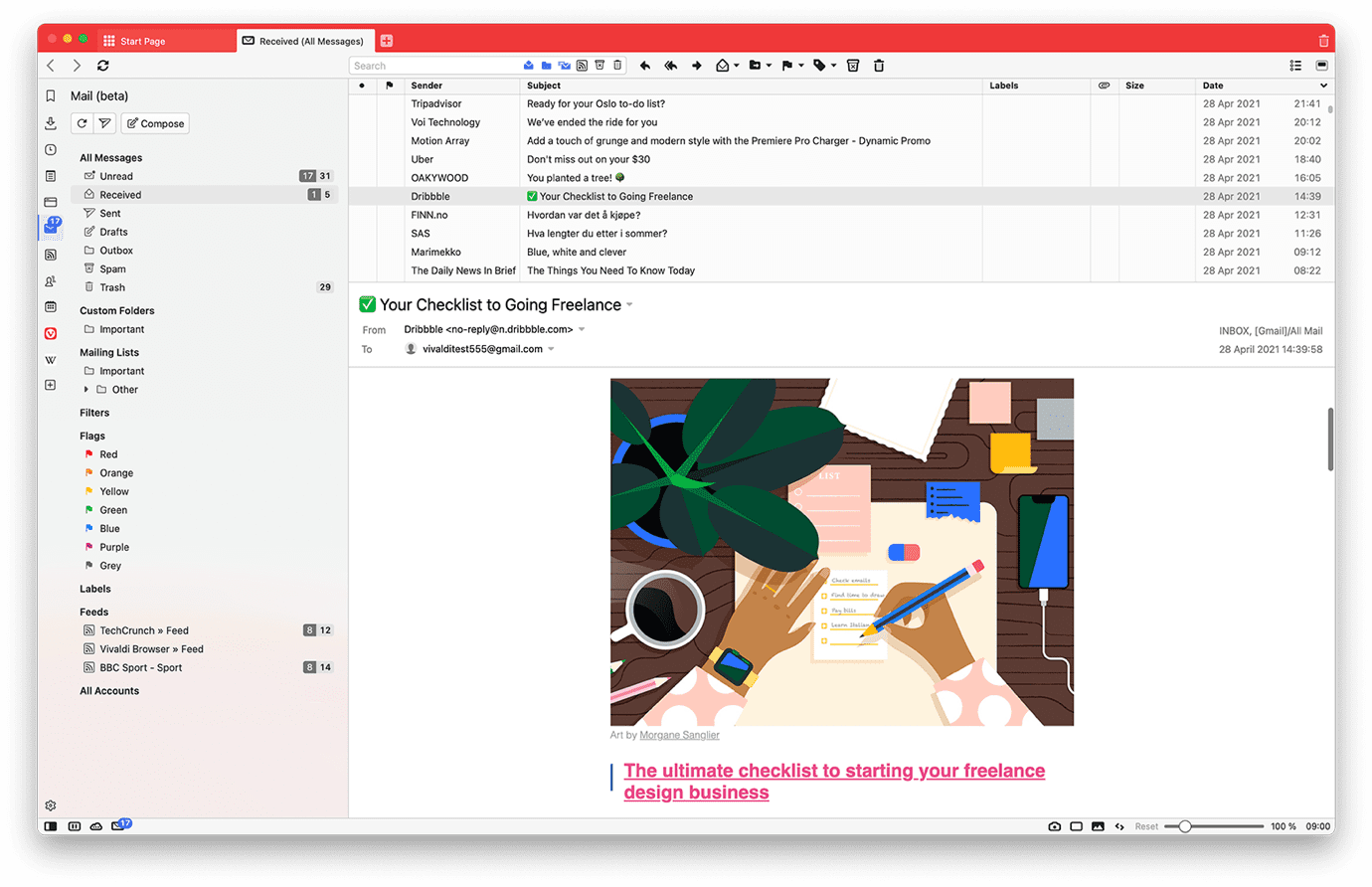 What Makes Vivaldi Mail Beta Special?
All your email accounts in one place:

 Vivaldi Mail solves the problem of having a large amount of email in multiple email accounts. Access emails from multiple accounts and distribution lists in a single inbox, without having to log into each account individually. It supports IMAP and 

POP3

 , so any email provider can be integrated. People who use Gmail (it's time to break old habits!) Can log into their Google account from Vivaldi Mail Beta and Vivaldi Calendar Beta with these 

options

 .

The database, the cornerstone:

 Vivaldi maintains a database of all messages, tags, filters, searches, etc. Mail from all accounts is indexed, so it can be searched offline. And, if the emails are fetched in advance, the entire contents of the email can also be searched, even before it is opened.

Tabbed interface:

 When composing a new message, it opens in a new tab, instead of appearing in the same window. This neat touch allows multiple messages to be opened simultaneously (and they can even be tiled), making it easy to navigate.

Organization beyond the ordinary
Let's find out how mail organization goes from practical to pleasant in Vivaldi Mail Beta.
Think outside the folder:

 Instead of storing a message in a particular folder, a single message can appear in any number of "folders" or views.

Mark it in color:

 Synchronize the indicators with other email clients, assign them colors to detect important messages. 

Speed ​​up your search – Save

 searches as filters, useful when running the same search over and over again. Tags (similar to tags) can be synced, even when using a different client on another device.

Line up messages:

 for emails prepared well in advance without necessarily knowing when (or if) to send them.
Your sight, your way
Control the view with Toggle: With one click, change which mail to show by default. For example, a user can use switches to exclude mail distribution lists and custom folders from unread view. So most of the emails will be direct emails, while other emails will appear in dedicated views.

Distinguish what is not seen and what is not read: unseen emails are those that have not been seen before, while unread are seen but not addressed. Once read, the mail can be marked as read and will disappear from view, but will remain in the Inbox view for later access. This can be a useful alternative to-do list.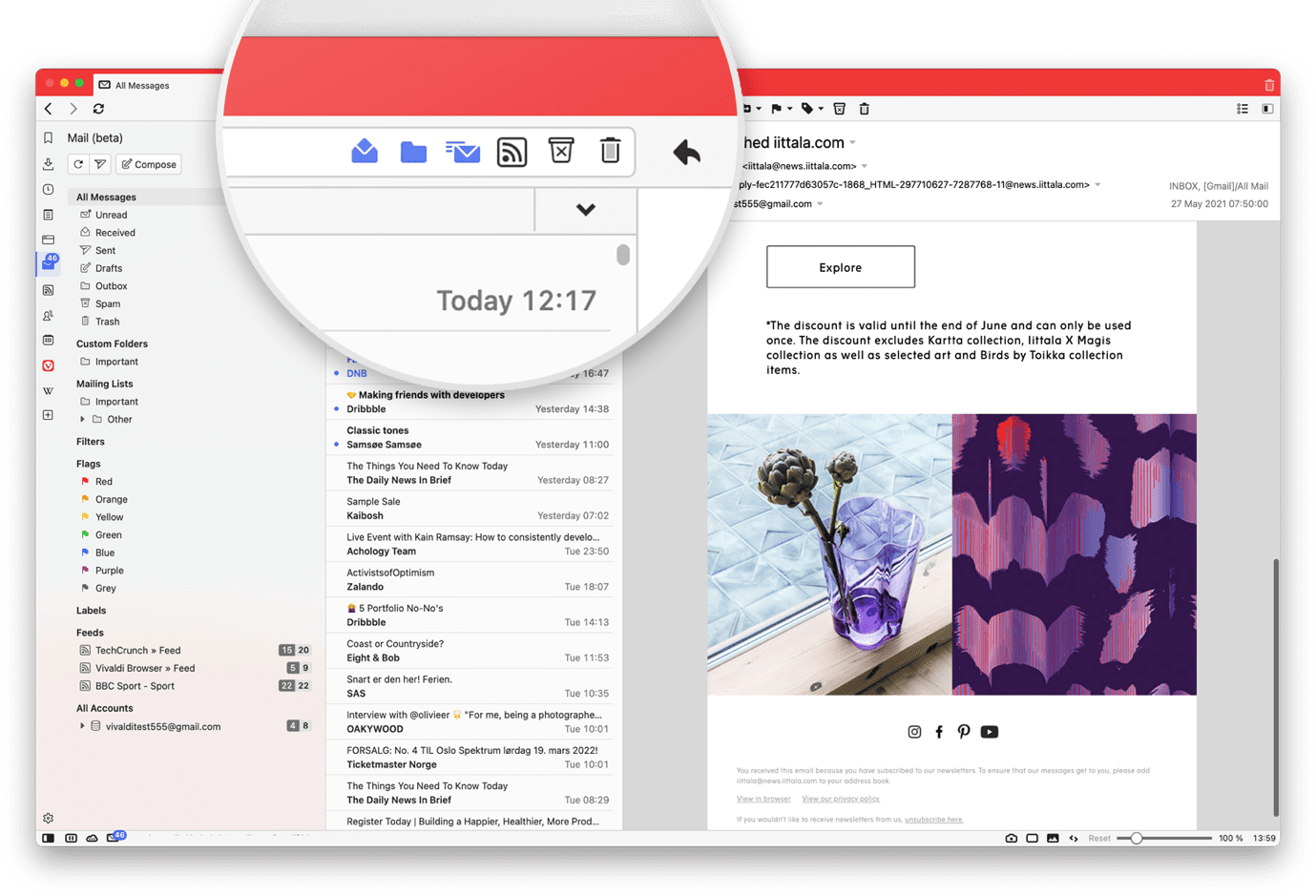 Smart navigation to win
There are sixteen configurable shortcuts for activities like composing new emails, replying to emails, and more. The Back / Forward buttons in a mail window help navigate mail folders. Having selected a thread with T or a contact with E, the normal history keys can be used to go back and see the mail folder that was visited earlier.
This is just a look at the surface of Vivaldi Mail Beta. For a full immersion, revisit the technical preview featured by Vivaldi Mail and a more detailed launch post.
Vivaldi Feed Reader Beta: news that interests you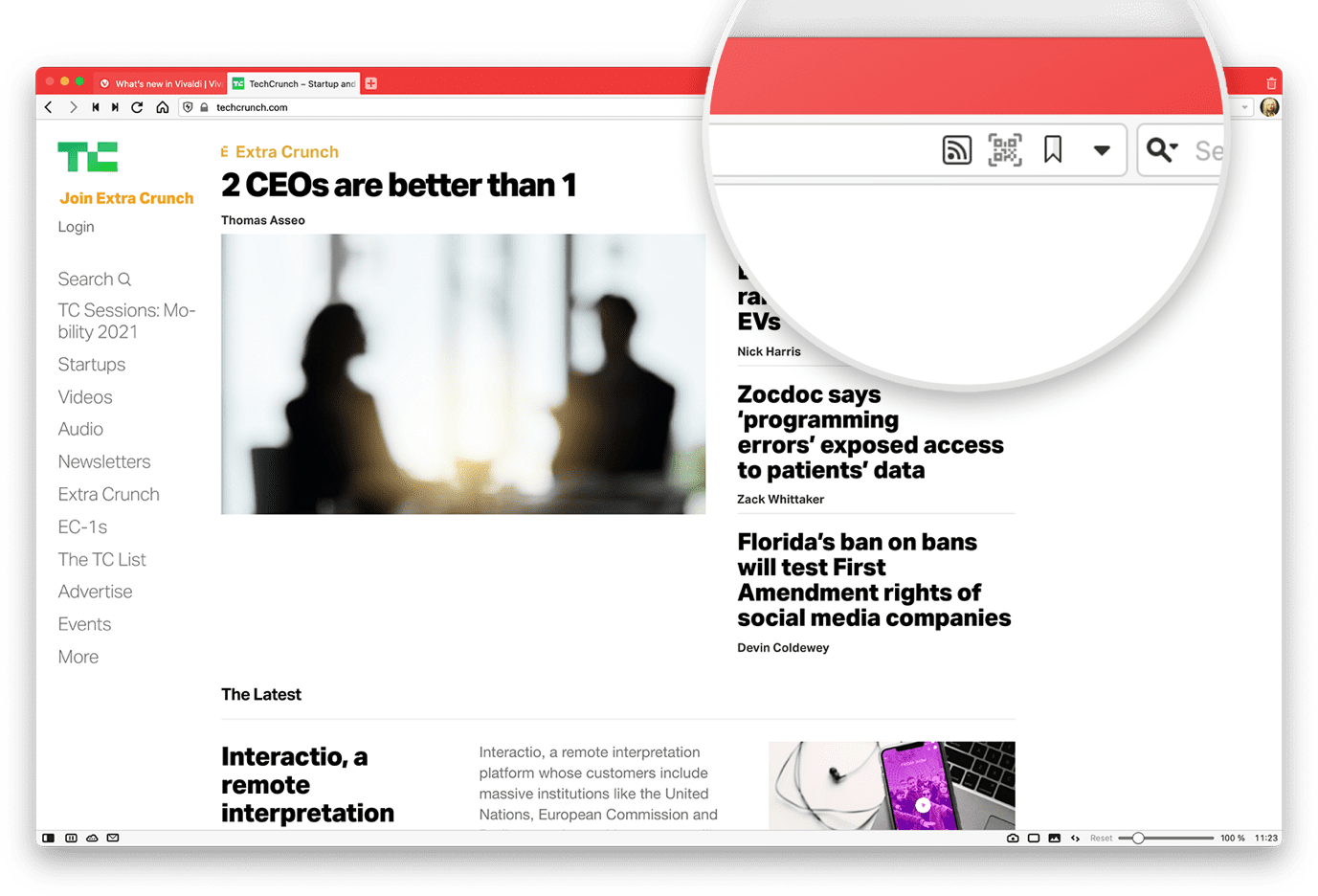 In a world where what we read online is monitored, stored, and sold to advertisers, Vivaldi Feed Reader is a breath of fresh air.
Since Vivaldi doesn't believe in tracking users' online behaviors, it builds Vivaldi Feed Reader differently. Here the user is in control. If users choose to subscribe to feeds from sites they enjoy and trust, news will appear from those sites, not from companies that set their agenda on them. Users can enjoy their personalized feed, seamlessly and without spying.
Vivaldi Feed Reader Beta uses Vivaldi Mail to display news items. Users can choose to view and rename news items in the Mail Panel or alternatively view them from the assigned Sources Panel.
Integration with Vivaldi Mail has huge benefits. It allows you to classify, index and search for news items in the feed and even mark them as read without deleting them. It's a unified system where all messages can be viewed in one place, rather than having to search and view feeds separately from email.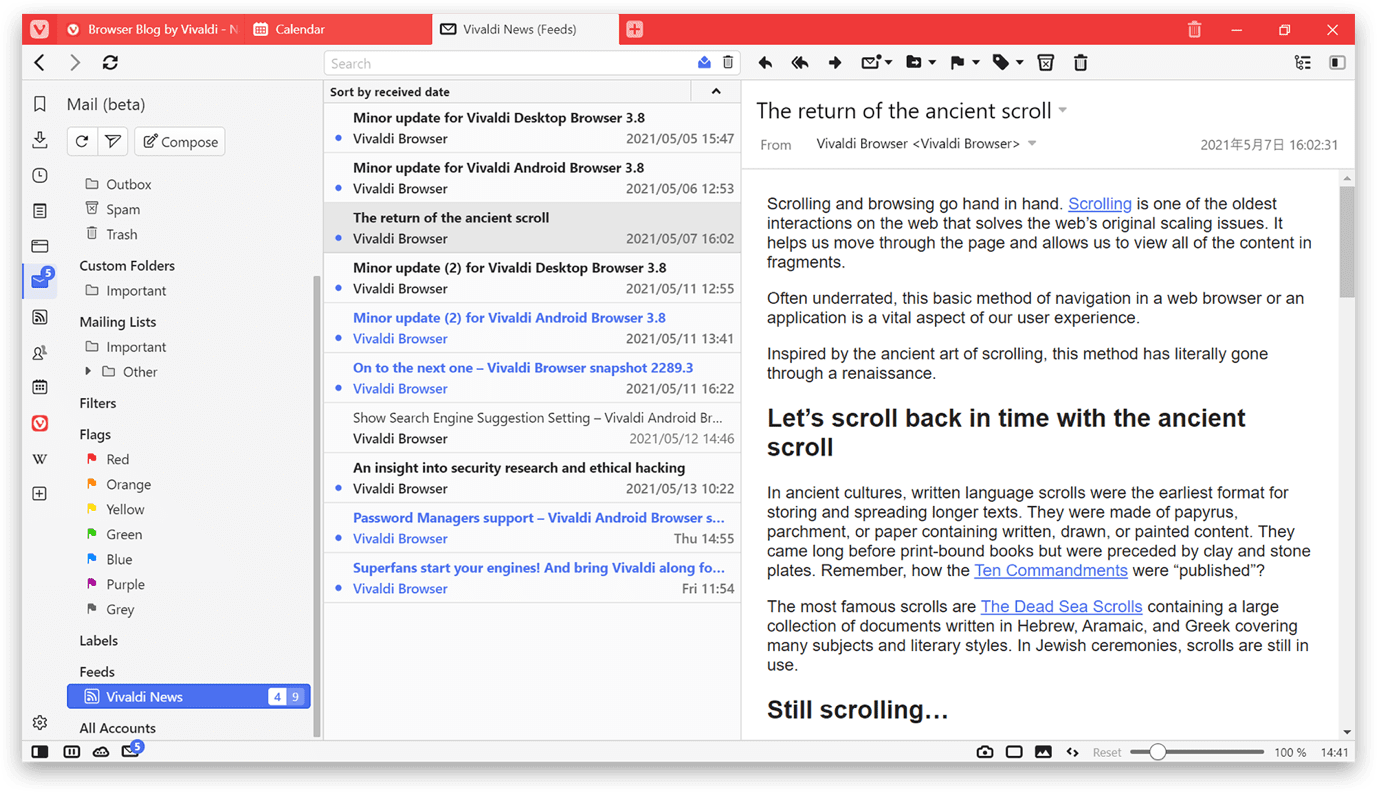 Use Vivaldi's Feed Reader Beta to follow almost every modern newspaper, blog, gallery, and more, including these:

YouTube channels without an additional YouTube visit:

 Subscribe to a feed at any time when visiting a channel. For user privacy, Vivaldi pulls the video content (using a cookie-free URL) from the feed and displays the video online, rather than linking it to the video. Any update, such as "1 person liked your video," will not trigger feed updates.

Podcasts – Since

Vivaldi supports multiple versions of RSS and Atom's powerful web standards, podcast audio and video have no problem when received as a source.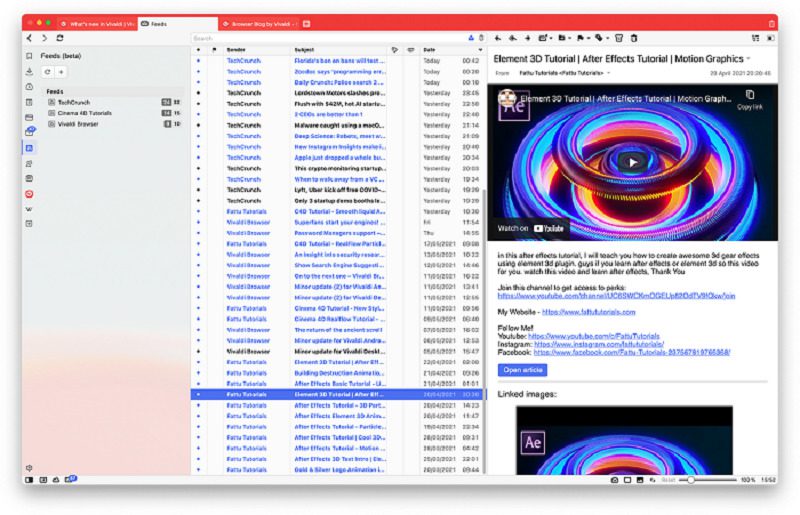 Save the date: Vivaldi Calendar Beta is here
While there are many options available, the most popular calendars are made by some of the big tech companies, with business models based on data collection.
"No one should have to share the details of their events and tasks with a company just to keep them organized. Our ambition goes beyond offering an alternative to data collection schedules. Our goal is to offer a better one with unique functionality, " says Vivaldi CEO Jon von Tetzchner.
Vivaldi's approach is to create a simple and powerful calendar that allows users to adjust their schedules so they never miss a thing.
Let's find out what Vivaldi Calendar Beta can do.
Choose private or shared: data can be saved locally from a privacy point of view, as events will not be stored on third-party servers. But Vivaldi is about options. Provides the ability to access and manage events from shared calendars. 
New calendars can be added on the user's server or on any other CalDAV server. It also includes improved support for various online calendars like Fastmail, Zimbra, iCloud, and more.
A full view is a good view – what's unique here is that all data is visible in each view , while other calendars show only one or two lines per event.
There are three different designs as follows:
The minimal view only shows the event title.

Full view shows all event data in main view.

The compact view offers the best of both worlds, putting a cap on text in events.
To get the best overview of events, users can choose the zoom level of their data. The day and week views show hourly data, the multi-week and month views are more compressed and show events one after the other, and the year view shows the events for that day. Agenda view lists 6-week events grouped by date.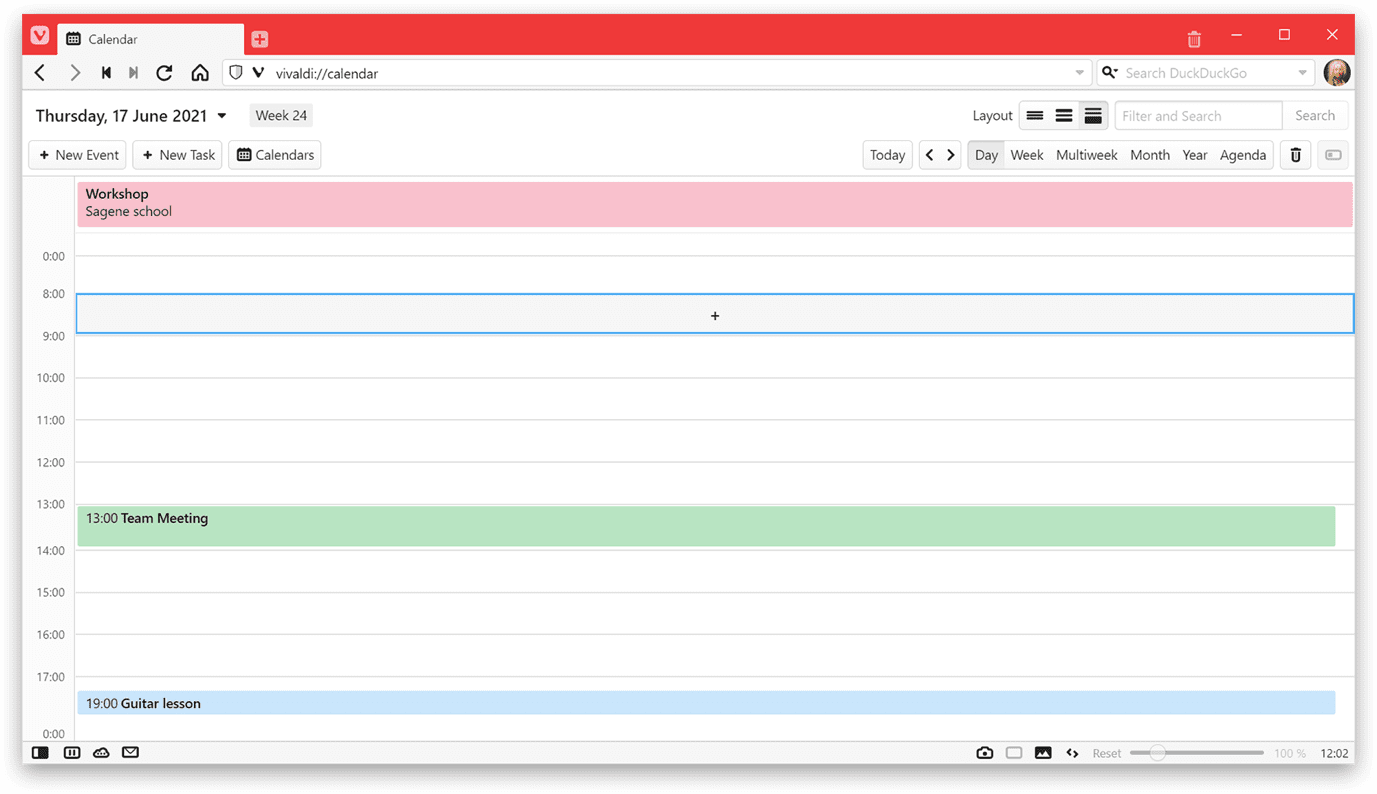 Users can even look at the calendar on their dashboard while browsing to get a better overview and organize their schedule.
Choose how to interact with your calendar: control key calendar actions with just the keyboard, using mouse gestures or quick commands.
See more with the online edition – see other events while adding a new one. Just click, enter your title and start and end times. That's. No pop-ups required, unless preferred. More details about the event can be added and divided into tabs.
Search and filter to save time: filter events quickly, by entering text. The events will be displayed in the current view. To include all events, simply press Enter or click the search button to expand your search.
Enjoy the benefits of browser integration: find, create and edit an event with the help of an event editor while browsing. No more need to copy text between applications. With the "New Calendar Event" quick command, you can create an event in the browser without actually opening the calendar view.
Navigate Dates With Ease – Quickly move around days with up / down, left / right, to see what's coming. Browse through ranges using Page up / down. 
Just click on the date header in the Calendar Panel or Calendar Manager to find an upcoming appointment or past event, and navigate between the dates using the drop-down menu.
Use Tasks to stay on track – Find an overview of your tasks in Agenda view. Create a task from any event or vice versa. From the Event Editor, go to the Task tab and check the "It is a task" check box.
Add fun to your notifications: skip the standard notifications and customize them with Melt or Burn.
"We represent the needs of our users and what the current times demand. We move forward as a company that does not exploit your data for profit. We continue to build products that have more values, more functionality and better user experiences, " says Jon von Tetzchner, CEO of Vivaldi.