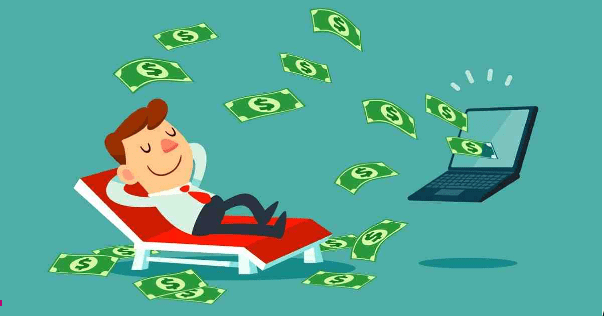 What are Liquidity Pools

The importance of the role of liquidity pools in DeFi 

How do Crypto Liquidity Pools work?

The possibility of obtaining passive income.

The example of MM72 and TOKPIE

.

Impermanent Loss
What Are Liquidity Pools?
Liquidity pools enable users to buy and sell crypto on decentralized exchanges and other DeFi platforms without the need for centralized market makers.
A liquidity pool is a crowdsourced pool of cryptocurrencies or tokens locked in a smart contract that is used to facilitate trades between the assets on a decentralized exchange (DEX). Instead of traditional markets of buyers and sellers, much decentralized finance (DeFi) platforms use automated market makers (AMMs), which allow digital assets to be traded in an automatic and permissionless manner through the use of liquidity pools.
The importance of the role of liquidity pools in DeFi
Liquidity pools play an essential role in the decentralized finance (DeFi) ecosystem — in particular when it comes to decentralized exchanges (DEXs). Liquidity pools are a mechanism by which users can pool their assets in a DEX's smart contracts to provide asset liquidity for traders to swap between currencies. Liquidity pools provide much-needed liquidity, speed, and convenience to the DeFi ecosystem. The more assets in a pool and the more liquidity the pool has, the easier trading becomes on decentralized exchanges.
How Do Crypto Liquidity Pools Work?
An operational crypto liquidity pool must be designed in a way that incentivizes crypto liquidity providers to stake their assets in a pool. That's why most liquidity providers earn trading fees and crypto rewards from the exchanges upon which they pool tokens. When a user supplies a pool with liquidity, the provider is often rewarded with liquidity provider (LP) tokens. LP tokens can be valuable assets in their own right and can be used throughout the DeFi ecosystem in various capacities.
Usually, a crypto liquidity provider receives LP tokens in proportion to the amount of liquidity they have supplied to the pool. When a pool facilitates a trade, a fractional fee is proportionally distributed amongst the LP token holders. For the liquidity provider to get back the liquidity they contributed (in addition to accrued fees from their portion), their LP tokens must be destroyed.
The possibility of obtaining passive income. The example of MM72 and TOKPIE.
Among the many DEXs available, one of the most intuitive and used is undoubtedly pancakeswap.finance. With a few clicks, by going to the "Trade" menu and clicking on "Liquidity" you can create a Liquidity Pool by pairing two different tokens of your liking that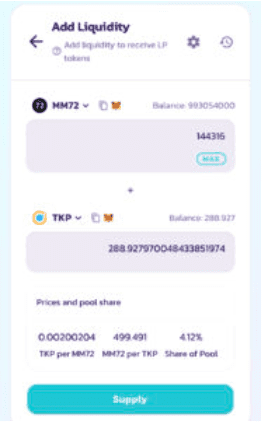 Is it possible to obtain passive income with cryptocurrencies?
you believe can have a good response in terms of transactions in order to obtain a passive income.
How does it work?
When you add your token to a Liquidity Pool you will receive Liquidity Provider (LP) tokens and share in the fees.
As an example, if you deposited CAKE and BNB into a Liquidity Pool, you'd receive CAKE-BNB LP tokens. The number of LP tokens you receive represents your portion of the CAKE-BNB Liquidity Pool. You can also redeem your funds at any time by removing your liquidity.
Providing liquidity gives you a reward in the form of trading fees when people use your liquidity pool. 
Whenever someone trades on PancakeSwap, the trader pays a 0.25% fee, of which 0.17% is added to the Liquidity Pool of the swap pair they traded on.
For example:
There are 10 LP tokens representing 10 CAKE and 10 BNB tokens.

1 LP token = 1 CAKE + 1 BNB

Someone trades 10 CAKE for 10 BNB.

Someone else trades 10 BNB for 10 CAKE.

The CAKE/BNB liquidity pool now has 10.017 CAKE and 10.017 BNB.

Each LP token is now worth 1.00017 CAKE + 1.00017 BNB.
Liquidity providers are often incentivized to the pool even by the issuers of the token themselves, who can add bonuses to those who pool their tokens, thereby optimizing their passive income.
This is the case of MM72 and TOKPIE which these days are offering a passive income to all liquidity providers.
In fact, a pool campaign is an underway which allows all those who join the MM72 + TKP pool on pancakeswap.finance to obtain a liquidity bonus of 0.1% every hour.
Impermanent Loss
Providing liquidity is not without risk, as you may be exposed to impermanent loss. Therefore it is necessary to choose well the pairs with which the pools are made.