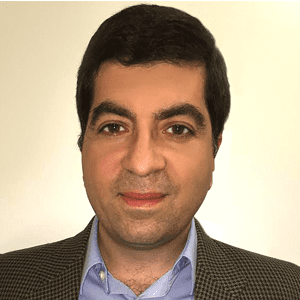 Shidan Gouran is the CEO of Laser, a blockchain protocol offering several dimensions of functionality that will take cryptocurrencies to the next level. In this interview, Shidan will be sharing these functionalities with us and the opportunities offered by Laser.
1) Please tell us about yourself.
I'm Shidan Gouran, President and CEO at Global Blockchain, and running the show here at Laser Protocol.  
My interest in the blockchain goes back to my studies of pure mathematics and theoretical physics at the University of Western Ontario, where I studied concepts like cryptography and understood their value in computing. I've also been a serial entrepreneur, focusing on products that benefit from the network effect. Like many others who understand the Bitcoin whitepaper I went down the rabbit hole in early 2010, becoming one of the early Bitcoin miners. It's the ultimate network effect technology.
2) So, what exactly is Laser?
For blockchains to finally take hold and grow exponentially they need to interoperate with each other. That's what I'm doing with the team I put together here at Laser. Laser is an Ethereum-based blockchain that will use proof-of-stake and allow all blockchains to work together as one big network, removing the borders of the world of cryptocurrencies.
3) What are the main features and services provided by Laser?
You can think of Laser as "SWIFT" for cryptocurrencies. Most notably, we're going to support near-instant transactions, a big improvement considering how long some Bitcoin transactions take. We will also support many different cryptocurrencies by providing interoperability. As an example, you will be able to use Laser to send Bitcoin to an Ethereum address. Additionally, you'll be able to do all of this anonymously – with privacy being a concern for many cryptos.
4) What is the infrastructure behind the Laser network?
At a high level, we're building out the software that will run the Laser servicenodes. These servicenodes are the heartbeat of the Laser network, providing its key services and computing functions. Further, they require operators to put up 1,500 Photons of collateral; incentivizing them to be reliable and honest, giving a high level of integrity to the Laser network.
5) Could you tell us more about the Photon coin for Laser?
For sure! Photons are the native cryptocurrency of the Laser network. They will be used for services provided by the network. Also, people can stake Photons to run servicenodes on the Laser Network and earn 17%-69% of additional Photons per year.
I'd also like to mention that when the network launches, we're distributing 10.5 photons in an airdrop to Ethereum and Ethereum Classic holders.
[For more information on Lasers airdrop click here.
6) What makes Laser different from exciting blockchain solutions?
First, I think our team is second to none. There are a lot of great ideas out there in the blockchain space… but not enough great teams who can execute. This space is still young, so there's a lot of competition for the few technical people who have blockchain expertise. I'm fortunate in that I've been able to bring the best people I know on board.
7) How are transactions done near-instantly on Laser?
Using an overlay protocol, servicenodes can "pseudo-confirm" transactions based on their observation of factors such as wallet balances. In an absence of negative confirmations, transactions can be deemed valid in just seconds. Since servicenodes must put up collateral, they risk losing it if they attempt to validate an invalid transaction. Hence, there is an incentive to be honest, which makes things run a lot quicker.
8) How are transactions made anonymous on Laser?
All transactions go through a multi-signature wallet that "scrambles" the coins so that they can't be traced back to the sender.
9) How can transactions take place across blockchains on Laser?
Laser operates parallel to other blockchains. It "translates" across them so they "speak the same language". By genericizing wallet addresses in a format that can be read by all multi-signature blockchains, inter-chain transactions become possible.
10) Tell us what you have on your roadmap and future of Laser.
We have a lot going on behind the scenes here at Laser. We're working on proof-of-stake for near-instant transactions, anonymous transactions, and multi-currency support.
We're getting ready for our airdrop later this year, too.
Plus, we're now working with Hewlett Packard Enterprise on a proof-of-concept project that uses the Laser network for cloud storage.
11) Tell us about your team and customer support.
We have diverse team at Laser, and we're growing. We're up to 18 people now. This includes Steven Nerayoff, a blockchain pioneer who has been involved with some of the biggest names in blockchain. He was with Ethereum from the start. Also… Lisk, Bancor, tZERO, ZenCash, ZCash, Ripio, Aion, Storm, and many others. We have some great advisors including Trevor Koverko at PolyMath. We also have an incredible technical team headed up by Mike Khoroshun, plus two technologists from Hewlett Packard Enterprise.
And, for customer support, we're using Telegram.
[You can join Laser's Telegram group here.]
12) Do you have more information for our readers?
Absolutely, you can always get the latest news from our Twitter account.
You can read about what's going on behind the scenes on our Medium account.
You can also get a great overview of our project on our website.
Finally, get to know us in our Telegram group.