Everex is offering a turn key solution for financial institutions, personal and corporate clients in domestic and international payments via stable coins settlements. The CEO Alex Lane will be discussing the Everex project in this interview.

1) Please tell us your name and about yourself?
My name is Alexi Lane, CEO, and co-founder of Everex. I am a fintech entrepreneur, having worked in capital markets, financial services and payments over the past 15 years. After graduating from the University of Memphis, Tennessee, I worked at Morgan Stanley, Wealth Strategies Group and in a number of payment processing companies as a director before starting out on my own journey of entrepreneurship. In 2013, I actively became a blockchain enthusiast and decided implement blockchain technology for the betterment of the masses. That was how Everex came into being.
2) What is Everex?
Everex is a Singapore registered financial technology company, with head office in Bangkok, Thailand, that provides Ethereum blockchain-powered solutions for cross-border money transfers, direct payments and fiat to digital asset swaps using stablecoins. Although there are different types of stablecoins, we are only focusing on fiat pegged digital currencies that represent units of national currencies, such as USD or EUR that are powered by smart contract and exist in Ethereum blockchain token format. Everex was a second company in the world after Tether (USDT) to introduce a second fiat pegged stable coin THBEX in 2016, representing Thai Baht.
The use of stablecoins in financial services allows to achieve much faster settlement times, usually in a few seconds, with very low transaction cost regardless of the transferred amounts. We implement Ethereum blockchain technology as a new rails for faster and cheaper money transfers to challenge existing legacy payment systems and also to address growing global financial inclusion problem.
3) What can you tell us about your team and customer support?
I have been very lucky in terms of my partners and have got a great mix of like-minded, strong-willed people in the team.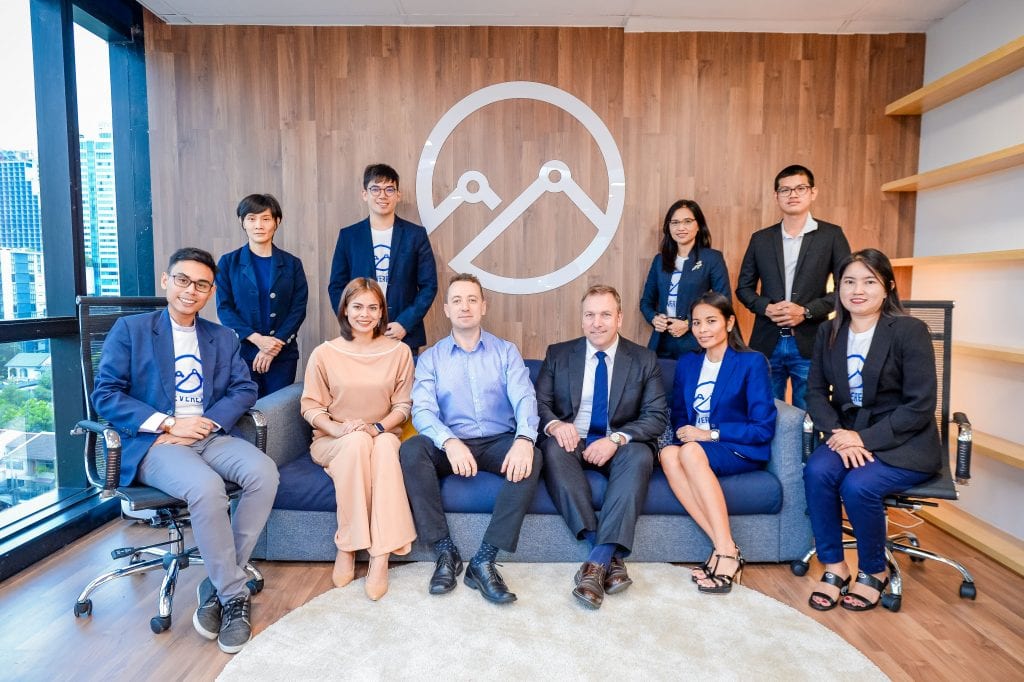 Our COO, Anna Vladi, brings in an experience of over 20 years in Operations and Strategy. Apart from being responsible for operations and compliance, she is the one who keeps us motivated. The CTO and co-founder Alexander Kakunov shares his 15+ years of experience in building enterprise level software. After being  Systems Architect and Product Manager for years, Alex has shifted focus on the development of Blockchain application and products over the last three years. Tim Scheffmann is the Regional Managing Director of Indochina and Australia. A master of banking and finance, he has worked with a number of reputed banks for over 24 years. The CMO, Visakha Thongphetsavong, has a master degree in Financial Engineering and Risk Management. An ex-investment banker from Credit Suisse in London, she has a solid background in finance and entrepreneurship.
4) Everex was amongst the first teams to build applications on Ethereum, could you tell us more about your products or applications and the specific services you provide?
Our company includes strong in-house based development team with solid senior development level of expertise. This team stands behind development of very popular Ethereum blockchain analytical tool, Etholorer.io, our proprietary Everex wallet for stablecoins and digital assets, and proof-of-existence Dapp, Chainy.
Ethplorer

is our own version of Ethereum blockchain explorer, which also serves as token monitor and viewing tool Ethplorer allows crypto investors, brokers, traders and enthusiasts alike to get all important information about any launched token on Ethereum along with an in-depth analysis including charts and transaction history to help our users apply their knowledge for better decision making.

Everex Wallet

is a blockchain and smart contract powered application that allows financial institutions, individuals and corporates to make cross-border money transfers, currency exchange, and direct payments globally – in a few seconds and at a lower cost per transaction. Our wallet has been built on Ethereum blockchain and has been designed to support multi-currency issued stable coins and digital assets.

Everex wallet will allow users to deposit, send, receive and withdraw cash or transfer funds to a bank account in a number of DFC stablecoins representing different national currencies, including the US dollar, Euro, and/or the Thai Baht.

The EVX token is an integral component of the wallet, which allows savings in transaction and service fees if used in the wallet.

Chainy

is an independent Ethereum based smart contract which

provides irreplaceable blockchain URLs, aka "aeon links", permanent proof of existence for documents, and a public text messaging service on the Ethereum blockchain. It exists for as long as the blockchain exists, independent of anything or anybody else.
Everex also offers expertise and services in developing smart contracts for fiat pegged stablecoins to support digital currency initiatives of commercial and central banks. Unlike traditional tokens used for ICOs, stablecoin smart contracts must adhere to a very difficult levels of governance and internal administration. Our own developed Thai Baht digital fiat currency token caters to individuals and SMEs in the South Asian region who send money and payments to neighboring countries.
With Everex, users will not only be able to save on exchange and withdrawal fees but also gain access to digital asset markets through the Everex platform. This will open up a whole new level of opportunities in the application of digital assets made available for payment and investment.
5) Do you think financial services providers are ready for the cryptocurrency market, how big is the demand for crypto tokens like the EVX token in the capital markets?
The cryptocurrency market had a good run initially, but people have become complacent about the reliability of this money that exists digitally. It is absolutely essential to introduce crypto tokens like EVX that actually serve a higher purpose. We are not just introducing a new token to hodl, instead, our mission is to help accelerate financial inclusion globally and provide access to various banking solutions for the unbanked, underbanked individuals and SMEs worldwide. EVX is a small but necessary step in that direction. EVX will also be included in the wallet ledger designed as a service fee payment method for a global audience. We want to create a financial ecosystem in which most digital wallets are powered by Everex technology and hence EVX token, providing blockchain-powered interoperability between thousands of global digital wallets that currently do not communicate with each other.
6) Tell us more about the EVX token, how it works and the value proposition for investors?
EVX token is the token issued exclusively by Everex, which is currently trading on exchanges with a global coverage, such as Binance, Huobi and others. (See full list of Markets at CoinMarketcap website). . EVX can be purchased directly from any of those exchanges, such as Binance and Lykke, among others.
EVX is one-of-its-kind token that facilitates fiat-to-crypto and crypto-to-crypto money transfers and vice versa. By purchasing and paying with EVX tokens, users have access to 50% reduced fees when transferring money abroad.
EVX token is not to be confused with our Stablecoin solution.
As our first product, we have developed the Thai Baht stablecoin (denominated with the "THBEX" ticker) which is a digital representation of the fiat currency THB and equivalent to one unit of Thailand's national currency  (1 THBEX = 1 THB). These stablecoins are an integral part of the Everex platform and wallet, as they have been designed to cater to individuals as well as merchants, in order to facilitate any money transfers around the globe.
In other words, EVX token will help users to deposit, send, receive and withdraw cash or transfer funds conveniently to a bank account, using those digital representation of fiat currencies (namely stablecoins) like the US dollar, Euro, or the Thai Baht, that enables instant settlement at lower cost.
Hence, with a strong acknowledgment of the existing legal framework, EVX token will further help onboard new clients, do crypto-to-crypto transactions and let clients exchange between fiat and crypto through our platform at cheaper fees compared to traditional methods. It will also make life much easier for tourists, digital nomads or expats seeking an alternative to traditional currency exchange services that are cumbersome and expansive. bridging the gap between the fiat and the crypto world.
7) On what stage of development is the Everex project, what is next on your roadmap?
We have built a strong foundation so far in the Asia Pacific region and will soon be launching our international remittance service i.e. within South East Asia for both individual and SMEs. This initiative by Everex has received great support by a number of partnership banks including the one with Myanmar's Shwe Bank and the more recent one with Krung Thai Bank. These partnerships will help close the remittance corridor between the two countries. Furthermore, we plan on expanding our offices in the US and obtaining an MSB license to enable access to the US markets. In fact, after the launch in January, we have already started onboarding users in New Jersey and plan to move further into Tennessee, California, New York, Washington, Florida, Pennsylvania by the end of 2019.
8) How Safe is Everex, would you like to talk about your legal and security measures?
Everex successfully executed its first cross-border remittance pilot in 2016 and the e-wallet is now ready for the second phase of commercial testing, pending certain regulatory approvals. We strongly believe that the three pillars of success are a combination of three major pillars: regulations, operations, and technology. We understand that the users are putting their financial independence at stake here and we take security very seriously. To ensure that our platform is completely legal and secure, we have taken a number of steps in this direction. Everex has created a one-of-a-kind remittance platform with reduced transfer time, remittance fee and a clear audit trail. Digital-wallet integration will be customized for the countries in which Everex and its partners operate, as each one has different know-your-client regulations. We have partnered with the best in the business and will continue to do so to ensure the best of services. The platform has been built to withstand any hack attacks, courtesy our ICO phase and it is as robust as it can get.
9) Do you have more information for our readers?
The fintech market has gone through many ups and downs and global economies and policies have had varying effects on the market. With a technological revolution at the helm, it is high time to get over the legacy systems and indulge ourselves with what the amazing blockchain technology has to offer. This world will be a much happier place if everyone will simply have easy access to financial services, as and when required. We have long felt the need to change the state of things and believe me, Everex is here to make a difference. Yes, our beta launch date will be planned, structured with focus groups and that may just be, to put it lightly, the beginning of the end of an era.
For more information, visit: https://www.everex.io/