Bannersnack offers an innovative cloud-based creative design and banner making platform. Teodora Gavrilut, Head of Marketing At Bannersnack shares more details with us in an exclusive interview with TechBullion.
Please tell us more about yourself.
My name is Teodora Gavrilut, and I am Head of Marketing at Bannersnack. 
My marketing journey started over 15 years ago, and ever since, I've been in a quest to push myself out of my professional comfort zone. I switched from copywriting to running a tech magazine, and then from managing T-shaped marketers with stellar portfolios to developing and coordinating ambitious freelancing projects. 
I'm currently managing a team of 15 skilled marketers at Bannersnack. Marketing-wise, we handle everything a SaaS product needs to stand out in competitive markets—from SEO, content creation, management and distribution, email marketing, PPC, social media, and more.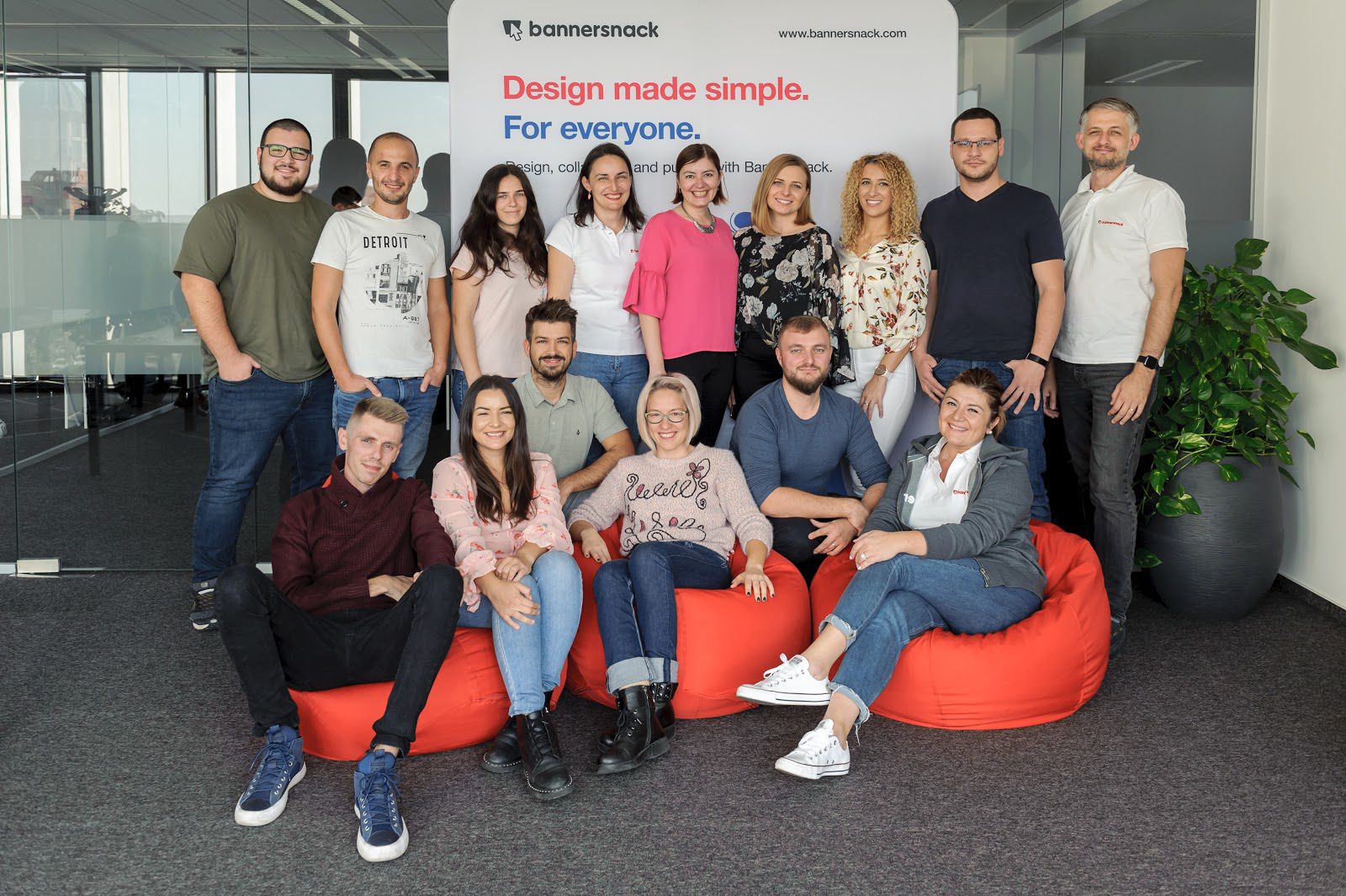 I love what I do, and I believe that I was very lucky to have built a career out of my love for technology and passion for marketing. 
What is Bannersnack?
To address this question, I feel like I should talk about what Bannersnack endeavors to become—a universal design platform, catering to all needs from simple visuals, ads, and banners to advanced video and branding solutions. All our efforts point to this direction.
Bannersnack is now a cloud-based collaborative creative design platform. You can use it to create marketing and advertising visual assets or campaign deliverables for both online and print. You can also use it as a video ad maker, or to manage your remote teams. We offer scalable, customized, and cost-effective solutions to graphic design.
Bannersnack started as a banner maker, back in 2008. Ever since, we stayed afloat and even thrived by embracing the latest industry trends and technologies, similar to most SaaS successful products. 
But what's special about Bannersnack, you may ask? Every tool on the market is advertised as the best, the cheapest, the most advanced, but what made Bannersnack shine was our utmost respect and dedication towards our community.
Before we invested in anything else, we made sure that our customer service and experience are impeccable. Hence, we created a customer-centric approach and business context, and most importantly, we've been growing our product based on our community's needs.
Why is your revolutionary design platform important to businesses in 2020?
We understand the industry we're addressing simply because we are also part of it. There are a few main directions that we follow with our product, as we believe they make everybody's life easier. Therefore, Bannersnack and its features focus on productivity, collaboration, and creativity. Our efforts point back to the same directions as we strive to offer the optimal solutions to make design and branding as smooth and time-efficient as possible.
Although our customers come from various fields and industries, there is at least one thing they all have in common—they all look for a simple, cost-effective creative design solution, and this is where Bannersnack comes in handy.
Which of your features and templates are most in-demand by marketing experts?
We only chose to invest resources in the features that are in high demand among our community, and we're constantly looking to develop them further. Every time we receive a suggestion, or a member of our community reaches out to us with an idea or request, we discuss it, and oftentimes implement it. 
At this time of the year, we have a few favorites that are witnessing a rise in popularity. Video marketing is one of the vital elements of the digital world, as far as content strategy is concerned. Naturally, we had to come up with a solution that supports the creation of video ads. 
We recently made a core update so that Bannersnack can now be used as a video ad maker, giving marketers the complete solution package for all their promotional needs. 
Our Design Set Generator has always been popular for all the right reasons—you get to generate 50+ sizes at once and save a lot of time. 
Our collaboration package for design teams is also witnessing a rise in demand and popularity since it replaces a lot of other costly tools. Plus, with our platform, you get unlimited storage space for your designs, and you can collaborate with your team on multiple projects while all your files and data are stored and backed up in the cloud.
As per templates and design elements, since our community members come from different backgrounds and fields, we're actively working to create diverse yet relevant visual content for various industries. 
Our social media design templates have always been in high demand, especially those created for retail, fashion, beauty, and hospitality, but also real estate and tech—mostly the templates that we create for the industries running a lot of campaigns.
Customers often look at the business branding and the brand's success, how can Bannersnack help businesses get better branding?
We have a design-first approach, mostly because that's what we're selling—design solutions. 
Our  users can upload their own branding elements, including logo, images, colors, and incorporate them in their designs. This way, we help them maintain brand consistency throughout their entire visual communication.
We have an exceptional team of designers, and we're happy to share their work and vision with our community on every given occasion and assist their design efforts. 
Therefore, we help businesses do better in terms of branding by allowing designers to collaborate with other stakeholders via our platform. We also make available relevant, professional templates and patterns, but also custom-made illustrations and several other creative design elements that reflect the quality of their products and services.
What does a good branding look like from your own point of view?
A brand is an experience, and excellent branding has to be coherent and focus on building trust. It's that one thing that makes people think: "Yeah, I relate to that!" or "They really get where I am coming from, they understand me!". Great branding speaks to the target audience at every given opportunity, so it consequently has a human approach. 
But how do you get to this stage? Research is imperative, and understanding people means that you have to spend a lot of time getting to know them, understanding their real needs, and struggles while always showing empathy. This is also the safest bet to gain brand loyalty, which eventually translates into increased revenue.
With all the beautiful designs and templates, how does Bannersnack turn a prospective customer into an actual customer?
I'm not going to talk about marketing funnels and sales techniques, because to a certain extent, we do what everybody else is doing. However, I will talk about how we're big fans of the "Show, don't tell!" method, so we make sure that we keep a friendly, informative tone in our communication affairs. We always invite potential customers to put our platform to the test. We then ensure a smooth experience by assigning account and support managers to prospective customers, in case they need any guidance or additional information.
Do you have any marketing services or incentives available for the Bannersnack customers?
Not yet, who knows what the future holds? However, we like to believe that we nourish our relationships to the point that our community members feel like they can reach out to us and ask for advice. Some of them do. Plus, we have a Facebook group for our community, where we also discuss various marketing and advertising topics. 
Could you tell us about your team and customer support?
My team oversees everything related to promoting the product, values, and mission of Bannersnack. My colleagues excel in delving deep into our customers' worlds and coming up with new ways to engage with our community.
When it comes to support agents in SaaS companies, I think of them as superheroes because solving so many problems from so many different areas is quite a challenge at times. Our support team is truly amazing, they have mixed skills, and most importantly, they are very flexible. Plus, they are proactive in the way they interact with our user base, and they reply really fast since no one wants to wait a few days for a solution, most people want it on the spot, and that's exactly what they do in most cases. 
Sure we have issues that require a more in-depth analysis just like any other product, but most of the time, solutions are flying. Plus, they also work closely with our development team when things get complicated.
Do you have more information for businesses who wish to use Bannersnack?
Just give it a try! If you're looking to streamline your creative design process and save some time and money, Bannersnack can really help. You can either sign up for free or request a demo to explore our platform's full potential and see if it fits your needs. 
We have a wide range of plans and subscription types, whether you're a team of one, hence you're interested in purchasing an individual plan, or part of a team that's looking to create, scale, and collaborate. 
If you're already a member of our community, we'd like to say thank you for choosing Bannersnack!