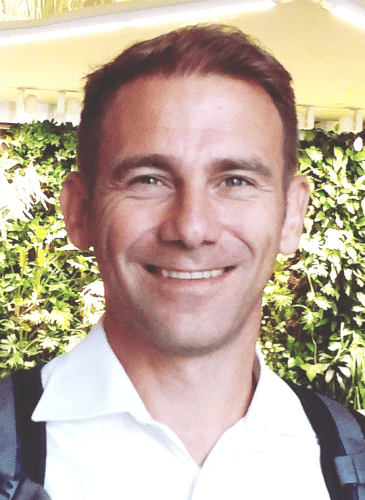 Luis Krug is the Chief Executive Officer of GAMB. GAMB provides software solutions to create a decentralized marketplace, allowing merchants to sell online, without the limitations, restrictions, and fees associated with existing online retail methods. Luis will be talking to us about the GAMB project and the opportunities available for us.
1) Please tell us your name and about yourself?
My name is Luis Krug. I am half Austrian and half Spanish and hold an MSc. from DePaul University in Chicago. I am a true expat having lived my entire life abroad in 6 different countries on 4 continents. At the age of 25, I started my first e-commerce company in Germany without any third party founding. That company grew to become the largest online electronic retailer in Germany and Spain. After exiting from that project, I helped some other startups with growth and exit (e.g. COO of BUYVIP which was sold to Amazon). My passion is the development of e-commerce software. I like to see processes improved through technology and that drive has been a key aspect to all the successful ventures I started. Currently, I run a small technological incubator out of Barcelona where we do angel investments.

2) What is GAMB?
GAMB is the decentralized marketplace of the future with no decision making unit other than the owners of the marketplace themselves. Basically, we will build a marketplace for merchants who do not want to be enslaved by the big 4 and have their rule base dictated to them. A small merchant selling on Amazon nowadays is squeezed like an orange: he holds no customer data, he is in a constant price war and if he makes a mistake he is out, forever. We want to change that. We want the merchants to participate in a Merchant Alliance and gain back the power to decide.

3) What is the technology behind GAMB?
The marketplace technology will be based on one of our Java frameworks. We have built scalable e-commerce technologies in the past, our solutions have easily handled + 2 billion in annual turnover. The blockchain technology will be Ethereum based at first and we will closely monitor which new technologies emerge in future.

4) What inspired you to employ distributed ledger technology to decentralize online marketplace?
One can only warrant for a democratic and decentralized system when there is transparency on all levels. Blockchain technologies guarantee transparency on token ownership and transaction history, additionally distributed ledger technology is immutable. Further, we are true believers in open source technologies and our entire source code is and will be available to anyone. I do not know of any project that believes as much in transparency and traceability as us.

5) What are the Major Services provided by GAMB?
The major service that the GAMB marketplace will provide to its merchants is relevant traffic. We will provide traffic (visitors) to the marketplace that will convert into sales. On the other hand, we provide a democratic voting system to our Merchant Alliance members, who decide for themselves what will be developed next. After all, it's the merchant who knows and understands what market needs and trends are. Most marketplace projects fail because it's the team programming who believes to know what is the need of the merchant.
6) What is the difference between the GAMB and Gambio and how they make money?
Gambio is a leading software provider and the main partner of the GAMB marketplace. However, they are not the same. Gambio makes money by selling a software solution and added services.
The GAMB marketplace will earn money on optional transaction services on the marketplace. For example: a merchant needs a specific payment gateway to receive payments from a country he wants to sell into but does not have the know-how what to implement. We will provide the API connector to the payment gateway and receive a small fee from the provider. However, the overall cost to the merchant will be below the price he would receive himself alone from the payment gateway. It's the strength of many that will push down transaction costs and that is what we will provide to the Merchant Alliance. This is not limited to payment gateways, consider also the power to negotiate parcel prices for 1 million daily parcels vs. 100 daily parcels – again, it's the sum of many merchants in the alliance that will make this project a success for everyone.

7) Who are your major competitors in the blockchain based retail marketplace and what makes you exceptional?
There are projects like Hamster or Storiqa out there but they all lack two main ingredients:
1. A merchant base that provide a lot of products: We have 25.000 merchants ready to join
2. Proven e-commerce experience: The Gamb team has invoiced over 5 billion in e-commerce turnover in their career.

8) Do you have any available opportunities for investors?
We currently run a private sale to investors who would like to pitch at least 25 ETHs. On 1st July 2018, we start a pre-sale of our token where you can invest 0.1 ETH minimum.

9) Could you tell us about your team and customer support?
Sure, the executive team includes Andre as a CFO and Emrah as a CTO. Andre has great experience in integrity and controlling fast-growing companies. He also has experience in fundraising and exits having sold one of his firms to Facebook in the past. Emrah has been building e-commerce frameworks since 2001 and knows how to build robust and scalable solutions that do not need a lot of fixing once they are live.
We also count on the great support of the Gambio founders Daniel and Nunito who have together built the leading shop software company in Germany. That is an extremely worthy and powerful asset, especially considering that they started when they were only 17 years old and did become market leaders without any third party investment.
On the advisory board, we have great support from top-notch professionals like Eric Sarasin and Felix Hötzinger.

10) How Safe is GAMB, would you like to talk about your compliance and security?
GAMB is safe. We have probably the most renowned law firm assisting us in KYC and integrity issues.

11) Do you have more information for our readers?

We strongly believe that we have a revolutionizing project at hand. Our team is very euphoric especially after realizing that 90.000 people joined our humble telegram group. We did expect some type of rush, but what we have experienced so far is extreme. This confirms that we have the right proposal at hand.
Visit the GAMB website on: https://gamb.io/