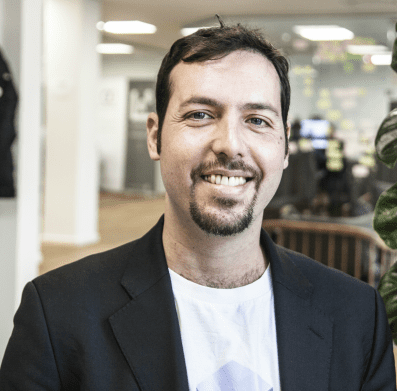 Dr. Omri Ross is the CEO and founder of Firmo. Firmo acts as a protocol layer, providing all major blockchain platforms, exchanges, and liquidity networks protection in automated financial contracts that are enforceable without the need for trusted third party agents. Dr. Omri will be sharing the details of this project with us in this interview.
1) Please tell us your name and a little about yourself.
Dr. Omri Ross – CEO and Founder of Firmo. I have a PhD in Mathematical Finance from the University of Cambridge and am an Assistant Professor in Blockchain Technology at University of Copenhagen. I have wide-reaching experience in the blockchain space. I consult startups, such as Bancor and Colu, as well as act as an advisor to governments, banks, and large corporations on matters related to blockchain.
2) What is Firmo Network?
Firmo enables financial companies such as cryptocurrency exchanges to securely offer decentralized derivatives to their customers. We do this through FirmoLang, our domain-specific, formally verified language. With Firmo, the world of hedging and shorting is opened up to the crypto economy. Firmo already deploys to Ethereum and we are exploring compilers for Neo, Cardano, QTUM and others.
3) What are the Major Features and Services provided by Firmo?
Firmo is building infrastructure for the crypto economy. The most important part is FirmoLang, our formally verified, domain-specific language which compiles to any
blockchain. FirmoLang offers the same level of security used to make sure planes, trains, and satellites operate securely. There are three main things to note about this.
a) Firmo is secure
Although it's theoretically possible to write a derivative on the blockchain, there are serious security vulnerabilities holding the industry back. 45% of smart contracts written on Ethereum right now could potentially be hacked. Past examples of this include the DAO and Parity Wallet. Both retail investors and large financial institutions will never chose the blockchain over existing financial infrastructure if half of the transactions made could be at risk. The nature of FirmoLang offers and unmatched degree of security, which is needed in the industry.
b) Firmo is intuitive to use
FirmoLang is intuitive for any developer to use. It takes just 10 lines of code to write a derivative compared to Ethereum's Solidity, in which 90 lines or more can be required. With blockchain developers in high demand. FirmoLang is a great framework for financial contracts as it is easy for any developer to learn and start working with in an afternoon, making contracts on blockchain technology accessible to the average joe.
c) Firmo is blockchain agnostic
Firmo's vision is to work on any major blockchain. Our compiler already works with Ethereum and we are exploring partnerships with other major blockchain foundations and organizations. The infrastructure that Firmo provides, allows businesses to continue to offer financial contracts like derivatives without having to make costly investment decisions in technology that may or may not work now.
4) Could you tell us about the Firmo team?
The Firmo team is a handpicked selection of experienced entrepreneurs and subject matter experts in mathematics, functional programming, economics, and community building. We come from all over the world, but have offices in Tel Aviv, Berlin, and Copenhagen. Many of the team members have been in the blockchain space for quite a while or have extensive experience in successful startups or niche academic areas.
5) Who are Firmo customers, how can we be part of the Firmo community and what are the benefits for investors?

Firmo's customers are financial institutions who would offer financial contracts, such as derivatives, to their clients in the cryptoeoconomy. There are many ways to join the Firmo community. We love hearing ideas, comments, and suggestions around the potential use cases of Firmo (there are many). The best way to get in touch with us is in the Firmo community Telegram group where there is always an active discussion going. You can also spread the word about Firmo and what we are doing!

We are currently doing a private pre sale to accredited investors to support the project. You can get in touch with us through Telegram if you would like to support it.
We look for partnership with the largest exchanges and blockchain platforms.
6) Could you tell us more about your Partnership with Bancor?
Our CEO, Dr. Omri Ross consulted on the Bancor Whitepaper. Bancor is an incredibly exciting product with a highly sophisticated liquidity algorithm. Combining Bancors Smart Tokens with the Firmo Protocol, will allow new and creative types of derivative contracts on selected baskets of goods. These and similar applications opens the door to brand new ways of thinking about finance on distributed infrastructure. We enthusiastically share the Bancors teams vision of enabling the long tail of cryptocurrencies.
7) We understand the Firmo project is focused on Security, how Safe is Firmo, would you like to talk about your legal and security measures?

At Firmo, we bypass smart contract vulnerabilities seen in the DAO and Parity Wallet hacks with our programming language – FirmoLang. It's domain specific and formally verified meaning its as secure as the code used to fly airplanes or direct train traffic. This provides an unmatched degree of security for executing smart financial contracts, like derivatives, on the blockchain.
To get more technical, Firmo defines derivatives in FirmoLang, an intuitive and declarative language. FirmoLang has been formally verified with the coq proof assistant, effectively minimizing the error margin in the formulation of even advanced financial contracts.
8) What is the Future of Firmo and what do you have on your Roadmap for the next 5 years?
Firmo is currently working on developing compilers for other major blockchains than Ethereum. Down the road we will be releasing our own blockchain, a side chain for tracking and logging cashflows on all the major chains. We find Interoperability an exciting prospect for the protocol.  In the future, Firmo could be extended to also work for prediction markets and peer-to-peer lending. There are a lot of possibilities of how the infrastructure we provide could be applied in the crypto economy.
9) Do you have more information for our readers?
Join our Telegram group and ask us questions directly here: https://t.me/firmonetwork
Read our technical paper here: https://firmo.network/
ARTICLES
Venturebeat on Firmo: https://bit.ly/2rcz3gi
Guide to derivatives: https://bit.ly/2IokSPD
Smart contract hacks you should know: https://bit.ly/2KOpvBa
SOCIAL MEDIA
Blog: https://medium.com/firmonetwork
Twitter: https://twitter.com/firmonetwork
Facebook: https://www.facebook.com/firmonetwork/
LinkedIn: https://www.linkedin.com/company/11314264/
YouTube videos, FAQ, keynotes, interviews here: http://bit.ly/2FKbw04.