Hubstaff offers an employee time tracking software and productivity management tool to help your business spend less time tracking your remote teams and more time growing your business. Dave Nevogt, CEO and co-founder at Hubstaff shares more details with us in an exclusive interview with TechBullion.
Please tell us more about yourself?
I am Dave Nevogt, CEO and co-founder at Hubstaff. I was commuting two hours a day to sit in this cube for 8-hours a day and push useless reports that didn't mean anything to anyone. This was the biggest driver for me to not only start an online business – out of a literal closet nonetheless – but to do so remotely. Yet the biggest hurdle was managing a global team and I knew there had to be a better way to track hours, pay contractors, send invoices, manage projects — and that's how Hubstaff started, 100% remote without an HQ since day one in 2012. 
What is Hubstaff and what unique services do you provide at Hubstaff?
Hubstaff is the #1 software solution for remote teams. Remote and other flexible working environments have grown in-demand, and the recent rise in the need to work in this capacity due to the Covid-19 virus has catalyzed this trend.
The suite of Hubstaff products provides an end-to-end solution for distributed companies needing accurate, reliable time tracking, detailed productivity analysis, and team and project management tools.
Hubstaff also is a leader in geofencing technology that addresses a daunting question many field team managers have – "Where's my crew?" Geofences allow for managers and clients to know when an employee enters and leaves a job site, and even where they are enroute. Hubstaff eliminates the need for inaccurate manual time-punching.
We would like to know more about the ever-controversial topic of Employee Surveillance and why mutual trust is the most important thing?
Entrepreneurs, executives, and team leaders can reap a lot of rewards from employee monitoring software including less wasted time, fewer errors, better employee insights, increased security, and more. But despite the many advantages, there are drawbacks to employee monitoring as well such as effects on moral, increased stress, higher turnover, legal issues, among others. The good news is it's completely possible to get all the pros of employee monitoring, without any of the cons.
Privacy and security are and have always been a top priority at Hubstaff. Our core tenants are transparency, control and access which means that employees have access to the same data that their manager does. The employee is the one in control – they download the app and start/stop the timer on their own. Unless the fleet tracking feature is on their phone – which they'd need to grant permission for – nothing is tracked in between. 
Knowing that the time employees spend working productively is being tracked means that remote employees are more accountable to their output each day. Thus, they are far more likely to be motivated and produce greater results on a regular basis.
Tell us about assembling a dream team based on experience, not location — and how this could be the answer to many company's growing diversity commitments?
Virtual employees can be quick, efficient, produce top-quality work and help your company gain new ideas and fresh talent but knowing where to find them or the right questions to ask can lead down a deadend path. Hiring remotely is its own special animal. Companies are also now realizing that they can hone in on a candidate's experience and skill set rather than where they are based. This is what has helped Hubstaff to grow since day one and might be one of the fundamental reasons for our success (actually, we recognize that it's unlikely Hubstaff would have grown anywhere near as much if it had to rely on just the local talent).
Skills are the number one, top identifier in qualifying your remote hiring prospects. A few key identifiers for finding quality talent are: 
Identity – do they identify themselves with the same skills online as they do on their job application?
Consistency – how well does your candidate present themselves and their work in other channels? Are their professional profiles complete?
Depth – Are they invested in their trade?
Communication – If your candidate passes inspection, get in touch for an in-person meeting, video call or phone interview. 
Want the best virtual employees? Create a good environment and attract them with respectful communication, a good title and an acceptable rate of compensation. Also understand that compensation is only one component of what makes a job desirable. The quality of the work, opportunity and working arrangements are all important variables.
Remote job opportunities remove some barriers for people with disabilities that may make commuting and sitting in an office all day a challenge. 
We're also able to have a considerably diverse team with a variety of cultural backgrounds because we don't operate within geographical borders. As long as they have internet access, we're able to work with talent who might not have the same job opportunities locally. This is a win-win for Hubstaff and its employees, bringing several diverse and valuable perspectives to the table.
What can you tell us about "the Pandemic Economy" and the importance of digital innovation, remote work, and trusted relationships?
In a survey we ran through a third-party provider soon to be released, 66% of companies said that remote work options prevented some layoffs during the pandemic. We believe tools like Hubstaff helped save those jobs. We saw more than 2X the number of trials year over year since March, and some of those customers we've spoken to suggested this was the case for their business.
One of our latest goals in this new economy is to position Hubstaff to be the digital solution that allows businesses of all sizes to automate the management of their workforce and collect actionable data in unique and valuable ways. We have recently launched a few new innovations make our product standout to achieve this goal:
Released

automated stand-ups

in our project management system, Hubstaff Tasks. This helps teams communicate asynchronously and relieves them of at least one daily meeting.
Released our Achievements for Hubstaff. These badges help teams celebrate and recognize employees for surpassing benchmarks for productivity metrics like to-do's completed and activity levels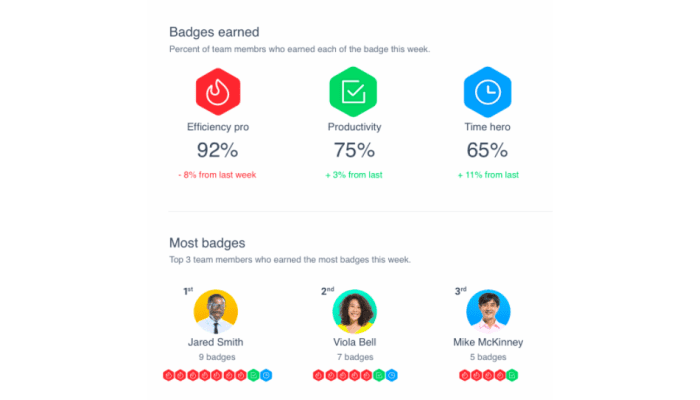 Released the

Hubstaff Productivity Benchmarks

report that shares benchmarks across our over 100 industries with custom reports available to the public for 7 along with actionable insights.
Features like activity rates, task and project completion reports lift the burden of proof from employees to show their manager that they're actually working. Quickly managers are finding that their employees are not only keeping up with their work from home, but even increasing their productivity. Flexible work arrangements are in demand, and tools like Hubstaff are helping employees build trust in remote work with their manager.
From your wealth of experience, tell us what management needs to know about leading remote teams during a pandemic?
Virtual teams are becoming more and more common across the globe and the benefits are clear – remote teams increase employee productivity, satisfaction levels, and can save a company more than $10,000 annually. That's not including the benefit of tapping into a global talent pool. But managing remotely  comes with an influx of unique and new challenges related to virtual teams. It's important to be aware of the most common virtual team challenges and how to overcome them: 
Communication problems: Efficient, effective communication is the cornerstone of any functioning group, and it is especially crucial for remote teams and it's also the cause of almost every other management issue. Managers provide direction at every step of a project or business initiative, so they need to be extremely good at communicating the strategy and understanding what's happening within a team. One of the biggest solutions is making use of communication-based technological tools (instant messaging, chat, and a cloud-based project management system) and keeping these channels open, consistently monitoring them throughout the day.  It's also incredibly important to document every process and work-related conversation in the cloud so that everyone has access. At Hubstaff, we use Google Docs and  our PMIS – Tasks – as documentation banks.
Scheduling difficulties: one of the most difficult challenges is managing workers across several time zones. If your remote employees are located around the globe, coordinating work time can be tougher. When time zone differences are significant – as in your day is another employee's night – this can be especially taxing. Whenever all remote employees are meeting (via phone, teleconference, or video conference), find a time that falls within everyone's workday. Also use email to document big and important announcements such as process changes, company directives, and other important announcements that don't require a meeting, but are nonetheless important. Record meetings and make them available to anyone that is not working during that time.
Language and cultural barriers: Dealing with a globally diverse workforce can bring with it some big challenges, including cultural and language divides. These differences can impact how employees interact with one another, how they prioritize project tasks, what they deem to be a success, and so on. Managers must learn to navigate these differences in order to fully enjoy the benefits of a remote global team. One idea is to allow remote employees to share insights and details about their cultures and geographic regions which helps to reduce cultural-related misunderstandings, and it strengthens bonds among team members.
Tracking remote employee performance: One of the biggest

challenges of managing employees remotely is ensuring that they accomplish all their job duties on time, efficiently, and up to your company's standards. Employees must know what's expected of them at all times, including if you're concerned about hours logged or if you're simply interested in the end product (regardless of time spent). It's also really important to utilize employee productivity software to get the best sense of what your remote team is up to during the workday.

Lack of trust and cohesion within your team: Face-to-face interactions and daily communication create feelings of trust and bonding within the group – we default to using video conferencing for this very reason. With a remote team, you don't have that same advantage, and that can lead to diminished trust and cohesion between you and your employees and even between the team members themselves.

Be sure that all managers are giving frequent feedback to address any issues, blockers or challenges people are facing. This will help the managers to develop trust with the team members and give them the flexibility needed to make virtual teams work. Bottomline, trust your employees, but also, again, utilize time-tracking software. It keeps everyone accountable and can help team members feel confident in the hours they put in.
Remote recruitment/hiring has become popular as WFH becomes the norm, what can you tell us about this?
Remote work is not a short-term trend, it's here to stay. Since 2005, the number of people who work from home has increased by 140%. It's estimated that, by 2028, 73% of all departments will have remote workers. And for good reason — remote work gives employees the highest level of work-life balance — that's simply hard to beat. When people are able to work when and where they are their most productive, your business benefits greatly. In a study we conducted through a third party vendor we found that only 21% of companies that were not remote before the pandemic planned on going back to the office as usual after things go back to "normal." Before the pandemic, 71.5% of employees requested to work remotely.
A few additional benefits of the remote work model are that it allows employers to hire the right talent, regardless of location. It eliminates the high operational costs of leasing office space. It also allows employers to build an engaged workforce that's happier, healthier and more productive. 
Could you tell us about your team and customer support?
Hubstaff is still run 100% remote by a team of more than 60 highly skilled workers based around the world. Today, our team runs on the Hubstaff platform, so we know what it takes to collaborate effectively with colleagues on the other side of the globe. It's how we've continued to grow since 2012, and how we've helped customers do the same.
Hubstaff's Customer Experience team helps business owners and workers through video conferences, live chat and email support. Since we distribute our software worldwide, our CX team spans from Seattle to the Philippines. The primary mission of this team is to be the ones that connect the dots between the customer's desired business outcomes and achieving those outcomes using our products.
How Safe is Hubstaff, would you like to talk about your legal and security measures?
We take privacy and security seriously. We've put a lot of safeguards in place including encryption and permission systems and make it clear when the software is running. It's all done with the employee's knowledge and they are in control of when they turn it on and off. And employees can see the data that has been collected.
For more information, visit the Hubstaff website: https://hubstaff.com/