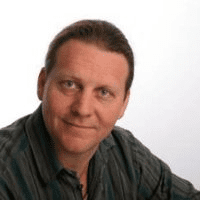 Adrian Clarke is the CEO of  Evident Proof, a blockchain platform built to provide innovative Data verification and proof services. Evident Proof is making the processing and storage of data more efficient and safer, this includes operational data management and data events for compliance, risk verification, business reporting and various other due diligence purposes. In this interview, Adrian will be discussing the Evident project and the opportunities available to us.
1) Please tell us your name and about yourself?
My name is Adrian Clarke and I am the CEO and one of the founders of Evident Proof, an Ethereum blockchain and token-based service that turns data into immutable proof of evidence chains.
I have been in the software engineering business since I was 21, always at the leading edge of new tech. I spent my 20s and 30s inventing and building software in areas such as image recognition, voice recognition, video compression and encryption software.
I eventually worked out that the real money was in delivering a combination of leading tech and business-functional applications. This led to me becoming CTO and Innovation Director at Microsoft UK. With Evident Proof, we have combined the new (blockchain tech) with some proprietary IP enabling us to take to market a really solid and groundbreaking data service.
2) What is Evident Proof?
Evident Proof is an Ethereum blockchain and token-based service designed to meet the ever-increasing need for efficient, secure and immutable data verification, provenance and proof services.
3) What are the major features and services provided by Evident Proof?
Evident Proof is a groundbreaking platform that businesses can use to verify their operational activities, prove provenance and product quality, provide evidence of compliance, better manage risk and more. Individuals can take control of their own data by using the Evident Proof service to proof chain personal activities and information. This will allow them to manage who sees their data, and when.
The platform is a secure cloud-based SaaS platform developed to suit any business with internet access worldwide. It has been built to be secure and scalable, benefiting from our experience of building multinational, multilingual cloud platforms.
Evident Proof takes digital records, such as data transactions, events and documents, and creates a unique signature — a seal — for each. The platform stores these seals in an immutable ledger, called a proof chain, from which reliable proof certificates can be obtained on demand. A proof certificate is a report that verifies the correctness, completeness and time order of digital records.
Evident Proof tokens are utility tokens generated only when data is stored on the platform. They are the property of the data owners and can be used to pay fees for storing digital records on the platform, give the data owner, or a third party, permission to request proof certificates in the future and request evidence in the form of a proof certificate.
By tokenising information, Evident Proof can ensure that data is simultaneously completely transferable but also wholly private. What's more, using a unique utility token, platform users can transact right on the platform, so there is little risk of sensitive financial information being leaked.
4) What makes Evident Proof Project different from the others?
Evident Proof uses blockchain technology to solve a key problem that many of the businesses struggle with — how to manage the vast increase in the volume of data, how to keep it secure and how to effectively extract the information they need for business reporting, audits, compliance and risk management.
One of the critical features of the Evident Proof service is immutability. Manufacturers, regulators, courts, other entities and individuals that require evidence must be able to trust that it is complete, accurate and unchanged.
The Evident Proof solution transforms current corruptible methods of storing data by using immutable proof chains on blockchain. It delivers proof certificates that cannot be destroyed or hacked, and a new way of creating value from data.
5) How much do you intend to raise in the EPT token sale and how do we invest?
$48 million. The public presale for the EPT token will take place from 2 July through 16 July, 2018. The general sale will take place 17 July through 31 July. The minimum purchase will be 100 tokens and the maximum will be 200,000. 75 million tokens will be sold in the sale and BTC, ETH and EUR will be accepted currencies.  We will be announcing more details on how to participate in our token sale soon on our blog:
https://medium.com/@EvidentProof
6) Where do you see Evident Proof after ICO and in the next 5 years?
After the token sale is complete, we plan to build out the platform to meet the demand we're expecting from organisations from a broad range of markets globally, including large enterprise clients, independent software vendors, ICOs, and other businesses of all sizes. We are planning to put teams in place to onboard clients, and to support and scale the platform to several data centres globally. We intend to remain leaders in addressing the critical need for data verification and proof services around the world.
7) Could you tell us about your team and customer support?
I founded Evident Proof along with Dr. James Anderson and Dr. Ken Boness. Matt Roden and I are co-founders of Berkshire Cloud Ltd., the company that has developed the Evident Proof platform. Berkshire Cloud Ltd. is trusted to supply software development services to large multinationals such as Microsoft, with in-depth experience in building and deploying large multinational/multilingual software platforms.
The management team behind Evident Proof has a track record of planning, building and delivering large cross-border software solutions.
The team is supported by several highly experienced advisors and entrepreneurs in commercial strategy, business management, accountancy, sales, marketing and technical evangelism from a range of areas including financial services, blockchain technology, IT software and cloud services.
8) How Safe is Evident Proof, would you like to talk about your legal and security measures?
Security is of vital importance to us. All client data is fully encrypted using Logical Separation of Servers and Virtual Machines, hosted by a leading cloud provider with firewall and VPN technology. We use active platform security and application monitoring, protecting against denial-of-service attacks, cybercrime, malware/viruses, phishing and fraud/scams.
Our smart contracts are written in accordance with industry security standards and all wallets use a multi-signature digital signature scheme.
We will be closely reviewing the distribution of tokens by monitoring IP address and undertaking appropriate "know your client" checks on incoming token holders.
Evident Proof will track IP addresses to prevent South Korea, China, Singapore and US nationals accessing token distribution.
9) Do you have more information for our readers?
The amount of data in the world is growing exponentially, and organisations and individuals globally are increasingly required to justify and verify their data activities. As more compliance standards emerge worldwide, and existing requirements become more stringent, the Evident Proof platform will help fulfill data compliance and verification obligations and provide proof of provenance, identity and other business and personal data.
Find out more on the website: https://www.evident-proof.com/
Join the Telegram community: https://t.me/EvidentProofOfficial