HUH Token (HUH) can't stay off the lips of crypto traders and investors as it saw a massive upside move that registered a 10x increment in its open day valuation after just 48 hours. This act looked familiar as this kind of rapid success can be modeled on the dog-themed meme coins of Shiba Inu (SHIB) and Dogecoin (DOGE).
Although a relatively new crypto token, it has started gathering popularity amongst crypto traders and investors and seems to follow the pattern of the rise of other meme tokens.
This year the Altcoin market has been on the radar for massive moves. Predictions based on price action, technical analysis, and educated forecasts from well-vetted crypto analysts show that the altcoin market might see bullish moves.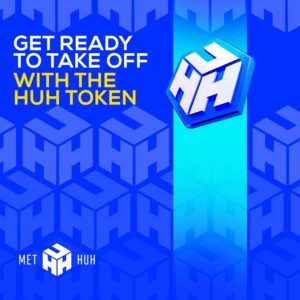 At the heart of these moves, we have filtered the noise and sighted three crypto tokens that have already shown promise of delivering on the expectations that are currently held of them. They are HUH token (HUH), Shiba Inu (SHIB), and Dogecoin (DOGE).
It's looking good, and it might be a bull's year. Just might.
HUH Token (HUH) 
The HUH Token (HUH) presents itself with the accrued tag, "The Ultimeme," and this largely owes to the fact that it is both a utility and a meme coin at the same time, the first of its name, the best of its kind. So far, it has shown the potential benefits that it can confer on its shareholders with a crazy 1000% increase in price in just 48 hours after launching. Since this event, it has been making rounds across most social media platforms, and the engagements spiked even further with the parabolic move up.
The project's whitepaper declares its intention to create a MetHUH, where the holders of the HUH token can make and add to the HUH Token community.
Now, HUH Token holders can share their unique referral code with family and friends. If they join due to your recommendation, you'll receive a 10% BNB bonus on their first deposit. The referee will receive a 10% on their purchase price.
Shiba Inu (SHIB)
Who let the dogs out? Someone let them out in 2021 because they had gone wild and were barking volumes in high-end returns. The highlights of 2021 were not solely in focus on the daddy-mummy coins of Bitcoin (BTC) and Ethereum (ETH); on the contrary, memes and man's best friend stole all the show, with Shiba Inu (SHIB) and Dogecoin (DOGE) running the show at the colossal amphitheater of the crypto arena.
In 2021, Shiba Inu's token valuation grew by a staggering 46,000,000%. On January 1, 2021, investors who invested a little over $2 in SHIB ended the year with $1 million in their wallets.
As more and more cryptocurrency exchanges list SHIB, the coin's visibility and liquidity will improve significantly, ad this will even set it up for tremendous success.
Dogecoin (DOGE)
Dogecoin (DOGE) was the most sought-after virtual currency in the United States last year, surpassing even Bitcoin and Ethereum in popularity. By the end of 2021, DOGE was up nearly 3,000 percent. In comparison to the gains of Shiba Inu, this is a better return on investment than anyone stock provided in 2013.
Dogecoin is likely to benefit significantly from Elon Musk, CEO of Tesla Motors, in 2021 and beyond. Of the three digital currencies that Elon holds, only Dogecoin is one of them. He drew traffic to Dogecoin by posting Shiba Inu (SHIB) memes on his tweets, which incited enthusiasm for potential investors to go long on DOGE.
Efforts are already underway to reduce transaction costs and boost DOGE's position in the crypto market through network upgrades. Compared to Bitcoin and Ethereum's blockchain networks, Dogecoin's network is now cheaper for transactions.
Conclusion
Meme coins have shown how magical they can be, especially in their early phase. The ultimeme coin, the HUH Token, looks to do great things and is one to look out for.
For more info on HUH Token (HUH):
Swap: https://swap.huh.social/ 
Website: https://www.huh.social/ 
Telegram: https://t.me/HuHToken 
Twitter: https://twitter.com/HuhToken 
Instagram: https://www.instagram.com/huhtoken/