Introduction
Have you ever been drowning in endless edits, revisions, and formatting nightmares while working on an important document? Well, fret no more! WPS Writer is here to rescue you from the clutches of editing despair. With its user-friendly interface and extensive features, WPS Writer transforms the daunting task of editing documents into a breeze. Say goodbye to frustrating hours spent tweaking every little detail—WPS Writer streamlines the entire process for maximum efficiency. One standout feature that sets WPS Writer apart is its seamless compatibility with various document formats. Gone are the days when you had to switch between different applications to open or edit a file. With WPS Writer, you can work with Microsoft Word files (both .doc and .docx), PDFs, plain text documents, and more—all within one application.
Tips for Editing Documents with WPS Writer
In today's digital age, seamlessly editing and converting documents is essential for professionals across various industries. WPS Writer, a powerful word processing tool offered by WPS Office, provides users with a wide range of editing features and supports effortless conversion between PDF and Word files. Whether you need to make minor edits to a document or completely transform its format, WPS Writer offers an intuitive platform that simplifies the entire process. In this article, we will explore some handy tips and tricks for effectively editing documents using WPS Writer, enabling you to streamline your workflow and enhance your productivity in no time. So let's dive in and discover how you can optimize your document editing experience with this versatile software!
What are the Features of the WPS Spreadsheet?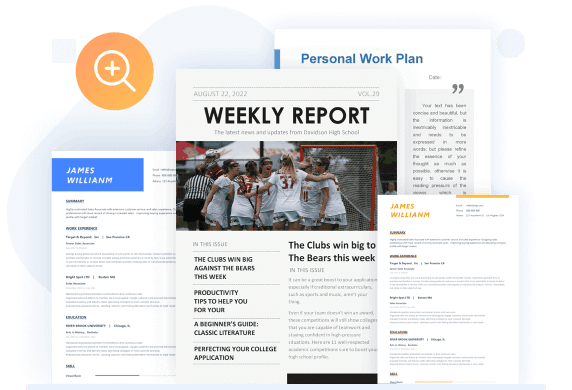 WPS Spreadsheet is not just your ordinary data analysis and visualization tool; it is a powerful ally that can revolutionize how you manage and analyze your data. With a wide range of features, this free software offers everything you need to streamline your charts, track budgets, and dive deep into personal or business finances. One standout feature of WPS Spreadsheet is its extensive library of free templates.
Whether you're looking to create an expense tracker for your household or develop complex financial reports for your business, there's a template available to get you started on the right track. These pre-designed templates not only save time but also ensure professional-looking results. Another impressive feature is its robust charting capabilities. Transforming raw data into visually appealing graphs and charts has always been challenging with WPS Spreadsheet.
This tool empowers users to present their findings comprehensively yet engagingly, from simple bar graphs to intricate pie charts. Moreover, WPS understands the importance of collaboration in today's interconnected world. With its cloud-based functionality, multiple team members can access and edit spreadsheets simultaneously from different locations – ensuring seamless teamwork without any version control headaches.
Comparing WPS Writer to Other Document Editors
Comparing WPS Writer to Other Document Editors-As a free word processor, WPS Writer can help you create and edit documents quickly, making word processing easier. It is compatible with Microsoft Office, LibreOffice, and Google Docs. Click to install the latest version of WPS Office 2022 online. When it comes to document editors, finding the right one can be a daunting task. With so many options available in today's digital world, choosing a program that meets your needs while also offering convenience and efficiency is essential.
That's where WPS Writer shines. While other document editors may come with hefty price tags or complicated interfaces, WPS Writer is a free alternative that keeps functionality and usability intact. Its intuitive design allows even beginners to navigate effortlessly through its features without feeling overwhelmed. One of the standout features of WPS Writer is its compatibility with popular office suites like Microsoft Office and LibreOffice. This means you can seamlessly open and edit files from these programs without worrying about formatting issues or losing any data.
Furthermore, if collaboration is crucial for your work environment or personal projects, look no further than WPS Writer's compatibility with Google Docs. You can easily sync your documents across devices and collaborate with team members or friends in real-time.
How WPS Writer Makes Editing Documents Easier
Have you ever found yourself needing help to edit and format documents? The editing process can often be time-consuming and frustrating, whether it's a report for work, an essay for school, or even a personal letter. But fear not! WPS Writer is here to save the day.WPS Writer is a powerful word-processing tool that makes editing documents more accessible. With its user-friendly interface and intuitive features, you can navigate your document effortlessly. Need to change the font size or style? Select the text and make your desired adjustments with just a few clicks.
Want to add some images or tables? WPS Writer has got you covered. But that's not all – WPS Spreadsheet takes data analysis and visualization to another level. It offers free templates that allow users to easily manage charts, track budgets, and analyze personal or business finances. No more headaches trying to organize complex data sets or create visually appealing graphs – WPS Spreadsheet does it all for you. So why wait? Say goodbye to cumbersome editing processes and hello to streamlined document management with WPS Writer.
Download the latest version of WPS Office 2022 online now and experience firsthand how this innovative tool can revolutionize your workflow. Its user-friendly interface and advanced features allow users to easily create, edit, and customize their documents. The software provides a wide range of editing options, such as spelling and grammar checks, tracking changes, and adding comments to the document. Additionally, WPS Writer offers templates for various document types, such as resumes, cover letters, and business reports, which can be easily customized to match the user's requirements. With its robust features, WPS Writer provides a seamless editing experience that helps users save time and effort.
Conclusion
WPS Writer offers many features and tools that make editing documents a breeze. Its user-friendly interface and intuitive design make it easy for users of all skill levels to quickly navigate and edit their documents. The advanced editing options, such as track changes and the ability to add comments, allow for seamless collaboration and feedback among multiple users. The powerful spell-checking and grammar-checking features ensure your document is error-free before finalizing it.