When it comes to talking about Ragnarok IP, people have the chance to get to know Ragnarok X: Next Generation to a large extent. Combined with the MMORPG category and developed by a Korean major developer, the game gains great popularity upon its official launch. As of yet, a large number of adventurers have been always enjoying the game in Ragnarok world.
Brief Introduction to Ragnarok X: Next Generation
In Taiwan, Hong Kong, and Macau, China, Ragnarok X: Next Generation was formally released on October 15, 2020. Gravity, a maker and publisher of online and mobile games, created Ragnarok X: Next Generation as its first IP MMORPG game.
Following the launch, Ragnarok X Next Generation then became available on Android and iOS devices on June 18, 2021. The game topped the charts in the Apple App Store. The game replicates the expansive open world as a mobile MMORPG created by Gravity and released by Nuverse. At Google Play's Best Games of 2021, Ragnarok X: Next Generation obtained a list of rewards according to its IP potentials.
Ragnarok X: Next Generation was launched in Korea on January 5, 2023. The game underwent a closed beta test from October 11 to October 13, 2022, when it was in its early stages. More than 1 million players have pre-registered for the game, which shows that adventurers still like and are willing to play this MMORPG-category game.
Benefits of Playing Ragnarok X: Next Generation with Redfinger
Although visual treat in Ragnarok X: Next Generation can look quite pleasing, a well-performed phone is required to run the game. Besides, even though you have a good phone, you may be caught in clunky touchscreen controls, overheating, and battery drainage. Fortunately, Redfinger virtual smartphone enables you not to worry about these issues.
As a virtual Android system, Redfinger enables you to own another Android phone on one device. Running on the cloud server, Redfinger costs nearly no data, storage, and battery power of your own device. With Redfinger, you can run your game 24*7 on the cloud freely. In addition, with ONLY one Redfinger account, you can manage as many cloud phones as you want to meet your multitasking needs.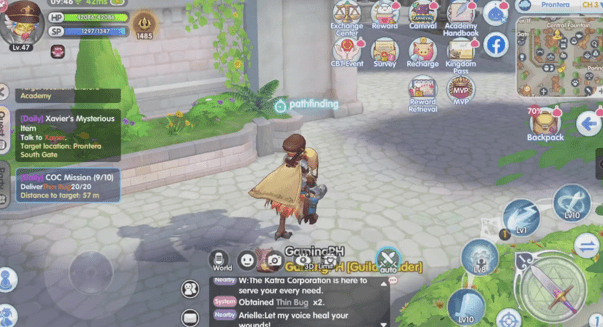 How to Use Macrorify to Enjoy Ragnarok X Next Generation with Redfinger
As a mobile automation tool, Macrorify enables users to automate repetitive tasks in mobile games and apps. Players can use the tool to record actions and replay them in an automatic manner so as to save time. A list of customization features are provided about Macrorify, including the adjustment of delay times as well as the adding of conditional statements. However, it should be noted that using macro software to automate tasks in mobile games may violate the game's terms of service, leading to a ban.
As mentioned earlier, it is a wise option to use the android emulator Redfinger Cloud Phone to enjoy Ragnarok X: Next Generation. Combined with Macrorify's features, it will allow adventurers to boast a more sound experience than ever before. Against the backdrop, here are some follow-up steps on how to download and enjoy Ragnarok X: Next Generation with Redfinger cloud phone:
Search REDFINGER in Google Play and download the app OR Click the official website and use the app via browser.
Complete sign-in steps to access the Redfinger cloud smartphone. Note: Please see redfinger tutorial videos if you encounter some issues about that.
Look for Ragnarok X: Next Generation in the search bar in REDFINGER APP Store.
Download and install the game in Redfinger.
Run and enjoy playing Ragnarok Origin Global with redfinger.
Upon the successful log-in steps, adventures can download Macrorify on the device from Google Play Store or ApkPure. Following then, users open the Macrorify app and create a new macro by clicking the "+" button. Name the macro and choose the game you want to create the macro for (in this case, Ragnarok X Next Generation). The essential step is to click the "Record" button and perform the task you want to automate in the game such as farming. What's more, you can edit the macro if necessary and save the macro to play automatically.