KidsGuard Pro is one of the most popular spy app that parents trust to keep an eye on their kids. The reason behind its popularity is its easy-to-use interface, accuracy, and affordable price. However, if you are using it for the first time then you may need a little assistance to be able to use it to the fullest so that you can ensure the complete safety of your kids.
In this article, I will share with you a quick guide on how to use KidsGuard Pro for tracking your kid's Android or iOS devices. But before moving on to that let's see how it works.
How Does KidsGuard Pro Work?
KidsGuard Pro is a tracking app so it works in the background of the target phone and syncs all the activities that happen on it to your device in real-time. This means you have to install the KidsGuard Pro app on the target phone when the target person is not around. Don't worry they won't be able to find or remove the app because its icon is hidden.
After the successful installation of the app, it starts recording all the activities almost instantly. It uploads the data that it records over WiFi or cellular data so it's important that the target phone is connected to the internet if you want to access real-time monitoring. From phone location, to call tracking, and browser history it can share all details with you. This article won't be enough to talk about all the features of KidsGuard Pro, you can check out its complete review here.
How To Install KidsGuard Pro Spy App?
Installing spyware can be tricky and if you have never installed a spy app before you will find it hard to successfully bug a target phone with it. This is simply because you need to give a lot of permission to install spyware and if you don't know exactly how to do that then you may end up wasting your money on it. However, that's not going to be the case with KidsGuard Pro as it Provides you with an in-app installation guide to successfully install the app. In case you still face some issues you can check out their detailed installation guide on their website.
How To Use KidsGuard Pro?
First thing first, you need to log in to your KidsGuard Pro account as soon as you have installed the app on the target phone. Next, you need to go to your Dashboard.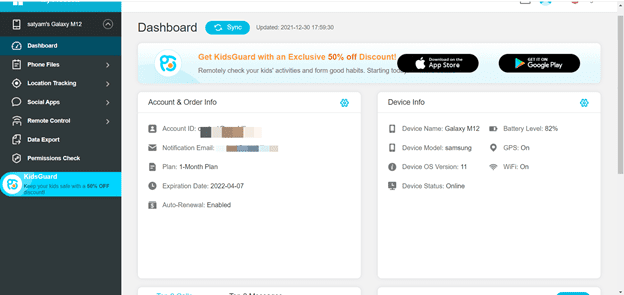 As you land on the dashboard you will see some information right on your screen. These include account & device info, top call and messages, and their last known location. So basically you get some important details right on your screen without doing anything.
Now you can click on the different options you see on the left sidebar of the dashboard. These options include Phone Files, Location tracking, Social Apps, Remote Control, and more. Each option has multiple subsections we will discuss further in the article
1. Phone Files
Under Phone Files, you get multiple options related to phone trackings like call logs, messages, contacts, browser history, and more. You can click on these options to see who they have called, read their messages, and find out the web pages they have visited on their browser.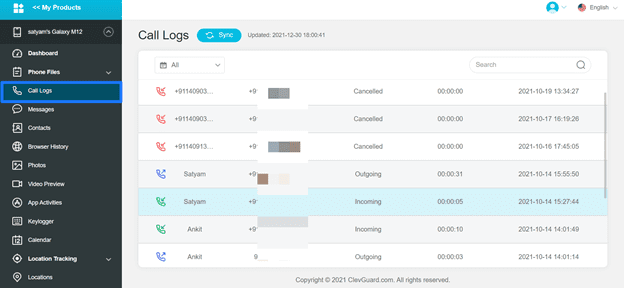 Besides that, you can also see the photos and videos that are stored on their device's internal as well as external storage options by clicking on Photo and Video option.
The best feature you can use under this section is Keylogger where you can see keystrokes they have made on their phone i.e you can basically read everything they have typed on their device.
 2. Location Tracking
As the name suggests here you can track the location of the target person. You can see their current location on the map with address and longitude latitude value.
Apart from that, you can also put a geofence around them so that you can know whenever they are entering or leaving a particular place. To set up a geofence you need to select a place as a restricted zone, to select a place you can either enter the name of the place in the search field or you can simply drag the location pin to that location on the map.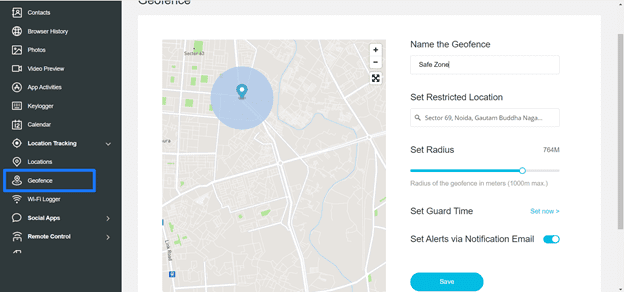 After selecting the location you can set the radius of the geofence by adjusting the slider. You need to remember that you cannot create a geofence with a radius of more than 1km. Now once the geofence is set, whenever the target person leaves or enters the virtual fence, you get a notification on your dashboard and Email.
3. Social Apps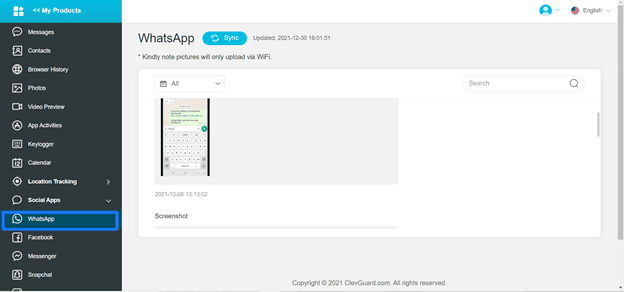 The next feature of KidsGuard Pro is social apps in this section here it shows you the screenshot and keylogger data of different social media apps like WhatsApp, Facebook, Tinder, Instagram, etc. You can choose any one of the social media platforms from the sidebar and see the activity done on it by the target person.
4. Remote Control
The remote control is a special feature of KidsGuard Pro where it allows you to remotely access the target phone and capture screenshots on it or use its camera to take pictures.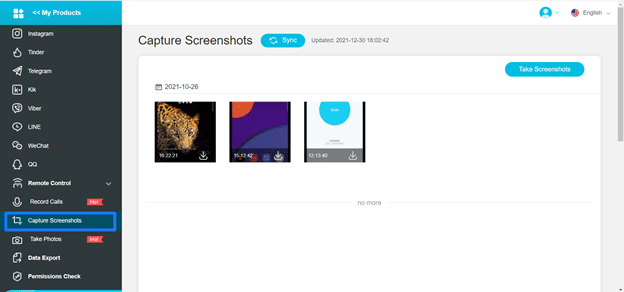 The record call functionality is also Provided under the Remote Control feature where you can automatically record the phone calls and listen to them remotely on your device.
There are two more features Provided in KidsGuard Pro that goes by the name of Data Export and Permission Check. You can use these features to download all your recorded data in CSV format and check for missing permissions respectively.
Does KidsGuard Pro Really Work? Final Verdict
KidsGuard Pro is overall a very well-put-together app that helps you remotely track anyone without them even knowing about it. It is easy to use and you do not need any kind of special training to use it. Just create your account, purchase the app, install it on the target phone and you are good to go.
The app has multiple features that can help you precisely monitor your kid's wellbeing both online and offline. Besides ensuring the safety of your kids, you can also catch a cheating partner with the help of this app. You can read their social media messages and follow their activities on other platforms to see if they are having an affair with someone.
All in all, KidsGuard Pro is a great monitoring app that comes at an affordable price point, which makes it even better. So if you are interested in spying on someone then you can definitely give it a shot.
Frequently Asked Questions
Is KidsGuard Pro Detectable?
No, don't worry KidsGuard Pro is not detectable as its icon is hidden and it works in the background without making any noise.
Does This App Work With iPhone?
Yes, if you want to track an iPhone with KidsGuard Pro then you can do it as it works well with both Android and iOS devices.
Is KidsGuard Pro Free?
No, it's not free you have to pay if you want to use its services.
How Does KidsGuard Pro Work?
It works by remotely syncing the target phone data which includes call logs, browser history, messages, social media activities, etc. to the parent's device.
Is KidsGuard Pro Safe?
KidsGuard Pro is a popular name in the spyware industry and hence you can trust it for tracking your loved ones. It does not share any of the information it records with anyone apart from you.