If you've recently installed a new printer and you're experiencing issues with your current printer, then you can test the quality of your printer by printing a test page. Print test page is a specially created page with different elements to test the printer.
Printing a test page can help you identify and troubleshoot the problem. Printing a test page on Windows 10 is a simple process that can be done in just a few clicks. In this blog post, we will guide you through the steps to print a test page on Windows 10 and provide tips for resolving common printer issues.
Whether you're a seasoned Windows user or new to the platform, this guide will help ensure your printer is functioning properly and producing high-quality prints.
Steps to Print Test Page on Windows 10
Printing a test page will become easy if you have Windows 10 on your system. Follow the below steps:
First, go to the 'Control Panel'. To open the Control Panel, go to the search bar and search for it.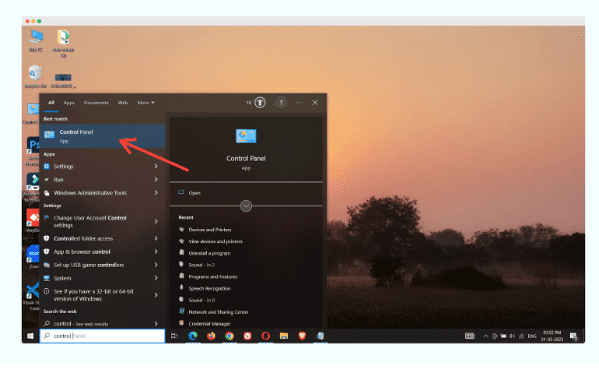 You will see the option 'Devices and Printers' in the Control Panel.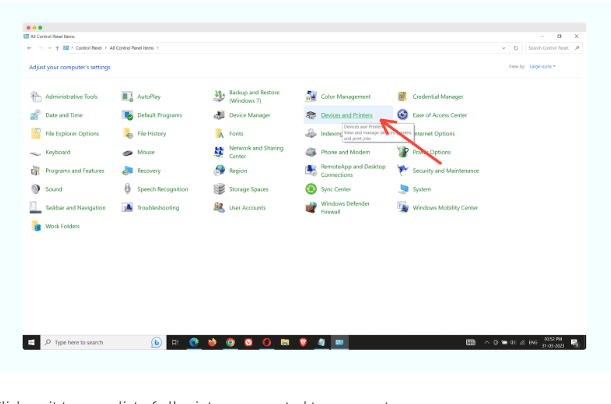 Click on it to see a list of all printers connected to your system.
Right-click on 'Printer' and go to 'Printer Properties'; you will get the option to Print Test Page.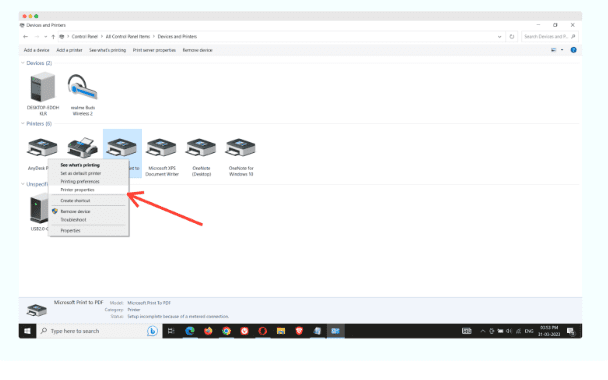 Click on 'Print Test Page' option as shown in the image below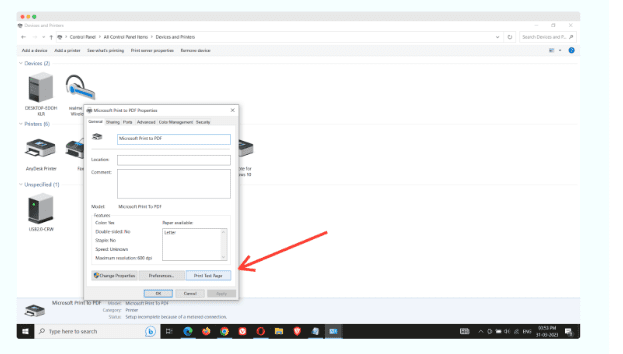 This is how you can print a test page on Windows 10.
Why Can't I Print a Test Page?
There could be several reasons you cannot print a test page. Here are some common troubleshooting steps you can try:
Ensure your printer is turned on and connected to your computer or network.

Check that your printer has paper and ink or toner cartridges installed and that there are no error messages or warning lights on the printer itself.

Ensure that the correct printer is selected as your default printer.

Restart both your computer and printer to refresh their connections.

Try printing from a different program or application to see if the issue is specific to one program.

Check any pending print jobs in the print queue and clear them if necessary.

Update your printer driver to the latest version from the manufacturer's website.
If none of these steps work, there may be a hardware issue with your printer, and you may need to contact the manufacturer's customer support for further assistance.
Final Words
Printing a test page on Windows 10 is a straightforward process that can help you identify and resolve issues with your printer. Following the steps outlined in this guide, you can easily print a test page and ensure your printer functions correctly. 
If you encounter any problems during the process or the test page doesn't print correctly, you can take several troubleshooting steps to resolve the issue. With patience and persistence, you can get your printer working smoothly and producing high-quality prints.
Remember to always check for updated drivers and software for your printer to ensure optimal performance. Keeping your printer in good working condition can save time, money, and frustration in the long run.