Outdoor party tents are the perfect way to celebrate any special occasion without worrying about the weather. Whether you're hosting an outdoor wedding or a birthday celebration, outdoor tents come in all shapes and sizes to accommodate your guests. But one of the best ways to give your outdoor tent a unique flair is to decorate it! From strings of lights to vibrant fabrics and more, here's how you can turn any outdoor tent into a magical setting for your next gathering. Read on for some inspiring ideas that'll make your party unforgettable!
Choose a color scheme
When it comes to party tents, one of the most important things to consider is the color scheme. This is because the right colors can really make or break the look of your tent. If you're not sure what colors to choose, here are a few tips to help you out.
First, consider the overall theme of your party. What colors will best fit with that theme? For example, if you're having a beach-themed party, you might want to use blue and white as your main colors. Alternatively, if you're having a Fourth of July barbecue, red, white, and blue would be more appropriate.
Once you've decided on a general color scheme, it's time to start thinking about specific shades. Again, consider the overall theme of your party and try to match the colors of your decorations accordingly. For example, if you're going for a more elegant look, you might want to use softer shades like pale pink or mint green. However, if you're going for a fun and festive vibe, brighter shades like orange or yellow would be better suited.
Finally, don't forget about accent colors! These can really help tie everything together and make your party tent really pop. Try using metallic accents in complementary colors to really make things stand out. For example, if you're using blue as your main color, copper or gold would make great accent colors.
Hang lanterns or string lights
When it comes to outdoor party tents, one of the most important things to consider is lighting. Not only does it help set the mood for your party, but it can also be a safety precaution, ensuring that your guests can see where they are walking. Lanterns and string lights are a great way to provide both ambient and task lighting for your tent, and there are a variety of ways to hang them.
If you're working with a smaller space, lanterns are a great option. You can hang them from the ceiling of the tent or from shepherd's hooks placed around the perimeter. If you want to create more of a dramatic look, try hanging lanterns at different heights for an interesting effect. String lights are another option for ambient lighting, and they can be strung around the perimeter of the tent or draped across the ceiling. For task lighting, string lights can be strung along tables or work surfaces so that your guests have plenty of light to see what they're doing.
Add greenery
One of the best ways to decorate an outdoor party tent is to add greenery. This can be done in a variety of ways, including hanging plants from the ceiling, placing potted plants around the perimeter of the tent, and using garlands and other floral decorations. Adding greenery will not only make the tent more visually appealing, but it will also help to create a more inviting and relaxed atmosphere.
Use patterned tablecloths
Patterned tablecloths can really add some pizazz to an outdoor party tent. If you're going for a more festive look, try using a brightly-colored or patterned tablecloth. For a more relaxed vibe, stick with a neutral-colored or white tablecloth. Either way, make sure to use one that's waterproof and easy to clean – you don't want your party guests sitting on a dirty or wet tablecloth!
Place fun signage
When it comes to decorating an outdoor party tent, one of the best ways to add some personality and fun is with signage. Whether you go for big and bold declarations or more subtle messages, carefully placed signs can really make your party space stand out.
For a festive touch, try hanging some streamers or garlands around your signage. You can also get creative with the materials you use – cardboard, wood, or even fabric banners all make great options. And don't forget about lighting – string lights or lanterns will make your signs really pop in the evening hours.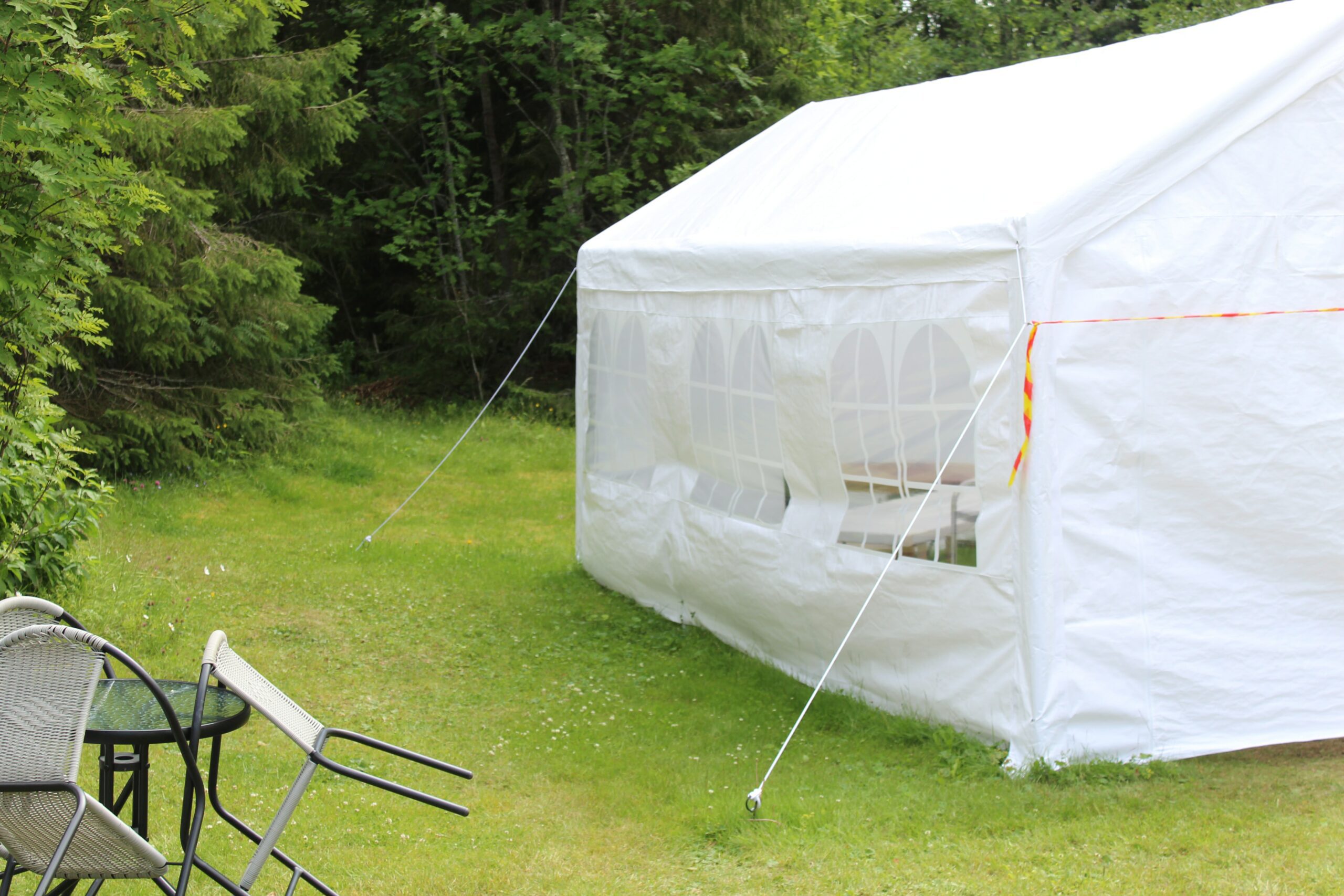 Create a photo booth
When hosting an outdoor party, one of the best ways to keep guests entertained is to set up a photo booth. Photo booths are great for all ages and can be customized to fit any party theme. Here are some tips on how to create a photo booth that will make your party guests smile:
1) Choose a fun backdrop. A plain white wall or sheet won't cut it when it comes to photo booths – you need a backdrop that will really stand out in photos. Consider using bright colors, patterns, or even props to create a unique backdrop for your photo booth.
2) Stock up on props. No photo booth is complete without a plethora of props! From silly hats and glasses to inflatable beach balls and banners, make sure you have plenty of props on hand so guests can dress up their photos.
3) Get creative with lighting. Lighting can really make or break a photo, so take some time to experiment with different lighting options before the big day. fairy lights , lanterns, and even birthday candles can add a touch of magic to your photos.
4) Set up a sign. A sign with your event's name or logo is a great way to personalize your photo booth and make it easy for guests to find. You could even include instructions on how to use the booth or some fun photo booth ideas .
5) Don't forget the basics! Make sure you have enough space for your photo booth, plenty of power
Conclusion
Decorating an outdoor party tent can be a fun, creative challenge. With the right decorations and elements, you can transform your outdoor space into a festive gathering spot. We hope this article has provided some inspiration in creating your own unique look for the perfect outdoor party and will help ensure that it is celebrated with style!