The Dodge Ram has long been a symbol of power and ruggedness in the world of trucks. However, it's not just about brute strength anymore. The latest Dodge Ram models come packed with cutting-edge tech features that elevate the driving experience to new heights. From advanced safety systems to connectivity options and convenience-enhancing tools, these tech features are designed to make every journey safer, more enjoyable, and ultimately, more efficient. In this article, we will explore how the Dodge Ram's tech features enhance your driving experience, highlighting their benefits and demonstrating why they are essential for modern truck owners.
Latest Dodge Ram Tech Features
The latest Dodge Ram models boast an impressive array of cutting-edge tech features that take your driving experience to a whole new level. From innovative connectivity options to advanced safety systems, these tech features are meticulously designed to cater to the demands of modern truck enthusiasts. Prepare to be amazed as we delve into the realm of the Dodge Ram's tech innovations, where entertainment, convenience, and state-of-the-art technology converge. Discover how these remarkable features seamlessly integrate into the fabric of your driving experience, ensuring that every journey is safer, more connected, and thoroughly enjoyable. Get ready to explore the future of automotive technology with the latest Dodge Ram models.
Adaptive Cruise Control and Lane Departure Warning Systems 
Adaptive Cruise Control (ACC) and Lane Departure Warning (LDW) systems are game-changers when it comes to safety and driver assistance. ACC uses sensors and radar technology to maintain a set distance between your Dodge Ram and the vehicle ahead, automatically adjusting the speed as needed. LDW, on the other hand, uses cameras to monitor lane markings and alerts you if you unintentionally drift out of your lane. These intelligent systems work together to provide a safer and more relaxed driving experience, reducing the risk of accidents and promoting driver confidence on the road.
Ram Extended Warranty 
When investing in a powerful and sophisticated vehicle like the Dodge Ram, it's essential to protect your investment. The Ram Extended Warranty offers peace of mind by extending the coverage beyond the standard warranty period. With additional protection for mechanical and electrical components, you can drive with confidence, knowing that you are safeguarded against unexpected repair costs. Whether you plan to keep your Ram for a few years or drive it for the long haul, the Ram Extended Warranty ensures that you can enjoy the full benefits of your vehicle without worrying about expensive repairs.
Blind Spot Monitoring and Rear Cross Path Detection
Navigating through traffic and parking lots can be challenging, especially with limited visibility. That's where the Blind Spot Monitoring (BSM) and Rear Cross Path Detection (RCPD) systems of the Dodge Ram come into play. BSM utilizes sensors to detect vehicles in your blind spots and alerts you through visual indicators or audible warnings, ensuring you change lanes safely. RCPD, on the other hand, assists when reversing by detecting approaching vehicles or pedestrians from the sides. These technologies provide an extra layer of safety, reducing the chances of collisions and enhancing overall situational awareness, so you can confidently maneuver your Dodge Ram.
Roadside Assistance and Wi-Fi Hotspot Accessibility
In today's interconnected world, staying connected is crucial, even when you're on the road. The Dodge Ram understands this need and offers Roadside Assistance services to provide you with peace of mind during unexpected breakdowns or emergencies. With a simple call, you can receive help with flat tires, jump-starts, lockouts, and more. Additionally, the Ram offers Wi-Fi hotspot accessibility, turning your truck into a mobile hub. Passengers can enjoy seamless internet connectivity on the go, allowing them to stay connected, stream entertainment, and remain productive during long drives or when parked at remote locations.
Image source:https://unsplash.com/photos/J94B2ge-100
Drive with Apple CarPlay® and Android Auto™ Integration 
Gone are the days of juggling between your phone and the truck's interface while driving. The Dodge Ram features Apple CarPlay® and Android Auto™ integration, allowing you to seamlessly connect your compatible smartphone to the truck's infotainment system. By mirroring your phone's interface on the truck's display, you can effortlessly access your contacts, make hands-free calls, send and receive messages, and enjoy your favorite music and apps, all while keeping your focus on the road. This integration provides a familiar and intuitive experience, ensuring a safer and more enjoyable drive with convenient access to your smartphone's functionalities.
Uconnect® Voice Command for Hands-Free Calling
The Dodge Ram understands the importance of keeping your hands on the wheel and your attention on the road. With the Uconnect® Voice Command system, you can make and receive phone calls without ever taking your hands off the steering wheel. Simply activate the voice command feature and speak naturally to initiate calls, access your phone's address book, or even dictate text messages. This hands-free calling capability enhances convenience, minimizes distractions, and ensures a safer driving experience, allowing you to stay connected while keeping your focus where it matters most.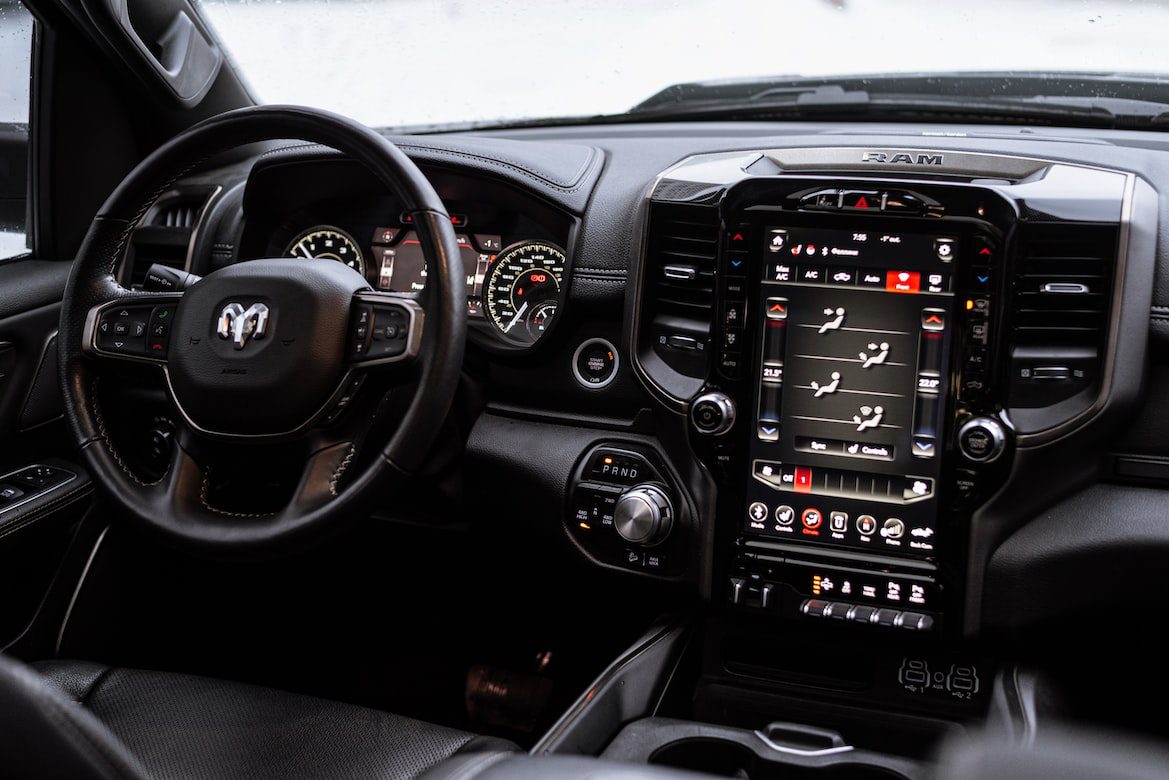 Convenience and Efficiency with Advanced Navigation Systems 
Navigation plays a crucial role in any journey, and the Dodge Ram offers advanced navigation systems to enhance your driving experience. Real-time traffic updates help you avoid congestion and find the most efficient routes, saving you time and minimizing stress. Voice-guided directions provide step-by-step guidance, allowing you to keep your eyes on the road while navigating unfamiliar areas. Additionally, points of interest integration enable you to discover nearby restaurants, gas stations, and attractions, making your trips more convenient and enjoyable. These advanced navigation features ensure that you reach your destination smoothly and efficiently.
The Dodge Ram's tech features go beyond just powering the truck; they enhance the overall driving experience. From advanced safety systems like Adaptive Cruise Control and Lane Departure Warning to connectivity options such as Apple CarPlay® and Android Auto™ integration, the Ram offers a range of technologies that promote safety, convenience, and connectivity. 
Whether it's the peace of mind provided by Blind Spot Monitoring and Roadside Assistance or the seamless navigation experience with advanced navigation systems, the Dodge Ram's tech features work together to create a safer, more enjoyable, and more efficient journey. Embrace the power of technology and elevate your driving experience with the remarkable tech features of the Dodge Ram. With its blend of robust capabilities and cutting-edge innovations, the Dodge Ram sets a new standard in the world of truck technology, ensuring that every moment behind the wheel is elevated to a remarkable driving experience.