Your content's visibility is paramount.
But how do you ensure it reaches the right eyes?
Here are a few innovative strategies that leverage social media, not just as a broadcasting tool, but as a precision instrument.
Discover how platforms like Facebook and Twitter can be used for surgical content distribution, how to craft headlines that magnetize clicks, and how social media could be a game-changer for your brand:
Laser-Targeted Content Distribution
Getting your content in front of relevant editors is essential to gaining editorial links and increasing search engine rankings.
Using paid distribution on Facebook and Twitter can get your content in front of an audience that is most likely to link to and cite your content. Google is constantly pounding the drum that you should obtain natural, editorially given links. Social Media is a fantastic way to make this happen.
This is very different from posting on your Facebook wall and optimizing for engagement with your audience. What I am talking about is using Social Media like a highly personalized press release for your content.
With Facebook, you can easily target editors who work at Mashable, The New York Times, The Huffington Post, etc. You can also target WordPress bloggers interested in your topic.
With a little creativity, you can use social media to open the right doors for your content and earn the best links.
2. The Perfect Headline
For any piece of content you release, Twitter is a fantastic vehicle to test headlines. Choose 2 to 3 unique headlines for the same content and use Twitter ads to promote them to a relevant audience.
Unlike Facebook, Twitter ads are approved and active almost instantly and the traffic flows in quickly. Typically within 10 or 20 minutes if you choose the accelerated option you will have a very clear winning headline.
Go back to your content and alter your title tag and article headline to use the winning headline. Text Optimizer is a great tool to come up with a better title. Just run your keyword through it and get some great suggestions of terms you should include in your headline: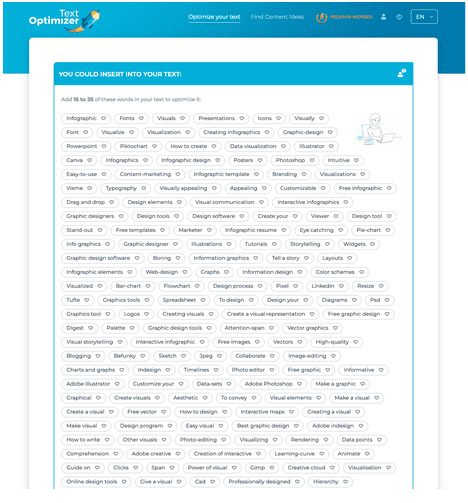 This will obviously help your social promotion and advertising going forward for the content with a headline proven to attract engagement.
However, what you may not realize is that this will also impact your SEO efforts.
First: Your SEO team will be doing outreach on your content so that it attracts links. By using a headline proven to get more social clicks you are giving your SEO team a headline that will get more email clicks from editors and bloggers as well.
Second: The click-through rate of your content in Google is going to improve. The blue links you see, when you search Google, are typically the title tag of that piece of content. Users scan these headlines just like they would a newspaper or social media feed looking for the best match. If your headline is a proven winner it is going to attract more search engine traffic.
Google obviously monitors the click-through rate of your content compared to the position it was shown at. If your website consistently performs above average that is going to send a great single back to Google.
SEO & Social Media Share the Same Heart
At its heart, social media is about relationships. People make the wrongheaded assumption that this is not the case for SEO. You want the best publications to link to and carry your content. This will never happen on a consistent basis without old-fashioned relationship building.
Individuals and brands interacting with your content socially should be scored, categorized, and passed along to your SEO team just as if it were a sales lead. Your SEO and social teams should be working together to cultivate these relationships into long-term, link-producing partnerships.
Audit your entire team and see which influencers they have connections with and a link building strategy and PR outreach campaign should easily arise from that audit.
Whether you are about to start an online store or running an established business, SEO and social media are now closely intertwined and this is a good thing! SEO and Link Building is all about quality content and robust outreach. Social media is a fantastic tool to make both of those tasks easier.