Artificial intelligence is sweeping through the eCommerce sector. In fact, marketers report that there's been a 186% increase in AI adoption since 2018.
Not only that, but 79% of organizations say that marketing and sales AI has increased revenue for their companies. But it's not just profits that have been transformed by artificial intelligence. The way in which eCommerce companies operate has seen monumental innovations, thanks to AI.
What are the benefits of AI for eCommerce?
Artificial intelligence (AI) has crept into all corners of eCommerce, from customer support to manufacturing. Assisting teams with data analysis, predictions, efficiency, and productivity, AI is helping eCommerce companies cut costs and generate higher revenues. One of the major benefits of AI is its capacity for data analysis.
The ability to analyze data in detail helps companies boost personalization in sales and marketing, as well as in customer service and product development. Thanks to AI, modern companies can better analyze customer data to segment their audiences and provide more effective personalized campaigns. Due to this, 74% of companies have some form of marketing strategy. 
This is driven by the fact that 72% of customers say they only engage with personalized messaging and that customers are most loyal to companies that use personalized customer service to meet their needs.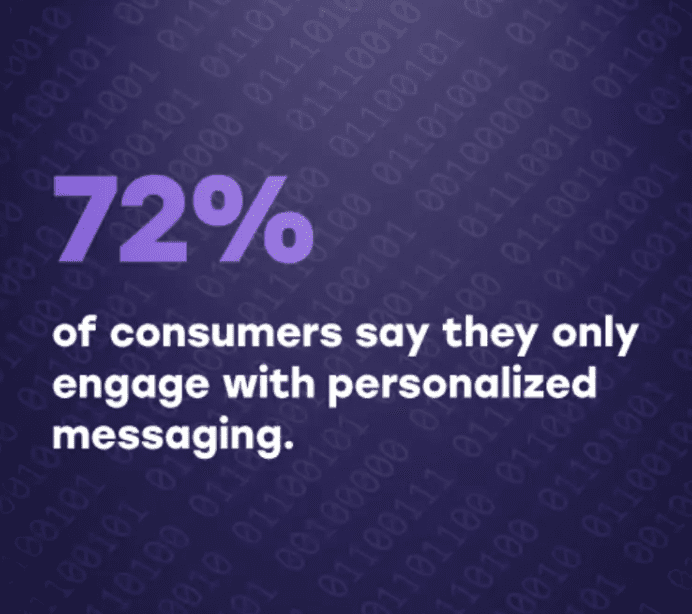 AI's capacity for data management also helps eCommerce companies make accurate predictions and model future outcomes based on those predictions. eCommerce companies are using AI to make predictions about all areas of their businesses, including sales, profits, product changes, and risk.
Artificial intelligence also helps eCommerce companies to offer better customer service. For example, 51% of marketers are using social listening to get quickfire information about the conversations that influence their target audiences. 
Other AI tools that help companies understand customer needs include sentiment analysis and smart search features. These tools show eCommerce brands what's popular and how customers feel. By leveraging conversational AI tools like chatbots,eCommerce companies can be proactive in meeting these needs in a timely manner. 
Looking past the frontline, artificial intelligence is also used to streamline processes behind the scenes to improve efficiency and boost productivity. For example, 15% of companies are using AI to optimize yield, energy, or throughput in manufacturing, while 12% are using it for predictive maintenance.

In terms of supply chain management, one in 10 organizations is using AI to optimize logistics, while a further one in 10 is using it to improve inventory management. Other companies use AI to help improve deliveries using tools like route optimization software.

In short, AI helps eCommerce companies to get a better understanding of the data that drives consumer behavior while providing more efficient mechanisms to satiate customer needs. 
8 ways artificial intelligence has transformed eCommerce
Artificial intelligence is used in a multitude of ways across the eCommerce sector to fuel efficiency and effectiveness and offer personalized services that improve the customer journey.
Here are some of the most influential ways that AI has transformed eCommerce in recent years.
1. Sentiment analysis
Sentiment analysis, sometimes known as opinion mining, uses a form of artificial intelligence called natural language processing. This is where companies analyze consumer text data to work out the emotional sentiments behind conversations.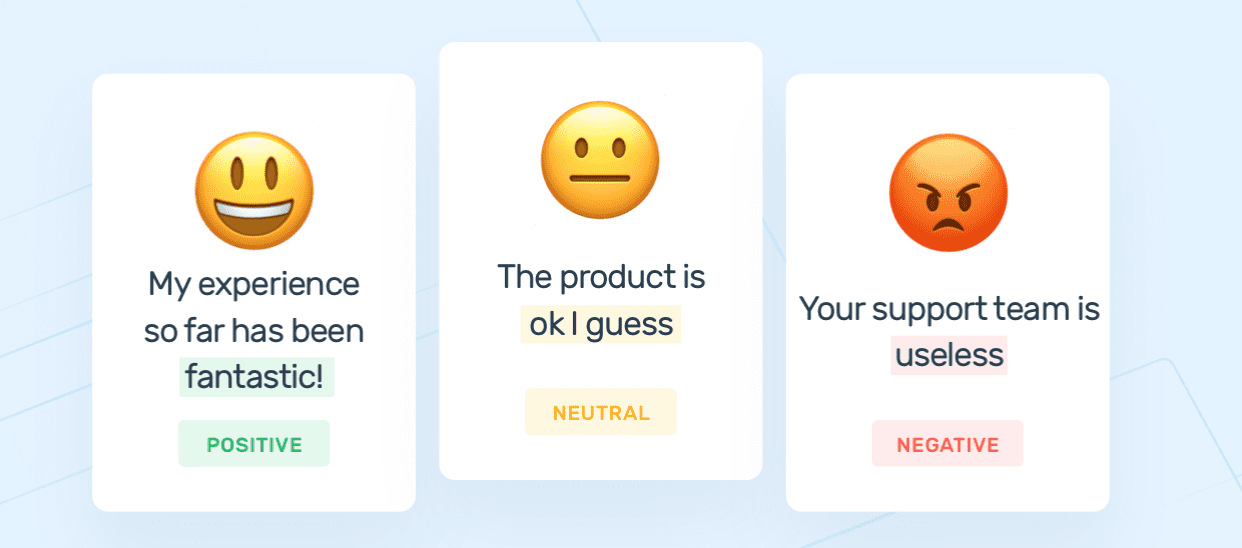 For example, companies may use sentiment analysis to analyze thousands of consumer reviews at once to work out how customers feel about the brand. Alternatively, companies may combine sentiment analysis with social listening to work out the general sentiment for a product or topic across social channels.
On a general level, sentiment analysis enables brands to better position themselves in the market by fine-tuning their products and service delivery to the sentiment of their target audience. On a more specific level, sentiment analysis can help companies understand how to improve their own products, pricing, marketing campaigns, and customer service.
2. Multi-channel personalization
Currently, only 5% of brands provide contextually relevant content. This is an issue for eCommerce companies since 72% of consumers now expect brands to know what they want and cater to those needs. For instance, an invoice generator can help cater to the needs of his clients by providing personalization to their online invoices. Hence, making them choose the brand over and over.
Artificial intelligence helps companies dissect customer data so they can better understand what influences buyer behavior. This helps companies to personalize messaging, products, recommendations, and much more across all channels, from social media to email.
Take the clothing subscription company Stitch Fix, for example.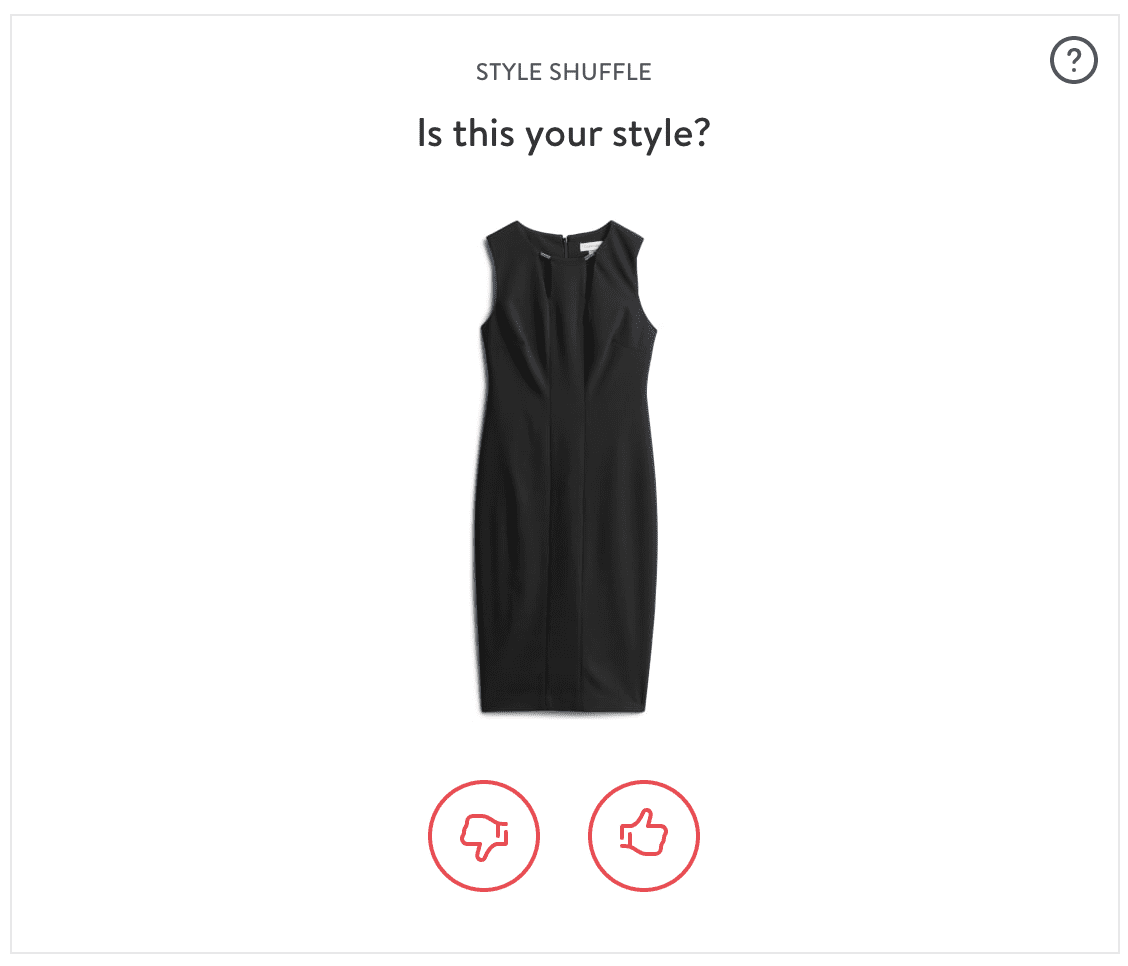 Stitch Fix not only uses an AI-driven style quiz to help personalize clothing recommendations, but the clothing company also asks customers for feedback after each subscription box arrives. 
The system uses this feedback to train the product recommendation machine so that it makes better choices next time. 
3. Customer service chatbots
30% of marketers say that excellent customer service is what makes them stand out. This is why 46% of eCommerce brands are using artificial intelligence-driven conversational marketing tactics like chatbots. 
A chatbot is a form of artificial intelligence that asks and answers questions and analyzes customer answers to work as a personalized virtual assistant. Not only do chatbots streamline the customer journey by helping customers answer questions and find relevant products, 67% of business leaders agree that chatbots also boost profits.
Take luxury fashion brand Burberry, for example.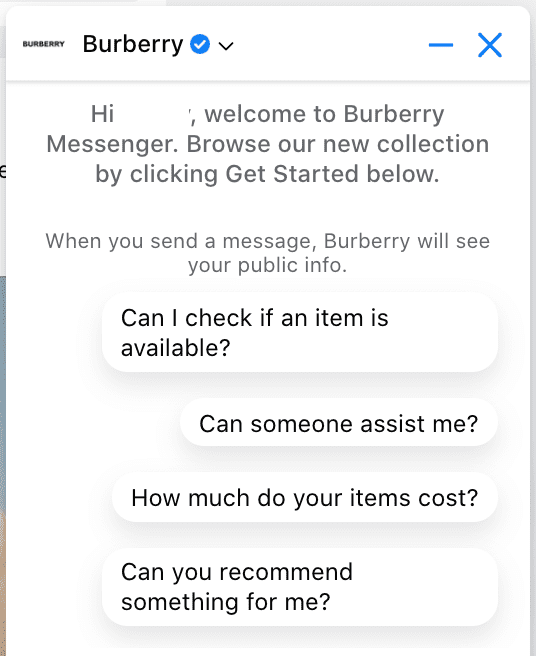 Burberry uses a Facebook Messenger chatbot to help provide immediate customer service by answering questions, recommending products, and checking availability.
4. Dynamic pricing
Not only do 94% of consumers compare prices when shopping online, but 31% of buyers also say it's the most important aspect of their shopping experience. Dynamic pricing is an artificial intelligence pricing tactic where companies are flexible with prices based on market demands. 
Using algorithms that analyze the current situation, dynamic pricing helps to find the ideal price for a product at a given moment. For example, dynamic pricing could be used by airlines to offer lower-priced flights at off-peak times to encourage buyers when there's less demand. A quarter of eCommerce companies across the globe already use this tactic, including Dyson, Hershey's, and Ring.
5. Retargeting adverts
30% of marketers say that targeted marketing campaigns are the most effective form of personalization, which is why retargeting campaigns work so well. Capitalizing on a customer's previous behavior, retargeting marketing campaigns follow potential buyers who bounce off your site, targeting them with personalized adverts on other channels. 
These adverts use artificial intelligence to recommend similar products based on what the customer was browsing. For example, if a customer left after browsing the maternity section of your website, they might see adverts for maternity leggings on their Facebook feed.
This advert by Freerider is a great example of this.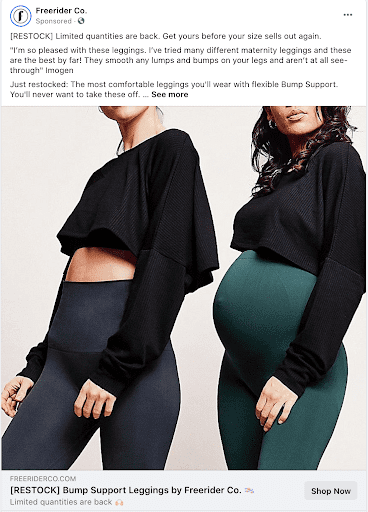 6. Assembly line optimization
While AI helps eCommerce companies improve their manufacturing in a number of ways, such as defect detection, predictive maintenance, and quality assurance, assembly line optimization is vital to boosting the bottom line.
By improving the efficiency and effectiveness of the assembly line,eCommerce companies can work toward lean manufacturing practices that save money on operating costs and increase revenue by scaling output. In fact, 73% of organizations say that AI in manufacturing has increased revenue, while half agree that it decreases costs.
7. Risk management
eCommerce is peppered with risks. Whether they're risks associated with choosing a marketing campaign, data center infrastructure, or supplier integrity, failing to build a strong risk assessment can result in excess costs, unplanned delays, and compliance issues.
In fact, there are a whole host of risks associated with eCommerce that can throw companies into chaos. These include:
Customer disputes

Supplier unreliability

Payments fraud

Security risks

Failed and late deliveries

Poor inventory and logistics management

Taxation errors
Currently, only 16% of companies are using artificial intelligence to analyze and model risk profiles.

A further 12% are using AI to explore fraud and debt risks. While adoption levels for artificial intelligence risk management tools are still relatively low, 68% of brands claim AI risk management boosts their revenue, while 38% say it reduces costs.
8. Multichannel inventory management

AI made it easier to manage all the accounts from eBay, Amazon, and other online commerce giants from one place. If before, online shop owners had to manage all accounts separately and mainly manually, it's shifted to a far better alternative now. Multichannel inventory management software allows eCommerce business owners to manage everything from one place with an automated approach.
Summing up
Artificial intelligence is reshaping the way that eCommerce businesses carry out operations. From customer interactions to risk management,eCommerce companies are using AI to streamline processes, make better predictions, and cater to customer requirements.
Remember, artificial intelligence is one of the best drivers of personalization, which is a key influencer on buyer behavior. If you want more sales, you need to start personalizing your products, messaging, content, and customer service using AI.
If you want to find out more about how artificial intelligence is transforming the world, check out more on TechBullion.