Giving a presentation is something that makes most people nervous. After all, there is nothing worse than seeing an audience lose interest in what you are saying, irrespective of your confidence level.
Everyone has their own approach to dealing with this. Some make sure they memorize every detail while others work on their confidence and body language. However, there is one aspect of the presentation that many people overlook: Presentation design.
As one freelance presentation designer said to us: "Presentation slides are not only a bunch of texts, styles, colors, and images. It's a language." – Tom Caklos
We are often so focused on what we are saying that we forget the audience pays more attention to what they see than what they hear. It would, therefore, help if you designed your presentation with this in mind.
So, we have some presentation tips that can help you get more business, win more clients and potentially impress your investors.
Why is Presentation Design Important?
The design is crucial because it can make or break your presentation. It will be the one thing people remember, so try to make it as enticing as possible. 
With a professionally designed presentation, you have a better chance of the audience remembering who you are and what you were saying. During a presentation, people battle their senses, reading what's on a slide and listening to what you say.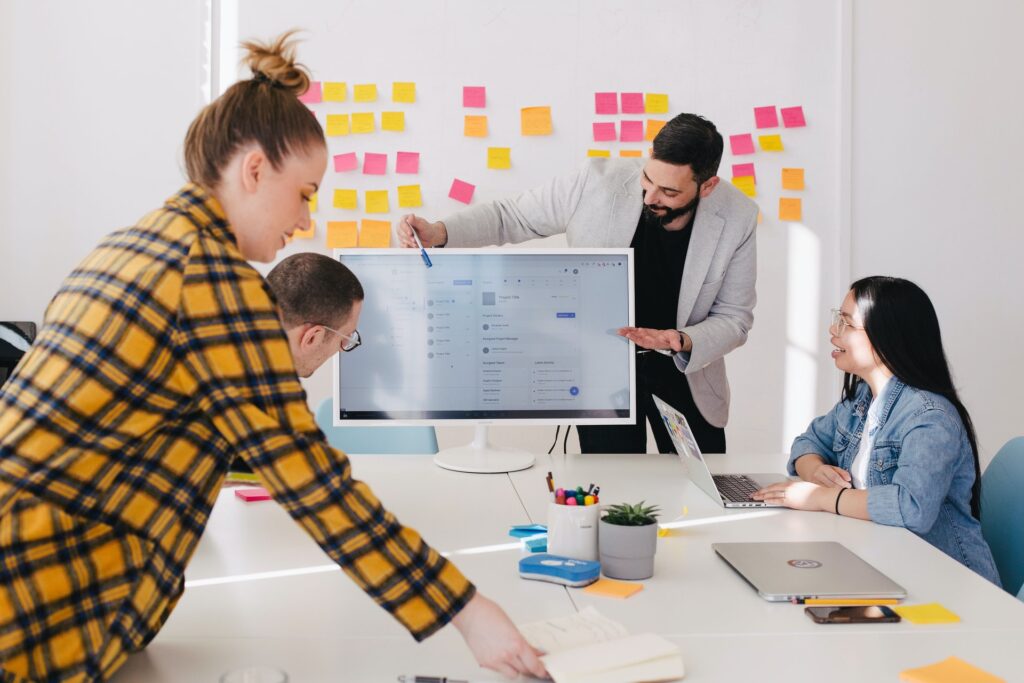 You can help them avoid this battle by providing them with graphics that you describe as you speak. The strategy aids their understanding of the presentation and keeps their attention on the content.
In addition, you have to consider the content you are presenting. Sometimes, content is difficult to present in a way that sparks interest. For example, people tend to lose interest when all they hear is jargon or statistical data. However, the design of your presentation can help with this by keeping the audience engaged.
You should also remember that people remember visuals almost 50% more than text. This is because graphics serve as a reference to the information presented and are the key to getting people to remember your presentation.
The design of your presentation also reflects the company, product, or ideas you are talking about. You, thus, need to ensure that everything in your presentation reflects the image you want to depict and what you want people to remember.
But how you can improve your presentation?
How to Make Your Presentation Design Better
There are a few things you need to consider when designing your presentation. Some of the main ones include:
Visual Content
When giving a presentation, you must be mindful of the information you are delivering. Your audience needs to see that you know what you are talking about. Your knowledge will come across if you visualize your ideas in your presentation.
Simply putting graphics alongside words does not count. Furthermore, the visuals will help you recall what you are talking about.
This is why you should meticulously plan and arrange your presentation. Start by choosing the content you want to discuss, and then plan how you will present it.
Marketing and Branding
You should remember marketing and branding at every step of designing your presentation. There are two main reasons for this. Firstly, you want to get your message across to your audience and attract them to your professionalism and expertise from a marketing standpoint. Secondly, keeping your branding consistent will help people remember what you present. 
To do this, choose fonts, color palettes, and images that reflect your company or idea. Keep it consistent throughout the presentation without being boring. It would help if you also aimed to keep text to a bare minimum and instead use graphics.
Visuals and Engagement
Visuals help people recall information much better than text, so they are an essential part of presentation design. You should, thus, ensure that you have graphics that reflect your content.
In addition, the images will work with your words to keep an audience engaged throughout a presentation. After all, humans are visual species. 
Hire a professional
Another way you can improve your presentation drastically is by hiring an expert or agency. There are many presentation design agencies out there.
However, in our experience working with freelance presentation designers is a much faster and more affordable solution.
Final Thoughts
Presentations are a vital part of a successful sales pitch. Therefore, getting it right is crucial. Presentations can be done in person, virtually, or even sent as a video.
You, therefore, need to ensure that your message comes across clearly and keeps the attention of your audience. You don't want them to lose interest in a series of text-heavy or repetitive slides.
So, be concise and reflective of your brand, company, or idea. That's how a professionally designed presentation can help you win more clients.