We are living in a digital age. Every individual is interacting with technology. Presentations are essential in business as well as educational fields. Recordings of the presentation help to have a proof for future use. Therefore, a well-known screen recorder can be a productive tool to record presentations. 
People do a lot of hard work with their presentation, but most of the time, they fail to convey the right information because people don't get the content of your presentations. Recording the presentation has multiple benefits; you can record a presentation while presenting on time or record in advance to influence the flipped model of training and online classes.
Wondershare DemoCreator: A complete premium toolkit
Wondershare DemoCreator is a screen recording software that allows you to record your high-quality screen with simple clicks. It is a perfect package for screen recording, video, and audio editing. Its attractive and unique functions enable you to make your audio/video content appealing. DemoCreator is a software with a user-friendly interface that is easy to use, allowing you to edit visibly and accurately. It helps you to capture webcam or record screens.

You can crop videos, modify the playback speed, add captions, stickers, green screen background, annotations, and transition to elaborate your ideas thoroughly. It helps you record:
Presentation

: To elaborate your data to your team members. It enables you to captures your

PowerPoint screen recording

with descriptions.

Training

: it helps you create videos on different online training courses for educational and professional development.

Games recording:

enables you to capture and record your experiences in a game with explanations and reviews.

Video Tutorials

: you can demonstrate your expertise, experiences, and skills in a better way with DemoCreator.



Nearly 90 percent of people put "quite a bit" or "a huge amount" of effort into their presentations. But are you getting the most of your presentations? Whether you're creating a presentation to report data to your team or you want to know how to video record yourself presenting a PowerPoint, recording your presentation offers several benefits.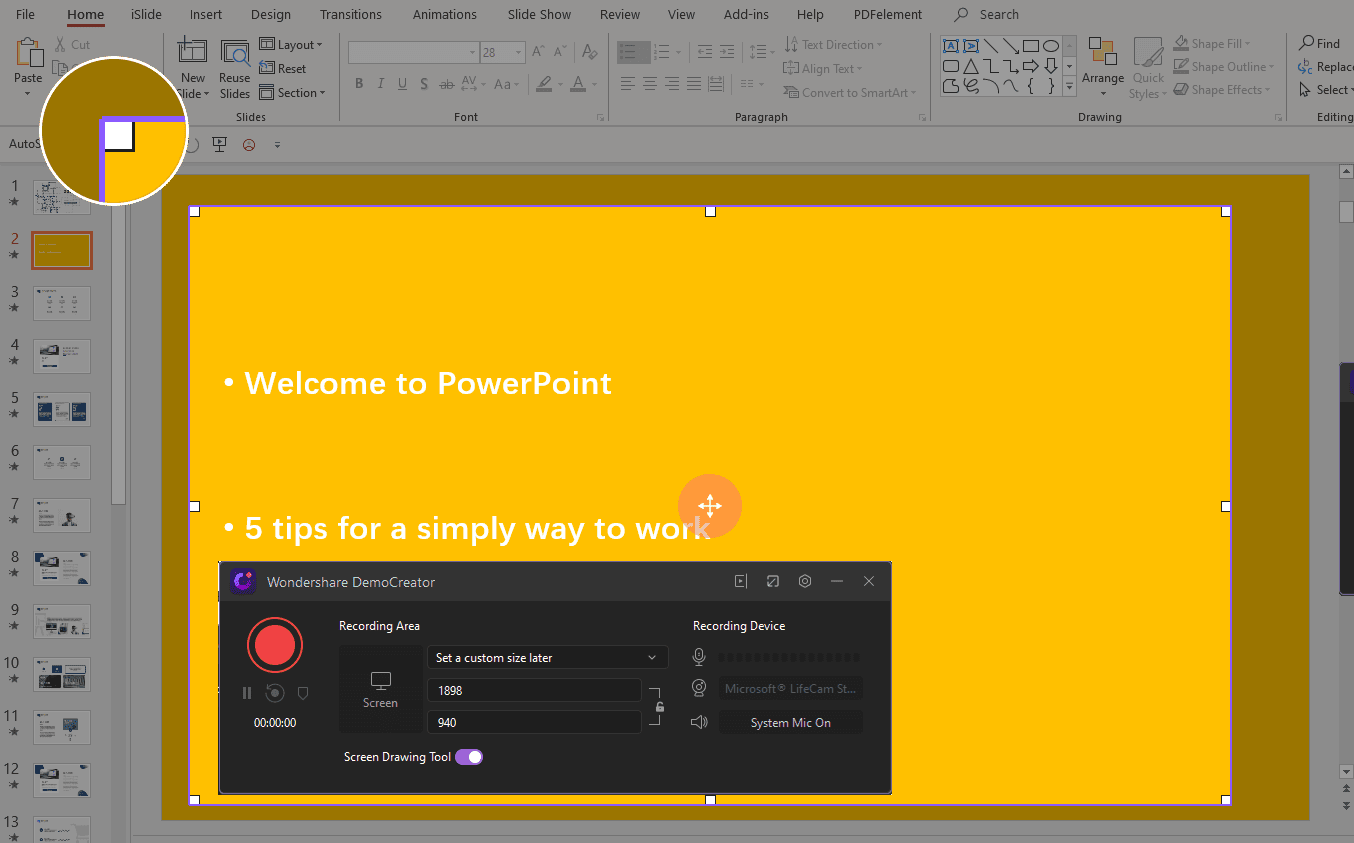 You can record a presentation in real-time as you present, or do it in advance to leverage the flipped model or make your presentation available on-demand. While there are several ways to record a presentation, I'll give you my favorite way to record a high-quality presentation in PowerPoint with audio and video.
Recording presentation using Wondershare DemoCreator.

To perform PowerPoint screen recording using DemoCreator, you need to follow simple and easy steps that are given below:

Step1:
The first step to record the presentation is to set-up DemoCreator software. After installing the set-up of DemoCreator, you need to set: the screen, audio, and camera so that you may modify the options for recording.

You can choose the option to record a presentation from PowerPoint with

Audio.

You can choose the option to record a presentation from PowerPoint with a

webcam.

Step2:

In this step, you need to start recording the presentation for real-time use of the online session's flipped mode. Select an area for recording, set a frame-rate, and then start the recording for the screen, microphone or webcam either instantaneously or distinctly.
Step3:

You can use the screen drawing specification right within the screen recording interface of this software. You can easily draw over your screen while recording as this toolkit allows you to do various functions handily: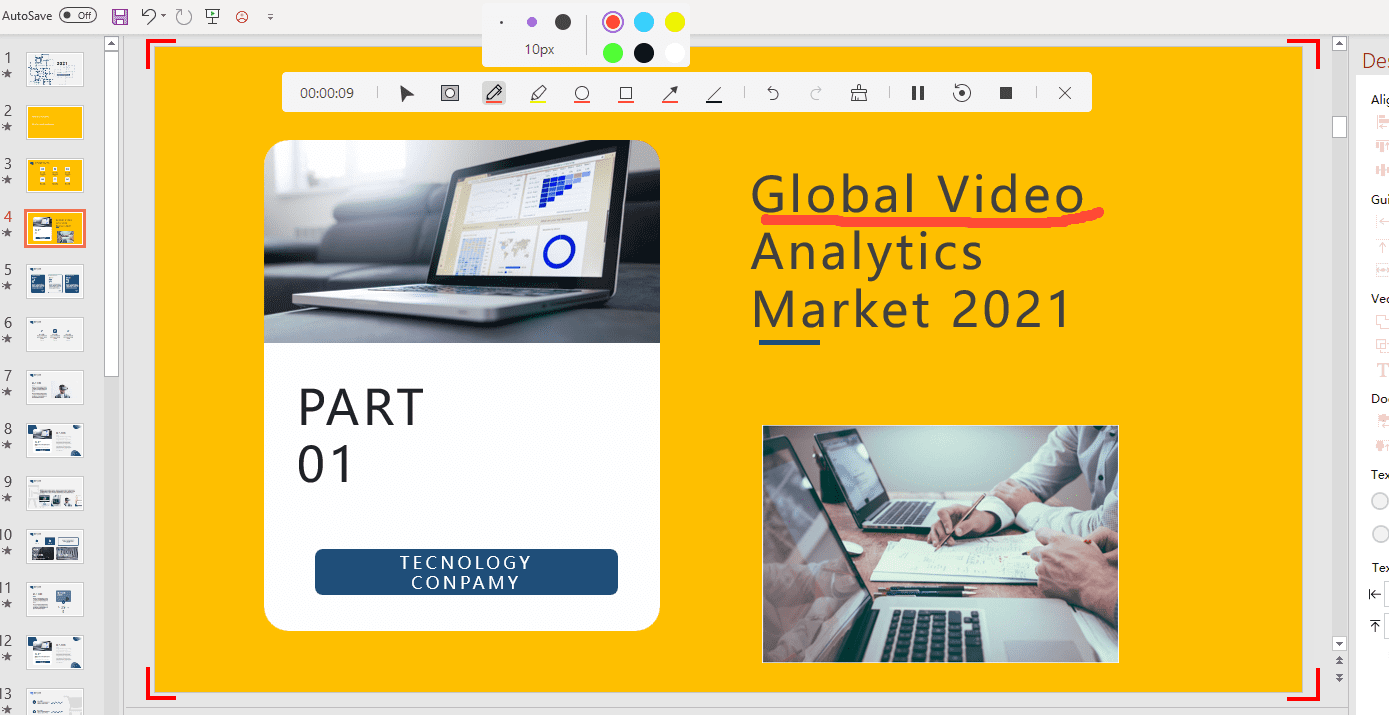 You can include the spotlight feature with this screen drawing tool around your specific area over the screen as follows: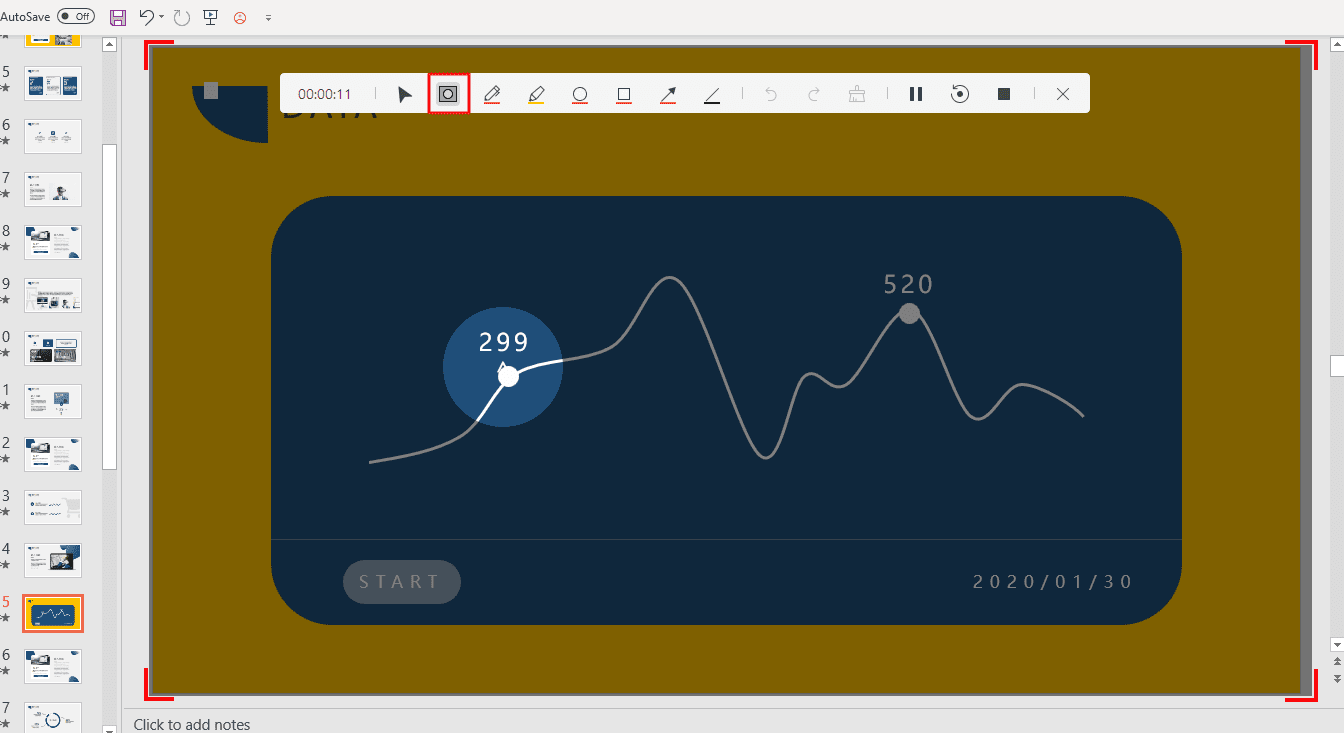 In addition to that, you can embed various shapes within the recording screen from these buttons of screen drawing tool.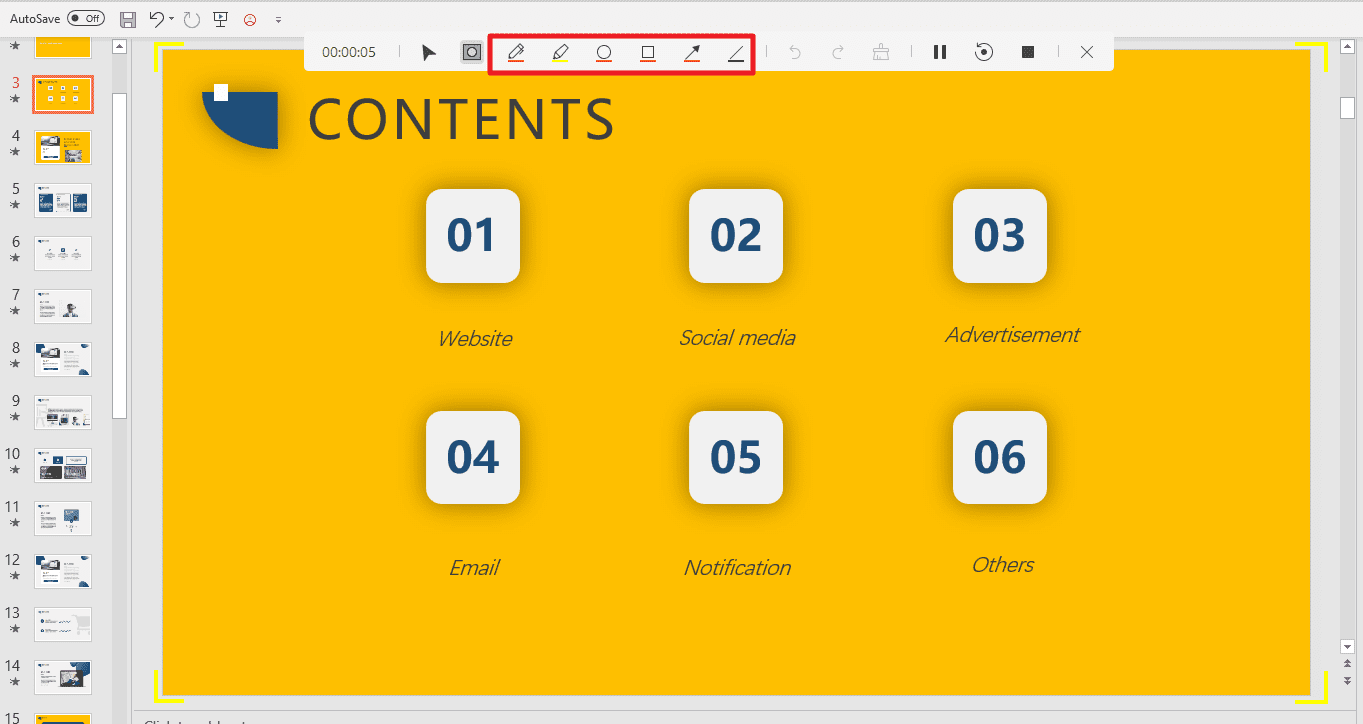 Editing video of the presentation:
Editing the video presentation helps to enhance the video; fixing the DemoCreator allows you to edit the video of your presentation to make it look creative, attractive, and presentable. There are the following features available for you to utilize these options to edit your presentation video.

Annotations give an informative look to the videos by adding different elements: texts, graphics, or drawings. It engages the audience with the content. You can add an annotation (text boxes) on top of an image or a screen to give a short narration, findings, or information related to the presentation screen. You can click on the icon of annotation, selected on the left side.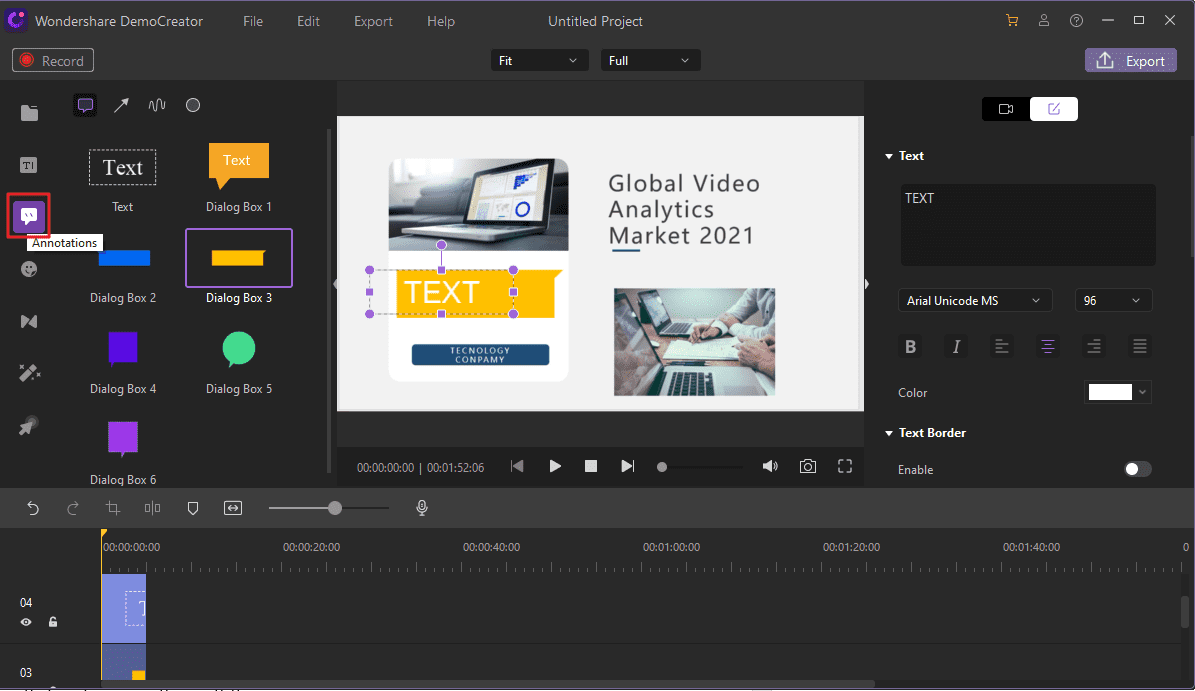 You can enhance the video, make it look convincing and more presentable using Captions. It helps to convey ideas, thoughts, and feelings attractively. You can add a caption with various styles, formats, colors, designs, and other effects.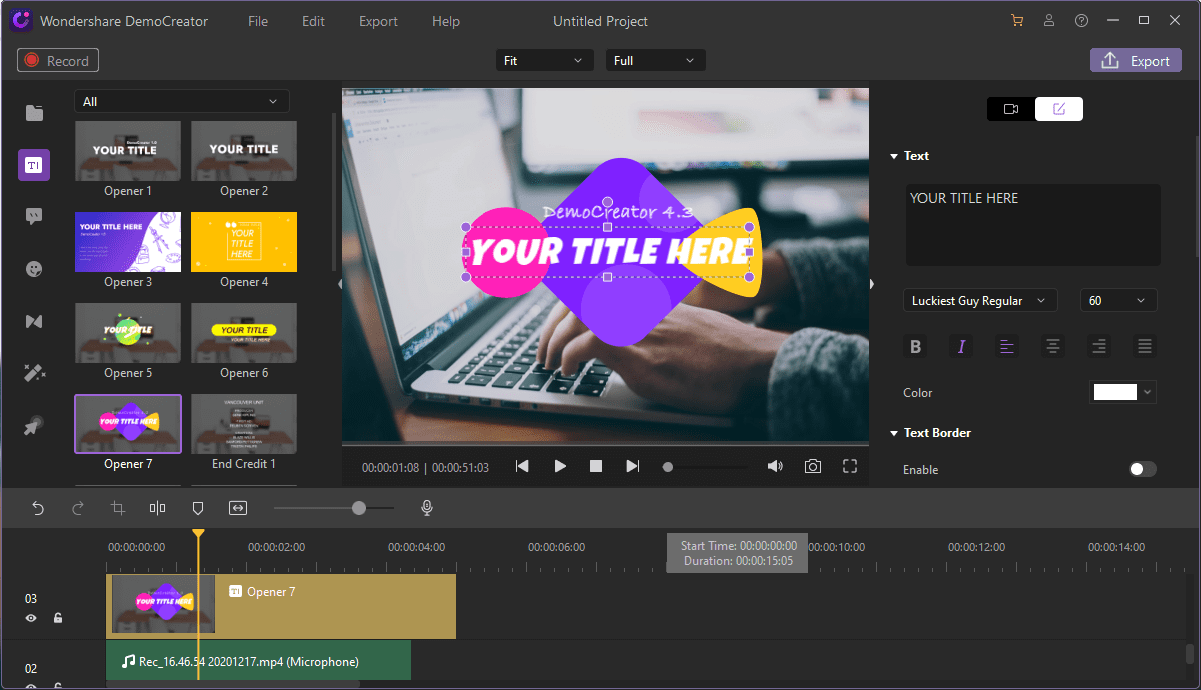 DemoCreator allows you to add stickers into the videos and presentations for various situations: related to education, games, social media, and gesture. Stickers are available in multiple shapes, styles, colors, designs, and sizes to label the content proficiently.

DemoCreator enables you to insert stunning transition effects as; erase, dissolve, and evaporate engage the viewers visually attentive by using streams. It gives an attractive flow to your videos and presentation.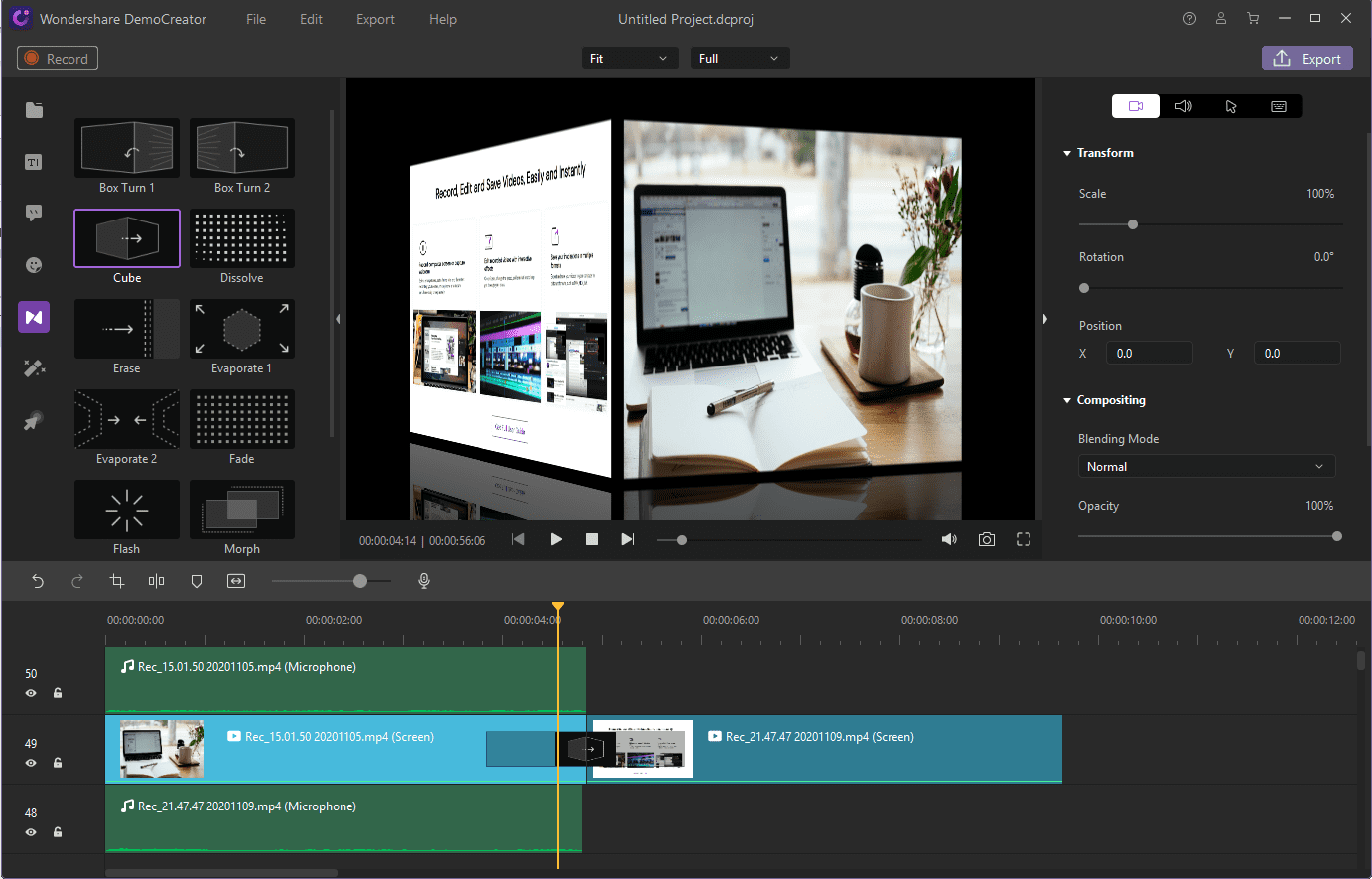 Adding cursor to increase engagement

The cursor effect is helpful to enhance audience engagement. It lets you attract the audience's attention toward the content so they can easily follow your commands and action. DemoCreator software has three kinds of cursor effects to make your video stand out:
Cursor Highlight

Left Click Rings 

Left Click Sound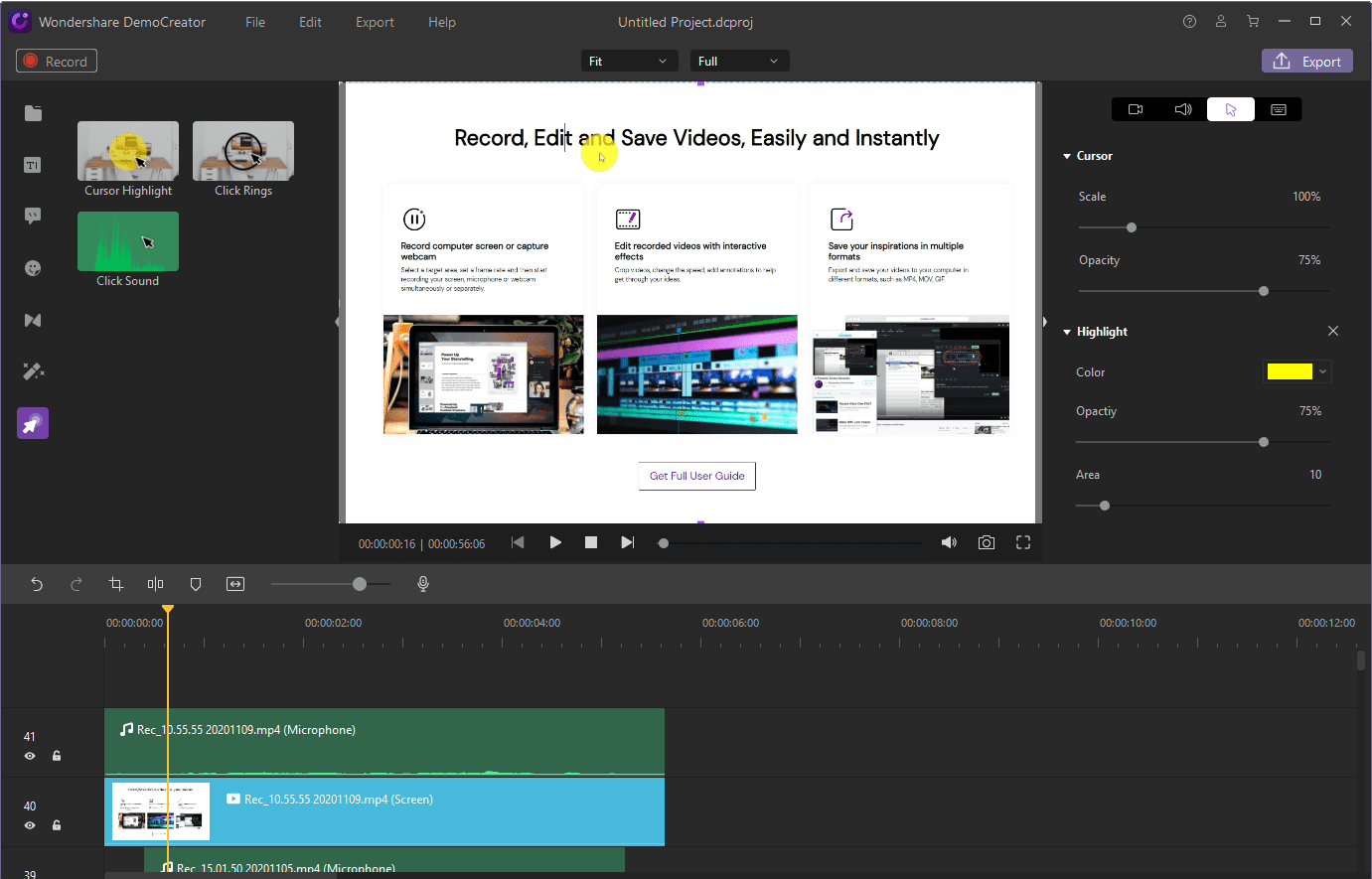 Adding green screen and other effects

DemoCreator software has an influencing feature that brings a powerful effect on the presentation-green screen feature. It allows you to swap various portions of your presentation with green-screen backgrounds to make your project reach an innovative standard. It also assists the users to edit, crop and change the background of their videos.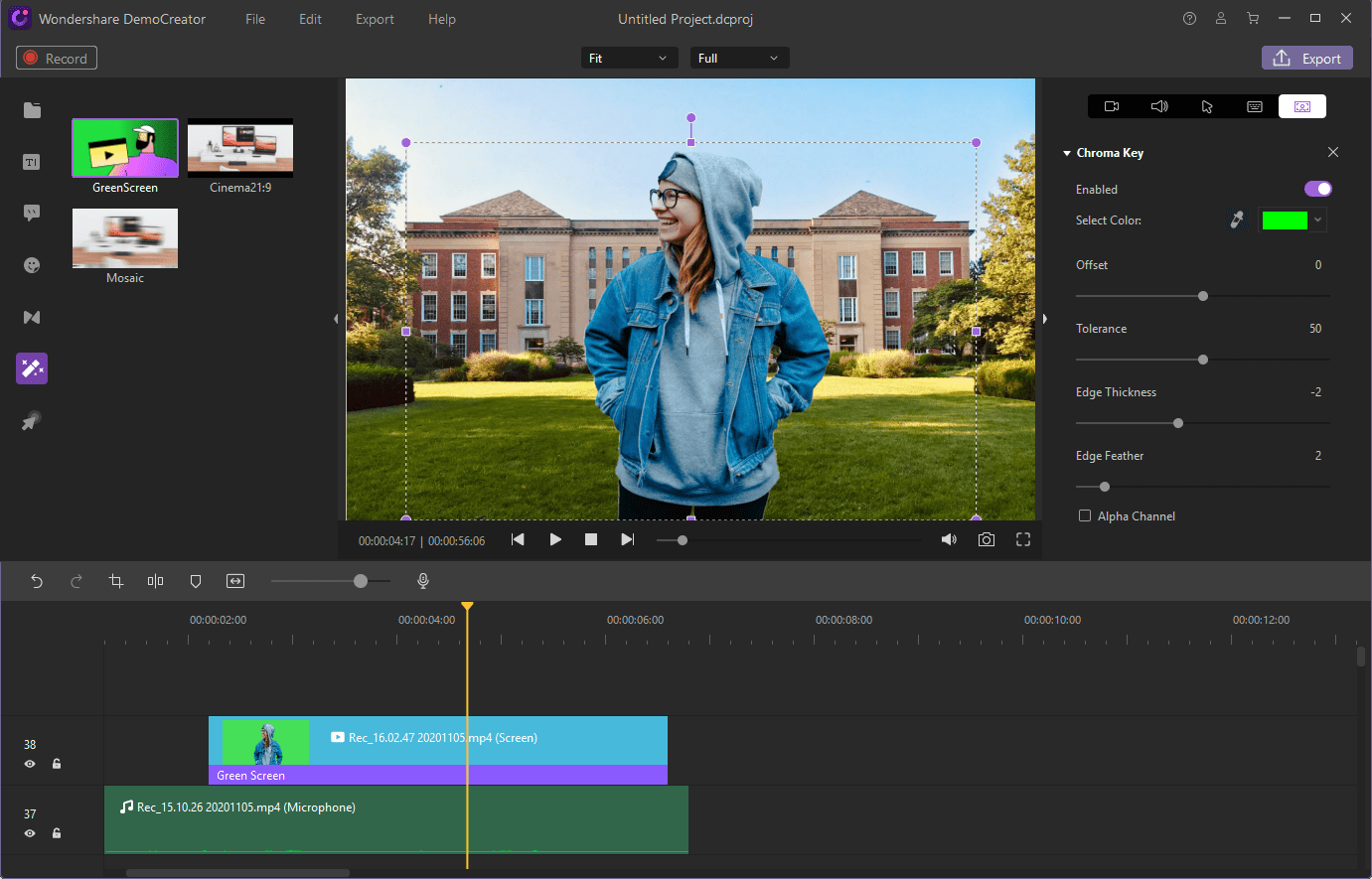 Audio Fade-in/Fade-out



You can also alter your audio with Wondershare DemoCreator built-in audio altering fading effect. To edit your audio fades, click on your audio within the timeline and select

Edit Audio

which will allow you to fade-in and fade-out your audio file right within the timeline to your desired extent as follows: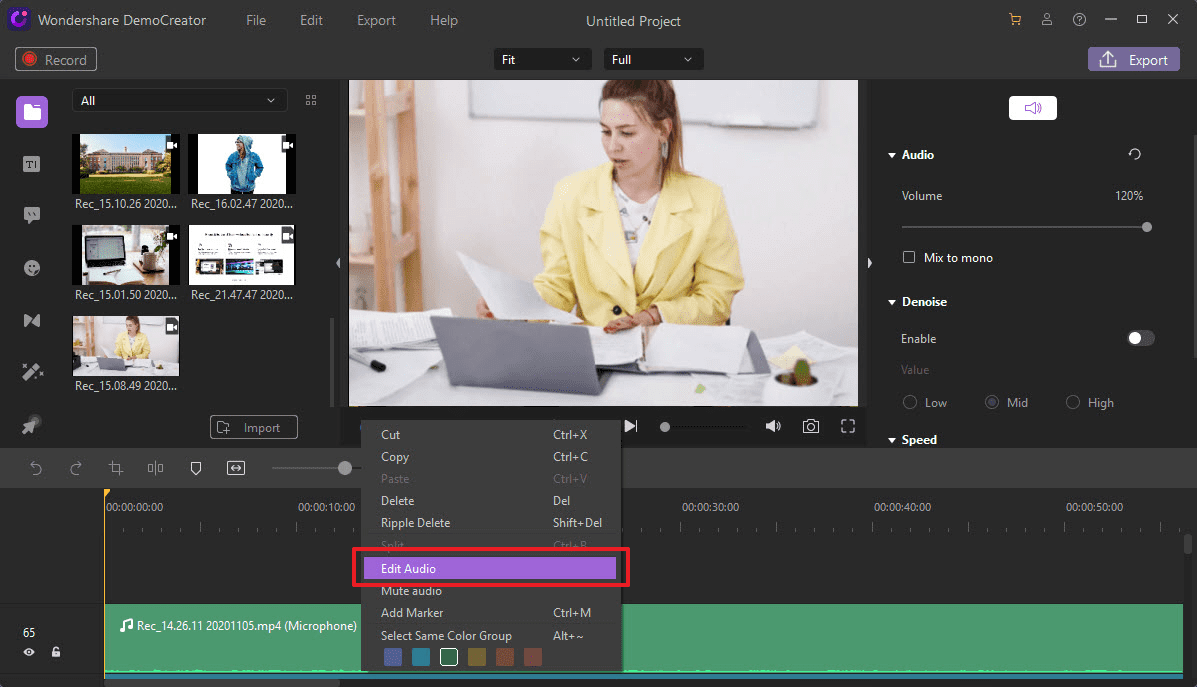 Fast Export



Now sometimes, you have done your recordings well accordingly, hence to save your time and a hassle-free saving to your desired location. Wondershare DemoCreator comes up with the Fast Export feature which will allow you to export your recordings directly with a single hit from the Imports library section of this editor as follows: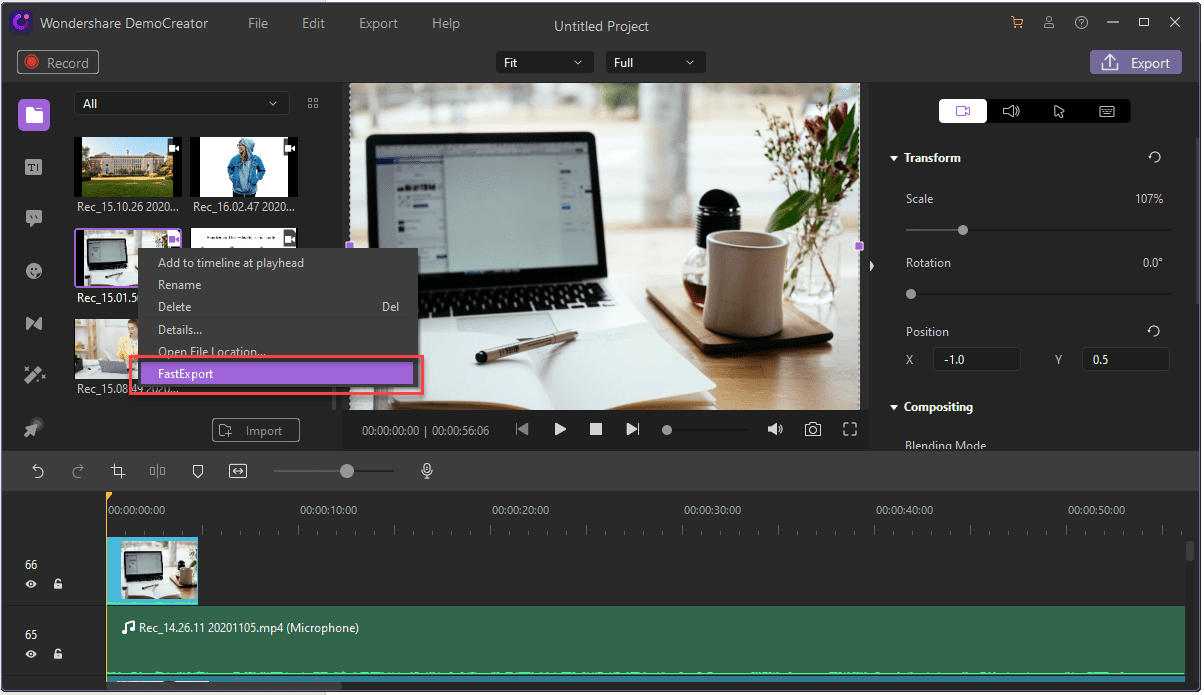 Conclusion:
Wondershare is a well-known supplier of solutions with primary software. The key objective of DemoCreator software is to deliver solutions that take a long simplicity and easiness in the lives of individuals living in the world. Wondershare is offering DemoCreator is a leading software to provide a user-friendly interface to make videos and presentations look creative and professional. They provide updates for a better working experience with the software with an assurance of unique features to be introduced in upcoming updates.

DemoCreator is free-to-download on the internet. You can download this software on your device to avail all the exciting features of DemoCreator to enhance your videos and presentation. Its user-friendly interface allows you to quickly interact with the software and help you make the content of your video engaging and understandable.