GOeureka goes live giving consumers the opportunity to book from a selection of 400,000 hotels, with that number rapidly growing. The Hotel booking platform cuts out the middleman, passing the savings and rewards directly to the customer, and reducing the cost and manpower currently relied on by the hotel.
The hotel booking platform, a blockchain powered platform built on the Ethereum network, has released the alpha soft version of their platform and is about to launch its main platform that will give customers from various cities the opportunity to book hotels as easy as possible. With over 400,000 hotels listed on the platform, the developers are set to add more as time goes on.
The Ethereum network which this blockchain powered online booking platform has been built on eliminates the need for middlemen, enabling the platform and all customers to directly get access to loyalty rewards and benefits.
The Problem With The Online Hotel Booking Industry
There are tons of online booking sites, some have achieved higher popularity than others, but all providing exactly the same features. Most of these popular online booking sites charge about 10 to over 30% on all rooms that are booked. Asides from the outrageous fees charged, this fee is received by these sites through the backend, thus, offering customers making this payments little or no transparency. Currently, the fee for each hotel room now depends on the booking site, the type of transaction that is carried out, and the wholesaler.
These middlemen do not only charge outrageous fees, but they also prevent customers from earning loyalty rewards, bonuses, and benefits. They also make the transaction process complex for both the customers and the hotel alike.
The GOeureka
With the soft alpha version of this platform been released to the general public, users are now able to book hotel rooms in various cities and states with absolutely no commission, no hidden charge or fee, at the same time being able to get all discounts, bonuses, benefits, and loyalty rewards.
With the development and launch of this platform on its way, GOeureka will become one of the very first platforms to use the blockchain technology and the Ethereum network through smart contracts to revolutionize the online hotel booking industry. This platform has an already existing infrastructure of hotels, and have amassed quite an impressive board comprising of certain C-level executives from not just Accor Hotels and Agoda, but from other renowned hotels and experts in the industry.
With the number of hotels that users can book on the platform increasing gradually, this platform will become miles ahead of all its competitors.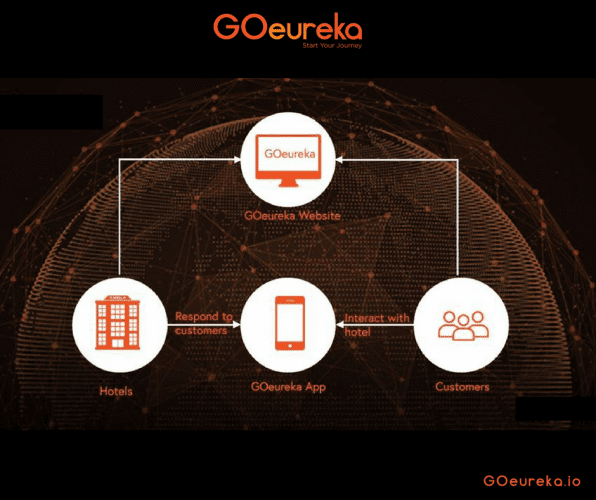 What Customers Stand To Gain From The Platform
The GOeureka platform has been developed to completely simplify the booking process, reduce the cost of booking hotel rooms, and also ensure that customers and hotel management benefit.
The CEO of GOeureka Manrai Raj strongly believes that the development and launch of this platform will totally elevate the standard of the hotel industry. According to him, when customers book for hotel rooms through online booking sites, there is a disconnect in what they are paying for and what they eventually receive. He believes that this platform will be able to provide great benefits for customers by giving them access to loyalty rewards and bonuses that were previously absorbed by online booking sites
Conclusion
This platform will revolutionize the hotel industry as well as offer users easy and efficient transactions at lower costs. For more information, visit https://goeureka.io/