The pet wearable market refers to the growing industry of wearable devices designed specifically for pets. These devices often incorporate sensors and tracking technology to monitor various aspects of a pet's health, activity levels, and location. Some of the most common types of pet wearables include GPS tracking collars, health monitoring devices, and activity trackers.
The market for pet wearables has been rapidly growing in recent years, driven by an increasing demand from pet owners who are looking for ways to monitor and improve their pets' health and wellbeing. According to a report by The Brainy Insights, the global pet wearable market size was valued at USD 2.63 billion in 2022 and is expected to grow at a compound annual growth rate (CAGR) of 17.04% from 2023 to 2032.
One of the main factors driving the growth of the pet wearable market is the increasing adoption of pets around the world, as well as the growing awareness of the importance of pet health and wellness. In addition, advances in technology have made it easier and more affordable to develop and manufacture these devices, making them more accessible to pet owners.
The pet wearable market has seen tremendous growth over the years, and with good reason. Pets are an integral part of our lives, and we want to ensure that they are healthy, happy, and safe. Our new pet wearable offers just that – a comprehensive solution to monitor your pet's health and well-being in real-time.
Top Companies – Allflex USA Inc., Avid Identification Systems, Inc., Invisible Fence, Whistle Labs, Inc., Datamars, GoPro, Tractive, IceRobotics, Garmin Ltd., Pet Vu, Inc., KYON, FitBark, Voyce, Dropcam, Nedap, Silent Herdsman Limited
The pet wearable is equipped with state-of-the-art sensors that track your pet's activity levels, heart rate, and even their sleeping patterns. It can also detect any changes in your pet's behavior, allowing you to detect any potential health issues before they become a problem.
But that's not all. Our pet wearable also comes with GPS technology, which allows you to track your pet's location at all times. This feature is especially useful for pet owners who have pets that are prone to wandering off or getting lost.
The pet wearable is lightweight, durable, and waterproof, making it suitable for all types of pets, regardless of their size or breed. It is also easy to use and can be attached to your pet's collar or harness with ease.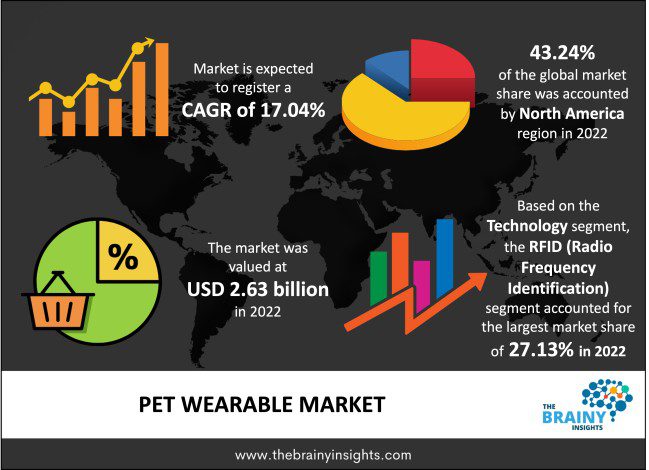 About The Brainy Insights: 
The Brainy Insights is a market research company, aimed at providing actionable insights through data analytics to companies to improve their business acumen. We have a robust forecasting and estimation model to meet the clients' objectives of high-quality output within a short span of time. We provide both customized (clients' specific) and syndicate reports. Our repository of syndicate reports is diverse across all the categories and sub-categories across domains. Our customized solutions are tailored to meet the clients' requirement whether they are looking to expand or planning to launch a new product in the global market. 
Get More About Similar Category Report @ Smart Mirror Market Comprehensive Study Explores Huge Growth 2022-2030