If you're looking for a comprehensive photo editing and design platform that offers powerful features and functionality, look no further than Fotor. In this article, we'll explore what Fotor is, how it works, and what makes it stand out from other photo editing tools.
What is Fotor?
Fotor is an all-in-one photo editing and design platform that allows you to edit photos, create collages, design graphics, and more. It was launched in 2012 and has since become a popular choice for individuals and businesses looking for a user-friendly yet powerful photo editing and design tool.
Key Features of Fotor
User-Friendly Interface
One of the standout features of Fotor is its user-friendly interface. Even if you're a beginner, you can quickly navigate the platform and start editing your photos or designing graphics without any prior experience.
Editing Tools
Fotor offers a wide range of editing tools that allow you to adjust brightness, contrast, saturation, and other settings. You can also crop, resize, and rotate your images, as well as add text, frames, and filters.
When you need to extract a specific object from an image and eliminate the background, a helpful tool to use is a background removal software or tool. Graphic designers, photographers, and e-commerce businesses often utilize this type of tool for their projects. 
Fotor's background remover is an efficient and user-friendly tool that can produce high-quality results in just seconds.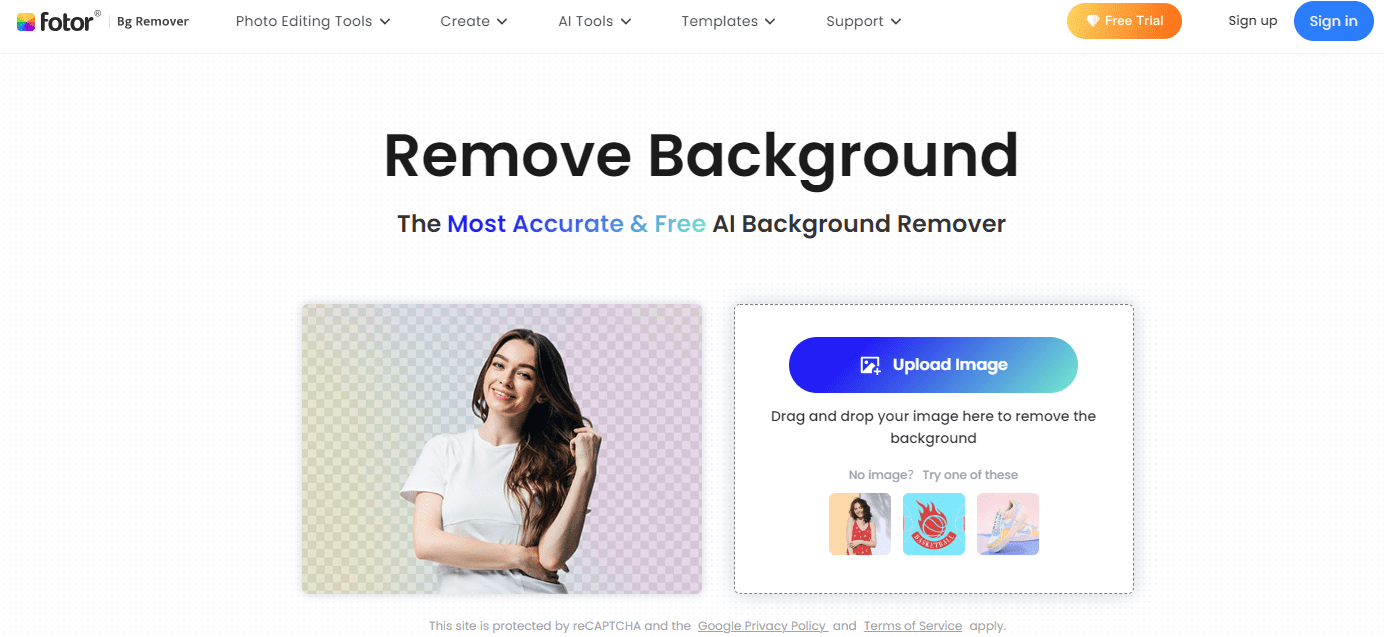 An automatic background remover leverages machine learning algorithms to identify the main object in an image and remove the background, while a manual option allows users to select and remove the background themselves. The manual option can offer greater control and precision, but may be more time-consuming and require more skill.
Fotor's background remover also includes additional features, such as the ability to replace the removed background with a new image or color, or to adjust the transparency of the foreground object.
Batch Processing
With Fotor, you can process multiple images at once, which can save you a significant amount of time if you have a large number of photos to edit.
Collage Maker
Fotor's collage maker allows you to create stunning collages with just a few clicks. A variety of themes is available, or you can design your own unique collage.
Design Templates
Fotor offers a range of design templates for various purposes, including social media graphics, flyers, posters, and more. You can customize these templates to suit your needs or create your designs from scratch.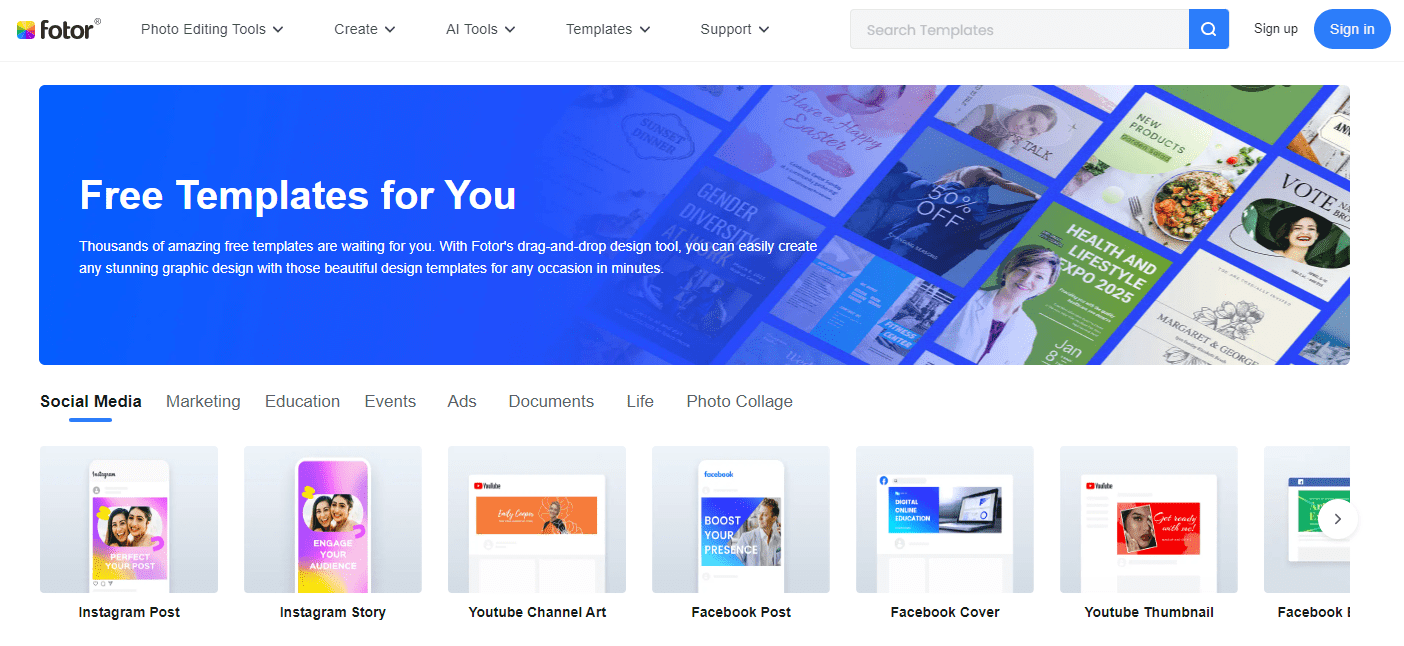 AI image generator
An AI image generator, also known as a generative adversarial network (GAN), is a type of machine learning algorithm used to create new images resembling a particular style or subject matter. This technology has become increasingly popular in recent years because it allows users to produce high-quality and original images without advanced design skills or expensive software.
AI image generator works by using a pair of neural networks to create and refine the images. The first network, known as the generator, creates new images based on input parameters such as color schemes or styles. The second network, called the discriminator, evaluates the generated images and provides feedback to the generator, helping it to refine the images and create more realistic results.
One advantage of using an AI image generator like Fotor is that it can save time and effort compared to traditional image creation methods. For many people with an empty imagination but no design or drawing skills, AI Image Generator is a great tool that can turn their imagination into reality.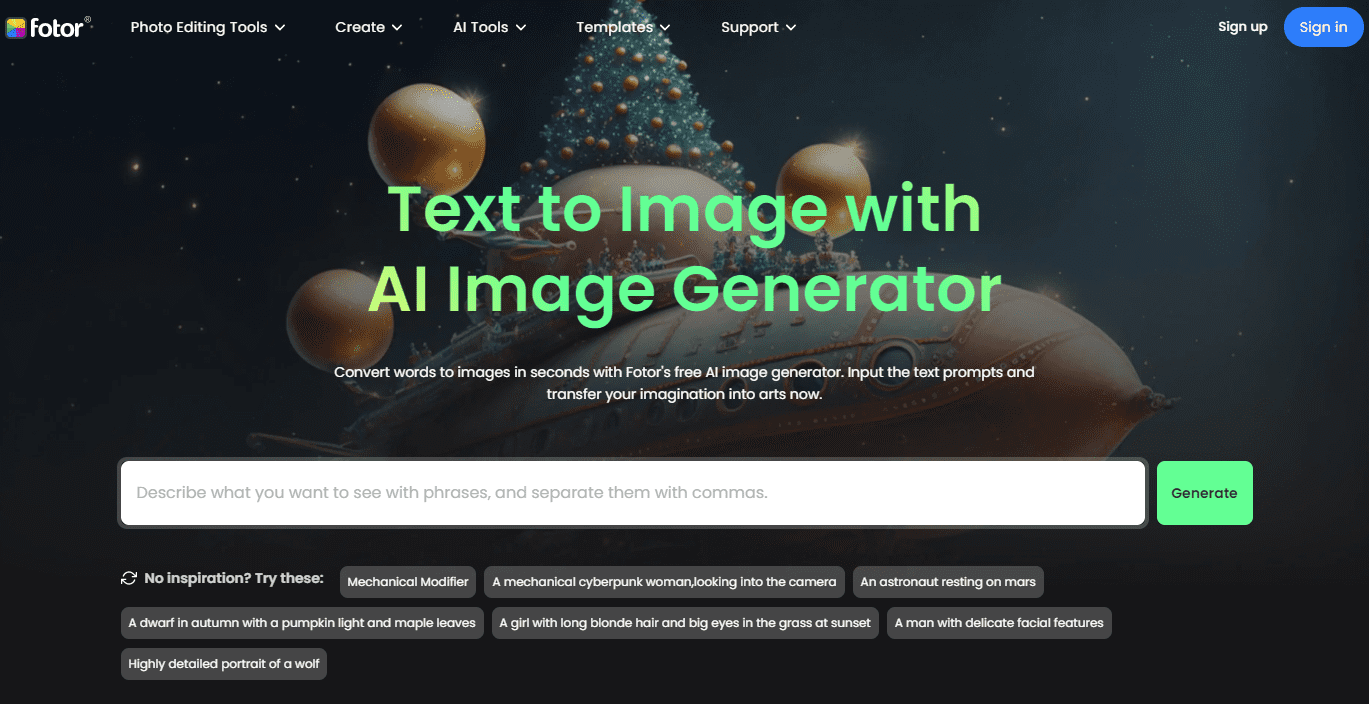 However, it is important to note that AI image generators may not always produce accurate or high-quality results and may require extensive training and fine-tuning to achieve optimal performance. Additionally, there are concerns about the potential misuse of AI-generated images, such as creating fake or misleading content.
Despite these challenges, AI image generators are likely to become increasingly common in the design and creative industries and may eventually be used to create a wide range of media, from images and videos to music and text.
Fotor's AI Background Generator
AI background generators use machine learning algorithms to analyze large datasets of images and identify patterns or styles that can be used to generate new backgrounds. Users can input parameters such as color scheme or style, and the generator will use these inputs to create unique backgrounds that meet the specified criteria.
You just need to enter the text content and you can get any type of background image you want in seconds. Greatly improve your productivity.

One advantage of using Fotor's  AI background generator is that it can save time and effort compared to traditional background creation methods. For example, a designer can use Fotor's AI background generator to quickly generate a series of potential backgrounds for a project, then select and modify the most promising options.
However, it is important to note that not all AI background generators are created equal, and some may produce low-quality or unappealing results. It is important to carefully evaluate the reputation and quality of any AI background generator before using it for a project.
How Does Fotor Work?
Fotor is available as a web app or a desktop app for both Windows and Mac. Additionally, you can download the Fotor app on iOS or Android.
To begin using Fotor, simply create an account and log in. Once logged in, you can upload your photos and begin editing or designing. Fotor's intuitive interface makes it easy to find the necessary tools and features, whether you are editing a single photo or creating a complex design.
Why Choose Fotor?
So, what makes Fotor stand out from other photo editing and design tools? The following are a few reasons to use Fotor:
Comprehensive Features
Fotor offers a wide range of features and functionality, making it a one-stop-shop for all your photo editing and design needs.
Affordable Pricing
Fotor offers a range of pricing plans to suit different needs and budgets, including a free plan that provides basic editing and design functionality.
High-Quality Results
Fotor's editing and design tools produce high-quality results, allowing you to create professional-looking photos and graphics
Conclusion
In conclusion, Fotor is an excellent choice for anyone looking for a comprehensive photo editing and design platform that's easy to use and offers powerful features. Whether you're a professional photographer, a social media manager, or a small business owner, Fotor has everything you need to create stunning visuals.
FAQs
Is Fotor available for free?
Yes, Fotor offers a free plan that provides basic editing and design functionality. You can also upgrade to a paid plan for more advanced features and functionality.