The world is going digital, and the global trend towards connectivity and interoperability, IoT, and smart technology reflects the growing demand for specialized hardware. The embedded electronics market grows by $137 billion every year, suggesting that embedded hardware is rising in popularity. So, what to look out for in the global embedded hardware innovation, and why should you think about such hardware type for your personal or business use? Here is a brief market overview on the subject. 
What Is on Agenda in Embedded Hardware Design?
Embedded system development is scaling up as the demand for such products grows. However, there are still some challenges and stumbling blocks for engineers to resolve on the way to more robust and efficient systems.
#1 Cloud Connectivity
IoT is a great move to combine the wired and wireless connectivity of devices, so embedded hardware requires innovative solutions to ensure stable cloud connectivity.
#2 Processor Architecture
RISC-V-based processors are a popular open-source innovation today, promising a revolution in the way processors are made. This new ISA opens new avenues for processor developers and encourages experimentation with more efficient designs at a lower cost, thus giving a new boost to processor architecture progress.
#3 Power Supply Issues
The power supply is another burning issue in the embedded hardware niche. The most important problems to resolve in this area are the economical use of available energy, the efficient transformation of environmental energy into electrical power, and wireless power transmission to moving hardware components.
#4 Defect Management
Embedded systems can still have bugs and defects, and the engineers' task at hand is to ensure efficient defect management. The present-day solutions include the use of continuous integration servers, unit testing, and automated testing. Technological progress has also enabled hardware in-loop testing for better results.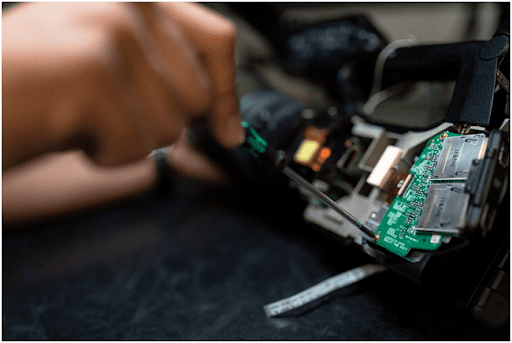 Why Engage in Custom Embedded Hardware Development?
There are many reasons to think of custom embedded hardware. Many users think that readily available products they can buy from manufacturers can meet the whole scope of their tech needs (with the proper use of software, of course).
Yet, things are not that simple, as on-the-shelf hardware is standardized, and fine-tuning it to your needs may require additional effort and investment. Besides, firmware is easily copied and cannot give you a unique competitive advantage as you'll be a lucky owner of something everybody else has. Logically, this hardware will perform the same functions it does for thousands of other users – nothing extraordinary.
Customized embedded hardware, on the other hand, helps businesses resolve some essential tech bottlenecks:
     

More efficient power supply and power use fitted to your tech infrastructure

     

Optimal memory use

     

Innovative processor and data converter architecture matched with your requirements
These features make custom embedded hardware flexible and dynamically adjustable. You may also be pleased to learn that individually designed hardware coupled with out-of-the-box software design reduces the risk of cyber-attacks to zero.
Do You Need Embedded Hardware?
If you've made up your mind to outperform the competitors and build a unique standing in your business niche, it's time to think of hardware development services. ADUK specializes in hardware design and production, bringing your ideas to life with unique technological solutions. Visit website to learn more about its offers to advance your business operations to a new level.