Yesterday it was announced that Biden has endorsed a policy pivot from the Fed. In addition to that, Elizabeth Warren also stated that the Fed's aggressive hikes can put more Americans "out of work".
The Fed is a private organization separate from political affairs, however, it is not uncommon for both entities to have constructive discussions in the best interests of the country. Yet, they don't seem concerned about how the Fed's recent measures in its battle against inflation could possibly push the US into a recession.
What seems obvious though is that the country needs an overall slowdown in the economy which simply means less cash flow, less production, and well, fewer jobs. The Fed's softer approach and its decision to pivot to a dovish stance could really have detrimental effects on the long-term health of the US economy.
In today's DIFX Analytics, we're going to look into the following assets:
Bitcoin is eyeing the $24k resistance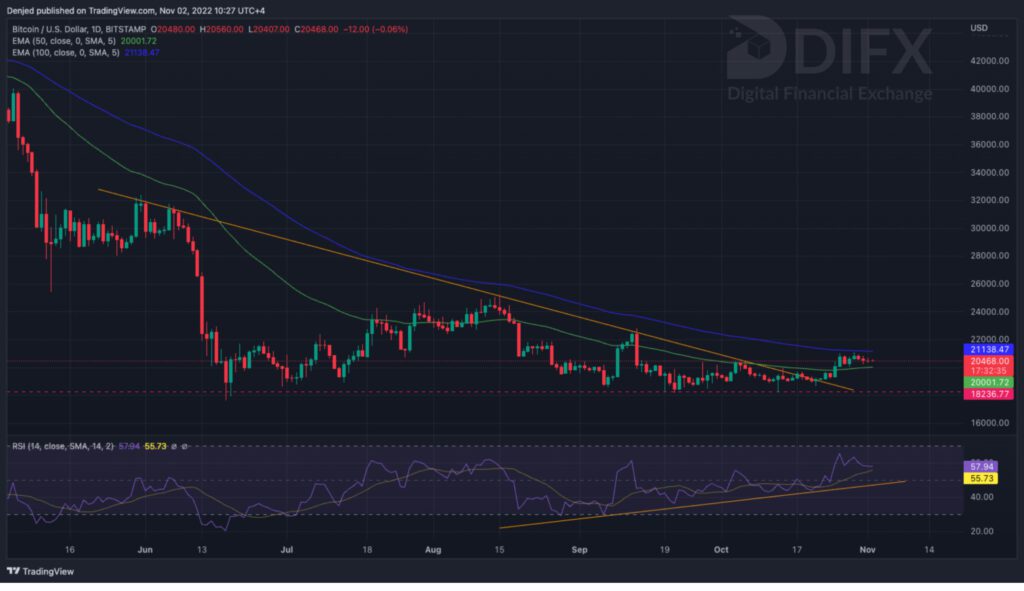 Bitcoin has broken out of the downtrend and is currently trading in between the 50 and 100-day EMA, around $20,468 at the time of writing. We need to see the digital asset break the 100-day EMA as a slight confirmation of reversal for some upside gains.
Technically, there has been a bullish divergence, and the price action has started to respond to this. Powell's stumble on his hawkish stance could push Bitcoin to test the resistance at $24,000. Otherwise, we can expect the asset to continue consolidating within its current range.
Gold may see some gains soon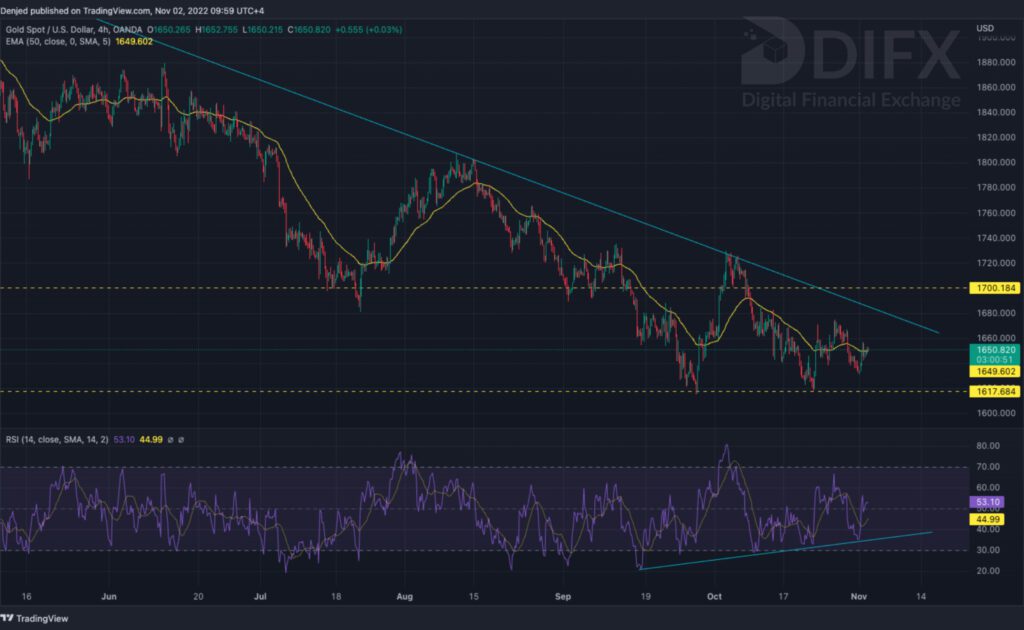 Gold is trading at $1650 at the time of writing. We can expect the RSI to begin to trend slightly higher in a bullish divergence from price action.
The recent announcements have increased the probability of a 50 basis points rate hike in December which will be priced in as soon as this narrative is confirmed in the FOMC press conference.
Jerome Powell's approval for this route could push the Dollar to fall, causing Gold to have some gains toward $1700 and potentially break out of this downward trend.
Euro is still experiencing a downtrend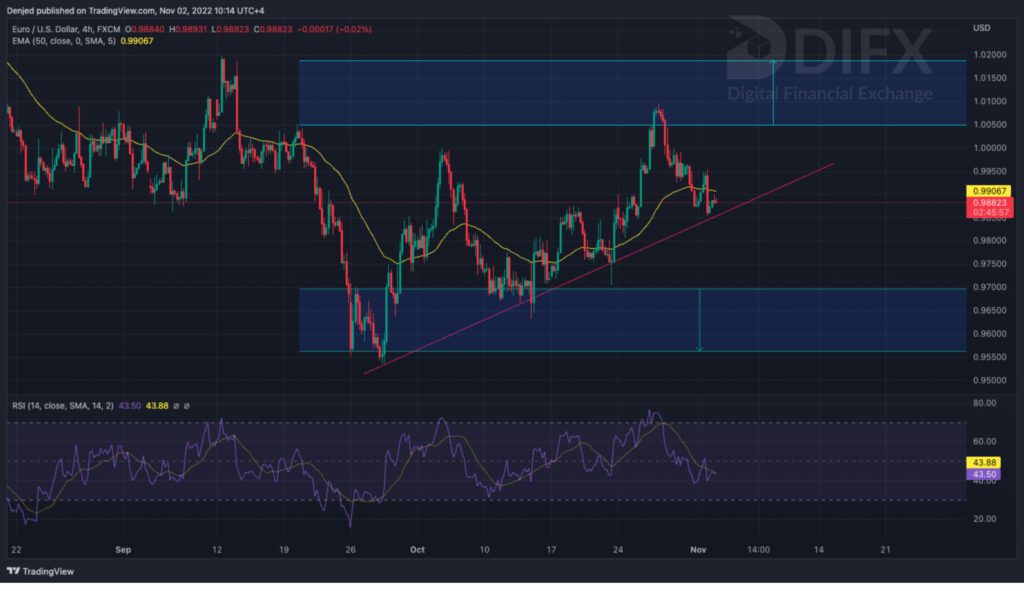 EUR/USD is following this short-term trend line as it trades in the $0.988 range. RSI is quite balanced, slightly leaning more toward the bearish side.
The interest rate hike could bring more volume into the asset and we may see the price action move into either one of these ranges. But if Powell doesn't pivot from his aggressive route to control inflation, we can expect the price action to fall below $0.97 and then $0.95, to possibly set a new swing low.
A potential future on Twitter is pushing Doge higher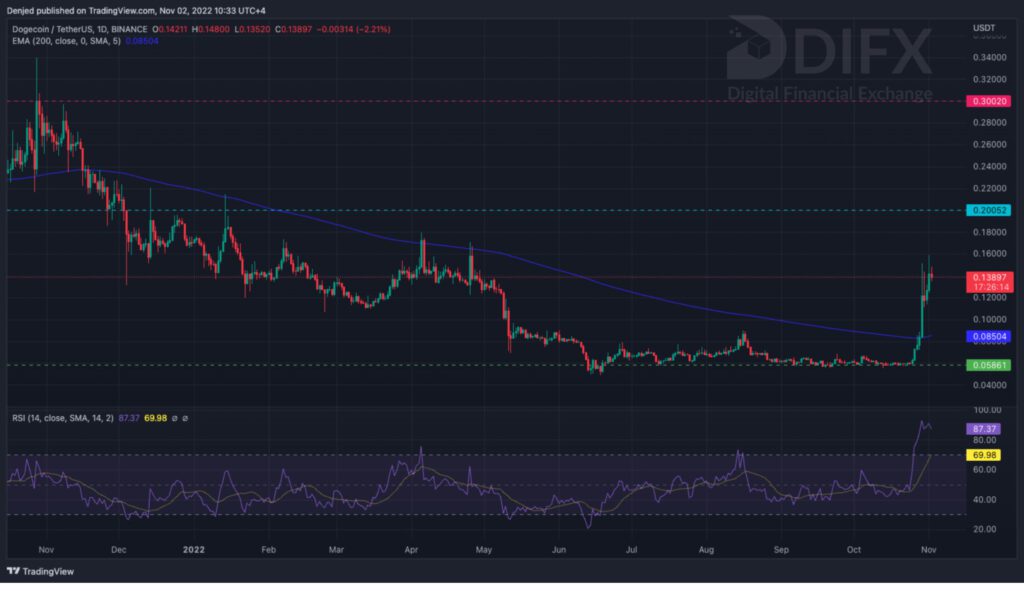 Doge has seen massive bullish gains since Elon Musk took over Twitter. Speculators may presume that bringing Doge to Twitter as a form of payment is on the cards in the future.
We can expect Doge to continue seeing bulls to these major psychological resistance points as fundamentally this would be huge for the project and it's no secret that Elon is its biggest ambassador.
Doge has already risen to a high of $0.1589 from $0.0586 with a 174% gain since the announcement of Elon's acquisition.
*****
To learn more about the markets and start your trading journey, sign up now on Digital Financial Exchange (DIFX) to create your diverse portfolio of assets. About Digital Financial Exchange
Digital Financial Exchange (DIFX) is a centralized cross-asset crypto exchange that allows users to trade between multiple asset classes that include indices, forex, crypto, metals, and commodities, just to name a few. The DIFX fully-insured crypto wallet comes from a partnership with Fireblocks, one of the leading crypto custodians in the world.
DIFX was presented with the "Most Trusted Cross-Asset Trading Platform — 2022" by the Crypto Expo Dubai and the "Best New Trading Platform Award" at the E-Business Awards 2021 by Entrepreneur Middle East and the Forex Expo 2021.
To begin your journey with Endless Possibilities, download the app now from the iOS or Google Play Store, or visit us at difx.com
Trading Disclaimer
DIFX shall not be responsible for any loss arising from any investment based on any recommendation, forecast or other information herein contained. The contents of this publication should not be construed as an express or implied promise, guarantee, or implication by DIFX that the forecast information will eventuate, that clients will profit from the strategies herein or that losses in connection therewith can or will be limited. Trades in accordance with the recommendations in an analysis, especially leveraged investments such as foreign exchange trading and investment in derivatives, can be very speculative and may result in losses in particular if the conditions or assumptions used for the forecast or mentioned in the analysis do not eventuate as anticipated and the forecast is not realized.