Gold is bullish and has recently crossed $1850 which it hasn't touched for over 6 months. As we embark into this territory, we have revisited the charts to draw new support and resistance levels.
Keep in mind that FOMC minutes came out yesterday and were perceived as hawkish which is effectively bullish for the Dollar. If the correlation persists, this will be bearish for Gold. Analysts expect Gold to continue its bull run but we can still expect some pullbacks down toward these key support levels.
EUR/USD has lost some steam and encountered a reversal as the Dollar hit support. We should see EUR/USD fall in the near term as the Dollar pushes up for its well-deserved retracement.
Tesla has had some backlash lately but as we analyze the fundamentals of the company, we can see that these accusations of a failing car company are wildly inaccurate.
Tesla only barely missed targets for Q4 delivering 25,000, fewer vehicles than their target of 430,000. Coupled with global logistics issues, a global recession, geopolitical issues, and production problems, one could say this may even be a success.
Elon Musk predicted the car company would grow by 50% annually but instead, it grew by 40% which has also contributed to the fall in stock price. Even as the stock has tumbled 65% to mid-2022 lows, Tesa is still the most valuable automaker in the world.
Bitcoin has also seen some steady gains in the last 24 hours, briefly crossing the $17,000 mark but was rejected after FOMC minutes came out hawkish.
In today's DIFX Analytics, we're going to look into the following assets:
Tesla's deliveries grow by 40% in 2022, still the most valuable car company in the world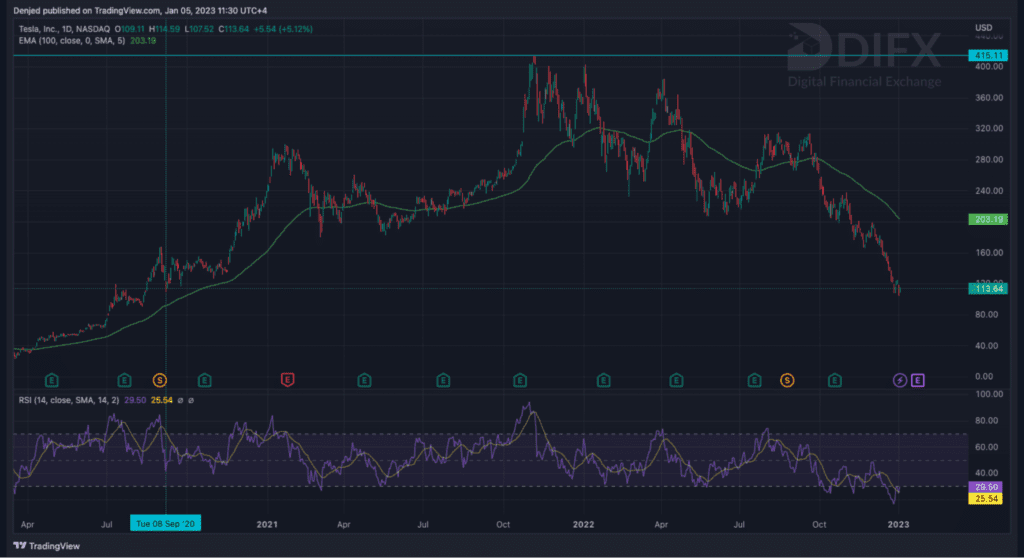 Tesla has been on a steep decline this year as they missed the target for deliveries. Elon Musk forecasted massive growth in Q4 but ultimately missed that target. Tesla delivered 405K vehicles in Q4 but had a target of 430K, not that far off considering the global climate.
Tesla's overall deliveries for 2022 rose by 40% which also missed the target which was 50% growth for 2022, which again, cannot really be considered a failure. These were down to production and logistics issues but even as the stock tumbled, Tesla is still the most valuable car company in the world.
Bitcoin still eyeing $17k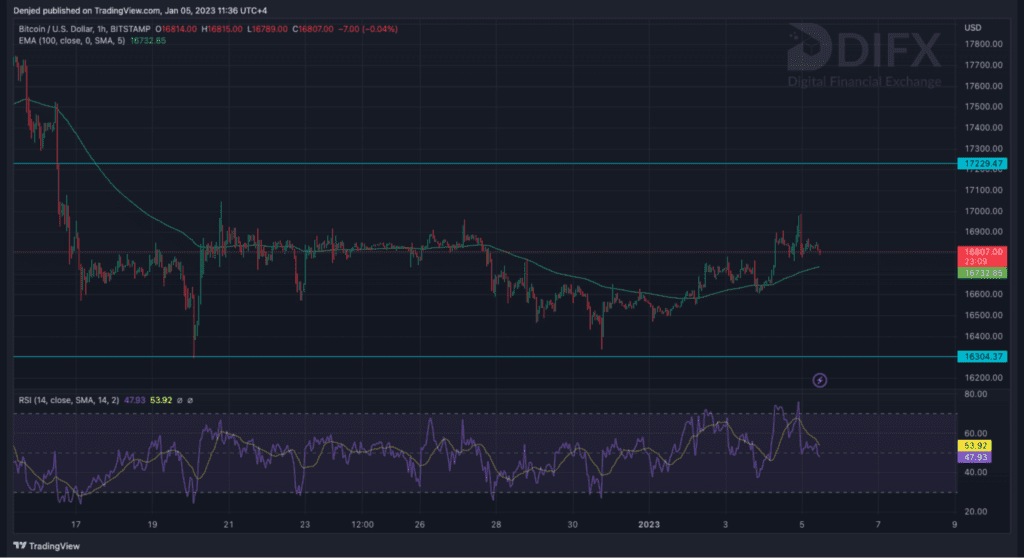 Bitcoin is still making that push for $17,000. The asset saw some positive momentum as the markets reopened for 2023 but after some hawkish comments from the Fed, we saw a slight pullback in the digital asset.
Currently, the asset is sitting at a pivot area which has been treated as a support level. Before the drop, we saw Bitcoin touch $16948 and we expect it to test this level again in the near term.
EUR/USD is bearish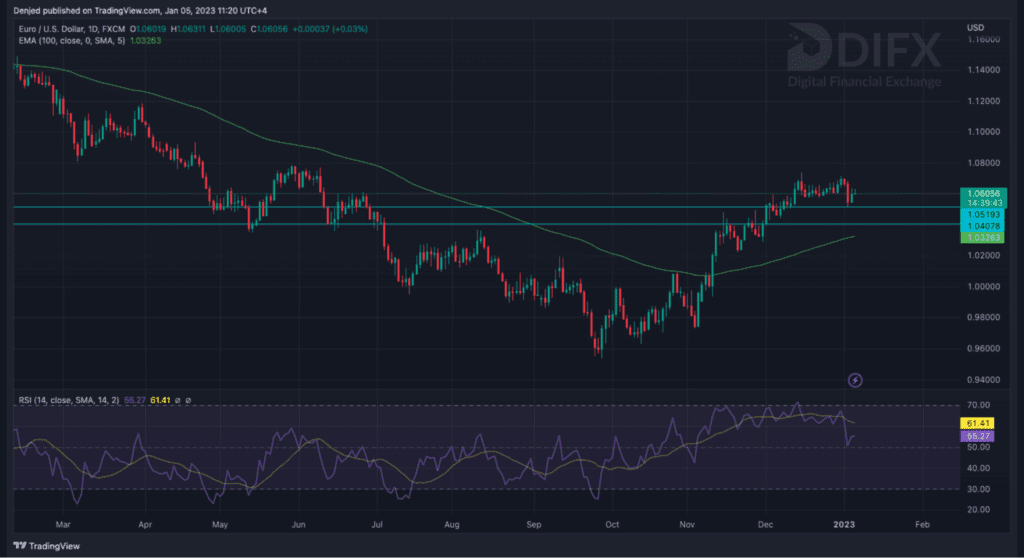 EUR/USD is falling into bearish territory. The FX pair bounced off support at $1.05 but we expect it to test this level again.
RSI has fallen to the 55 levels as bearish signals take over the asset. The Hawkish tone from the Fed will give some bull to the Dollar and subsequently result in a falling EURUSD.
Gold Support & Resistance Levels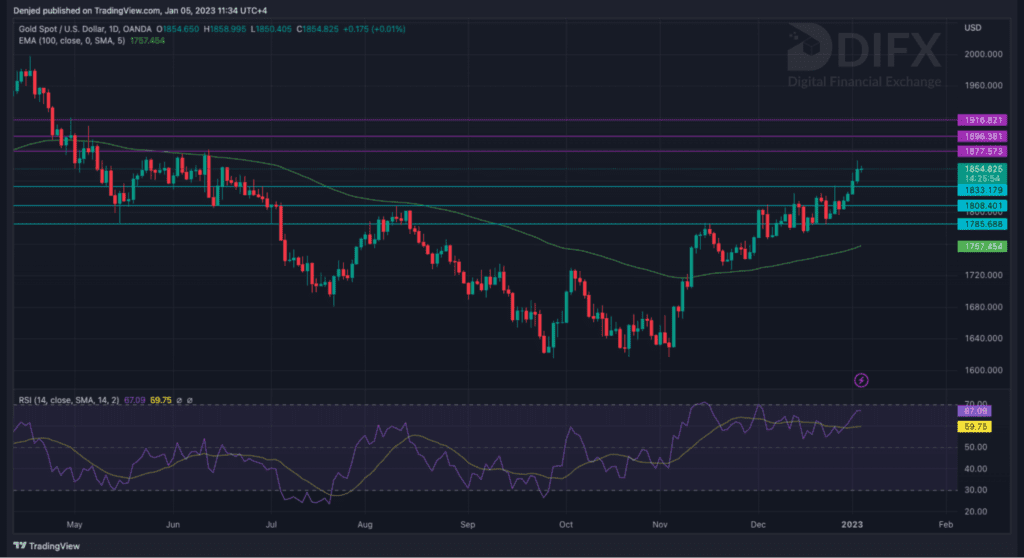 The support levels drawn in Blue are levels we see the asset retracing toward if there is any pullback.
The resistance levels on the chart are levels at which we see the asset rising if the bullish momentum continues.
*****
To learn more about the markets and start your trading journey, sign up now on Digital Financial Exchange (DIFX) to create your diverse portfolio of assets. 
About Digital Financial Exchange
Digital Financial Exchange (DIFX) is a centralized cross-asset crypto exchange that allows users to trade between multiple asset classes that include indices, forex, crypto, metals, and commodities, just to name a few. The DIFX fully-insured crypto wallet comes from a partnership with Fireblocks, one of the leading crypto custodians in the world.
To begin your journey with Endless Possibilities, download the app now from the iOS or Google Play Store, or visit us at difx.com
Trading Disclaimer
DIFX shall not be responsible for any loss arising from any investment based on any recommendation, forecast or other information herein contained. The contents of this publication should not be construed as an express or implied promise, guarantee, or implication by DIFX that the forecast information will eventuate, that clients will profit from the strategies herein or that losses in connection therewith can or will be limited. Trades in accordance with the recommendations in an analysis, especially leveraged investments such as foreign exchange trading and investment in derivatives, can be very speculative and may result in losses in particular if the conditions or assumptions used for the forecast or mentioned in the analysis do not eventuate as anticipated and the forecast is not realized.