With Bitcoin finally being taken seriously by all circles, the digital currency is being given the respect it deserves. Once only supported by platforms as mediums of exchange and convertible to other cryptos through dedicated exchanges, the options are now expanding.
Different platforms are now offering more services for cryptos than ever. Bitcoin, the pioneering blockchain currency, has the most support and thus, has financial options that are traditionally applied only to securities and other assets. It all started as Futures and then later on Options. But to date, only two platforms offer Perpetual as trading options.
Deribit Perpetual
Deribit Perpetual is a lightning fast trading product specifically designed for tracking Bitcoin price. The product is designed in such a way that it gives traders the chance to take and hold positions without ever needing to actually trade in bitcoins. This also means that large positions can be taken with relatively small capital.
The Deribit Perpetual is only the second bitcoin perpetual option in the world, but with various unique advantages and in a position to become the leader in bitcoin perpetual trading:
Low Fee

: Charging one the lowest amount, 0.025% on limit orders and 0.075% on market orders.

Fast Trading

: Rather than wait several hours, letting orders be accumulated and executed in one go, the Deribit Perpetual executes hundreds of transactions in a second, with an average time of a few milliseconds per transaction.

Price Stability

: With fast and many transactions being executed, Deribit can keep the price of perpetual as close to the one of Bitcoin as possible.

Higher Leverage

: With a leverage of 100x, traders can take extreme advantage of it.

Better Liquidation

: The Deribit platform allows traders to close out a leverage order without many losses.
The Deribit Perpetual was launched on August 14th, 2018 in beta stage and has already garnered a lot of attention. With its official launch on the 28th, the platform is continually making efforts to keep the product fast and efficient. With its success, Deribit intends to add more cryptocurrencies in the near future.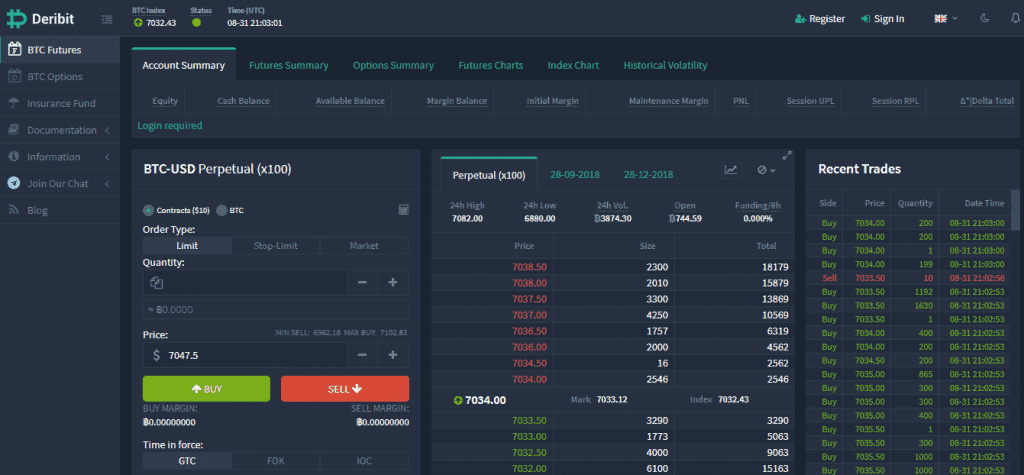 The Deribit team is extremely proud of the Deribit Perpetual," says Deribit CEO, John Jansen. "We expect its execution speed, transparent pricing, and fair leverage mechanics will satisfy the growing number of traders demanding ever more professional products."
About Deribit
Deribit is a crypto exchange that was first conceived as a platform for Derivative financial solutions for bitcoin, hence its name DERIvative BITcoin. A conception of its founder and CEO John Jansen, the platform was designed with his experiences in options trading on Amsterdam Stock Exchange. His experiences in trading cryptos on different digital exchanges led him to create the Deribit. The platforms offer trades such as Futures, Options and other derivative products.
The platform is extremely secure and has a high-performance level. Going live in 2016, the platform, in a span of a couple of years, has become the number 3 exchange for crypto futures and the top for crypto options.
Deribit Advantages
Deribit, as an exchange that is developed by experienced and professionals in the trading industry, offers a few advantages to traders:
Insurance

: With an insurance fund, positions of trade which are likely to be bankrupt are covered by a safety net of 25 BTC. This means even if the positions fall below the deadline, the insurance will cover up to 25 BTC worth to keep the trade afloat.

Two Factor Authentication

: A security feature that many exchanges lack (and only the top of the line ones have it), two factor authentication means that trading accounts are secure and even if passwords are compromised, as long as two factor authentication is enabled by the trader, his or her assets are safe and cannot be siphoned off.

Affiliate Program

: Allowing traders on the platform to earn some extra crypto, the platform offers an affiliate program.

Cold Storage

: With nearly 95% of bitcoins kept in cold storage, even if the platform is compromised, most of the trading assets are safe.

Easy User Interface

: Unlike other popular exchanges that overwhelm users with a barrage of information on their screen, Deribit keeps their user interface simple and plain so that even the most novice of traders can easily navigate and trade.

Trading Software

: With support of popular trading software's such as BotVS, Actant and HAASONLINE, traders can take full advantage of automated trades.

Mobile App

: Mobile application of the platform enables traders to execute transactions even if they are on the move, giving them an unprecedented advantage.
Deribit Perpetual will become the second exchange in the world to offer such a service for bitcoin. With its success, it will expand its perpetual services to bitcoin cash and even Ethereum, making it the first crypto trading platform in the world to offer perpetual to multiple cryptocurrencies.
Start trading now on: https://www.deribit.com