The entire world is struggling to deal with a health challenge that is becoming bigger and bigger with the passing of every day. Yes, we are talking about coronavirus. If we talk about the two biggest pathogenic viruses that impacted the 21st century, they are the Middle East respiratory syndrome coronavirus (MERS-Cov) and acute respiratory syndrome coronavirus (SARS-CoV). COVID-19 originated in the 'wet market' of the Wuhan city in China, which sells live and dead animals like birds and fish excessively. Today, it has moved to almost every part of the world, affecting the economy and health of the world to a great extent.
The biggest fear the scientists have is the spreading of coronavirus to those nations who do not have the proper resources to handle it. As per the latest stats released by the World Health Organization (WHO), as of 12 April 2018, the total number of confirmed cases of COVID-19 has risen to 1,699, 595; with 106,138 deaths and 213 countries and territories being affected by it.
China- The Export King!
China is the largest manufacturer in the world, accounting for almost 28% of the worldwide manufacturing output in 2018, beating the U.S.A. by 10%. The biggest importers of China hail from South Korea, the U.S.A, Japan, Hongkong, and the European Union.
As per the World Trade Statistical Review, in 2018, China exported clothing worth $157.8 billion (£121.5 billion) and textiles worth $118.5 billion (£91.1 billion), making it the biggest exporter of the same globally. Apart from this, China is a leading producer of silk, fabrics, cotton, and swimsuits and coats for fashion brands like Tory Burch and H&M.
Reduced Retail Import & Increased Cost
However, due to coronavirus, a lot of factories in China have shut down, leading to a major drop in imports, especially the U.S.A (13%). If this virus continues to grow like this, it will lead to a further decrease in imports. This makes us wonder how China will manage its huge manufacturing industry and regain its normal exporting potential and output.
As per a report by Global Port Tracker (released by Hackett Associates and the NRF), a 12.9% decrease is expected in the U.S imports from China as compared to previous years.
Since China has a weak currency as compared to the U.S. currency, the reduced manufacturing operations are likely to increase the cost of imports for the U.S.A. Major tech companies like Samsung, Google, Apple, Tesla, and Microsoft have decided to shut down all retail stores, manufacturing factories, and corporate offices in China temporarily.
Drop in Retail Imports w.r.t Health and Travel Industry
1) Health Industry
If we talk about the health industry, the prices of manufacturing products have increased like anything. For instance, Paracetamol, which was available for Rs 260/kg earlier, is now priced at 360/kg. Similarly, Nimesulide almost doubled its price from Rs 450 to 1,100 and Azithromycin (used for the treatment of respiratory infections, montelukast, and bacterial infections) increased its price by 30%.
2) Travel Industry
The travel industry has also been affected greatly due to the COVID-19 outbreak with respect to its retail operations. This includes a decline in the sale of retail items in cruise lines, airlines, hotels, etc. With most of the airlines reducing their operations to Asia by 16%, Iran and Italy have introduced travel restrictions owing to coronavirus. For instance, Jetstar is likely to reduce its Asia flights' operations until May end, greatly impacting the routes to mainland China, Thailand, and Japan, leading to reduced retail sales in the aviation industry.
The E-commerce Sales and TEU Forecasts
Since the duration by which coronavirus gets eradicated completely remains unknown, April 2020 is forecasted at 1.82 million TEU (Twenty-Foot Equivalent Unit- a measure of a ship's capacity for carrying cargo), May forecasted at 2 million TEU, and June forecasted at 1.95 million TEU. With these expectations, by June 2020, its total numbers in 6 months are likely to come down to 10.47 million TEU (0.4% drop since the last year).  
According to eMarketer, e-commerce sales in the retail market of China would be $2.328 trillion in total by 2020.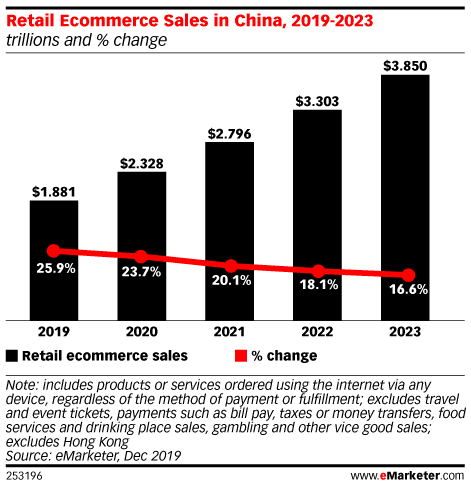 Here's a look at how different retail industry leaders are tackling coronavirus:
1) Walmart
Walmart is one of the leading retail brands in the world. During its investment community event, the company's executives stated they are expecting a negative impact on their sales as a result of coronavirus in the first quarter. The company is reducing its imports by almost double through its partnership with logistics firm Dada-JD Daojia and Chinese delivery.
2) Burberry
COVID-19 has not only created difficulties for Burberry alone but a lot of other luxury fashion brands. The demand for luxury products has decreased significantly due to coronavirus, leading to the closing of its 24 out of 64 stores in mainland China. Apart from this, its other 40 stores are also going through 'reduced operational hours' due to the lockdown.
3) Starbucks
The renowned coffee brand, Starbucks has reported great concerns over the coffee chain due to the COVID-19 outbreak. More than half of their stores have been closed in China. The company stated that its financial outlook has not changed with respect to the coronavirus response, but it is focusing on the monitoring of various other factors like business disruption and declining foot traffic.  
A Big Challenge for Chinese Retailers
There is no denying that Chinese retailers are the ones that have been hit really hard, with most of them looking to employ temporary employees. For instance, Meicai announced that it was looking for 4,000 sorting handlers and 6,000 truckers for delivering farm products to stores and restaurants. Freshippo, a grocery retail chain, started its own program for the recruitment of temporary restaurants' staff that is idle after their shutdowns.
The shopping centre's landlord, Vicinity Centres, has forecasted negative earnings in the coming times. It stated that products like hand sanitizers and antibacterial hand washes are already less in stock, and shortages in the non-food items are forecasted like electrical, clothing, and stationery goods. Similar to other retailers, they too have been impacted by the extended Chinese New Year, which resulted in longer shut down of factories than planned, with employees requiring permits from the government for returning to work.
Due to increasing labor costs, the U.S. trade war, and shifting of the Chinese manufacturers' focus towards its own market for producing goods, multiple retailers had started moving away from the Chinese market. With coronavirus entering the scene, this trend has simply grown.
In a nutshell, the retail industry has been greatly affected by the impact created by coronavirus. With China being the biggest exporter in the world and the source of the COVID-19 outbreak, the retail imports have significantly decreased. As of now, nobody knows how much time it will take to treat and eliminate coronavirus, but if the situation continues to stay like this or gets even worse, a further drop in retail imports is expected. 
As a retailer, it is definitely hard to survive during such a situation. With lockdown coming into play, shortage of staff and office equipment just add to the overall complexity. So, is there a solution? 
Yes, by outsourcing your retail back-office operations, you can not only meet staff and equipment shortage but have an expert team to support you in reducing your workload and streamline your overall retail business operations eventually. 
Author Bio: Briella Jean, works a Business Development Manager at Cogneesol, a well-renowned company offering data management, technology, accounting, accounting for retailers and legal services. She has been working with Cogneesol for the past 10 years and is responsible for branding and generating sales. While handling the projects, she has witnessed a lot of changes over the years.