Our world is undergoing radical, social transformation. Our newest global challenges are meeting deep structural changes, pointing to an urgent need for us to create a sustainable future. No one person, group or country can take on this ambitious agenda and succeed alone. That's why Connect.Club, a new media platform creating meaningful, human connections is harnessing the tremendous power of global collaboration, and organizing Connect Con, a virtual festival.
On August 27-29th Connect Con brings together business leaders, startup founders, scientists, artists, and you to create global solutions for a better future. The theme for the first Connect Con is "the people building a better, sustainable future."
What to Expect at ConnectCon
Connect Con is a 3-day virtual event that welcomes more than 100 world-renowned experts and 1,000 participants, all of whom are creating innovative, global solutions. The program features more than 40 virtual sessions and workshops on impactful entrepreneurship, developing skills of the future, building effective communities for collaboration, leadership, innovative art and culture, and much more.
The festival's speakers include James Priest (Co-founder of Sociocracy 3.0), Troy Malone (Evernote/All Turtles/mmhmm), Graham Daniels (founder and leader of Addictive TV and Orchestra of Samples), and many others. By uniting these powerful and mindful people, Connect Con is building our common good.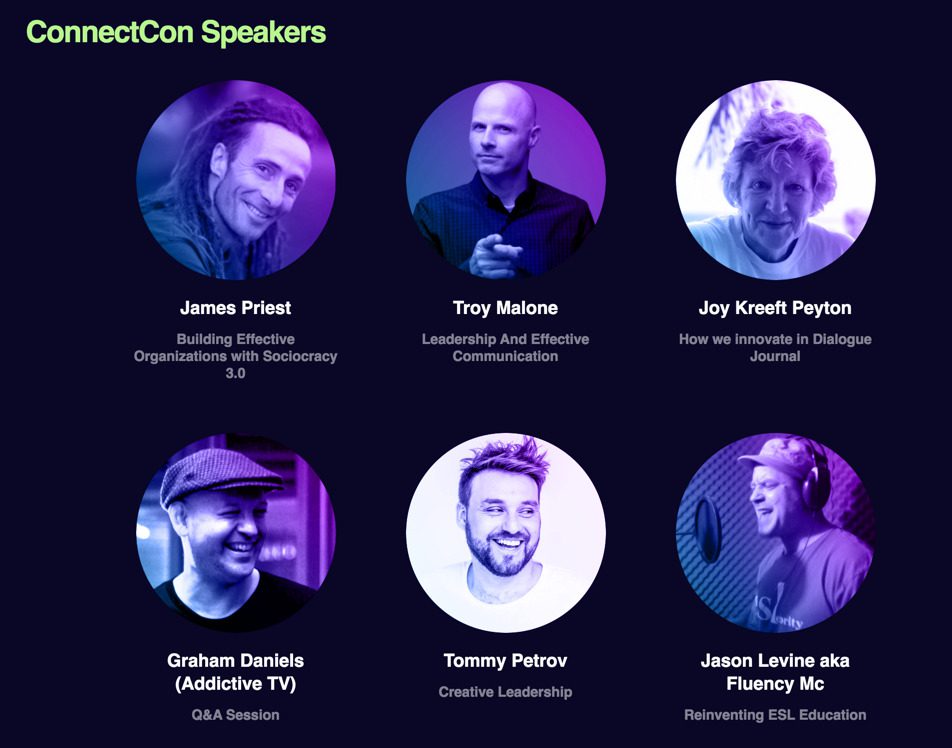 How to Sign Up and Attend ConnectCon
ConnectCon is organized by the passionate team behind Connect Club, and not only have they put together quite an amazing online experience for their virtual event, it's also accessible through their virtual platform and event space as well. With the main goals of connecting people who thrive on inspiration, learning, growing in our careers, and culture, this is simply the next evolution of how online networking and virtual events will take place.
You'll find the virtual world full of events and people connecting to build a better world. Take the stage in front of a large audience, gather friends for a fireside chat, or host a gallery opening to show off your art. Connect Club creates meaningful, emotionally fulfilling connections with like-minded people who are there when you need them.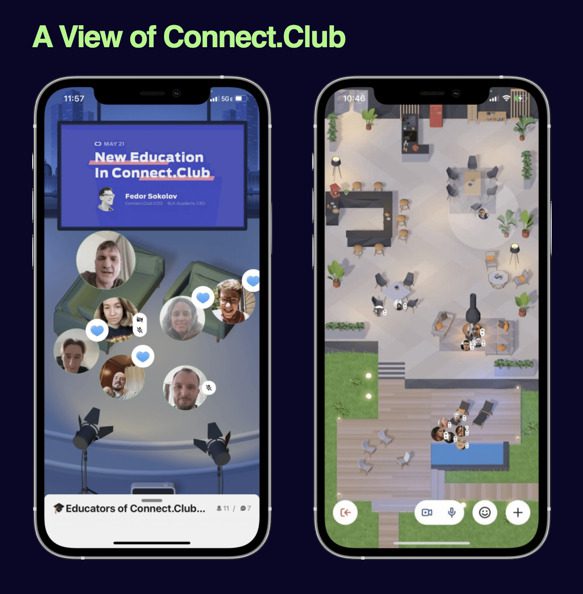 And if you are still on the fence about attending or wondering if the event content is right for you, no worries — ConnectCon has something for everyone!
As highlighted through each of the data points below, ConnectCon is ideal for startups, speakers and attendees of all types.
For Startups, it's all about the ability to meet with fellow investors and innovators, while also having the opportunity to get additional media coverage and press. Speakers can benefit from the support of the ConnectCon team, while also building up their branding and reach by showcasing their expertise and knowledge to all attendees. And for anyone in general attending the event, it's all about using engagement and value provided.
No matter if you are a startup, a speaker or even just an attendee, access to all festival event is granted to everyone that signs up.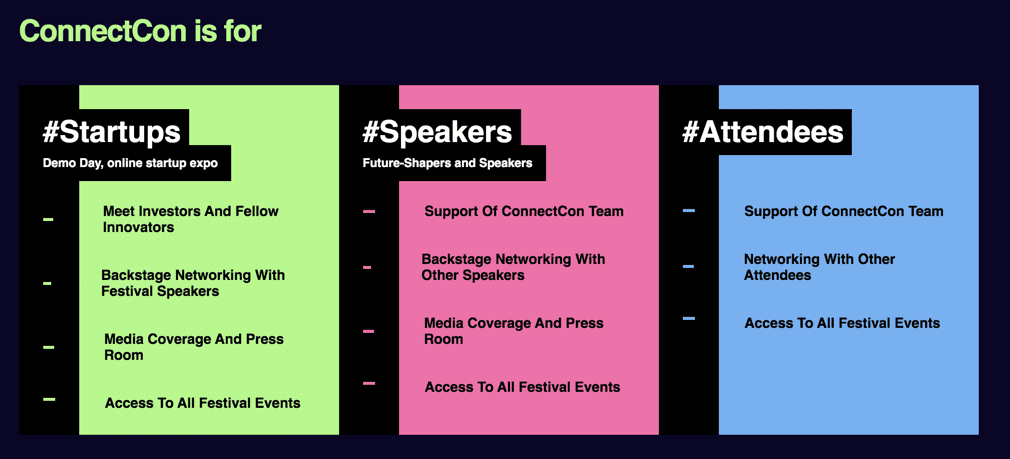 To learn more about ConnectCon, viewing the agenda and getting your free ticket, be sure to visit https://connect.club/connectcon/1.